Did you always want the Thar and the XUV700 rolled into one, but didn't know where to go with that wish? Well, it looks like Mahindra wanted it as well, and so we have the all-new Scorpio-N. Think of it as the Scorpio we all know, but with an enhanced four-quadrant appeal for the body-on-frame SUV audience. What's more, Mahindra got to end the car's name with an 'O', and add a clever suffix to complete it. And that is indeed what the Scorpio-N feels on the whole — complete.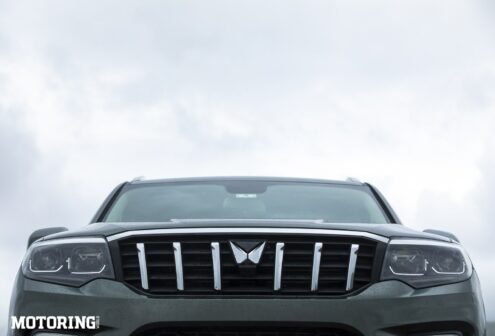 The Scorpio-N is a slick workhorse, merging traditional Mahindra SUV strengths with modern functional elements. I drove the Z6 diesel automatic version, the 2WD one, and said slickness began from the moment I set eyes on it. It looked about as intimidating as a breath of fresh air that emerged from a dragon's nostrils. Mahindra's 'twin peaks' logo sat on a front end that was as stylish as it was butch. It looked proportionate and there was no overdose of chrome, either. And it somewhat looked like Mahindra stopped just short of going full Japanese with it, which is a good thing.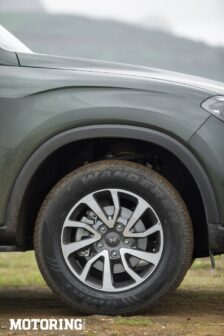 My immediate absolute favourite design cue was the chrome lining that ran from the base of the A-pillar to the top of the C-pillar and ended in a stylised sting. The same was present along with the 'N' suffix in the badge on the tail, finished in red, another well-executed detail. A lot of people did comment that the tail-lamps looked like they belonged on a Volvo and/or a Wagon-R, but given the range of that comparison, I think we can lament the stagnation of tail-light design in general. Overall, though, the Scorpio-N looks great, and the number of people who marched up to the driver's window to enquire about it should mean frequently replaced doormats at Mahindra showrooms.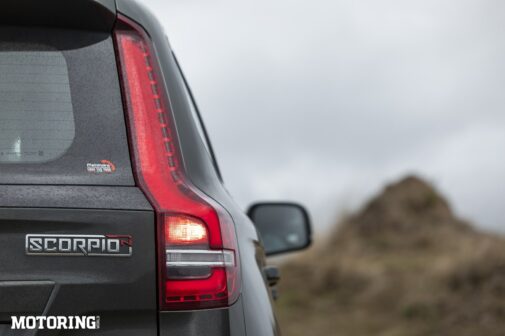 It was also deceptively large, much more so than its photos suggested. I actually had to climb into and out of it using the reassuringly strong footboard every time. And on the inside, too, the Scorpio-N added a new level of high-quality sophistication to the well-established badge. Brown leather was present on nearly every surface, so no one had to feel guilty about inevitably bringing in mud during an off-road session. And, of course, the features were like no Scorpio I'd ever seen; right from the easy-to-use touchscreen to the thoroughly modern readouts, the Scorpio-N had enough to keep me scrolling and pressing away at standstill and on the move. And wireless charging for my phone to boot.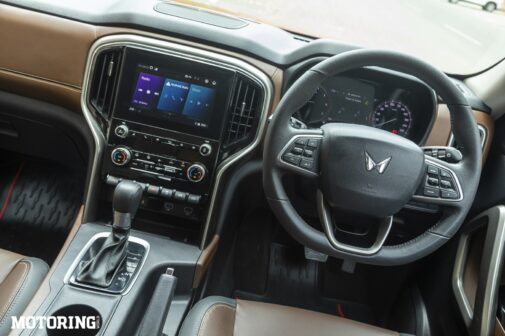 I must confess that by the time I put the Scorpio-N's gear lever into 'D', I was surprised enough to not know what to expect on the move. As it turned out, things got even better. It did still retain that typical body-on-ladder jauntiness of the rear end, but at no point did it come across as primitive or scary. The SUV's front features a double-wishbone setup with coil-over shocks, while the rear has a 'penta-link' design which is essentially a multi-link setup. Long story short, the whole shebang works quite well. The Scorpio-N stayed stable at license-revoking speeds on the highway, and it was quite at home on broken country roads, too.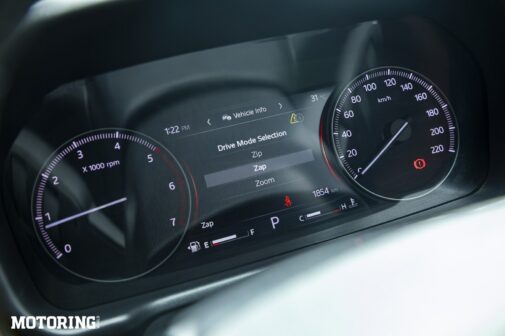 The ride quality was perhaps a bit too bouncy for my liking, but then again I spent the better part of nine hours in the driver's seat without uttering a single complaint. The steering wheel made light work of pointing those big 18-inch wheels in the intended direction, even if the fat rubber did add a bit of vagueness to proceedings, which I found a bit annoying. Nonetheless, it was easily possible to hustle the Scorpio-N along at all kinds of speeds, reasonable or otherwise. One thing I was rather pleased to note was that I barely had to slow down for anything on B roads, and I could drop the left two wheels onto broken shoulders of the road without a second thought.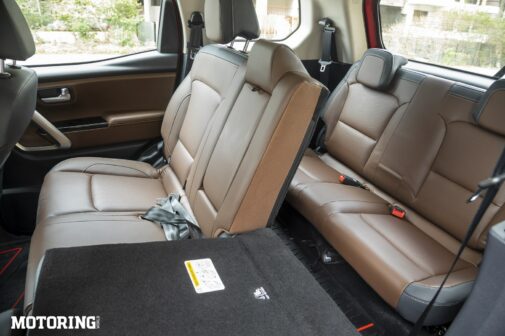 It was just after flying over a particularly bad stretch that a realisation dawned on me — sledgehammers aren't about finesse, and the Scorpio-N is one wrapped in a velvet glove. Or something like that. The moral of the story is that the Scorpio-N felt unstoppable on the rough stuff — and this was just the 2WD one. And even this one cleared a slush pit without much effort once the traction control was switched off. As for bad roads, well, imagine a rollercoaster but with brown leather upholstery and air-conditioning, and you'll have an idea of the fun I had. It was perfectly fine on smooth and wet tarmac, too, but I was less inclined to go barging down a narrow country road in this big machine on my first monsoon day of the season.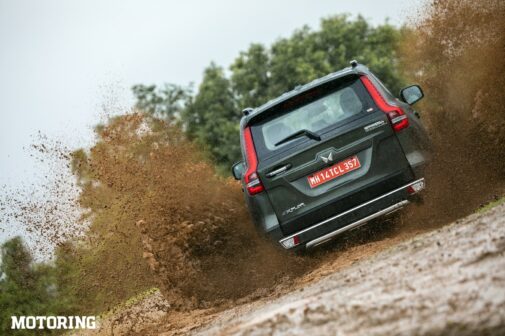 The Scorpio-N's 2.2-litre diesel engine produced an effortless experience for my right foot, and the 6-speed automatic was matched to it like a key to its lock. With three driving modes called Zip, Zap and Zoom (no, really), you have the choice to tailor throttle response and power delivery to your liking. Do note, though, that even in Zip (the most economical), I could only get the average fuel consumption readout to show me 8.2 kpl. But with that willing diesel grunting away under the hood, I found it exceedingly difficult to not oblige it with great big footfuls of throttle.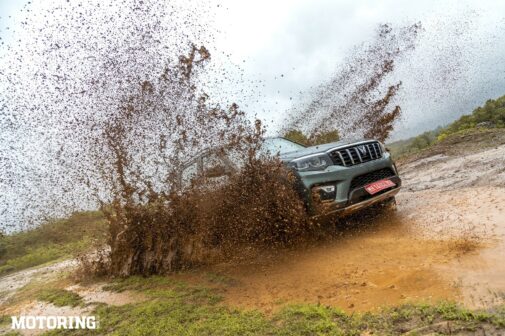 Refinement levels were quite good, even if the gear lever produced the occasional jerk while shifting into P, R or D. There was also a manual mode for the gearbox, but engaging it required moving the lever away from rather than towards the driver to be more engaging. In any case, the automatic worked so well on its own, I really saw no reason to tax my left arm. The only other niggle I noticed was increased wind noise at high speeds. And perhaps a bit too much initial travel on the brake pedal. But all these complaints were as pointless as aiming a barcode scanner at a zebra.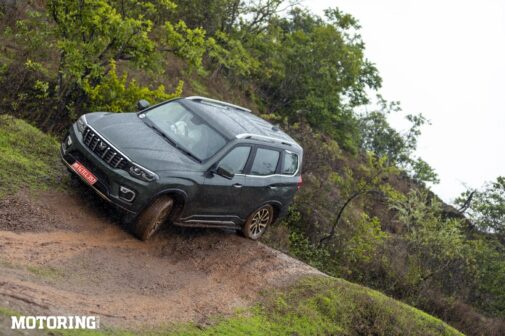 The Scorpio-N was always ready to haul itself north of 160 kph on open roads, and it never said no to pounding sense into broken roads. I'm sure other SUVs can do this as well, but I doubt I'll ever attempt it in them on a regular basis. With the Scorpio-N, I very well would, certain in the knowledge that it won't bankrupt me if something were to break. That right there makes it all the more useable in my eyes, and that's something as intangible as the elusive feel-good factor. Which the Scorpio-N has in spades, too. By virtue of its design, it offers real involvement, which in turn causes real fun.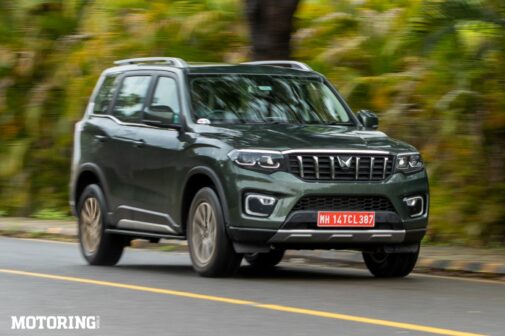 Given that the manual version of the car I drove has an introductory ex-showroom price of Rs 14.99 lakh, it's safe to assume that the tag on the automatic will carry around Rs 1 lakh more. So is it value for money? I'd say yes, for a machine that is two SUVs rolled into one. That makes the Scorpio-N an SUV that will remain a solid choice long after all the cheesy headlines and walk-around videos fade away. Historic in its philosophy and intent, and modern in execution and outlook, this is the Scorpio for the modern age.
AUTODATA
Mahindra Scorpio-N Z6 Diesel Auto
POWERTRAIN
Displacement:
Max Power:
Max Torque:
Transmission:
2200cc, inline-four, turbodiesel
172.45 bhp@3500 rpm
40.78 kgm@1750-2750 rpm
6AT
DIMENSIONS
L/W/H (mm):
Wheelbase:
Ground Clearance:
Kerb Weight:
Fuel Capacity:
4662/1917/1857
2750 mm
NA
NA
57 litres
PRICE
Rs 15.99 lakh (estimated, ex-showroom)