'Please let it be red!' I was wishing silently. I was smitten by the candy red Scorpio Classic — whose drapes were being taken off while I happened to be seated in front of it — at the time of unveiling. Being in the presence of an SUV that has been around for around two decades and still getting excited by its presence has got to mean something, right? From being featured in movies to being the most preferred vehicle by politicians, and also to be among the most robbed vehicles in the country (yes, it is a fact), the good old Scorpio continues to be in high demand, even today. It has become an icon for that quintessential SUV image in the Indian demographic that everyone somewhere secretly wants. It is rugged, has a solid imposing appeal, is built tough, spacious, and loves to go off-roading.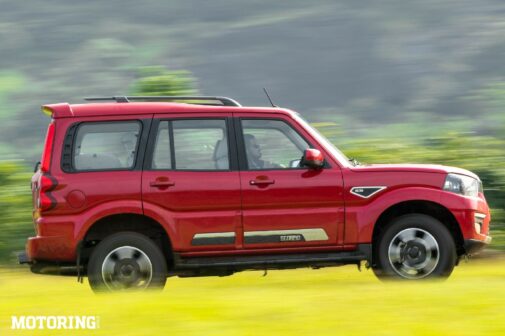 As destiny would have it, I have never been in a Scorpio before this day, and the only time I did, was long ago, on the bench seat at the back. Needless to say, the bouncy setup of the suspension coupled with me sitting side-facing while traversing through the ghats was the worst possible combination, as I ended up throwing up in no time. Not much of a pleasant memory with this one, but today, I was in the driver's seat, and to complete my opening line, it was the red one, or Red Rage as Mahindra likes to call it. A black tee, denims, and dark-tinted sunglasses are the dress code to be in, and you are set to get going anywhere you want to be. Did someone say, Goa?
Mahindra usually sends media vehicles for not more than three days. But, I somehow managed to convince the fleet spokesperson to let me keep it for a week. Thanks to him, I had the chance to live with this hunk of red metal, rather than just reviewing it in a plain jane way. On the night of its arrival, I had no plan to head out, but with the Scorpio, I now had the perfect excuse to go for a drive. It was 10.30 pm and the city traffic was slimming out as the usual bottlenecks opened up around that time. I was cruising on my usual route for a drive and it didn't take me much time to realise how well-insulated and spacious the Scorpio felt while driving around the metropolis. Not to mention the eyeballs the paint job drew under the bright streetlights, highlighting its butch stance and muscular shoulder line. I felt special, and above the rest. I like that feeling.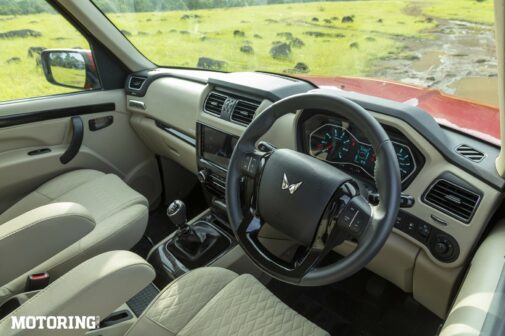 The following day, I stepped out early as I had made plans to catch up with some of my friends. Entering the suburbs during peak traffic hours can be a taxing ordeal, especially when behind the wheel of a big car. But, that wasn't the case with this big little red tank of a thing. I mean, politicians like the Scorpio for one main reason, it has the presence and the character that'll make you think twice before getting in its way. That, along with the box dimensions for an SUV, one can bully their way through congestion with ease. Okay, I wouldn't want to promote this kind of driving, but it's always good to know that you can if you had to.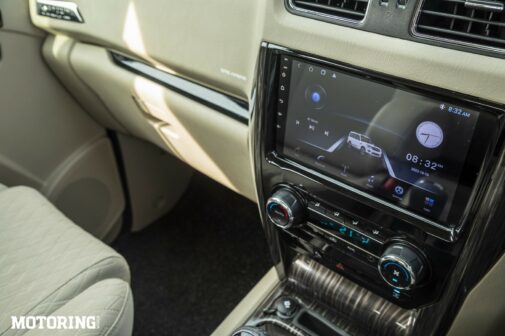 While traversing through traffic on this occasion, I had the time to ponder over the Scorpio's cabin and its features. The first thing that comes to mind is space, a lot of it. The Scorpio is a full-fledged SUV with immense cabin space, including headroom. On the other hand, the interior upholstery is beige, which means it is bound to get stained very easily. The feel and touch of the interior trim is typical of the previous iterations of the Scorpio, which is to say hard and plasticky. However, for the S11 variant here, you get a leather-wrapped steering wheel, a centre armrest for the front seats, and aircon vents for the second row.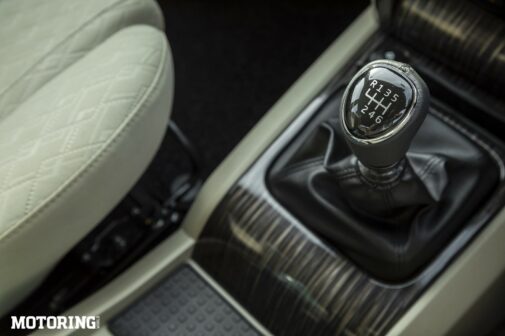 Sadly, Mahindra has skipped the rain-sensing wipers and auto headlamp function, which were both offered on the outgoing version. Another thing that had been bothering me was the auto start-stop feature. While it is good to have one, the cut-in time is too early in bumper-to-bumper traffic, which gets a bit annoying to be honest. Another feature that had me sort of frustrated before I gave up on it was the 9-inch touchscreen unit. The look and feel of the display is substandard, with not the best user interface, and there's no option for smartphone connectivity functions like Apple Carplay or Android Auto. Other bits include the lack of auto-folding ORVMs and poor quality speakers for a vehicle that fetches upwards of Rs 15 lakh.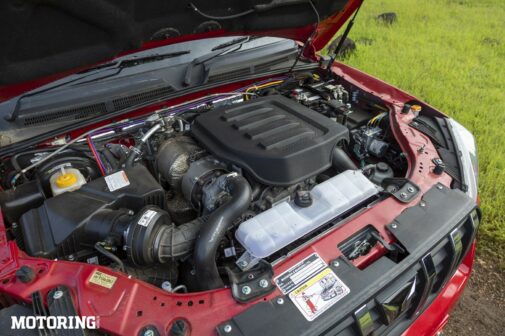 All of that is bothersome when you are stuck in traffic like I was, or just sitting in it and not driving. But when you are moving, you feel like you are ruling the road ahead, ironing out all the road undulations in the process. The proof of that came to me on the day of the shoot, when we decided to head to a popular off-road location in Lonavala. But, I was convinced about that feeling before I even got there.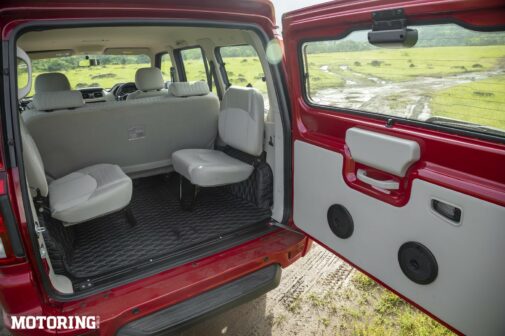 The new heart that lies underneath that bonnet with a hood-scoop has been sourced from the Thar. The 2.2-litre mHawk 130 diesel is superbly refined and light on the throttle. Mahindra says the oil burner is almost 55 kg lighter than the older mill, and it's more fuel-efficient, too. There isn't much vibration to deal with, and the 6-speed manual gearbox gets cable shift technology, resulting in shorter and more precise gear shifts. The folks at Mahindra have also mentioned that 77 per cent of the torque is available at as low as 1000 rpm, which makes it an easy peasy task to overcome obstacles, or anything that gets in the Scorpio's way.
And if I had to talk of top speed, you can be rest assured it comfortably manages to do so much beyond the speed limits that are mentioned in national highways. Oh… and don't think that you still have to deal with that boat-like suspension like the previous iterations of the Scorpio. Mahindra has re-calibrated the suspension for a firmer ride. Yes, it still has the body-on-frame flex, but it's less prominent at slow speeds. The bottom line is, drive it like how a thoroughbred SUV is meant to be driven, and you will be left grinning from ear to ear. Take the Scorpio off the road and you are in its natural element. Jump, slide, and muck around to your heart's desire and the Scorpio won't deprive you of any pleasure. Once done having fun, you just get back on the tarmac and it would drive like a civilised hooligan.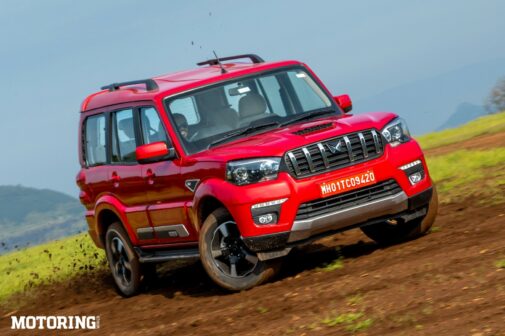 So, after spending a week with the Scorpio, there is quite a bit to not be happy about considering today's SUV standards. But if all of that doesn't matter much, what you are getting is a badass SUV that is very appealing, spacious, and packs a potent powertrain that can take you places and beyond. It is a true-blue SUV that doesn't like the frills, but prefers to get into the wilderness whenever the opportunity arrives. And it still will be able to perform the daily tasks of living in the city. When the time had come for the Scorpio to go back, I was, and am, pretty much convinced to someday have a red Scorpio in my garage, the day I can afford one. And I sincerely hope it isn't topping the grand theft auto charts by then.
AUTODATA
Mahindra Scorpio Classic
POWERTRAIN
Displacement:
Max Power:
Max Torque:
Transmission:
2184cc, I4, turbo-diesel
130 bhp@3750 rpm
30.59 kgm@1600-2800 rpm
6MT
DIMENSIONS
L/W/H (mm):
Wheelbase:
Ground Clearance:
Kerb Weight:
Fuel Capacity:
4456/1820/1995
2680 mm
209 mm
2610 kg
60 litres
PRICE
Rs 15.49 lakh (ex-showroom)