I'm not sure exactly when I realised that the Lexus LC 500h is arguably the most underrated sportscar on the planet. Perhaps it was when I went to pick it up at Lexus' elegant headquarters in Bengaluru, and stopped dead in my tracks when I saw it glistening on the showroom floor. It could have been the moment when I got into its spectacularly well-made cabin, the likes of which you won't find in any other car. Maybe it was the way it went from boulevard cruiser to bar-room bruiser with a turn of the driving mode dial. It was probably all of these things, to be honest – and a whole host of others, which I'll attempt to spell out shortly.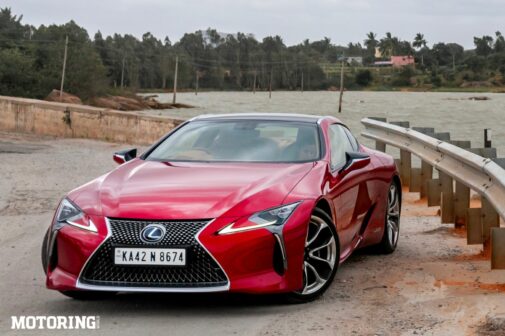 I'm sure you remember the shrieking Lexus LFA, that otherworldly automobile that was essentially an F1 car made for the road. I passed up the opportunity to drive it 12 years ago because I had a school reunion to attend, and thus the very fortunate Srinivas Krishnan went to Japan to drive it and came back a changed man. The LFA is among the wildest cars of all time, and not just because of the V10 it packed; it also looked like an anime fever dream, with a design so out there that it was difficult to accept that Lexus had come up with it. The LC is cut from the same cloth – there are shades of the LFA in it, but if anything it's an even more breathtaking design. There are very few other cars (sports or otherwise) that look this bold, this thrilling, this outrageous, and I'm astonished and glad in equal measure that Lexus – purveyor of understated elegance – lobs a grenade into the mix every now and then.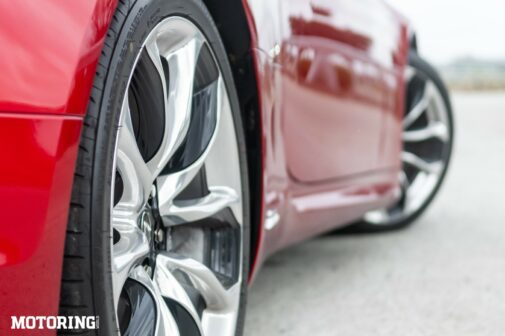 I usually loathe using the word 'epic', given that it's lost its heft with overuse, but in the LC's case I'm happy to make an exception. It's so striking that you can almost feel a stinging slap across your face when you first lay eyes on it; sure, the spindle grille is an acquired taste and can be spotted from space, but in combination with that ridiculously low and long bonnet, the massive rear track, the sculpted waist, the curvy roof and the planet-sized alloy wheels, the LC is indeed nothing short of epic. Just look at some of those design flourishes. The spoiler is slick, the creases and angles tack sharp and the paint – man, it looks like there are 100 coats of it. Hidden away is a fantastic party trick; the points where the B-pillars meet the roof look like a samurai sword (talk about cutting edge). The LC's creators have truly conjured up a unique car, one that is both brutal and svelte, and even though it's a relatively old design, it hasn't aged one bit – and exclusivity is guaranteed. Win+win.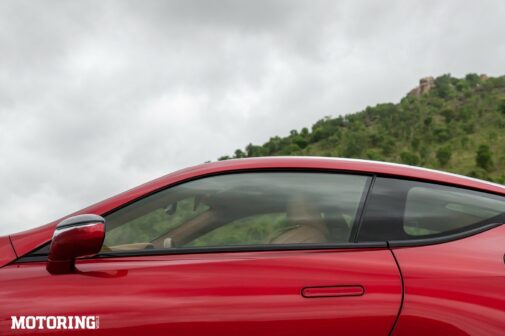 The cabin is also from another planet, a weird and wonderful mix of the stunning and the just plain odd. It's clearly been built with the driver in mind, with all the essential controls within easy reach and angled towards the lucky so-and-so in the hot seat; the seating position is absolutely perfect as well, and in a fully-specced out car like this one, the alcantara seats are as grippy as Velcro. The quality of the materials and fit/finish levels are incredible, giving the cabin a very special feel; it's so well put together that it'll likely outlast its owner.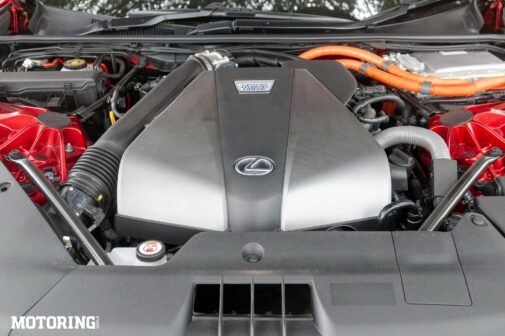 There are too many highlights to mention, but I'll touch upon a few. The quality of the leather and suede is probably the best I've ever seen inside a car, bar none; you feel like you're inside some kind of exclusive lounge. The same goes for all the metal switches and handles, and speaking of handles, the two grab handles for the front passenger are works of art. In a throwback to the LFA, there's a moving instrument binnacle, which looks fantastic. The curving dashboard contains the multimedia screen, A/C vents and analogue clock, and the screen as well as the instrument binnacle are behind a high quality plexiglass casing – no messing around with touchscreens here, although the 2024 model will have a 12.3-inch touchscreen, voice-activated controls and the like. Other mod cons include a fantastic 13-speaker Mark Levinson audio system (with a CD player, hilariously), ventilated seats, a heated steering wheel and a full-colour HUD.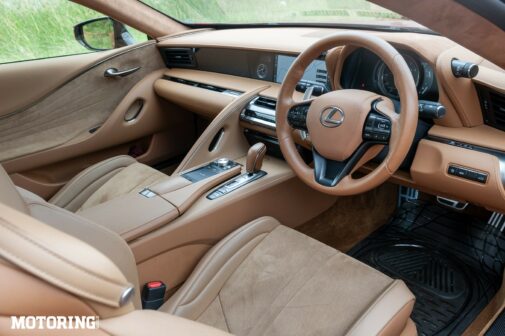 The only touch surface in here is the scroll pad for the multimedia screen, which looks fantastic but is totally maddening to use, not least because it's set too far back. It's so unintuitive that it comes as a bit of a shock; for example, to turn on seat cooling, I… well, I couldn't because there are no physical buttons for seat ventilation. I'm not kidding when I say that my driving companion for the day leafed through the car's telephone directory-like user manual in order to try and figure out how to turn it on (it required a lot of fiddling with the trackpad and diving into four separate menus on the multimedia screen). If you buy this car, you'd be well advised to work out all your favourite settings first and then hit the road. You do get used to it (eventually), and there's (wired) Android Auto and Apple CarPlay, so it's not all doom and gloom (in a gloriously Luddite move, Lexus only began offering these features in 2020). Some of the plastic stalks and switches – coming as they do from more staid Lexus models – look out of place in an otherwise next-level cabin, but they're small compromises in a place that you'll want to spend lots of time in. You do get two rear seats, but those are best saved for children (and what a time they'll have in this car). The 172-litre boot will just about swallow enough luggage for two for a cross-country trip, which is what this car's been built for.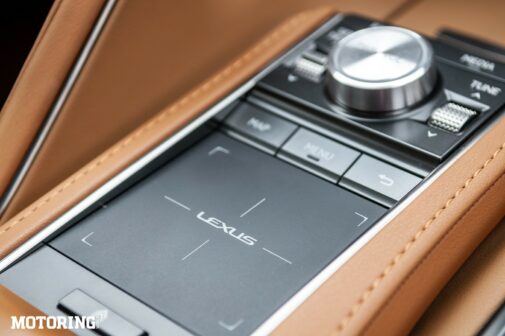 Abroad, you can buy the LC 500, which has a stonking great 5-litre V8 engine in it, producing 471 bhp and 55 kgm. I've driven that version in Japan as well as the bonkers RC F with the same engine specs in this country, and I can safely say that the V8 is the engine to have. Tragically, Lexus only sells the LC 500h here, which is a hugely complex hybrid with a 3.5-litre petrol V6 making 295 bhp and a lithium-ion powered electric motor making 177 bhp, for a combined 354 bhp of peak power and 35.4 kgm. I say 'tragically' only because the visceral nature of a big, naturally aspirated V8 will soon be a thing of the past, and it's something every motorhead should be given the opportunity to experience. Still, stay with me, because the V6 isn't exactly a shrinking violet.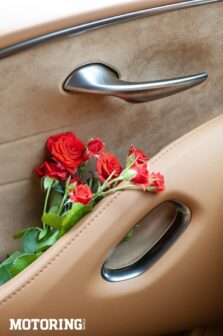 There's a drive mode stalk sticking out of the binnacle casing, using which you can cycle through Normal, Eco, Comfort, Sport and Sport+, each of which is distinctly different. The urban crawl is perfect for Eco, in which the LC operates largely in full EV mode; in fact, the car can access electric power at speeds up to 140 kph, although naturally it can't do so for very long. Normal and Comfort are subtly differentiated in terms of engine response and ride quality, and both are extremely refined. In all these modes, it should theoretically be possible to get pretty impressive fuel efficiency numbers due to the hybrid powertrain, although if that's your primary concern in a car like this, you're a bit… strange.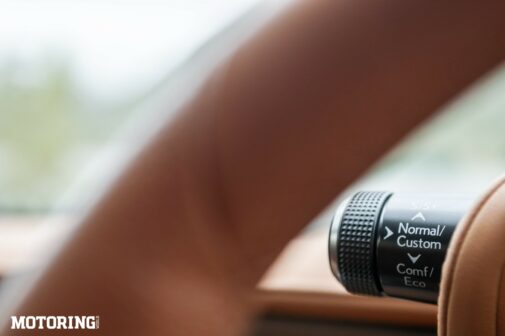 No, what you need to do is to find yourself a nice stretch of relatively empty road, switch to Sport or Sport+ mode and blast off. The engine sends the good stuff to the LC's rear wheels via CVT gearbox, and a standing start to 100 kph takes a shade under 5 seconds, with a top whack of 250 kph (don't ask how I know this). All these numbers are nowhere near world-beating in this segment, but that isn't really the point; if you want to rocket to 100 kph in under 3 seconds and shred all your tyres while you're at it, buy something Italian. The noise the LC 500h makes isn't as thunderous as the V8 – a pity – but I can still guarantee you that people will hear you coming from pretty far away and whip around to wonder what that gorgeous thing was that just flashed past them; inside the cabin, the roar from the engine is hard-edged enough to make you grin, but civilised enough to not become annoying. That sums the car's character up, really – it manages to be both thrilling and comforting, thuggish and sophisticated.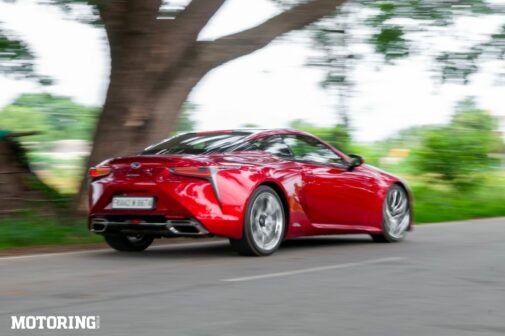 Remember the 'complex hybrid' bit I'd mentioned earlier? That's because Lexus has put a CVT and a 4-speed automatic gearbox into the car, resulting in 10 speeds being available in manual shifting mode. Now, any time I see the letters C, V and T with respect to a car, I tend to want to head for the exit, but I must confess that this unit is well above average. As a matter of fact, it's better in full auto mode, staying in the torque band much more efficiently than I could manage with the flappy paddles. In manual mode, there's a delay between when you pull the paddle and when the engine does what you're asking of it, and if you're really barrelling along, you can feel and hear the V6 searching for a better ratio. Leave it in auto and things will be just fine, trust me.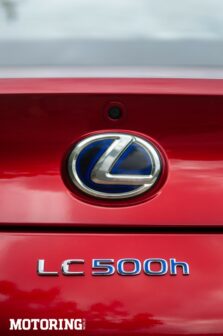 The LC is a proper GT, so it's perfectly at ease wandering around absolutely silently in EV mode in city traffic, rolling up its sleeves and sprinting to 100 kph and beyond and cruising serenely at 120 kph on the highway, all while looking like a gazillion bucks. It feels relatively light despite its weight, and it's very easy to drive, with a wonderfully weighted steering wheel, fabulous performance brakes with aluminium calipers and a lovely, balanced nature when you're hustling it around corners, despite being nose-heavy; the massive tyres grip the road like it's going out of fashion. The adaptive suspension gets full marks too, for a surprisingly plush ride, although you do have to exercise some caution on broken roads, with only 140 mm of ground clearance.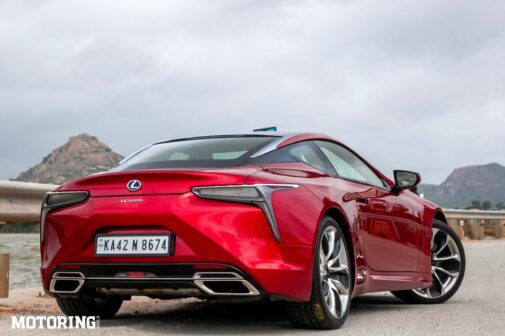 If it isn't obvious already, I adore this car. I don't have its Rs 2.3 crore (ex-showroom) asking price, but in an alternate universe in which I sneezed currency notes, I would unhesitatingly put the LC 500h in my garage; better yet, I'd try and convince Lexus to sell me the V8 version, bank account be damned (it's a homologation matter, but still). There is absolutely nothing else like it in the automotive world, let alone India. To be able to top the visual stakes in the exalted company of German and Italian exotics is itself a great reason to own one; throw in that chef's-kiss interior, Lexus' refinement, comfort, reliability and safety and alternately purring/snarling engine and you have a stunner of a package. Is it more expensive and less powerful than a Porsche 911, the gold standard? Yes. Will a Lamborghini Huracan blitz lap records better than it? Yes. Do I care? No – and neither should you.
PHOTOS Vidhi Kundan Jain
AUTODATA
Lexus RC F Coupe
POWERTRAIN
Displacement:
Max Power:
Max Torque:
Transmission:
3456cc, V6, petrol hybrid
354 bhp@6600 rpm
35.69 kgm@5100 rpm
10AT
TYRES
F/R: 245/40 R21 / 275/35 R21
DIMENSIONS
L/W/H (mm):
Wheelbase:
Ground Clearance:
Kerb Weight:
Fuel Capacity:
4770/1920/1345
2870 mm
140 mm
1985 kg
82 litres
PRICE
Rs 2.39 crore (ex-showroom, India)