It's been a difficult time recently, and during some of those, I look back at certain memories that help nudge me in the right direction. A recent stroll down memory lane to my boarding school (in Janak's superbly restored Maruti Esteem) brought back memories of treks — waking up early, putting on sturdy shoes, and hoofing it to the nearest hilltop. Our school had even arranged treks to nearby forts, and one that stands out in my reminiscing is Rajmachi. Now, I'm not nearly at the same athletic level I was 20-something years ago, but I do have those many years of experience with trying to get what I want.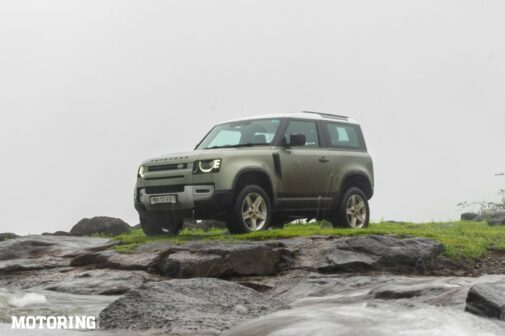 So, I decided I'll trek to Rakmachi, but befitting the wisdom to know I wouldn't make it there on my own two feet, I roped in the Land Rover Defender 90. Now, here's an SUV that promises (and thoroughly delivers) that sort of go-anywhere ability that I may need. After all, I've been to Mahindra's Off-road Academy twice now, but by no margin am I an expert off-roader. The Defender 90, then, would be able to compensate well for any overzealousness on my part. So, one rainy, foggy morning, I set off.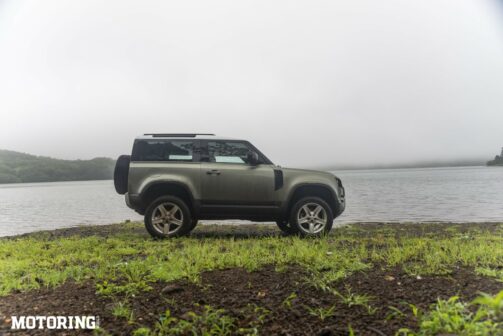 Cruising down the Mumbai-Pune Expressway felt much too pedestrian for this 296-bhp, 2.0-litre engine, but it was a pretty comfortable experience — the heated seats, which would come as a boon later, along with the overall level of plushness, were already making this feel like a leisure outing, and that's not the intent here at all! The twisties at the ghat section were filled with slow-moving trucks, and so I was left twiddling my thumbs at the chunky steering wheel, enjoying my music being pumped out of the superb Meridian speakers.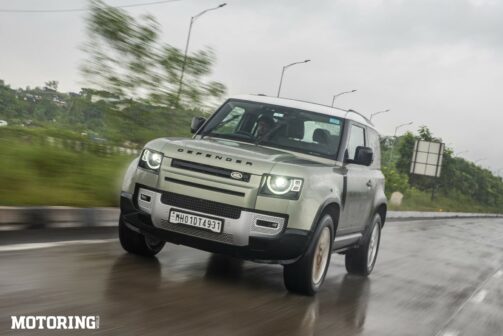 The stop-go traffic also gave me the chance to admire the overall layout of the inside of the 'shoe' I had chosen for this trek. The screens, both the 10-inch infotainment and 12.3-inch driver display — were easy to use, and informative besides. In fact, I found a compass setting on both, which led me to a joke that gushed out in the moment, 'The Defender has a Compass and some Meridians.' As I chuckled away at that for the next 50 km or so (and Govind rolled his eyes at the poor punnery) I felt a sense of chest-thumping confidence while driving I haven't in a while.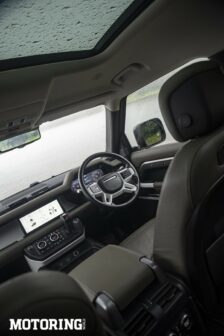 I quite liked how high up I was sitting — so much so that I felt I was dwarfing Tata Harriers and Mahindra Scorpios — and I also adored the number of recesses and the number of charging ports (USB Type-B and Type-C) hidden in the dash. Finding the heating and ventilation for the seat took a bit of looking, and that some of the off-road functions were placed in proximity to the climate control toggles was off-putting, but the simplicity (once one gets used to it) is obvious.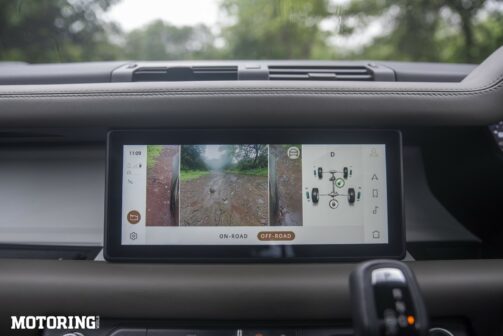 It was a joy to drive the Defender 90 on the worn, one-and-a-half -lane road past Della Adventure Resorts, too, or it would have been if not for oncoming traffic. Here, the Defender showed its 2-metre girth. Still, the few corners where I could push the Defender were rewarding, as the stiff chassis and beautifully balanced suspension made throttling out mid-corner a blast. The 8-speed auto and four-wheel drive system deftly distributes 40.79 kgm of torque produced by this four-cylinder engine to whichever wheel needs it. Other than some very manageable body roll (it is nearly 2 m tall), this SUV felt brilliantly planted. It's one of the few times the Sport Utility Vehicle moniker is just so apt.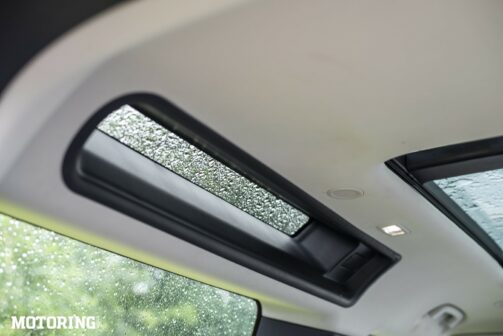 A small Rs 100 payment was required as we were nearing the trek route, and we were given adequate warning of the terrain ahead, though everyone around was convinced Land Rover's Defender 90 would be able to take on everything easily. In fact, we saw a few Innovas, Ecos and even an Alto or two, until a certain point. After that, it was SUV territory, where Mahindras and a few Isuzu pick ups thrived. Naturally, you'll also find the occasional group of adventure bike riders, and school/college kids on hikes, and even a bunch of scooters passed us in the other direction at one point. Of course, none of the slush, rocks, or ruts phased the Defender 90 in the least.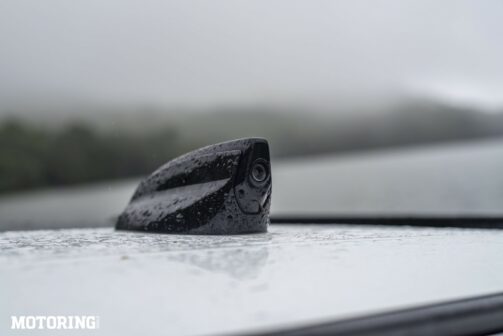 I had the Selec Terrain feature in Auto, had raised the suspension height to its maximum of 291 mm, and I just cruised by at about 30 kph to 40 kph. There was minimal jostling as the suspension ironed out whatever was below, and even the slightly jittery Keshav was enjoying the back seat after having hauled his comparatively lithe frame via the folding front seats. There were points where the rocks were sharp and placed awkwardly, and there, the 360-degree came in handy. Picture quality and clarity of vision was beyond excellent, and there was a negligible chance of getting a scratch on the stunning silver-grey paint.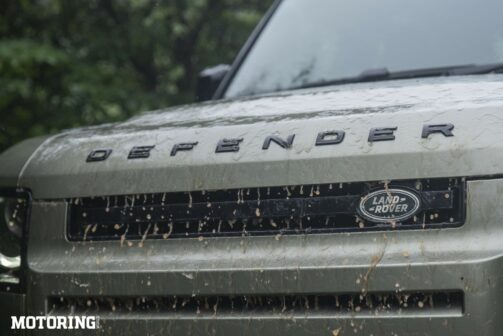 We were having such a good time of it, pausing here and there for a variety of splash shots (Govind always wanted one more) for a bit of mud-plugging, and to take in the beauty of Tungarli Lake, that we forgot to actually go all the way to the fort. In fact, we ended up spending so much time taking picture after picture of the squat and powerful-looking Defender 90 against the backdrop of the serene lake — it reminded me of a stout and famed Dwarven King who looked into a mountain bound lake to see his future, and founded the greatest Dwarf realm in J.R.R. Tolkien's mythology — that I realised we had to wrap up and finish our shoot.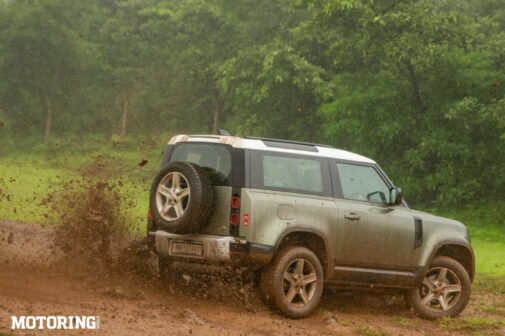 We had spent over six hours traipsing up and down the Rajmachi trail having an absolute blast while being cosseted that sunset wasn't too far away, and traffic getting back into Mumbai would be horrendous. A quick break for some piping hot masala Maggi, we headed off toward a lonely highway near Mumbai to finish our tracking shots. As Govind was setting up, I sat admiring the mud-splattered Defender 90, thinking that this is how something that thrills so much should look. Yes, it looks great when it's shiny and clean, but there's just something so attractive about a Defender 90 with muck covering the bottom half, and streaks rising to the windows.
We did end up getting stuck in a bit of traffic on the way home, and the Defender 90's length, torquey turbo-petrol engine, and the ease with which it could be driven helped us make quick progress. Despite the hours of driving over some pretty trying terrain, through heavy fog, and buffeting rain, we felt relatively fresh (and I mean mostly the youthful Keshav as Govind and I were saddlesore and eagerly looking for our respective beds). I can't help but think it's a bit sad that I wouldn't have been able to make this sort of trek on my own two feet.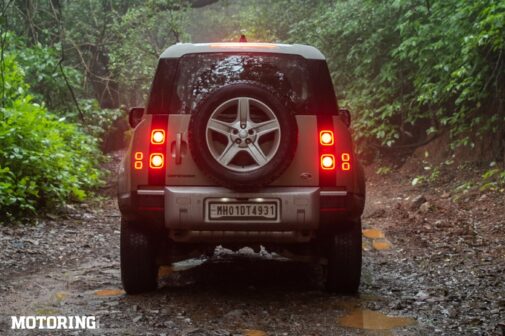 It's a feat that I wouldn't have thought about twice 10 years ago, but now, even after having the supremely capable Defender 90, I felt tired after this romp. It may be time to get into shape, and I mean one that's not round. I can take inspiration from the Defender 90 — I mean that robust form and that level of capability is definitely something to aspire to. Let's hope the motivation sticks this time.
AUTODATA
Land Rover 2.0L Petrol SE
POWERTRAIN
Displacement:
Max Power:
Max Torque:
Transmission:
1997cc, I4, turbo-petrol
296 bhp@5500 rpm
40.79 kgm@1500-4500 rpm
8AT
DIMENSIONS
L/W/H (mm):
Wheelbase:
Ground Clearance:
Kerb Weight:
Fuel Capacity:
4583/2008/1974
3022 mm
NA
2140 kg
90 litres
PRICE
Rs 79.94 lakh (ex-showroom, India)