It's a hot, windy day near Nandi Hills, outside Bengaluru. There's an FIA Grade 2 racetrack in front of me, except that it hasn't been completed, so it's effectively a huge flat-track raceway at the moment. This would be the perfect environment for a small, light rally-spec hatchback, so naturally the car that I'm sitting in is the Lamborghini Urus Performante, a super-SUV that weighs well over two tonnes and is over five metres long and two metres wide; it's burbling away menacingly at idle and being quickly covered in red dust, being blown in from the track. In its cabin, I'm ensconced in sporty luxury and very welcome air-conditioning, while pro racer Ishaan Dodhiwala, in the passenger seat, runs me through some do's and dont's, the gist of which is 'have fun and don't crash.' The Urus' 'Tamburo' drive controller is set to Rally, which is new for the Performante – this mode dials down the ESP's limits, and tells the torque-biasing rear diff to send more grunt to the rear wheels. 'You'll be surprised at what this thing can do in Rally mode', says Dodhiwala. Only one way to find out, then – I floor it.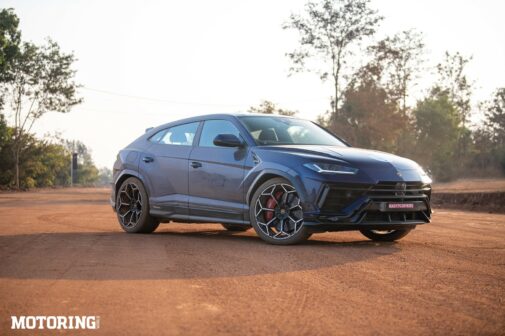 (record scratch) But first, a bit about the Urus Performante. The regular Urus (for lack of a better word) isn't exactly a shrinking violet, with a whopping great 4-litre V8, 641 worth of the finest thoroughbreds and a 0-100 kph time of 3.2 seconds. Why, then, did Lamborghini see fit to take one of those, give it 16 more bhp, slice 47 kg off its kerb weight and make it wider and lower? I haven't the faintest idea, but I suspect that it's one way to keep interest alive in what is the firm's most popular car by a country mile; the Urus has comfortably outsold its flashier stablemates from the day it was introduced in 2017, in a trend seen with every manufacturer of both supercars and SUVs (with the Purosangue upon us, I don't think it'll be too long before Ferrari's sales charts go the same way).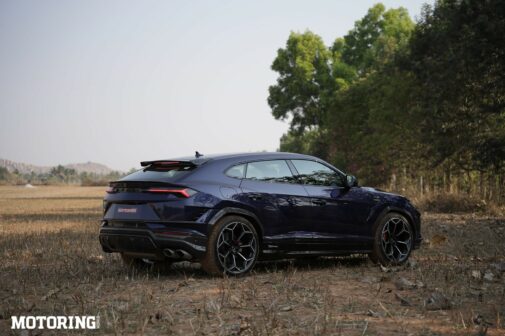 Visually, you won't mistake the Urus for anything else, but there are some noticeable new design elements, principally a lower stance (by 20mm), a revised front end with carbon fibre bits on the bonnet and rear spoiler, Performante badging, Akrapovič titanium sports exhaust and titanium bolts on the (optional), super-light 23-inch wheels. It still looks like an angry hornet that is a regular at the gym, and is guaranteed to stop traffic no matter where you go and what company you're in.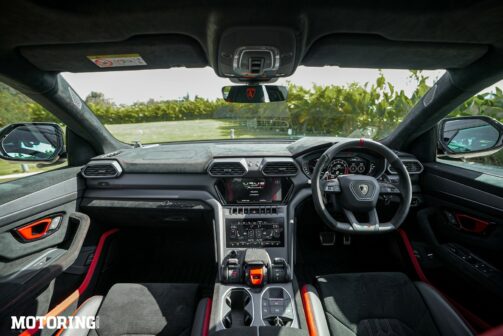 The most significant mechanical change is in its chassis – the Performante gets straightforward steel springs instead of adjustable air suspension, although the electromechanical active roll stabilisation system is still there, albeit re-tuned; this change is why the Performante sits 20mm lower than before. Ride height is therefore no longer adjustable, but high-load responses from the new suspension have been greatly improved, to aid overall handling. The Torsen centre diff is also new, and it sends more power to the rear axle much more quickly; in software terms, the 8-speed automatic 'box, 48V anti-roll system, torque vectoring rear diff and rear wheel steering have all received updates to make them more track-ready. As mentioned, the front and rear tracks have been widened by 16mm to make room for the enormous tyres, and at least abroad, you can spec your Performante with track-spec Trofeo-R tyres. All this technical wizardry clearly works because last year, the Performante smashed the record for SUVs at the Pikes Peak hill climb by over 10 seconds.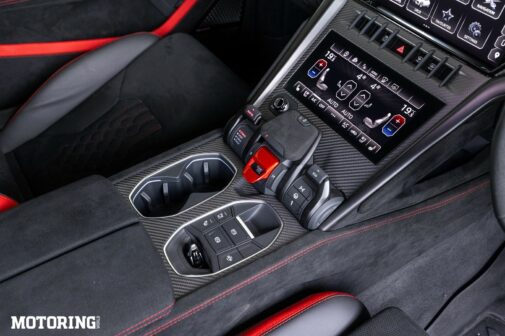 On the inside, there aren't too many changes. The cabin is proper driver's-car stuff, and there's lots of black Alcantara everywhere, including on the roof, some new hexagonal seat patterns, a Performante graphic on the HMI and the new Rally mode on the drive selector switch. The steering wheel is fantastic – meaty, 3-spoke, with a red 12-o'clock indicator and giant flappy paddles behind it – and the touchscreens are brilliantly hi-res and easy to use. As you would expect in a car that costs several arms and legs, fit and finish are exceptional, and the cabin is comfortable enough for four adults; the large boot takes care of the practical side of things. The personalisation options are in the many hundreds, so you can truly make the Urus your own. As always, the party is started by lifting the red fighter jet-style flap and pushing the starter button, a move that has a certain drama to it.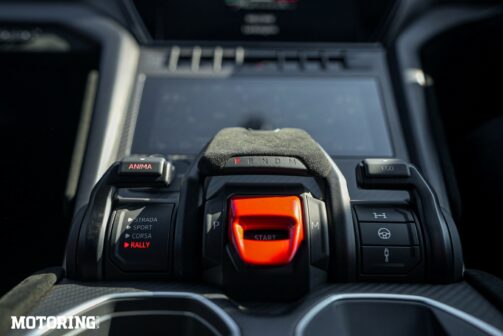 That, however, is nothing like the drama that ensues when you flog the Performante around a dirt track at full pelt. After an initial slow-speed approach to one of the straights, I thumped the accelerator, which resulted in a wheel-spinning, dust-storming launch and a frankly startling rate of progress down said straight, accompanied by an absolutely luscious growl from the pipes. In no time whatsoever, I came upon the first corner, a sharp right-hander, and I would be lying if I claimed that my heart didn't begin ascending towards my mouth; flinging someone else's hyper-expensive car into a bend at high speed, on dirt, suddenly seemed like a very bad idea. Dodhiwala didn't seem overly concerned, however, which helped greatly. 'Just stick to the racing line and steer normally, don't worry – it'll start to slide, but you'll be able to catch it easily and power through', he said – which is exactly how things played out. The rear end stepped out gracefully, and I entered the corner sideways and stayed that way; a bit of opposite lock and some throttle input and I was on my way to the next corner, with the Performante almost yawning at the simplicity of it all.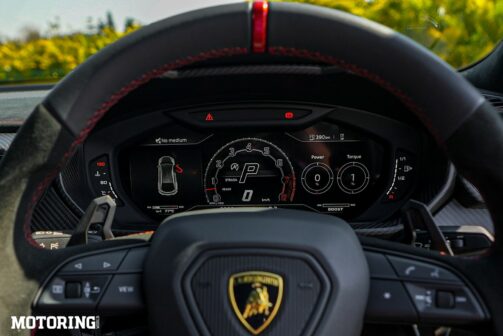 Everything that transpired over the next two laps (yes, I am formally complaining that we only got two laps each; one instructor quipped that was because Lamborghini wanted us to get out of there before we became too confident with the car) slotted firmly into 'physics-defying' territory. Belting a hyper-powered SUV around a dirt track was a first for me, and I spent most of the first lap not wanting to prang the thing. Pretty soon, though, I got the hang of how it behaved, and for one-and-a-half laps, I was gleefully slipping and sliding it (almost) like a seasoned pro – but the truth is that it was 90 per cent the Urus and 10 per cent me. The trick was simple enough – give it enough gas to begin a slide, stay on the gas so that the yaw angle could be controlled by the active systems, provide judicious steering inputs and be on your merry way to the next corner; the temptation to back off on the loud pedal had the undesirable effect of bogging the Performante down. Like I said, two laps were all we got, so the stupid grin on my face was wiped off fairly quickly.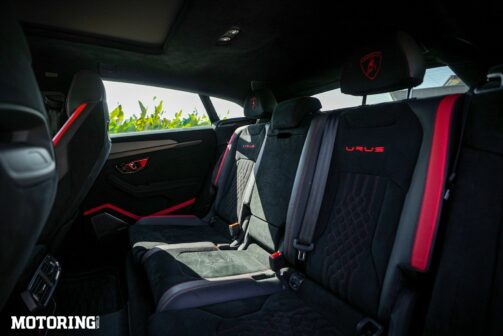 Thankfully, not too long before we showed up at the dirt track, we had been given the opportunity to drive the Performante on the road as well briefly – and it was insanely good there too, unsurprisingly. You would think that the acceleration of a regular Urus would be enough for anyone, but the Performante manages the feat of making it feel like a bit of a laggard. Off-the-line acceleration is off-the-charts, to put it mildly, and the louder exhaust make the experience that much more visceral. The gearbox is also incredibly quick, and it blasts through the lower ratios like it's going out of style – high triple-digit speeds appear so quickly on the speedo even in Strada mode that it takes real restraint on your part to not overcook things, especially on a public road. Still, even if you do some silly things, the carbon-ceramic front discs (at 17.3 inches and with 10-pot calipers, Lamborghini says they're the largest units on any production car) haul the Performante in on the proverbial dime, and give you otherworldly confidence when attacking a series of tight bends, such as the ones that we encountered while doing a quick climb of Nandi Hill; not a hint of softness was seen in the pedal after some spirited driving, either.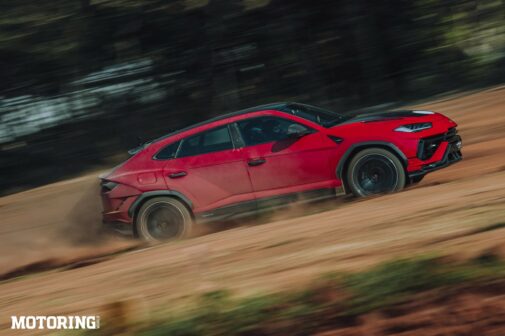 Around corners, the Performante feels like – and I'm not kidding here – a thoroughbred sportscar; there's loads of connection in the steering wheel, and with the aid of all-wheel drive, rear-wheel steering and an active anti-roll system, it turns into and out of corners absolutely flat, belying its size and weight. As always, you can select the driving mode to suit the conditions, your preference or your ability (or all three, who's counting?). Corsa is track-focussed, and you can feel the electronics working to keep slip in check, while Sport gives you more leeway by bringing torque vectoring into play. Even in regular Strada mode, this car is likely to startle much smaller and lighter vehicles in the handling stakes. As for the ride quality on offer, it's surprisingly pliant despite the thin tyres, massive wheels and non-air suspension, and the Performante will have no trouble ironing out all but the most awful craters on our roads.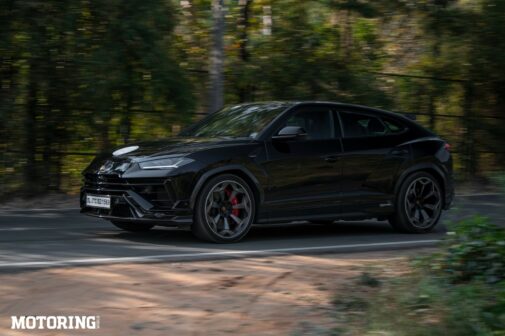 The Performante sits in a stratosphere where trifling things like road tests and reviews don't matter to its target audience, so it's no surprise that the first lot of cars assigned to India has already been spoken for; I daresay most of those buyers haven't even test-driven it yet. At Rs 4.22 crore (ex-showroom), it costs as much as an apartment in a large city, but of course that won't matter either to those who buy one, since they're likely the owners of multiple abodes. Suffice to say that if money is no object and putting the ultimate performance SUV in your garage is your aim, the Urus Performante currently has no peer in India.
PHOTOS Lamborghini India
AUTODATA
Lamborghini Urus Performante
POWERTRAIN
Displacement:
Max Power:
Max Torque:
Transmission:
3996cc, V8, twin-turbo petrol
657 bhp@6000 rpm
86.68 kgm@2250-4500 rpm
8-speed, auto
TYRES
F/R: 285/40 R22 / 325/35 R22
DIMENSIONS
L/W/H (mm):
Wheelbase:
Ground Clearance:
Kerb Weight:
Fuel Capacity:
5137/2181/1618
3006 mm
158 mm
2150 kg
85 litres
PRICE
Rs 4.22 crore (ex-showroom, India)