I need to find a tunnel. Not in a little while, not in the distant future. Right. This. Instant. Because I'm driving a Lamborghini Huracan Tecnica. It has 10 naturally-aspirated cylinders laid out in a V formation. From those 10 cylinders emerge 630 bhp and 57.6 kgm of torque. More importantly, from those 10 cylinders emerges a noise that, once finely tuned by the exhaust pipes, would wake the recently deceased. It's not a subtle noise; the brilliant Audi R8 V10 has the same engine, for example, and sounds like a haughty butler in comparison. No, the Huracan Tecnica doesn't do under-the-radar. When you start it up, the cylinders awaken immediately and settle into an angry thrum. Blip the throttle and the promise of fisticuffs is made clear, and as you progress through the revs even at relatively sane speeds, sheer violence appears on the horizon. To fully unleash it, you need a relatively clean stretch of road — and an enclosed space. I need to find a tunnel. Now.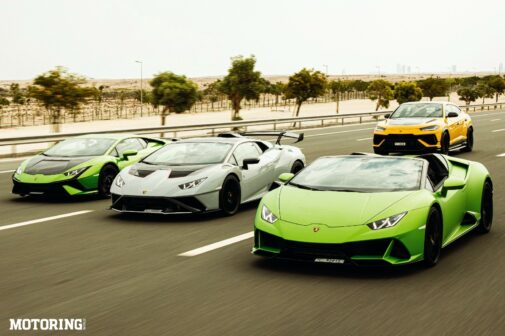 Luck is on my side. Our convoy of Lamborghinis — an Huracan Tecnica, Evo Spyder and STO and two Urus' — is driving from the Qatari capital of Doha towards the F1 circuit in Losail (why we're not driving on the actual circuit remains a mystery to this day). The road is arrow-straight and has laughably low-speed limits for cars with this much firepower, and I certainly don't want to get deported. A tunnel appears, however, and I just know that everyone driving the other cars is thinking the same thing as me: 'get in there and floor it.' The tunnel is empty, with no traffic behind us, so we all slow right down and line up for a rolling launch; I roll the windows down for maximum effect. We all switch to Corsa mode, do a telepathic countdown and pound the accelerators.
The result is deafening — and exhilarating in a way that can't be fully described. All the Lambos blast off as if the next set of Euro emission norms are giving chase, and I'm pinned back into my seat as the digital speedo and tacho fly through the numbers like stopwatches. There are cameras everywhere, and apparently, in Qatar, it's also illegal to rev your engine loudly, so we're treading on very thin ice, but boy is it worth it. The ear-splitting howl from 46 cylinders at full chat is the stuff of warfare; the wall of noise enters the crown of my head and surges through my being, exiting at my feet, and I feel like pins and needles have taken over my entire body. Needless to say, I'm grinning the whole time, and each shattering explosion from the multiple exhausts makes me laugh harder. The tunnel is doing its job admirably, amplifying all the savagery to a level that would certainly get us into deep trouble if the constabulary showed up, but do we care? Not one bit. Mash the throttle, and off we go again.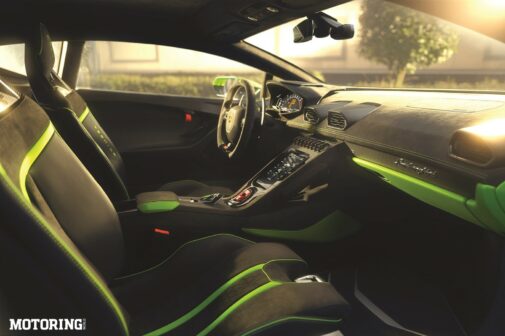 This is what driving, and cars, is all about. I'm not going to lie — I've become bored by most cars on sale today (especially EVs, sue me) and the Tecnica is a bolt of lightning straight to the adrenal glands compared to most of what I've driven in the last few years. Cars have largely become hyper-efficient appliances, and while that has many advantages, I don't want to drive an appliance. I want something that lifts my spirits and makes me glad to be alive, and the Tecnica does just that.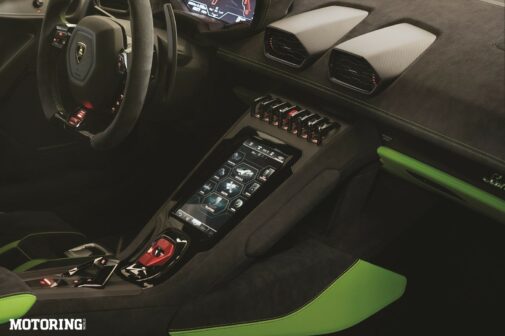 Externally, it hasn't changed much (no Huracan variant has); it slots into Lambo's portfolio one rung below the bat-guano crazy STO, so it does away with the enormous wing and the engine bay scoop and replaces them with a much smaller wing and most of the Evo's body panels. Its face is also different, with a prominent Y-shaped accent on the hood; other minor changes include a carbon fibre engine cover and some tweaks to the rear end. For a 10-year-old car, the Huracan hasn't aged one bit; in fact, it looks edgy enough to last another decade, and is still one of the great sights in the automotive world.
The cabin is beautifully finished and looks like it's from a spaceship, and that's all that matters, even if some of the ergonomics are off (there's not much room to play with in there). I'll never get tired of that bright red starter button flap, for example, or those clawlike switch separators above the cool touchscreen. The huge flappy paddles are a delight to operate, even though they mean that there's no space for proper indicator stalks, so you have to press a tiny button on the steering wheel instead. When you're strapped into the snug seats and gunning it for all you're worth, the otherworldly soundtrack means you don't need an audio system, even though there's a very good one at hand. Heck, there's even Amazon Alexa connectivity. It's a comfortable enough space to spend a few hours, and in any case, you'll be too busy having fun to notice any discomfort.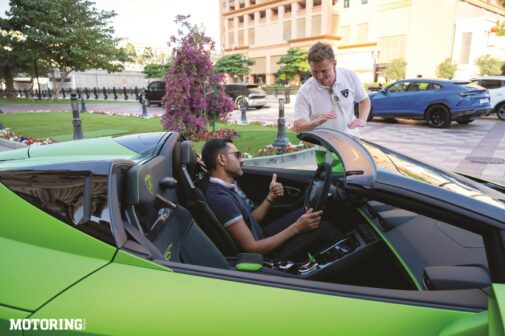 That engine, straight off the STO with no changes made, is a masterpiece, as I think I've mentioned. A V10, 630 bhp at a banshee-like 8,000 rpm, a 9,000 rpm redline, impeccable low-speed manners, red-hot acceleration — if you want more, you're being very picky. No turbo engine on the planet can ever be as entertaining as this one when you're blasting through the gearbox, and power delivery is incredible — precise and absolutely linear. I couldn't get it to even break a sweat in the urban conditions in which I drove it, but I could immediately tell what it was capable of when pushed to the wall — I'm not sure I'd be a good enough driver to deal with that, to be honest.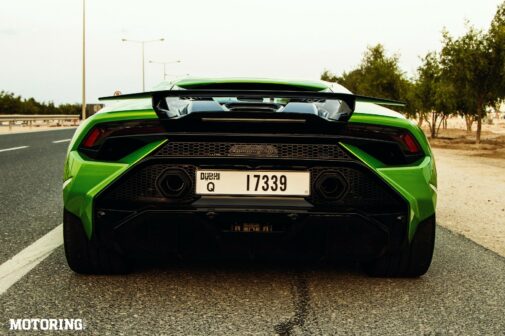 Since Lamborghini built this car as an STO that you could actually use every day, the ride quality is perfectly acceptable on smooth roads, and there's the nose-lift function when you need to clamber over speed-breakers. I didn't get the chance to see what it could do when hurled around corners, mainly because there weren't any on the route, but with rear-wheel drive, 35 per cent more downforce than the Evo, four-wheel steering, a super-quick steering wheel, torque vectoring and insanely grippy Bridgestone Potenzas (the same as on the STO), I imagine that the Tecnica would be magical on a racetrack as well as on a mountain road.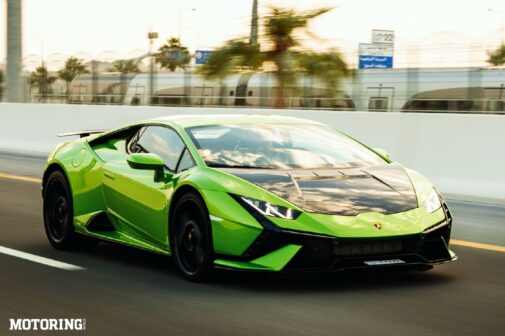 You have to hand it to Lamborghini. Since it first launched the Huracan, the competition has put several brand-new cars into the market. The Italo-Germans, on the other hand, have been content to stick with the Huracan and to keep tweaking it; thus we've seen the LP 580-2, the Performante, the Evo in various iterations, the Tecnica, the STO and the soon-to-be unleashed Sterrato. It's a pretty solid formula, you have to admit, and it's certainly worked for the storied Sant'Agata Bolognese brand; its cars remain as thrilling and as desirable as ever. Driving a car like the Tecnica is simultaneously life-affirming and a bit sobering, because one moment you're revelling in the absolute pinnacle of good, old-fashioned performance motoring and the next you're feeling a bit blue about the fact that it's among the last of a dying breed — I can't imagine that an EV, even one built by Lamborghini, will come close to this experience.
PHOTOS Lamborghini
AUTODATA
Lamborghini Huracan Tecnica
POWERTRAIN
Displacement:
Max Power:
Max Torque:
Transmission:
5204cc, V10, NA
630 bhp@8000 rpm
57.61 kgm@6500 rpm
7-speed dual-clutch AT
TYRES
F/R: 245/30 R20 / 305/30 R 20
DIMENSIONS
L/W/H (mm):
Wheelbase:
Ground Clearance:
Kerb Weight:
Fuel Capacity:
4567/2236/1165
2620 mm
135 mm (175 mm with nose lift)
1379 kg
80 litres
PRICE
Rs 4.04 crore (ex-showroom, India)