'Road-legal race car', 'race car for the road' and 'track car for the road' are pretty common descriptors all sports car makers use quite regularly. However, the most famous homologated cars are a rare breed, built only to meet a racing series rule stating that participating cars must be based on a model people can buy. Lamborghini took a rather convoluted route for the Huracan STO, though — they first modified a road legal Huracan Evo for their Super Trofeo series, won at Daytona for three and at Sebring for two consecutive years, brought all these learnings back to the Evo and finally created the Huracan STO. In case you're wondering, STO stands for Super Trofeo Omologata (omologata is Italian for homologated).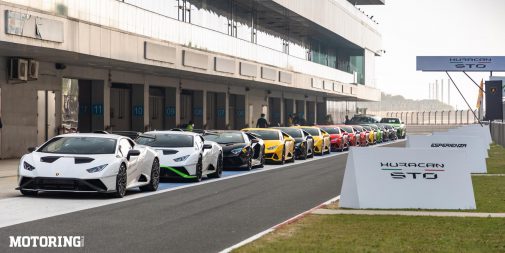 The Huracan STO is as subtle as, well, a bull in the proverbial china shop. I mean, look at it and tell me you can't see this car means business. Here are some numbers to add to the incredulity — the STO is 43 kg lighter and has 53 per cent more downforce than the Huracan Performante, it has a shark fin to keep the air straight over the massive, manually adjustable rear wing, magnesium wheels, extra carbon-fibre body panels, a flat underfloor, a thinner windshield and an unmissable V10 engine that makes 631 bhp and 57.5 kgm of torque. It also has a red line of 8500 rpm, no hybrid-electric support and an exhaust note that you want to bottle up and sell. The Huracan STO is loud, aurally and visually, and carries it all off without a care in the world.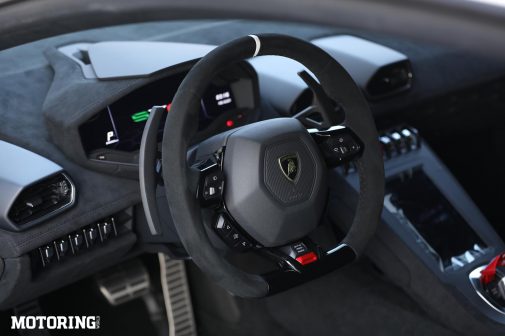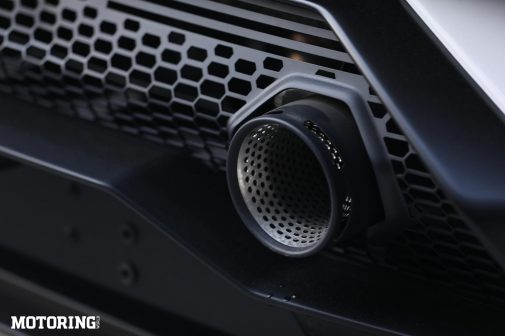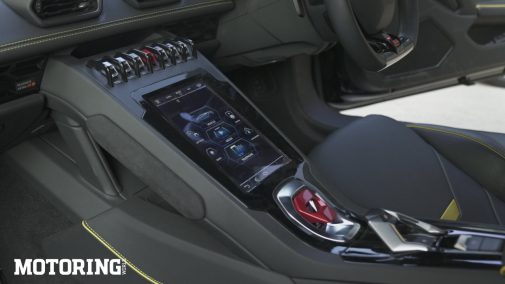 I got 5 laps around the BIC in the STO, and they are very close to the most fun I have had on this track. The first lap was, honestly, lost in just listening to the engine note — it is thunderous, unrelenting and the down-shifts make the child inside you smile widely. By the second lap, the only word playing in my mind was 'immediate'. It's like the car knows what you want it to do next, and is ready for it when you actually do it. The V10 dominates the entire driving experience, roaring — literally and figuratively — way past normal up-shift territory, egging you to take it to the limit.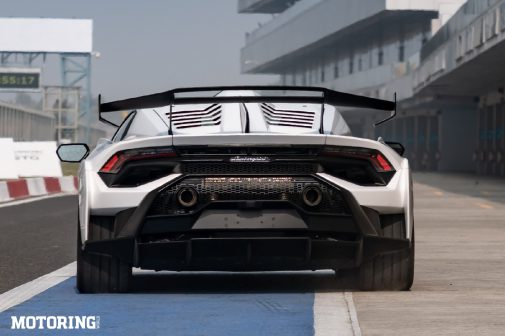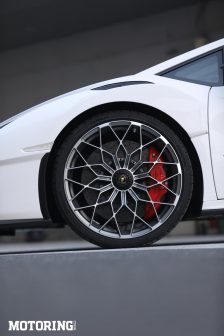 The STO makes you the hero from the moment you start driving, but there was a lesson to be learnt, for me — which was that the STO will do everything you ask of it, as long as you don't expect it to defy the laws of physics. On the last corner of the second lap, I was all pumped up to start my fast lap by thundering out of the corner. All I did, though, was to put in too much throttle mid corner, and I was instantly back from playing Real Racing 3 to reality with an embarrassing spin. I stayed on the track, however, which would have come as a relief for everyone who was to drive the car after me. During the remaining laps I was, obviously, more cautious and focussed more on enjoying the car rather than keeping up with Armaan Ebrahim in the pace car.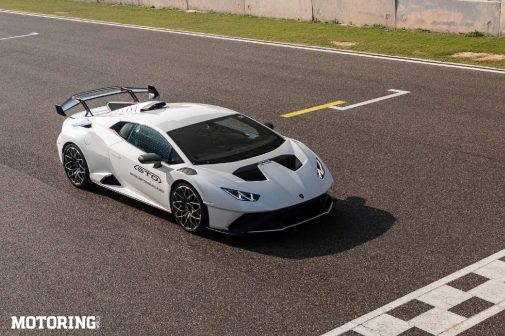 The STO feels light and more connected than any road-going car really should, in today's world of dull steering. The grip from the Bridgestone Potenzas is just stupendous; there are times when you expect them to give up, but they carry on squealing happily. The brakes are just as impressive as the acceleration, but it will take more than 5 laps to truly appreciate them. The other thing which stands out is how beautifully balanced the STO is. Even while you are pushing it or braking hard, it never feels out of sorts. It can be extremely forgiving, as long as you know what your limit is. Of course, it lets you show off a little bit thanks to the very coolly named driving modes — STO, Trofeo and Pioggia — street mode, track mode and wet mode in English. Each mode comes with its own stability control settings, but they don't act as your nanny. Become a bit too cocky and the STO will make you work for it, catching you just in time before you bin it.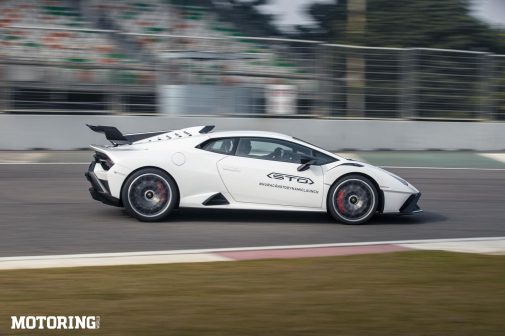 As a Ferrari fan, it is not easy to praise a Lamborghini this much, but the Huracan STO deserves nothing less. This particular STO at BIC had been doing laps with different and mostly amateur drivers, for three days, and yet it hadn't broken a sweat. This is a car which is not just praiseworthy, but respect-worthy. Lamborghini has made something which will tug at your heart, have you grin goofily and make you look like a better driver, all at the same time. All Lamborghinis are special, of course, but the STO is especially memorable. The tag line may be a marketing spin, but it is not easy for a road-legal car to be so good on the track. The Huracan STO simply is.
AUTODATA
Lamborghini Huracan STO
POWERTRAIN
Displacement:
Max Power:
Max Torque:
Transmission:
5204cc, V10
631 bhp@8000 rpm
57 kgm@6000 rpm
7-speed, dual-clutch
TYRES
F/R: 245/30 R20 / 305/30 R20
DIMENSIONS
L/W/H(mm):
Wheelbase:
Ground Clearance:
Kerb Weight:
Fuel Capacity:
4549/1945/1220
2620 mm
135 mm
1339 kg
80 litres
PRICE
Rs 4.99 crore (ex-showroom, Delhi)