Even though I drove the Carnival last month in Hyderabad, I'm going to go back in time a little and revisit a road trip I had done in the USA. In 2016, I decided to go to the Burning Man festival in Nevada with a group of friends. It's an other-worldly celebration of art, music, people and pretty much everything else you can think of, held every year in a high-altitude desert where there's nothing but heat, cold and dust… lots of dust. One of the festival's guiding principles is 'radical self reliance', which translates into your having to bring everything you need to survive in the desert for a week — food, water, shelter, transport, artwork etc — with you, and then to take it all back once you're done; another principle is 'leaving no trace.' To do this, you need some form of motorised transport that can accommodate all of this, so my friend Romil and I, who were driving to the festival from San Francisco, decided to rent a vehicle for the job. The plan was for him to land at the airport, rent the car and then come and pick me up, after which we would set out for the festival, making supply stops on the way.
Bang on schedule, Romil rocked up to where I was staying, at the wheel of a rather large Kia Sedona van (in the US, they're called 'minivans', naturally). I admit to being a bit disappointed when I saw it, because I'd been having visions of a proper supersized Yankee pickup truck or SUV, with at least eight cylinders under the hood and a suitably raucous soundtrack to accompany them; a 'mom mobile' seemed like a step downwards. Upon closer inspection, though, 
the Sedona (which is what the Carnival is called there) revealed itself to be very spacious, extremely well put together and rather practical, in the way that the seats could be moved around in order to make room for luggage.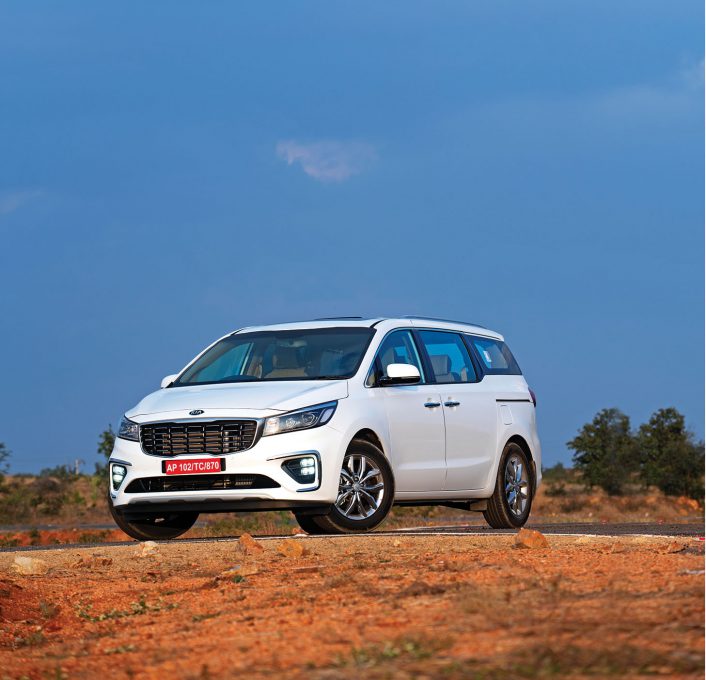 To cut a long story short, that Sedona turned out to be the perfect companion for our trip. It drove and handled in a pleasing manner, had every mod con that we could have asked for, swallowed a week's worth of supplies, luggage, bicycles and other knick-knacks for five with the rear seats folded flat, sat through huge dust storms during the festival and accommodated said five people with their luggage and festival detritus (plus other stuff) on the way back to San Francisco, all without the proverbial bead of perspiration. As a real-world road test, that was about as real as it got, and the Sedona aced it.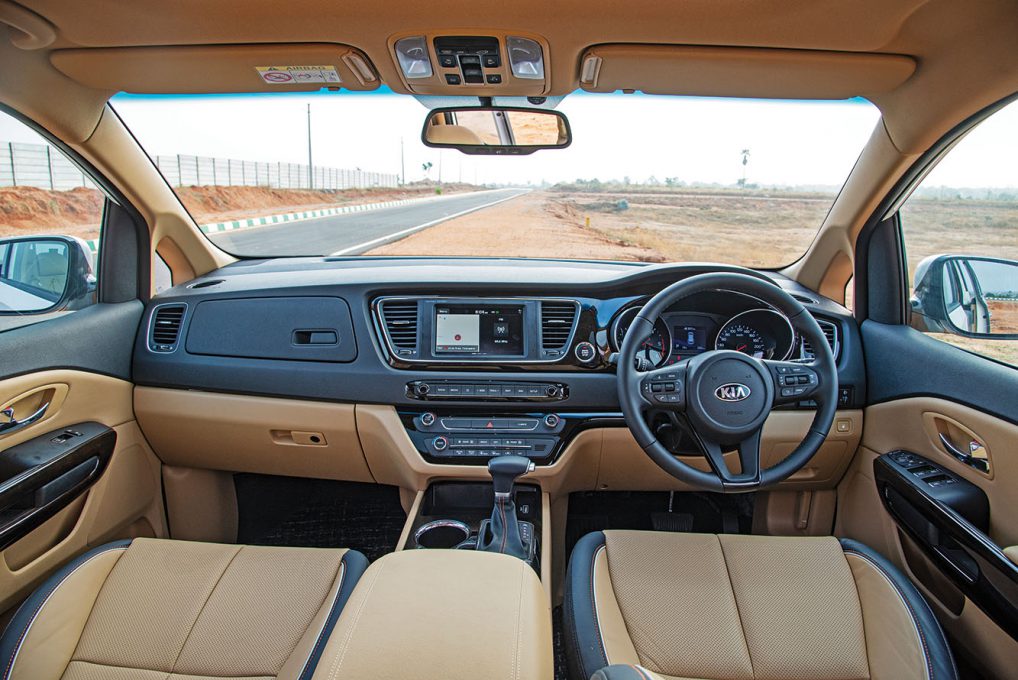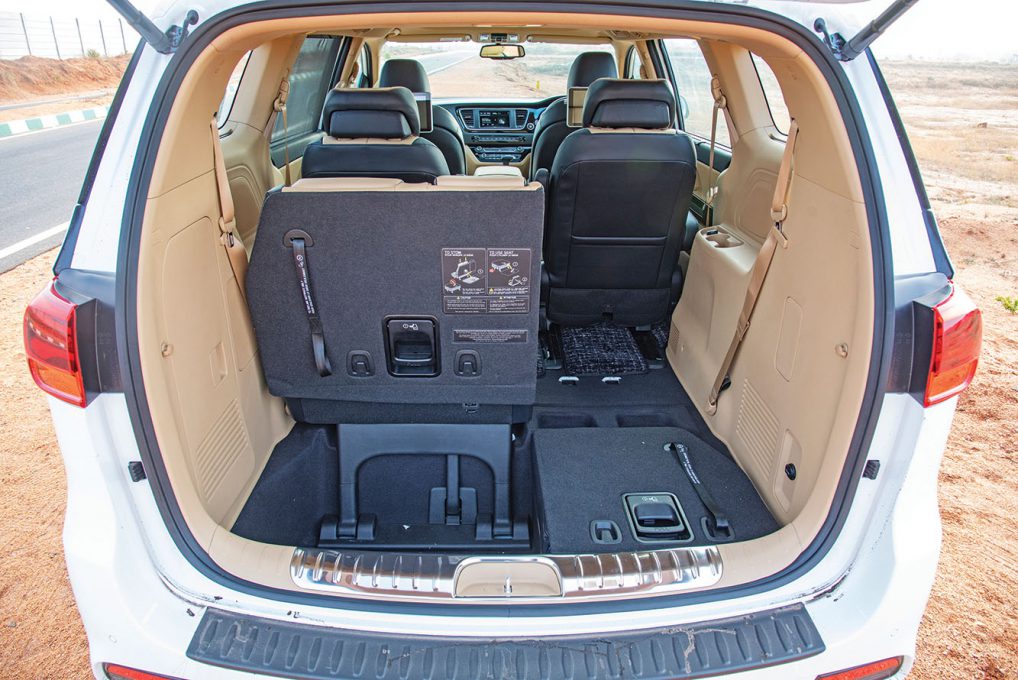 The Carnival/Sedona I drove on the highway near the Hyderabad airport was of course the latest iteration of the vehicle, but it wasn't radically different other than being a little bigger and having a 2.2-litre 4-cylinder BS6-ready turbodiesel under the bonnet, mated to an 8-speed torque converter automatic gearbox, rather than the 3.3-litre petrol V6 that had powered the 
car I drove in the USA. The truth 
is that I was already fond of the 
car because of my previous experience with it, and the India-spec model did absolutely nothing 
to alter that impression.
To begin with, the interior is top-drawer, with a level of fit and finish that is close to Teutonic. The Carnival will be offered here in three variants — Premium, Prestige and Limousine, in a combination of 7, 8 and 9-seat configurations — and the 7-seat Limousine variant I drove was loaded to the ceiling with features and creature comforts. The driver's seat (in Nappa leather, like the rest) is literally the best one in the house, because it is the only one that has ventilation and power adjustments (a bit odd for the corporate titan or politician who will inevitably sit at the back to not have cooling for 
their posterior, I have to say). The view out on to the road is commanding and wide, and every essential control falls easily to hand; I found myself thinking that a cross-country drive at the wheel would be quite agreeable.
Not half as agreeable as in the second row of captain seats, mind you. These two seats have leg rests that open out, and with the seats pushed all the way back and the backrests lowered, they convert almost into beds. I daresay a Mumbai-Goa drive sprawled out in that manner would be a rather novel experience, to say nothing of the daily commute to the company HQ. Each seat has its own 10.1-inch touchscreen — attached to the back of the front seats — with HDMI, screen mirroring and internet access via a mobile hotspot; below the air purifier (exclusive to the Limousine spec), there is a 220V 2-pin plug point alongside a USB port, to connect laptops and other large electronic accessories. Suffice to say that anybody sitting in the second row won't be uncomfortable — or bored, for that matter.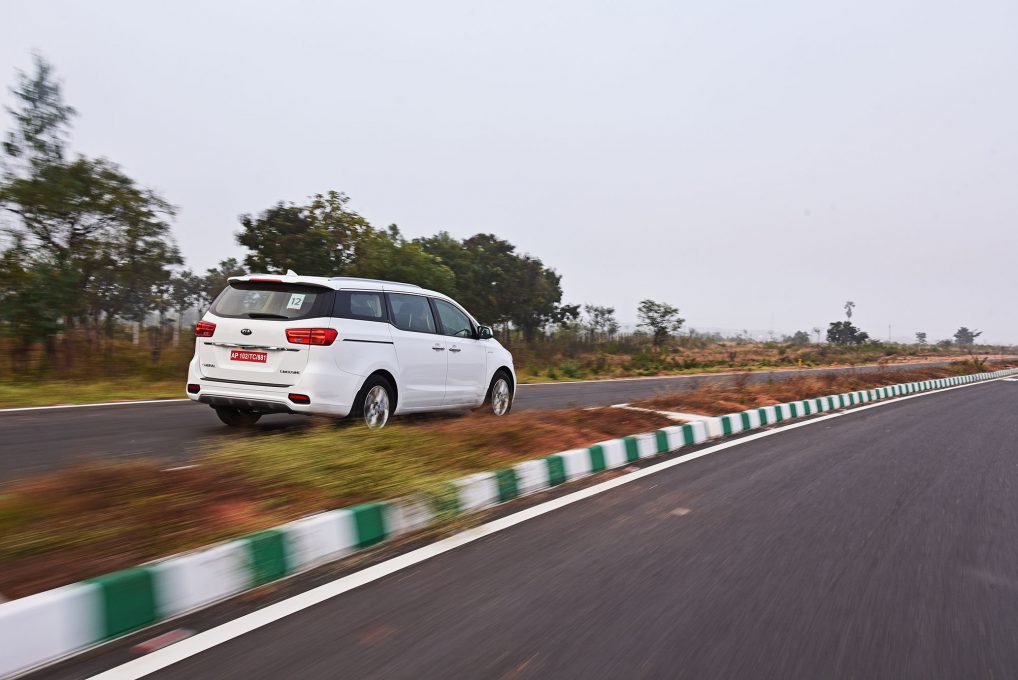 Although the last row of seats is usually reserved for those drawing short straws, the Carnival does a good job of ensuring that even these passengers are well looked after. Other than head room, which is a little on the tight side, the third row will seat three adults in reasonable comfort, or two children in plenty of comfort. Access to this row is well thought out, too — the captain seats slide forward and to the side on their rails, as well as folding flush with the front seats, so you can either walk between the seats or push them forward and climb in through the space that's freed up.
As I had learnt in the USA, this car is practical AF. Even with the third row of seats in place, you get 540 litres of storage space, thanks to a nifty 'well' behind them. With the third row down, a not-inconsiderable 1624 litres of space is made available — and if you want to move house, simply stand the captain seats up for lord alone knows how many litres of space. With all this practicality comes a raft of features, even in the base variant — twin airbags, cruise control, power sliding rear doors (operated via three different sets of conveniently placed controls in the cabin), an 8-inch touchscreen infotainment system with Apple CarPlay and Android Auto, keyless entry, three-zone climate control, rear parking sensors, rear view camera and projector headlights. Splash the cash for the Limousine and you'll get (among other things) those excellent captain seats, a Harman Kardon audio system, navigation, wireless phone charging, side and curtain airbags and Kia's UVO connected tech, which operates via an embedded e-SIM; in addition to the app, you can also operate some of the features with a dedicated smartwatch.
It isn't often that I spend the majority of a review describing a car's interior features, but the Carnival deserves that much printing ink, and possibly more. Since I should probably tell you about its other highlights as well, let me start with the way it looks, which is… safe; nobody is going to be offended (or exhilarated) by the Carnival's design. It has Kia's signature 'tiger nose' grille, under which are the 'ice cube' foglights also found on the Seltos. You will not confuse the Carnival for anything other than a van, especially in profile, but it has an aesthetic presence on the road; the 18-inch alloy wheels, the 'pinched' third row windows, the sculpted front fender and the skid plate contribute to this. Oh, and the damn thing is massive — 5115 mm long, 1985 mm wide and 1755 mm tall, with a 3060-mm wheelbase — but it doesn't look bulky, or ungainly, which is a plus.Out on the road, the 2.2-litre diesel engine (putting out 197 bhp at 3800 rpm and 44.86 kgm at 1500-2750 rpm) is a smooth, refined and tractable power plant, dealing with the Carnival's 2.2 tonnes with ease at a variety of speeds; overtaking is a cinch, too. The 8-speed auto 'box shifts smoothly, with just a hint of a pause during a kickdown. The NVH levels are truly impressive, with engine and road noise being kept to a bare minimum, thanks in part to the 235/60 R18 MRF Wanderer tyres. At the wheel, you'll find very solid road manners, with more than adequate feedback from the steering unit. The ride quality on offer is terrific, too, with bumps and undulations being smoothed out. As you can imagine for a vehicle of this size and weight, handling isn't at sportscar levels, but is still sorted enough to inspire confidence (and who's going to go corner hunting in the Carnival anyway, especially with the whole family sitting in it?).
To answer the question that's on your mind, yes, the Carnival is a better vehicle in every respect than the Innova — but it's also (literally) in a class of its own in this market, and will be heavier on the pocket; the base Premium variant will be more expensive than the top-end Innova Crysta, at an estimated price range of ` 25 lakh to 35 lakh, ex-showroom, with pricing to be announced at the Auto Expo. Should you consider one? Without a doubt — if it can survive a gruelling Burning Man road trip, it'll easily keep you and your family in great comfort, in every conceivable situation.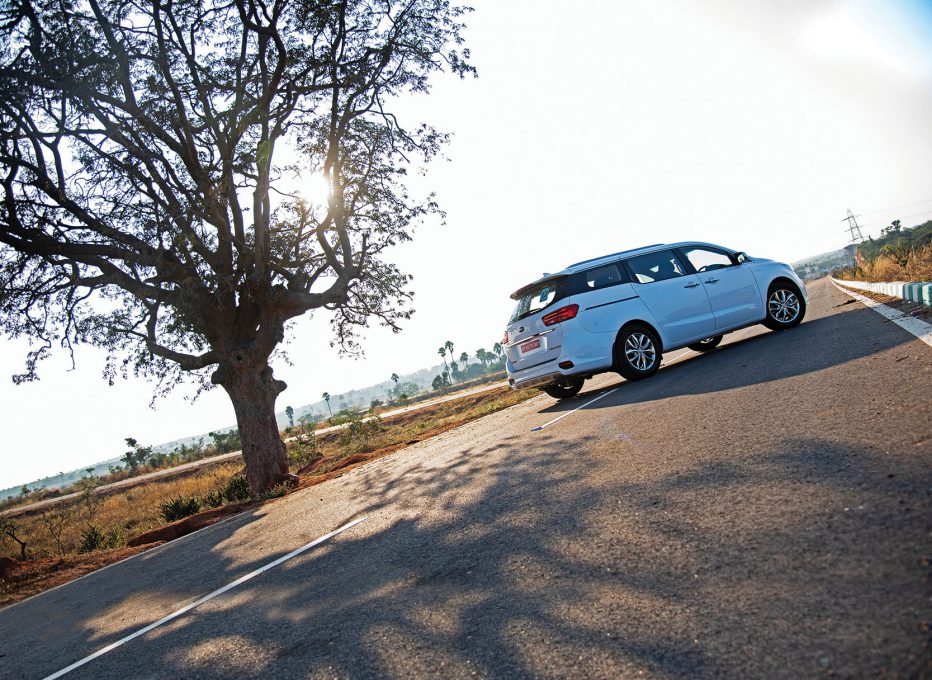 PHOTOS Suresh Narayanan
AUTODATA
Kia Carnival
POWERTRAIN
Displacement: 2199cc, inline-4, diesel
Max power: 197 bhp@4000 rpm
Max torque: 44.86 kgm@1500-2750 rpm
Transmission: 8AT
DIMENSIONS
L/W/H (mm): 5115/1985/1755
Wheelbase: 3060 mm
Ground clearance: 171 mm
Kerb weight: 2195 kg
Fuel tank capacity: 60 litres
PRICE: Rs 24.95 to 33.95 lakh (ex-showroom)