Marcello Gandini was only 33 when he stubbed his pencil on that fateful winter's day in 1970. He sat back in his chair at the Bertone studio, took one last swig from his coffee mug and heaved a huge sigh of relief. His hands were shaking, eyes bleary with exhaustion as much as disbelief. He'd done the unthinkable — designed the successor to the Lamborghini Miura, arguably the prettiest car of all time. The legend of the Miura hadn't escaped Gandini. It couldn't have. It was he who had designed it, after all. He was, therefore, the only man who could be trusted with the job, and he delivered. It was the Countach.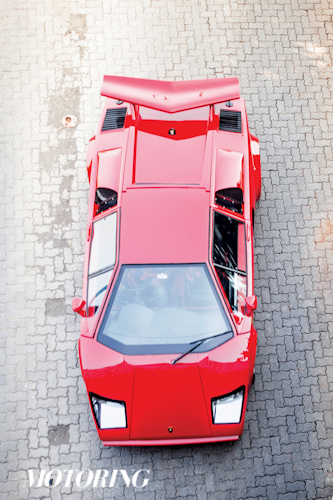 That Gandini has always been a visionary is old news — it was, for instance, with the Countach that the cab-forward design stance gained popularity. However, even in the wildest of his dreams — yes, even the ones with the flying blue whales — would it never have occurred to him that, 45 years after he designed it, a motoring scribe would revel in the sheer brilliance of his design, stuck in a traffic jam in the suburb of Bandra. Actually, that's not entirely true because it's hard to revel in anything when your knee is performing a root canal procedure on you and your head is forming a small bulge in the roof.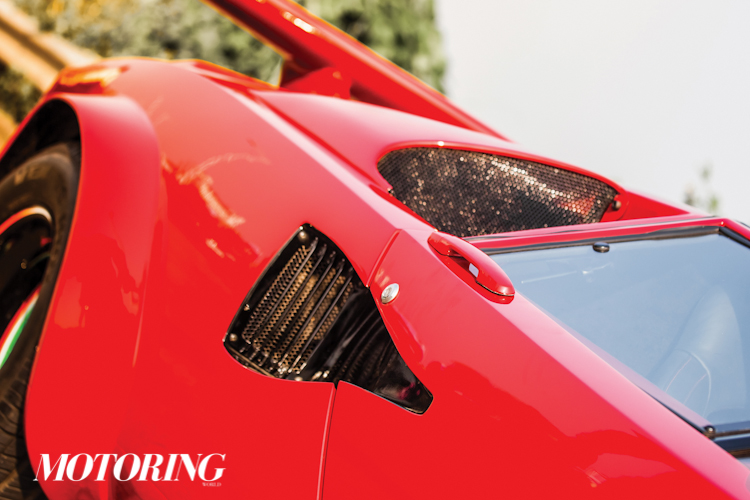 Meet this Lamborghini Countach that isn't really one. It's a kit car — not a hand-built replica, mind you — that found its way from the US of A into India a few years ago and then lay in a state of complete abandonment. A lot of time passed by until it reached the able hands of the guys at Toyato Tech, a surreal automotive workshop tucked away in one of the many nooks of Mumbai, who had the fearsome task at hand of bringing it back to life. It can't have been easy, but years of experience with working on Ferraris, Lamborghinis and all sorts of classics must be worth something, right? Thus began the journey of this incredible car you see in these pictures.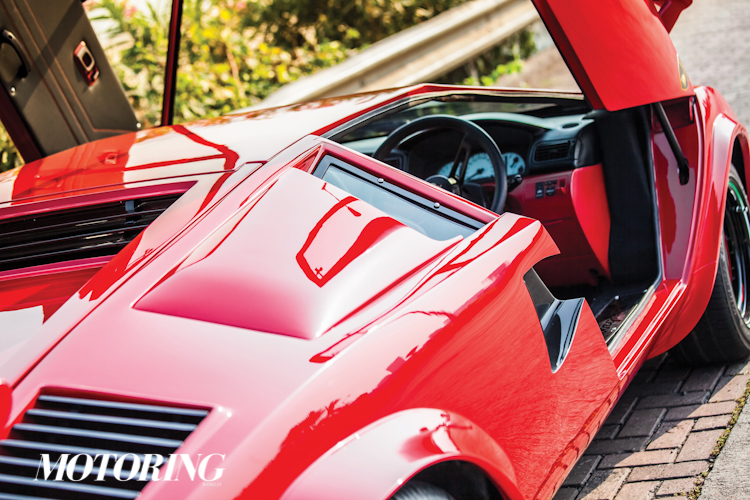 Lamborghini kits are made by at least half a dozen companies in the west and this one was designed more or less to the lines of the 1985 Countach 5000 Quattrovalvole. It has identical aerodynamic elements and dimensionally, too, there is hardly anything to differentiate. So similar is it, in fact, that they even got the ergonomics and outward visibility spot on — it's absolutely rubbish. The one major difference, however, is that the kit car was designed keeping in mind a four-cylinder Citroen engine, a far cry from the original's 5.1-litre V12. If you think this will make purists cringe, wait till you hear where this revived number gets its powertrain from — a Toyota Corolla. Yes, that automotive antithesis of insomnia. It's even got an automatic transmission from one.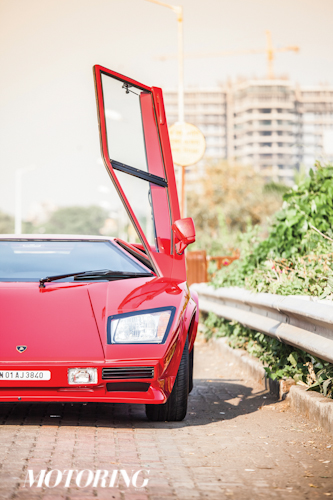 I forget this bit of trivia as I walk into the garage where it rests, though. Oh good Lord, is this car stunning or what? Pictures do little justice to the sheer presence of this Countach and everything, from its extremely low stance to the outlandish bodywork, is simply staggering. So breathtaking is its visual appeal that, in fact, I completely failed to spot the spanking new Ferrari parked right next to it. Ferruccio Lamborghini would have been proud! Having collected my jaw from all over the floor, I tug at the door handle — yes it isn't tucked away into the scoop like on the original — and the door sweeps up. Scissor doors! What joy!
My joy is short-lived, though, as I am reminded that the Countach was designed keeping in mind homo sapiens no taller than 5'10" — I'm a couple of inches over, but a man's got to do what a man's got to do, right? So I squeeze myself in, emulating yogic positions that would bring tears to B.K.S. Iyengar's eyes. In doing so, I also manage the incredible feat of hurting my knee, jaw and head, all in one go. I should apply for one of those reality television talent hunts, I think. What takes away my pain is the sight of the all-too-familiar dashboard from the, yes, Corolla, complete with an in-dash LCD screen and a front and rear camera. This is as dizzying as contrasts can get, I think.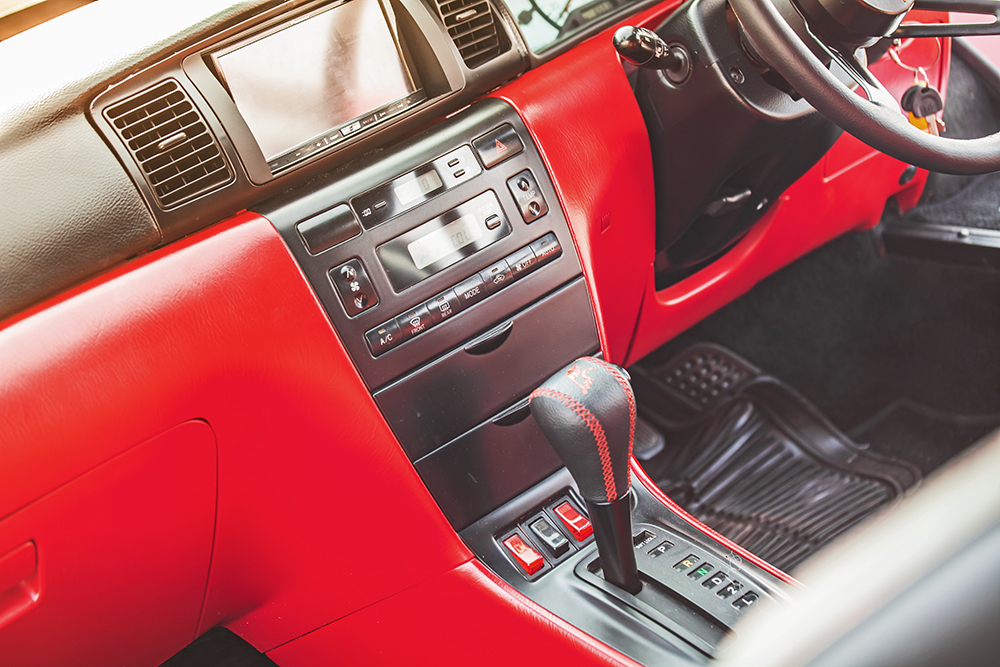 The 1.8-litre engine is as stock as can be, but when it comes to life, a loud, deep bass emerges. I roll forward gently (with the car, that is) and am instantly faced with a new problem — I can barely see anything outside. There's no rear-view mirror except for tiny wing mirrors on the flanks and the windscreen is so steeply raked, my fingers scrub against it as I turn the steering wheel. Still, it's not as big a problem as the driving position is. I've to sit sideways to make any sense of the pedals — thank God it's an automatic, howsoever sacrilegious it may sound — and my head is so hard pressed against the roof, I think I've made a power bulge in it.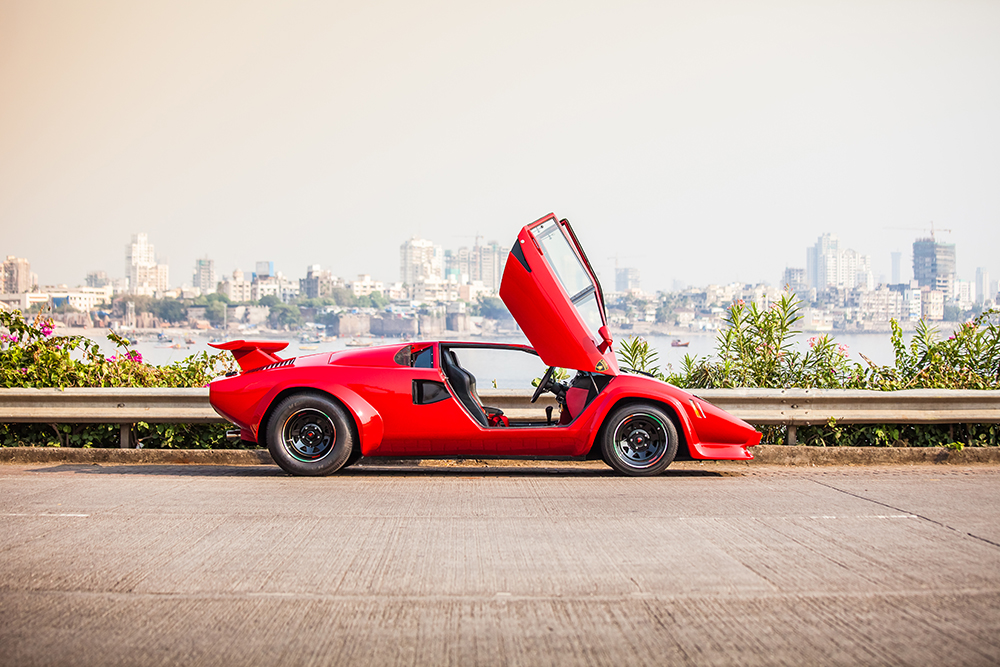 Within the next few minutes, I've ambled onto the Bandra-Worli Sea Link, the least chaotic driving stretch in this city, and somehow, it's all turning too enjoyable. We're going no faster than 60 kph, but there's something about sitting so low in a car that makes it instantly involving. The bass from the exhaust never goes away and every car going past has people craning out of it, cell phones clicking away. I could do with getting used to this kind of attention. This car has a very odd charm to it; maybe it's the design or simply the fact that it's as close to being in an actual supercar without worrying about the cost of ownership. Whatever it is, I love it. Yes, even after it attempted to crack my kneecap in half.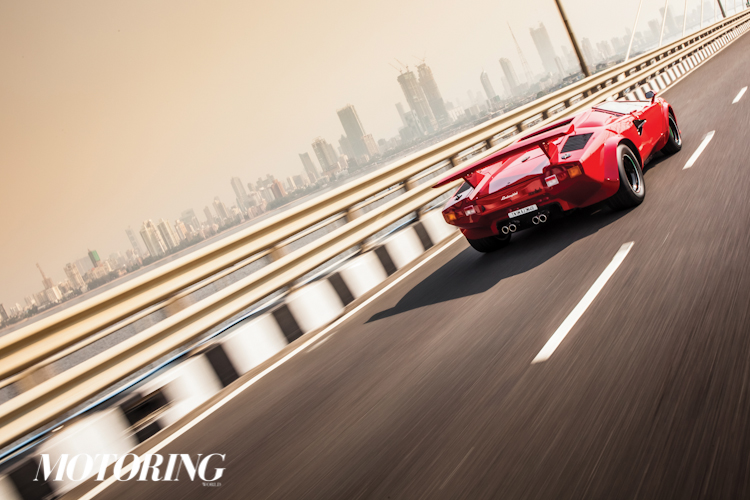 It does manage a top speed of around 160 kph or so, but I wouldn't dare push it anywhere close to that. That's not what this car is all about anyway. Just about any modern-day car with a half-decent engine could outrun it, but nothing, except a real Countach maybe, can replicate the drama, the emotion of driving a car that simply looks like this. Driving this car is an event — a very frightening one, at that — and it's no wonder the original Countach made widows out of very affluent Italian wives. It is a complete ergonomic disaster, I'll be honest with you, but strangely enough, that only adds to its reverential status. It's something to be afraid of, something you would think twice before driving. They just don't make cars like these anymore. Except in the United States of America, that is. 
We'd like to thank the fantastic team at Toyato Tech, Mumbai, for letting us drive this stunner of a car! How about an F40 next, guys?