Walking up to a car, or motorcycle, covered in dirt and grime at the start of the week isn't quite a nice feeling, right? Just like you have taken a shower to start the day fresh, our beloved machines, which take us to our destinations, also deserve to be washed and cleaned from time to time. Yes, there's the washing guy in your building who cleans them regularly, but you know for a fact how hastily the job is done, and not to forget the scratches and swirl marks that appear over time. Okay, so you visit the washing centre every weekend, is it? Okay, that's convenient for sure, but is it cost-effective? Not quite, right?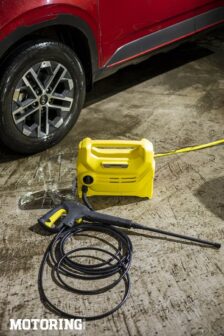 You can change all of that and (literally) shower love over your car/bike by opting for a portable pressure washer. Besides, the process of washing a vehicle contributes to good maintenance, because one ends up observing the vehicle with more attention, thus noticing any damages or worn-out items before any potential breakdowns. With that in mind, Karcher sent us their compact and light K1 Horizontal pressure washer to review. This pressure washer has been designed for washing vehicles, and other outdoor fixtures like garden furniture, barbecues, pathways, stairs, and so on.
In the box, which is not more than the size of a medium-sized backpack, you get the high-pressure pump that is smartly enclosed in a yellow body that has a handle on the top, a trigger gun, spray lance, and a 6-metre long high-pressure hose line. Assembling the washer barely takes a few minutes as the entire process has been thoughtfully simplified. Water connection to the washer can be provided via a hose pipe, or with a bucket of water. Once all the connections are made — and followed up by connecting the power supply to a regular wall socket — you are set to get washing.
The unit takes a few seconds to prime up the water pressure. On the spec front, the pressure built is capped at 100 bars, while the flow rate is in the range of 270-300 litres/hour. While using it, considering the dirt and grime present on the car, we managed to get all surfaces wet with one bucket of water. For the application of a cleaning agent, one can use the FJ6 foam jet (which needs to be purchased separately as an accessory) to uniformly spray the cleaning liquid over the vehicle. Once it's all lathered up, one to two buckets of water, depending on the vehicle and its dimensions, is sufficient to rinse off the soap completely.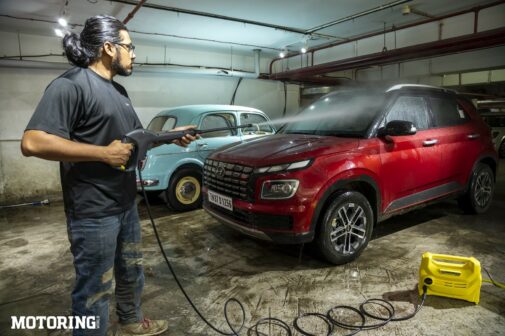 Given its size and application, we feel the Karcher K1 pressure washer can be comfortably run for 15 minutes at a go, before giving it a break. Its compact size and dimensions make it the perfect outdoor washing machine to keep your vehicles clean and dirt-free. As far as the price is concerned, the Karcher K1 pressure washer can be purchased at Rs 8999, which makes it a value of money deal with multiple applications for anyone who takes pride in keeping their belongings clean and shining.
This shoot was conducted at XSel MotorWorX, Dadar.