The fifth-generation of the Jeep Grand Cherokee has arrived in India, and it looks to create quite a stir in a segment that's more or less dominated by European rivals from the likes of Audi, BMW, Jaguar Land Rover, Mercedes-Benz, and Volvo. After all, local assembly has helped Jeep India price the new Grand Cherokee at a very competitive Rs 78.5 lakh, ex-showroom, India, but is the American brand's flagship an actual match for the GLE, XC90, F-Pace, and their ilk? Or is it in a league of its own? We put the Grand Cherokee through its paces to find out.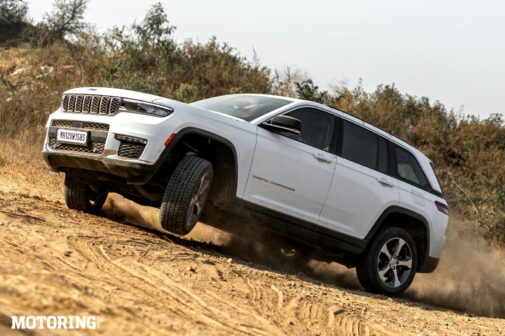 Grand Design
The 2023 Grand Cherokee is unmistakably a Jeep, no matter what angle you look at it from. Yes, that Russian doll aspect — where people might mistake it for a Compass or Meridian from the front — is rather strong, but the Grand Cherokee's size makes sure you know this is the flagship. It has a simplistic design that harks back to the older models, and is still as modern as the rest of the Jeep range. The iconic seven-slat grille dominates the front, and combined with the sleek and traditionally rectangular LED headlights, they lend the Grand Cherokee an intimidating presence on the road.
I'm a fan of those understated 20-inch rims, which fill those squared wheel arches quite well, but I can understand why its potential buyers would want alloys with a bit more pizazz. It's a similar situation at the rear — the simple design theme continues with a single-piece chrome strip on the bumpers, and sleek LED tail lights. There's none of that overdramatic (and usually faux) quad exhausts, overliberal usage of chrome, or anything of that sort. Like I said, those looking to buy a car in this segment might want some more bling, but I have to commend Jeep for keeping the Grand Cherokee true to its roots.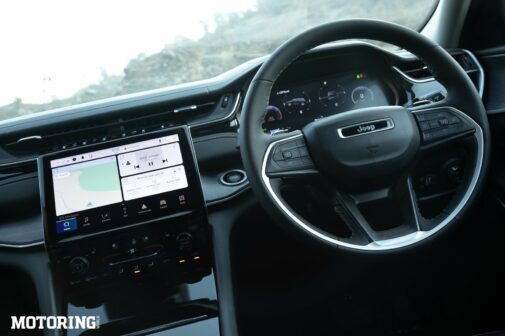 Grand Cabin
It's something of a climb into the Grand Cherokee (a footboard for easier ingress and egress would have been a good choice), but once you're in, you're greeted by a modern yet rugged cabin. As is typical of Jeep SUVs, the view you get out of the driver's seat is commanding, and the plethora of buttons and knobs — from those that engage the 4WD system to those that work the climate control unit and ventilation and heating for the front seats — are well within reach. At first glance, the amount of switches and things can seem daunting, but they're well laid out and spending a little time inside will familiarise you with all their functions.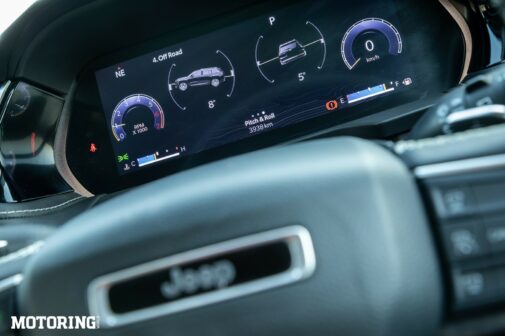 The meaty (and heated) steering is quite nice to hold, but I'm not a fan of the placement of the steering-mounted buttons for the infotainment system, seeing as they are quite close to a paddle shifter on the other side of the wheel.There's plenty of leather draping the cabin, and along with the wood-finish on the dashboard and doors, they make the Grand Cherokee's interior feel plush, though there as some bits that don't match up. I'd say the feel is premium, but not something that matches its rivals.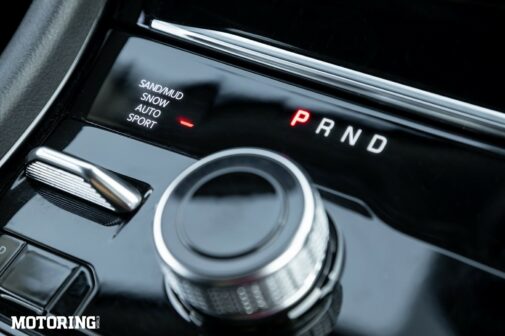 Space on the inside is massive (that big panoramic sunroof also helps create more airiness), and the front seats are great for long distances. However, the rear seats aren't quite as comfy. You sit in a knees-up position, and the seat squab isn't long enough for the longer-legged and big-buttocked among us. Still, the reclining function does help, there's more than enough space for three to fit on the bench, and the seats even get a segment-first heating function. Speaking of space, that 1076-litre boot is gargantuan, it opens at the touch of a button, and there's even an 18-inch space-saver in there.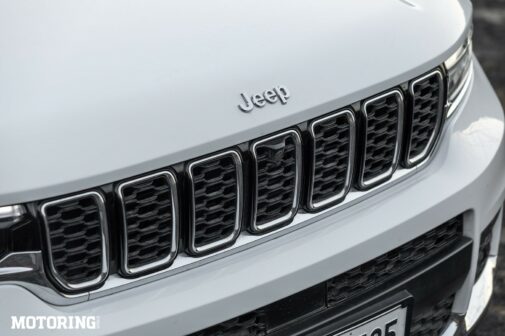 Not one to be left behind in terms of convenience, connectivity, and comfort features, Jeep offers kit such as an easy-to-use 10.1-inch infotainment touchscreen with wireless Android Auto and Apple CarPlay, a 10.25-inch touchscreen for the front passenger (which can't be viewed by the driver, but still reflects the outside and can distract), a 10.25-inch digital instrument cluster, two USB Type-C ports, two USB-A ports, wireless charging, an HDMI port, a 3.5 mm AUX port, and a charging socket, and that's just in the front. Rear passengers get two Type-C ports, two USB Type-A ports, and a three-pin socket — executives won't ever have to take a break from work.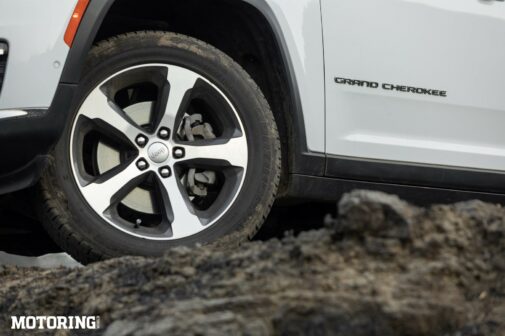 Grand Tech
A Jeep SUV isn't really a Jeep SUV unless it has the running gear to take you anywhere, and the Grand Cherokee is no exception. It gets the superb Quadra-Trac 1 four-wheel-drive system, which is sophisticated enough to take you to the remotest locations, especially with the help of the Selec-Terrain modes (Auto, Mud/Sand, and Snow). The instrument cluster and the infotainment system will help keep an eye on your pitch and roll angles, and the informative and well-integrated 360-degree camera (which gets washers, so there's no need to stop and clean after a bout of rough stuff) lets you know exactly where you're going, too. Leave it in Auto and the Grand Cherokee will take on most trails with great ease, and keep you comfortable while doing it.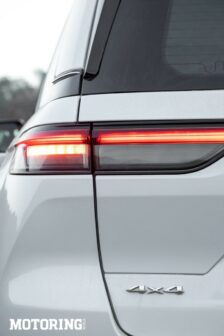 In fact, I didn't find the need to shift into a specific mode at any point during our test and subsequent shoot, and you can see the results on these pages — dusty trails, paths only good for the four-legged, and steep gravel-laden slopes, none of these were even a remote challenge. Still, I had hoped for kit such as a low-range gear and hill-descent control, which would have made the Grand Cherokee the ultimate luxury off-roader. I expect those features, along with a special Rock mode, will be available with the Trailhawk version, if and when it arrives in India.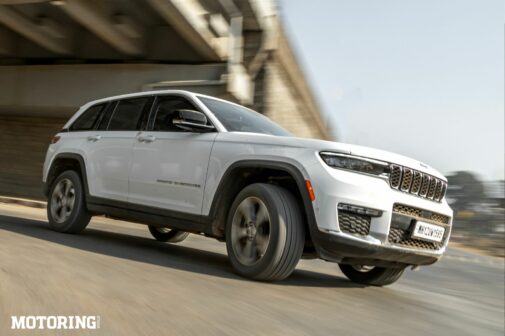 I should also make mention of the camera and the display on the inside rearview mirror — it delivers a crystal clear picture of what is behind you, and honestly, makes the IRVM useful, as when the camera is switched off, the mirror itself doesn't really have a good view out the back. A word on the autonomous driving safety suite — all the functions work quite well in test conditions, but, other than a short stint on a well-paved and well-demarcated highway, I had them switched off in real-life situations, for my own peace of mind.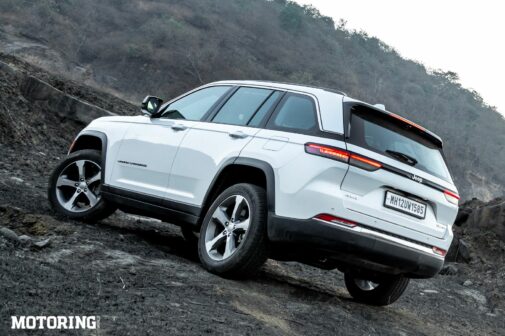 Grand Drive
When I heard this 2097-kg SUV was coming with a 2.0-litre twin-scroll turbo-petrol engine, I admit I was disappointed. 268 bhp and 40.79 kgm of torque isn't anything to scoff at, but I had hoped for something with a bit more vigour, maybe a V6, or a V8. And I did feel justified in that opinion initially, as the bottom-end does seem a little weak — those turbos do take their time to spool up, and neither the excellent ZF-sourced 8-speed automatic transmission, nor the Sport mode can entirely compensate for that. However, the mid-range is simply brilliant, and you get a more than adequate amount of shove as long as you keep the engine on the boil.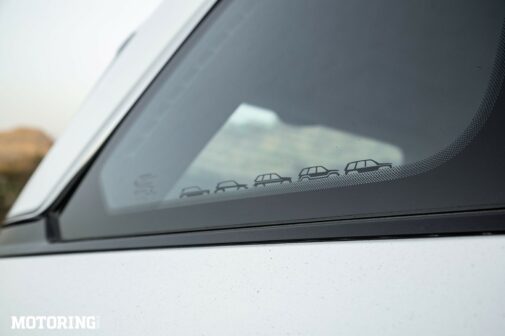 Only when you rev the unit past 4000 rpm does a bit of harshness set in, so good are the refinement levels. Both, on and off the road, this engine and gearbox combination doesn't disappoint for the most part, and it's only in continuous stop-go traffic, or if you're trying to rev it unnecessarily, that you may feel a lack of immediacy. This makes the Grand Cherokee a very able mile-muncher, and the suspension setup adds to that ability in spades.
Sure, you do get some of that vertical movement at high speeds over sharp ruts, thanks to the soft springs, but other than that, ride quality is undoubtedly a highlight. I, for one, am glad the India-spec Grand Cherokee is not equipped with air suspension, as it would be more difficult (and expensive) to maintain, especially over our battered roads. What this also means is that it isn't the most able handler. There's more than a shade of body roll and understeer sets in early, despite the grippy tyres.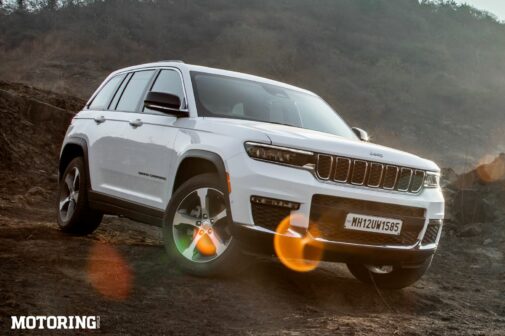 Grand Poobah
Considering the amount you pay for it — it undercuts all its rivals, other than the F-Pace — the 2023 Jeep Grand Cherokee makes for a splendid left-field option. It may not feel as premium or as flamboyant as the GLE or the Velar, and it may not have the on-road dynamism of the X5 or the Q7, but what you do get, is an excellent, spacious, and tech-loaded premium SUV, which can take you to plenty of out-of-reach places. What's not to like about that?
AUTODATA
Jeep Grand Cherokee Limited (O)
POWERTRAIN
Displacement:
Max Power:
Max Torque:
Transmission:
1995cc, I4, turbo-petrol
268 bhp@5200 rpm
40.79 kgm@3300 rpm
8AT
DIMENSIONS
L/W/H (mm):
Wheelbase:
Ground Clearance:
Kerb Weight:
Fuel Capacity:
4914/1979/1792
2964 mm
NA
2097 kg
87 litres
PRICE
Rs 78.5 lakh (ex-showroom, India)