Photographs by Kaizad Adil Darukhanawala
I must confess that I absolutely love the standard Jeep Compass. I think it is one of the most underrated cars on sale in India today. The ride quality is unparalleled and the way the suspension eats bad roads without resulting in oodles of body roll is seriously impressive. But it has a few problems. Every variant other than the Limited Plus feels poorly specced, and while the diesel does get 4×4, the ground clearance and bumper design mean it won't go too far down the dirt trail. A Jeep that won't do Jeep things? Blasphemy. But with the launch of the Jeep Compass Trailhawk, we now have the car that we envisioned when the Compass was first announced, and it promises to do all you dreamed a Jeep should.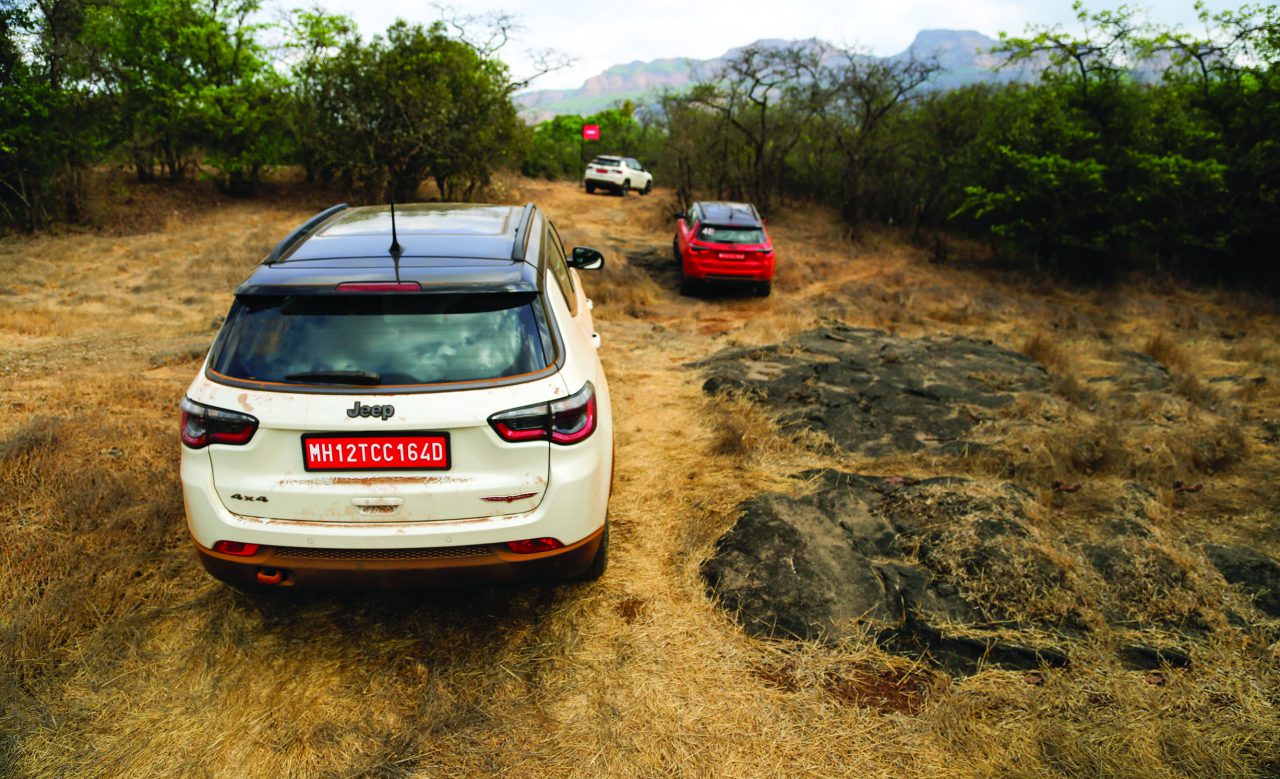 The Jeep Compass Trailhawk has taken a while to get here, but it is well worth the wait. To the untrained eye it appears externally unchanged. But stare for a minute and you'll see. The first thing you'll notice are redesigned bumpers that appear to give it better approach/departure angles. The alloys are new and there is a large matte black patch on the hood. And there are two new badges- the one on the rear says 'Trailhawk' (obviously) and the one on the sides say 'Trail Rated'. It's the second one that means a lot, but more on that in a minute. The engine is a new BS VI compliant unit, but it will comfortable take BS IV fuel. And the 35.7 kgm that comes in at a very low 1750 rpm is mated to a 9-speed automatic gearbox that's equipped with a low ratio too. Yeah, that's a lot of gear ratios.
That isn't all, as the Compass Trailhawk also gets a 4×4 Lock mode, and an extra 'Rock' driving mode. Those new alloys? They are a specially toughened variety. The ground clearance has been raised and the suspension has been retuned. The chassis has been reinforced and the underbody gets upgraded protection plates. And all this put together earns it the prestigious 'Trail Rated' badge. But what does that mean? Well, it is Jeep's internal rating process that qualifies a vehicle to go far beyond the tarmac. It involves a series of gruelling tests and only if the car meets said parameters can it be stamped with that badge. But once it is, you know you don't have to worry. What parameters you ask? Jeep tells us there are five performance categories- Traction, Water Fording, Manoeuvrability, Articulation and Ground Clearance- that the car must excel at. The Compass Trailhawk has a crawl ratio of 20:1, so that's traction well and truly sorted. It can wade in up to 483 mm of water thanks to a repositioned air intake snorkel, a 5700 mm turning radius makes it surprisingly manoeuvrable, and with approach, breakover and departure angles of 26.5 degrees, 21.2 degrees and 31.6 degrees respectively thanks to those new bumpers and raised suspension, it clears the tests for ground clearance too.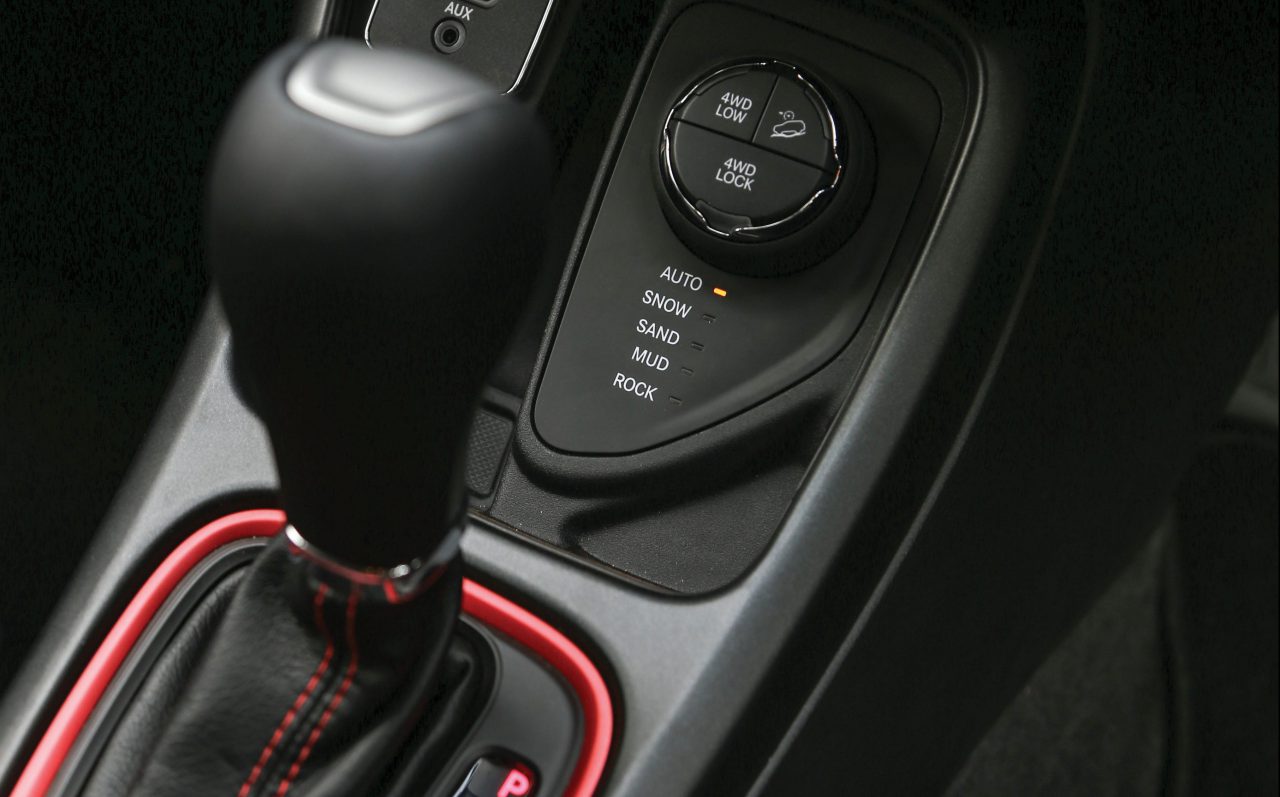 But does any of it actually work or is it just marketing gimmicks? Jeep took us out into the forest onto some hard core trails, and I came away mighty impressed. The trail started off with light dirt roads and gravel, which is what the standard Compass can handle too, but then we go to the section with ditches and sudden drops and inclines. You know that involuntary stomach clench when you know your vehicle's underbody is going to hit? I did that on every rock, and not once did it actually hit. There were times I would've bet money that it would, but I was left pleasantly surprised. Those new bumpers and raised suspension do their job. And it can handle the seriously tricky stuff too. Just slot into in Low Ratio and select the Rock mode and watch the car magically waltz up whatever is in front of it. Rocky incline? No problem. Sandy slopes? Meh. Steep descent? Just engage Hill Descent and relax. And all of this is powered by that torque filled motor which works so effortlessly that you forget it is there. The ratios of the 9-speed transmission are so evenly spread out that there is never a lurch. Honestly? It's almost boring how nonchalantly the Compass Trailhawk deals with off-road obstacles, especially the larger ones, whether its balancing on three wheels or four. That's the biggest compliment I can give its effectiveness.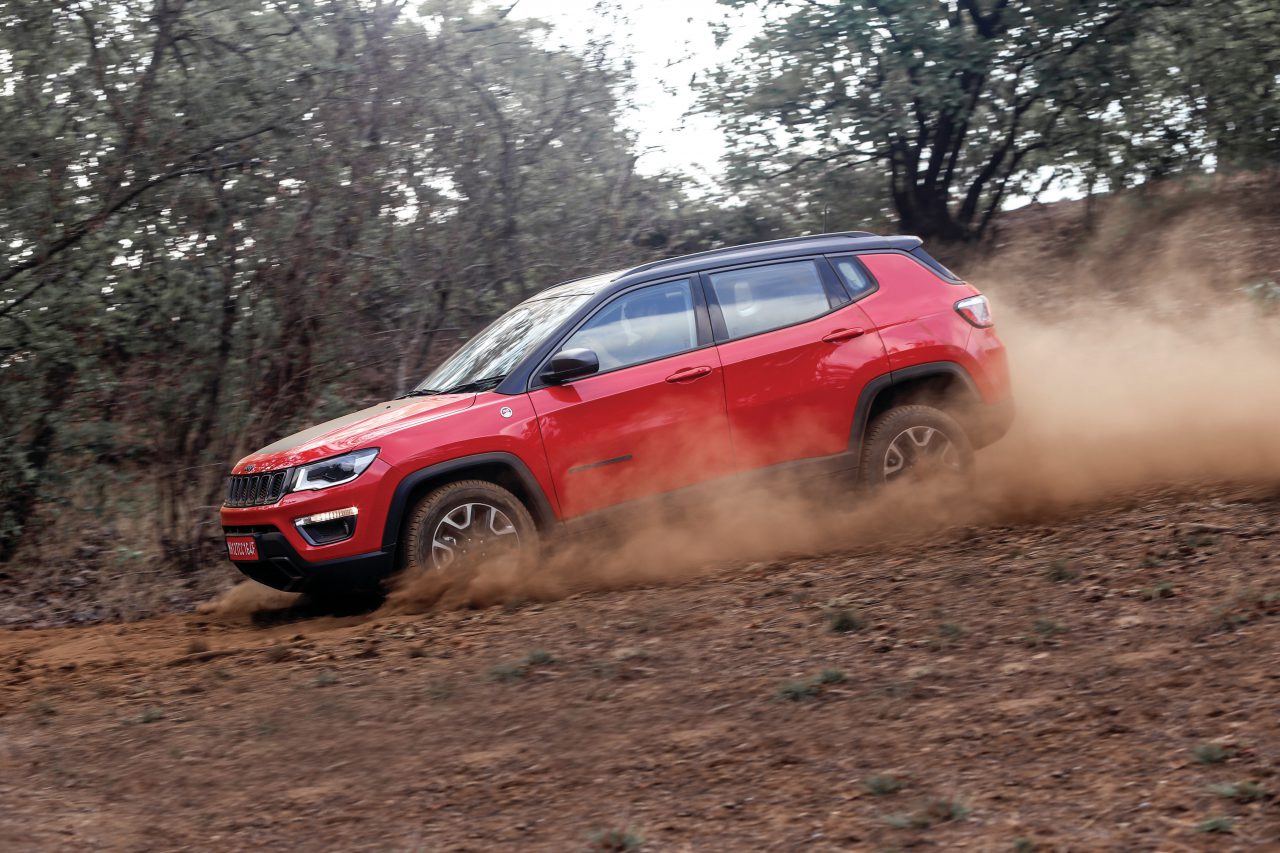 So, off-road it is fantastic. It will go further than you imagine and you will be cocooned in a plush and quiet cabin. But seeing as the car can be registered for road use, I assume customers would want to drive it on tarmac too, and it's a mixed bag there. The interiors aren't too different from the standard Compass. It loses the dual tone dash for an all-black one, which I prefer.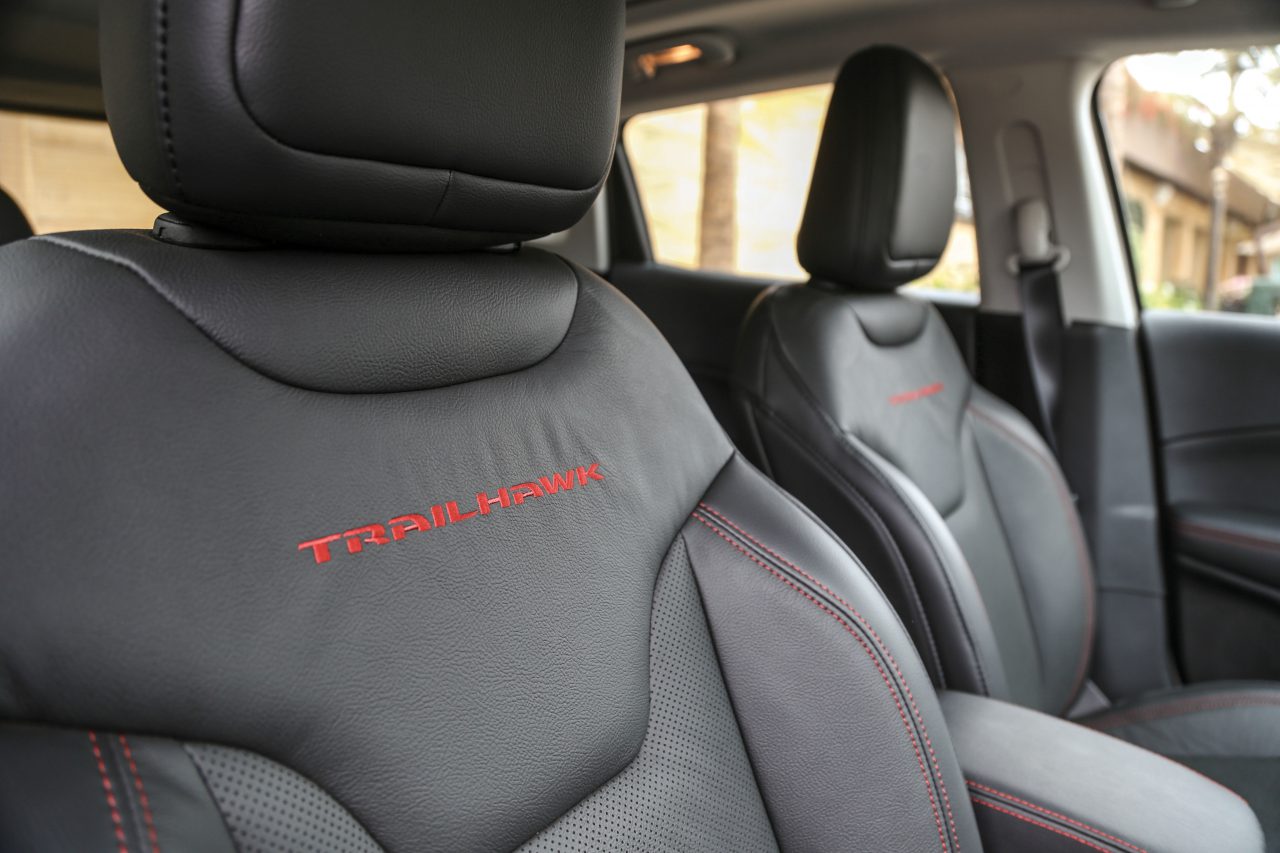 There is red stitching on the seats, red accents around the interior and Trailhawk badging on the head restraints. It also gets cruise control, so the steering wheel finally doesn't have empty buttons on it. And the noise insulation is fantastic. Unfortunately, the driver seat doesn't get electronic adjustment anymore. And while the ride quality is still stunningly good, the transmission leaves something to be desired. It isn't bad, it's just lazy. So when you mash the throttle, it takes a while to shift and that gets irritating very quickly.
But all things said, I think it is a fantastic proposition. It looks like a soft roader, but trust me, it is capable of tackling the hard-core stuff. Will customers actually take it that far off road? I don't know, but I hope they do. And more importantly, will people actually warm up to this proposition? I find myself asking this question time and again, because as journalists we get access to a tonne of cars, and we like a lot of them, but we never have to put our own money on it and that always changes things, doesn't it? Jeep hasn't announced a price for the Compass Trailhawk at the time of writing this, but it's a fair guess to expect an on road price of around Rs 30 lakh, and that's a lot of money. Plus Indians don't like spending that kind of money on cars that aren't as big as a Toyota Fortuner. The standard Jeep Compass slipped under the radar for the most part. I just hope this doesn't.
[Update: Jeep has launched the Compass Trailhawk at Rs 26.8 lakh, ex-showroom]
AUTODATA
Jeep Compass Trailhawk
POWERTRAIN
Displacement: 1956cc, inline-4, Diesel
Max power: 170 bhp@3750 rpm
Max torque: 35.7 kgm@1750-2500 rpm
Transmission: 9-speed, automatic
TYRES
F/R: 225/60 R17
DIMENSIONS
L/W/H (mm): 4398/1818/1657
Wheelbase: 2636 mm
Ground clearance: 205 mm
Kerb weight: NA
Fuel capacity: 60 litres
PRICE: Rs 26.8 lakh, ex-showroom