Change is a big word, and it is usually followed by a lot of questions. What has changed, why has it changed, how did it change and so on. The most important one, according to me, is did it need change? See, I completely subscribe to the philosophy of 'why fix it if ain't broken?'. While that may work for lazy bums like me, for carmakers change has become a necessity. Competition and changing customer demands have made it a necessity. I remember studying, a while back, that a normal product cycle would be 7-9 years where the product would get a mid-life update around 4-4.5 years. But in today's world, where people change products before you could complete reading this intro, the product life cycle is much shorter. So, the new Audi Q5 is here and let's find out what has, er, changed.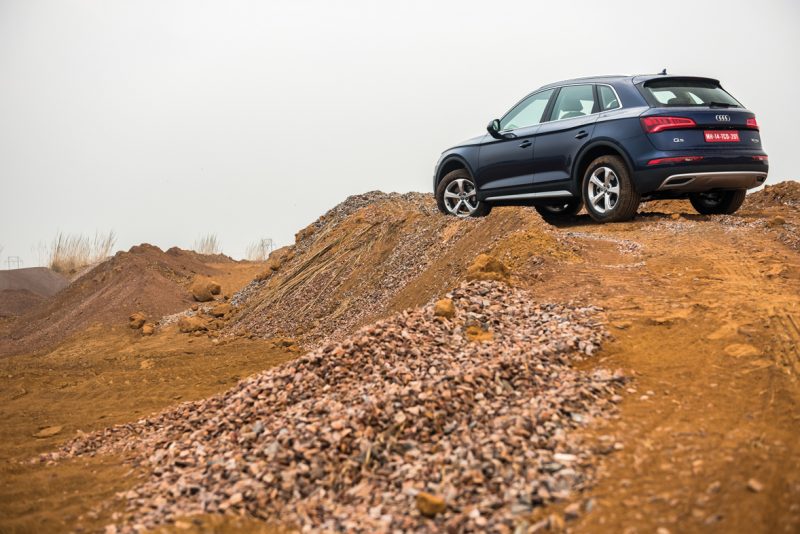 First glances may not tell how much has changed on the outside, except most people might do a double take and say, 'Isn't that the Q7'? The family look is very evident and the new Q5 stands proud as the baby brother of its capable elder sibling, the Q7. The big hexagonal grille and the signature Matrix LED headlamps look good, while the shapely belt line gives the new Q5 a more taut look. However, at the back, you could be forgiven if you thought nothing has changed since the tail-lamps have almost the same shape. The LED pattern in the tail-lamps is new and it does give a cleaner look to the rear. Overall in the looks department, it is more about fitting into the family rather than making neighbours jealous.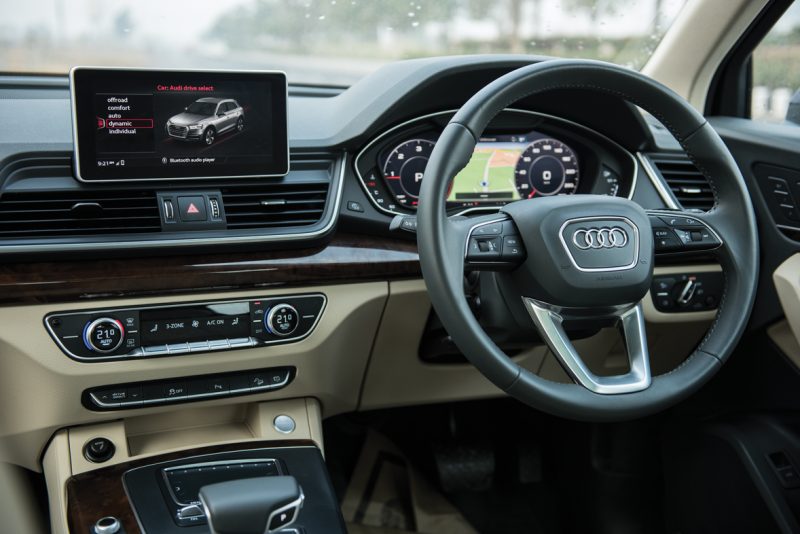 The bigger change (sorry, the word is just stuck in my head now) is on the inside and the overall effect is pretty good. Audi's latest design language makes its presence felt and you can't shake off the familiarity if you are used to being inside Audis. The 8.2-inch infotainment screen doesn't fold in, like in the A4. Then there is the Virtual Cockpit which looks very good but is again from the Q7 and A4; the switches are neatly organised, again like the Q7 and the A4, and the choice of materials and quality is also somewhere between the Q7 and the A4. Familiarity certain breeds comfort in this cabin, though; everything is where it should be and unlike other cars you won't need a manual to figure out things. A couple of minutes in the car and you'll be using it as if you have owned it forever. That's what I think technology should be do, make life easier for us.
Audi's familiar MMI also gets an upgrade and I really think this is one of the easiest infotainment systems to use, across segments. You can interact with the main MMI display though a large knob, a trackpad and four buttons. It's a lot like the trackpad on your laptop and makes doing all the mundane things like changing the radio channel or some settings quite easy. True to being an Audi, the new Q5 is loaded with features, like electric front seats, powered tail-gate, a big panoramic sunroof and a wireless charging station for phones that are Qi-enabled. The cabin upgrade carries over to the rear seats as well, with an improved seating position, reclining seats and space comfortable enough for two full-sized adults. A third person could fit in, but may not be too happy after a long ride.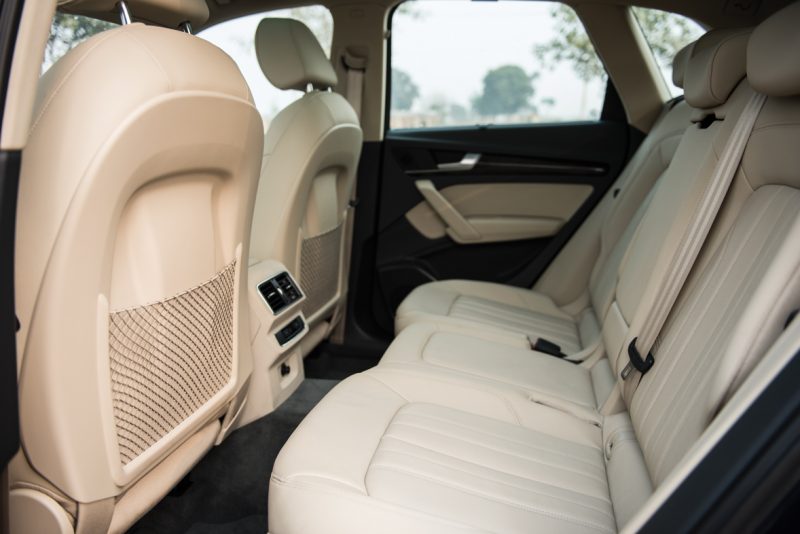 There is change under the hood as well and that's something I initially wasn't too happy to hear. The new Q5 comes with only one engine option as of now, the tried and tested 2.0-litre four-cylinder diesel which makes about 190 bhp and 40 kgm of torque. The same motor does duty in the A4, the A5 and the A6. Well, this is a family that shares, evidently. But again, this isn't a drawback as the engine doesn't let you down. The new Q5 is quick; Audi claims 0-100 kph in 7.9 seconds, but it is not going to scare you while it does that. It's like being in a business-class seat when your plane is about to take off — you know it's going fast, but it's all smooth and quiet inside. Don't get me wrong, the new Q5 can handle all the spirited driving you throw at it. But it will remain dignified and calm through out, cocooning you from the world outside. The 7-speed dual clutch S-tronic gearbox is a perfect match for the engine, shifts are quick and super smooth. It does not like stop-and-go traffic much, especially in Dynamic mode, but rarely chooses the wrong gear even then. Stay in Dynamic if you are heading up the hills or driving out to meet some corners, since body roll is minimal in this mode.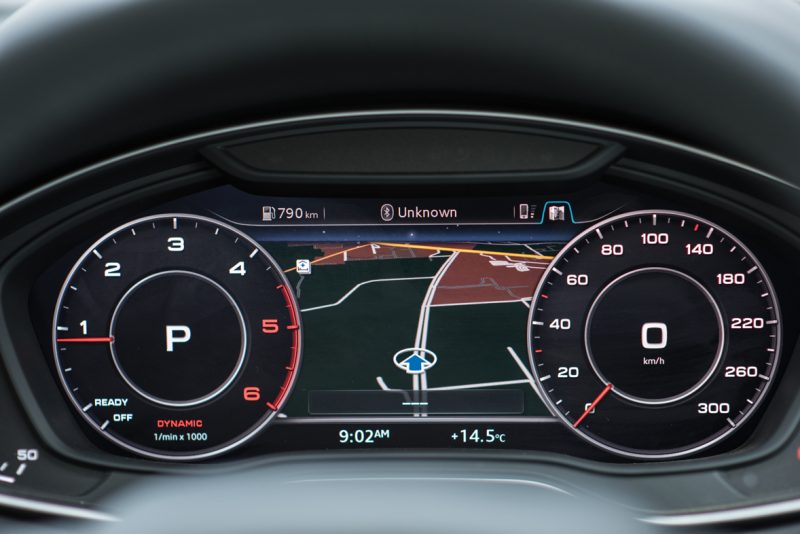 A wise man once said the more things change, the more they remain the same. As a package, I think that sums up the Q5 aptly. It offers modern technology, sophistication, good design, decent fun while driving, refinement and a comfortable ride — and it does all of the above with a freshness to it. Yes, there is familiarity, but it is nothing which will put you off. In fact, it makes you feel at home. A refined, luxurious and comfortable home which can do pretty good triple-digit speeds. When change brings good things with it, I am all for it.
AUTODATA
Audi Q5
POWERTRAIN
Displacement: 1968cc, i-4, turbodiesel
Max power: 190 bhp@4000 rpm
Max torque: 40 kgm@1750-3000 rpm
Transmission: 7-speed, auto
TYRES
(F/R): 235/60 R18
DIMENSIONS
L/W/H (mm): 4663/1893/1658
Wheelbase: 2807 mm
Ground clearance: 200 mm
Kerb weight: 1865 kg
Fuel capacity: 75 litres
PRICE: Rs 52.5-57.6 lakh (ex-showroom, Delhi)