A question that I was repeatedly asked by Hyundai officials at the Verna media drive was 'What do you like most about the car?' My answer on every occasion was 'Its design', and I'm going to repeat that here. When I saw the design sketches that Hyundai released shortly before the car's launch, I was impressed, but also a little skeptical – it's not often that a production car matches its design sketches. Thankfully, Hyundai has stuck to the sketches very closely, resulting in a car that's by far the most striking-looking in its class. The design language is very clearly in keeping with Hyundai's latest lineup of cars, and on the Verna, it's been executed to a nicety; there are no elements that look like they're out of place or have been added as afterthoughts.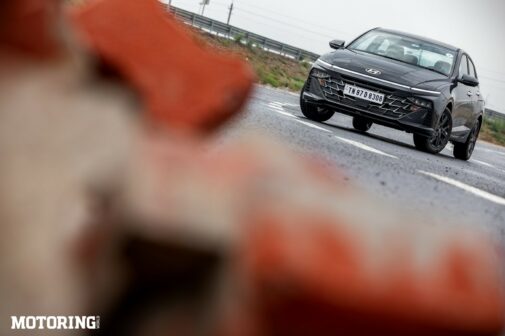 The front end is the most arresting part of the car, with that slim LED strip running the width of its nose, and sleek headlamps placed below it. The grille isn't very large – thankfully – and has a 'parametric' design, similar to that on the Tucson. I have a feeling the front end will be too radical for some tastes, but I'm a fan – it helps differentiate the car in a sea of lookalike designs. The Verna's profile is equally impressive, with its lines moving smoothly from front to back; there are some slick lines and creases down its shoulders and skirts, with prominent bulges above the tail lights at the rear; chrome-lovers will appreciate the fact that the shoulder line has been executed in chrome on the doors, culminating in an inverted comma shape connecting to the roof, which is of a fastback design. The wheel arches are properly filled out by the 16-inch alloys, which in blacked-out form look very good, especially with red calipers on the front wheels. At the back, you have a connected LED brake light, like on the Venue, and the parametric pattern below the boot lip. The boot itself is cavernous – at 528 litres, it's the most capacious in its class. With a wheelbase of 2670 mm and a width of 1765 mm, the Verna is the longest and widest car in its class, which bodes well for interior space.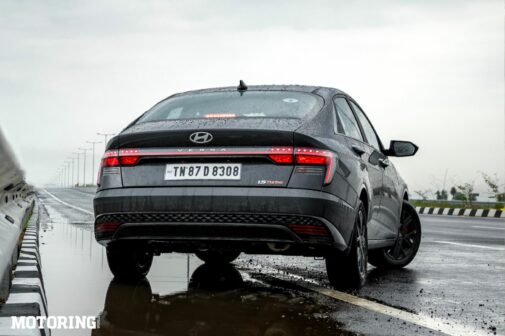 So far, so peachy then; the Verna's design does live up to the hype in Hyundai's brochure. The cabin is something it has worked very hard on, clearly, but it doesn't quite match up to the freshness of the exterior, in the sense that it's not as radical. It's reasonably easy to get into the cabin, although if you're used to SUVs you'll have to crouch more than you're used to. The front seats are leather-clad (in the top spec, turbo-DCT car I was driving) and are heated and ventilated, a segment-first. They're comfortable enough, but I found that thigh support was lacking – and there was too much of a lumbar bulge, even after adjustment.
The two-spoke steering wheel looks just fine, and it's absolutely crammed with controls; in all honesty, there are so many buttons (cruise control, volume, scroller, mode, phone, voice-activation, ADAS controls) that it's all a bit confusing at first. The digital instruments are crisp and easily readable, and the A/C vents are integrated nicely into the dashboard, with an ambient lighting strip running the width of it. The 10.25-inch infotainment screen is of a piece with the instruments, and has all the features you'd expect – Bluelink tech, (wired) Android Auto and Apple CarPlay – and the 8-speaker Bose audio system is… not quite as good as I thought it would be, but it does the job. The climate control panel can also be switched to an infotainment one with the press of a button, which is a neat feature, and the A/C itself is brutally efficient. Cubbyholes and storage spaces abound front and back, and there's the de rigeur air purifier, which should be mandatory in cars sold in India. Yes, there's also a sunroof, but it's not panoramic. The rear seats have the same issue as the ones in front – there's not enough thigh support. The back rests are perfectly OK, and there's generous amounts of leg and shoulder room too. Six airbags are standard. For the most part, this is a cabin that will go down well with most buyers.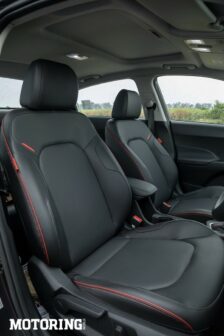 Goodbye diesel, it was nice knowing you, because the new Verna is only available with petrol engines – a 1.5-litre unit in NA and turbo guises, with a 6-speed manual/6-speed IVT and a 6-speed manual/7-speed DCT respectively. I spent most of my time behind the wheel of a turbo-DCT; that engine has 158 bhp@5500 rpm and 25.8 kgm@1500-3500 rpm, both of which are very healthy numbers. At startup, the engine settles into a quiet idle; too quiet, if you ask me, and there's no reason the engine couldn't have been made to sound more aggressive. Rowing through the gear selector doesn't take too much effort, and when you slot it in D and mash the throttle (it's a near-160 bhp turbo engine, after all), the Verna leaps off its line and rushes to 100 kph in a shade over a seat-of-the-pants 8 seconds; the acceleration is great, but again, the accompanying soundtrack could have been more riotous.
Keep the throttle pinned and the Verna will get to a near-200 kph top speed quite easily (don't ask how I know this), which is more than enough for pretty much anyone. At that velocity, the engine sounds like it's doing a lot of hard work, but closer to 150 kph and it ticks over without a fuss. Not surprisingly, overtaking manoeuvres in this car are simple; a stomp on the accelerator and you're off (or a swift working of the paddle-shifters and then a stomp, whichever is your jam). There's plenty of breadth in the torque spread, so when it's time to crawl along in city conditions, the Verna is easily up to the task; gentle cruising at 40 kph is not an issue, either. The 7-speed DCT is a very capable unit, keeping up with the powerband and shifting reasonably quickly; for slightly quicker shifts, the paddles are ideal. The route that had been charted out by Hyundai for the test drive was essentially one, long stretch of superhighway (the new Delhi-Mumbai expressway), so I wasn't able to fully discern what the Verna's engine/gearbox combination would do when faced with a series of tight corners; I imagine it would be pretty competent.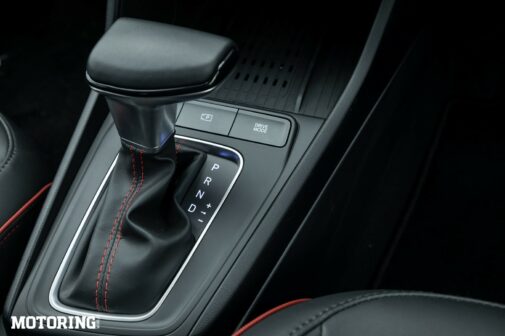 On the occasion that I found a roundabout and chose to throw the car around it repeatedly (it was inside an under-construction parking lot, not on a public road, before you ask), the Verna hunkered down and went through with a great deal of confidence, with only the tyres feeling like they were rushing to catch up – and with all-round disc brakes (sadly available only on the turbo model), stopping wasn't a problem, either. Having said that, neither the brake pedal nor the steering wheel is especially lively, which is a shame in a car that Hyundai claims is 'ferocious'. The car's ride quality is what you might call 'sorted'; it's very smooth on well-surfaced roads, absorbent on the mildly bumpy stuff and a little bit thud-dy when the potholes decide to make themselves heard – but it's never harsh enough to be disconcerting.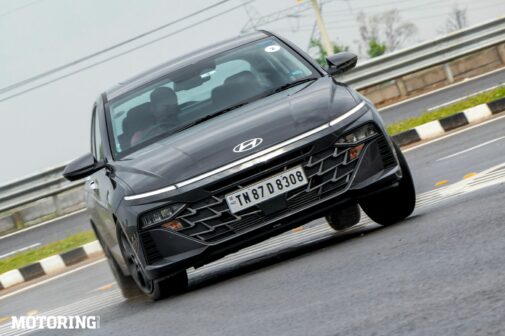 There are a host of Level 2 ADAS features in the new Verna – forward collision avoidance and warning for cars, pedestrians and cycles, collision avoidance for turns at junctions, blind-spot collision avoidance and warning, lane-keeping assist and departure warning, safe exit warning, smart cruise control, lane following assist, high beam assist, leading vehicle departure alert, rear cross traffic collision avoidance and warning and driver attention warning; phew, you would think the car drives itself. Perhaps it does, but I will admit right away that I turned off everything I could, because I find ADAS features to be intrusive and would rather be in control of my own fate. I'm sure they work as they're meant to in the Verna, but for those unfamiliar with them, they take a lot of getting used to, especially in Indian conditions, where ADAS-equipped vehicles think they're under 24/7 assault.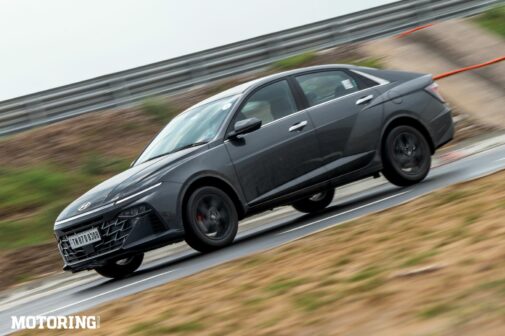 If you look around at the competition, here's how things pan out. The VW Virtus and Skoda Slavia remain the most fun-to-drive cars in the segment, and they have a feeling of solidity that's hard to match. The Honda City is the old faithful, the once-king that still has some reserves left in its tank; it does pretty much everything well; the Ciaz is in the same vein. The Verna is hands down the best-looking car in this field, no question – and it's crammed with segment-first features, is comfortable and roomy, has excellent engines, competitive pricing, a comprehensive warranty and the assurance of Hyundai's service network. When you take all of that into consideration, it's got the makings of being the new segment leader – and more importantly, of reinvigorating a flagging section of the automotive market.
AUTODATA
Hyundai Verna SX(O)
POWERTRAIN
Displacement:
Max Power:
Max Torque:
Transmission:
1482cc, I4, turbo-petrol
158 bhp@5500 rpm
25.8 kgm@1500-3500 rpm
6MT/7DCT
DIMENSIONS
L/W/H (mm):
Wheelbase:
Ground Clearance:
Kerb Weight:
Fuel Capacity:
4535/1765/1475
2670 mm
165 mm
NA
45 litres
PRICE
Rs 10.90-17.37 lakh (ex-showroom)