I'm going to begin this review by highlighting some of the things I don't like about the Ioniq 5, Hyundai's latest salvo in India's on-fire EV segment (that came out all wrong, but you know what I mean). There aren't that many demerits, mind you, so this won't take too long. To begin with, the car made me mildly nauseous when I was seated at the back; I can confirm that I wasn't the only one who felt this way, since a couple of other colleagues in the fraternity reported this as well.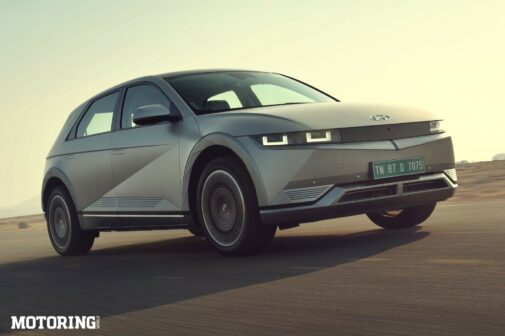 I think it's a multi-pronged issue, beginning with the fact that EVs – with their instantly-on torque – pin you back in your seat under acceleration much more frequently than ICE cars, and this constant back-and-forth motion is something you have to get used to. Then there's the whine that an EV's motor makes – the frequency of it and the fact that it's always there does something to your overall sense of being, in my opinion; again, it's something that you just have to get used to. Thirdly, the Ioniq's ride quality is on the floaty side, so the feeling of wafting up and down can be a little unpleasant. Finally, I was driving a brand-spanking new car, and that new-car smell combined with these other factors made me a little green around the gills. Or maybe I'm just a lightweight, I don't know; take this with a pinch of salt if you must, and also be informed that sitting in the driving seat felt fine.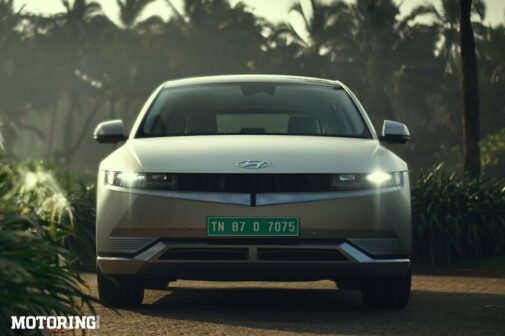 Moving on. The Ioniq has door handles that sit flush with its body, as is all the rage these days; when you move towards the car with the key on your person, the handles pop out automatically and stay open, which means that you could snag something on them and possibly damage said thing (or even the handles); additionally, if you leave the key in the car, the handles will stay open and possibly alert car thieves to the situation. The doors operate manually, though, so you can also push the handles manually to pop them out and then pull the door open – but this is a fiddly process, and the handles are thin, so getting a good grip on them isn't easy. Another gripe also has to do with the doors, this time on the inside. When you settle into your seat and attempt to close the door, it isn't immediately apparent what you're supposed to hold in order to do this, because the panel's design is so clean and minimalist (turns out you're meant to grip the outer edge of the armrest, which has a recess for your fingers). Finally, there's no wireless Android Auto and Apple Carplay on offer, which is very strange in a vehicle that claims to be futuristic. That about wraps up my mini-rant, because in every other aspect, the Ioniq 5 is a certified banger of a car.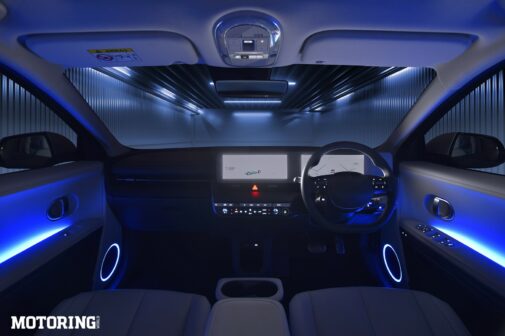 Just look at its design, for starters. This is probably among the top five coolest-looking cars on sale in the country right now, which is saying a lot for a Hyundai. It's the first Hyundai that's been designed as an EV from the ground up, and is based on the firm's E-GMP (electric global modular platform), which is a skateboard that's customisable for a variety of future EVs from Hyundai's stables, and which frees designers and engineers from the constraints of having to shoehorn an EV into an ICE car's platform.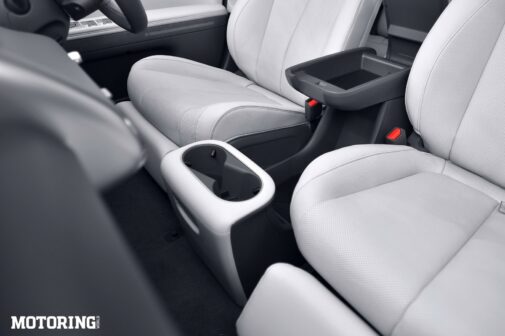 It comes as a very welcome breath of fresh air among all the me-too designs in the upper reaches of the mass market, and it looks straight out of a Robocop movie; it also reminds me quite strongly of a Lancia Delta Integrale, which is one of the sexiest cars of all time.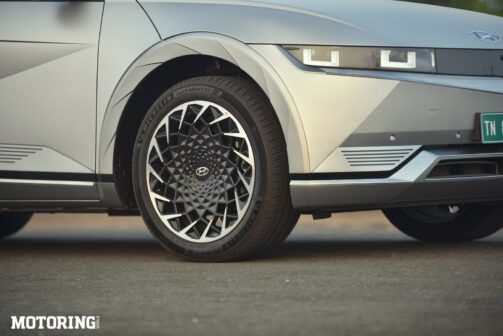 The Ioniq takes inspiration from the Pony, Hyundai's first passenger vehicle, and it manages to ace the feat of being retro and cutting-edge all at once. It's all edges, nicks, and sharp lines, and that massive 'Z' carved into its sides is smashing; there are no random design elements on it, and every crease has a purpose. The 'pixellated' LED lights front and rear are fantastic, too – how very Tetris of you, Hyundai. The clamshell bonnet, 20-inch aerodynamic wheels and full-width LED matrix bar at the rear are superb, too and the car's biggest party trick is the fact that it looks significantly smaller than it is – at 4635/2152/1605mm (LxWxH) and with a wheelbase of 3000mm, the Ioniq is * big *, big enough for Hyundai India to market it as an SUV. Whatever you want to call it, it's the best-looking Hyundai yet, and a large part of the reason it was named World Car Design of the Year 2022 (as well as overall World Car of the Year and World Electric Vehicle of the Year 2022).
The cabin doesn't have the oomph of the exterior, but it's minimalist and brilliant in a very different way. Most importantly, space utilisation is absolutely top spec, something that's helped by the Ioniq's long wheelbase. The floor is flat, to start with, so anyone sitting in the middle of the 2nd row won't have to deal with a transmission tunnel. The centre console can be moved back and forth by 140mm to create extra room, which is incredibly useful for the rear passengers as well as the one in front, in case the car has to be parked in a spot where they can't open their door fully; all they have to do is slide the console back and exit reasonably easily through the driver's door. All of this is possible because of the E-GMP platform – the HVAC system has been moved to under the bonnet, thus freeing up a lot of space ahead of the front row. The console itself has a lot of storage room, so you don't miss out on anything.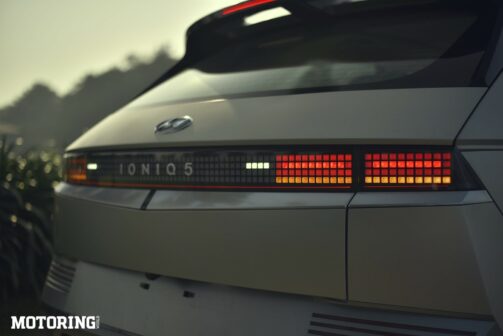 Seated in the driver's seat, you'll feel like you're looking at a twin-monitor office workspace, because of the two 12.3-inch infotainment and instrument screens. The screens have a lovely grey-and-blue colour scheme and are very sharp and easy to read; to the right of the instrument panel, there's a magnetic patch on which you can attach things like toll and parking slips, photos and the like. The steering wheel is chunky and has a flat bottom, and there's a mannetino-style button on it to select different drive modes; the gear selector is also steering mounted, a la Mercedes-Benz.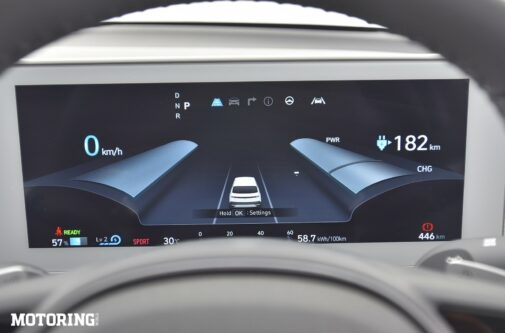 There's a heightened feeling of space because of the relocated HVAC unit, and overall the cabin feels very spacious and airy. The seats are very comfortable (thigh support is perhaps a little on the low side because of the raised floor), and the front seats can be reclined almost flat, in case you want to stretch out and nap in your car. The rear bench is powered and can be moved back and forth, and the seat back is reclinable too. Like I said earlier, there's lots of room at the back for three tall adults, and the sense of space is palpable; open up the big moon roof and that feeling is multiplied. The only drawback is what I mentioned at the beginning of this article, but that could well be just my personal experience. Hyundai says that plenty of eco-friendly and recycled materials have gone into the cabin (plastic bottles, natural dyes and so on), so I'll just take their word for it.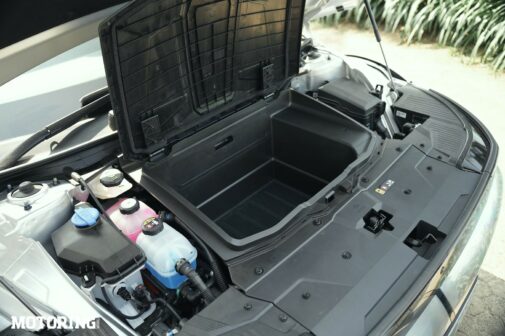 Other than wireless smartphone mirroring, which is a baffling omission, you won't want for features in the Ioniq 5, both in terms of convenience and safety. Six airbags are standard, and there's a host of level-2 ADAS systems as well (all of which I kept switched off, because… well, Indian road conditions); other fixtures include an excellent 8-speaker Bose audio system, rain-sensing wipers, vehicle-to-load capabilities, over 60 Bluelink connected car features, wireless phone charging, a powered tailgate, Alexa and Google Voice Assistant compatibility, seat ventilation and heating, TPMS and many more. For luggage and other odds and ends, you get a 527-litre boot (which is a little on the shallow side) and a 57-litre 'frunk', under which there's a box to stow your charging paraphernalia.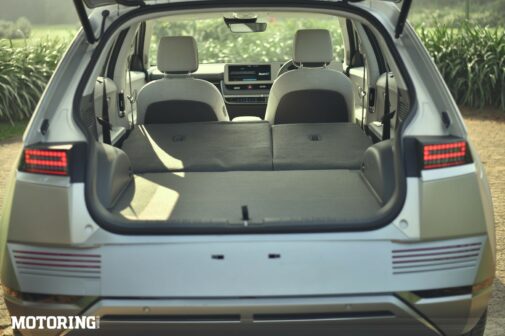 There are a variety of battery pack/motor combinations available for the Ioniq 5 abroad, but in India we get a 72.6 kWh battery that powers a permanent magnet synchronous motor sending power to the rear wheels (yes, a rear-drive Hyundai in India, who'd have thought?); said power figure is 215 bhp, alongside 35.7 kgm of torque, good for a claimed 0-100 kph sprint of 7.6 seconds, which is very impressive for a car weighing close to two tonnes. I didn't attempt to time the car, but with the drive selector in Sport mode, I can tell you that acceleration is immense, as you would expect in an EV with these specs. Eco mode is no shrinking violet either, mind you, and even in this mode the car goes from relaxed urban runabout to sprinter very quickly, and regardless of the mode, the experience is (expectedly) hushed, other than the motor's low whine. Four levels of braking regeneration are available via paddle shifters, with i-Pedal being the maxed-out, one-pedal driving level; level 2 is what I found to be the sweet spot. I missed the sound of an ICE engine to go with the car's robust acceleration, but then again, I'm old school (and probably a relic).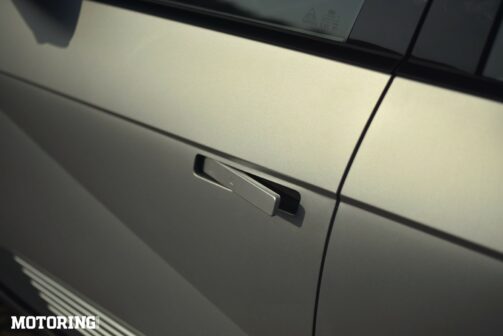 The car feels much more agile than anything of its size and weight should have a right to, and it really does shrink around you as you push it on some back roads; it feels balanced and composed, and the steering has some real heft to it as you begin to go faster (it's also nice and light at waft-along speed). If I were to compare it to the Kia EV6 (its brother from another mother), I'd say it's the more relaxed and usable car of the two; the Kia really likes to hustle. The Ioniq 5 has clearly been tuned for a smooth quality of ride, even with those 20-inch wheels shod with 255/45 R20 rubber; the suspension is very supple, perhaps a little more than I would have liked, but that doesn't affect its handling qualities in a negative way; the battery pack sitting low down helps to keep it planted. The all-round disc brakes don't have the usual soggy feel that brakes on EVs tend towards, and do a great job of hauling all that bulk in precisely.
The car should be easy to live with, given that it supports both 400V and 800V architecture, and that Hyundai throws in a 3.3 kW and 11 kW charger with the car. Charging times range from 18 minutes (for 10 to 80 per cent at a 350 kW charger) to a shade under seven hours (100 per cent with an 11 kW AC charger), and Hyundai claims a fully-charged range of 631 km, although you should take that figure with a helping of salt; it would be reasonable to expect 450+ km in real-world conditions. At Rs 45.95 lakh (ex-showroom), with everything that it has going for it, the Ioniq 5 is probably the best EV in India at the moment. The only thing I can think of that would make it better is for Hyundai to quickly bring the Ioniq 5 N – with a rumoured 600 bhp and due for launch abroad sometime in 2024 – to India soon after its global launch. Until then, this car will do very nicely, thank you.
AUTODATA
Hyundai Ioniq 5
POWERTRAIN
Battery:
Max Power:
Max Torque:
Range:
72.6 kWh
214 bhp
35.7 kgm
631 km (claimed ARAI)
DIMENSIONS
L/W/H (mm):
Wheelbase:
Ground clearance:
Kerb weight:
4635/1890/1625
3000 mm
166 mm
1905 kg
PRICE
Rs 45.95 lakh onwards (ex-showroom)