I must confess that I didn't arrive at the Exter's media drive in Jaipur in the finest of moods. Having been laid out with a rather severe flu a few days previously, I wasn't at a 100 per cent – low on energy and with a stuffy head, all I wanted to do was wrap myself in a blanket and avoid humanity. Not the most promising start to the launch event of a brand new car, you'll agree, and the night before the drive, I hit the sack in a somewhat ominous frame of mind. There was also the 'not yet another SUV' factor to be considered.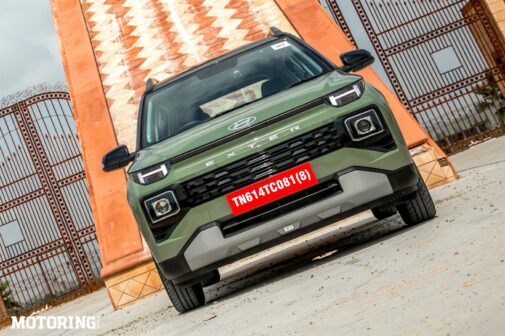 The early start the next morning didn't help – I am of the firm opinion that early mornings should be outlawed – and I dragged myself to the flag-off area with a cloud hanging over my head. Then, something happened – I saw the Exter properly for the first time. As in, I really looked at it with intent, rather than the cursory glances I'd given the display car the previous night. Hyundai's latest car instantly began to grow on me, and it was definitely one of those 'looks better in the flesh' designs. Perhaps the day wasn't going to go south after all.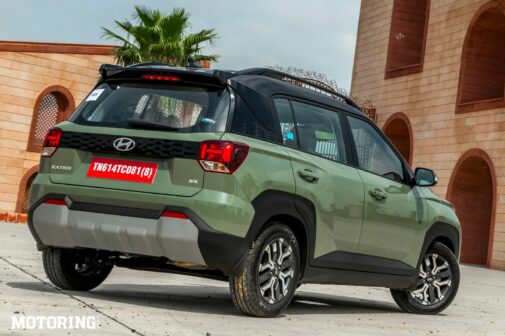 The Exter isn't a memorable design, but it's one that just… works. There are a few awkward bits on it, principally its over-sculpted profile and a rear end that suddenly looks low and flat, but it manages to still look fresh and quite funky. The front three-quarter is its best angle – the two-level bonnet, upright nose, H-shaped LED DRLs and black grille make it look quite substantial, and the 15-inch alloys fill out the flared wheel arches well too. It may be Hyundai's smallest SUV offering, but it looks the part, that's for sure, with those faux skid plates front and rear, roof rails and body cladding. The rear, as I mentioned, looks a bit bland compared to the rest of the body, but that's something you'll have to live with. Dimensionally, the Exter is 3815 mm long, 1710 mm wide and 1631 mm high, with a substantial 2450 mm wheelbase and an impressive 185 mm of ground clearance. Based on the exterior alone, I'd say Hyundai has done a great job with the car; any car that makes you want to get in it and have a go is off to the right start.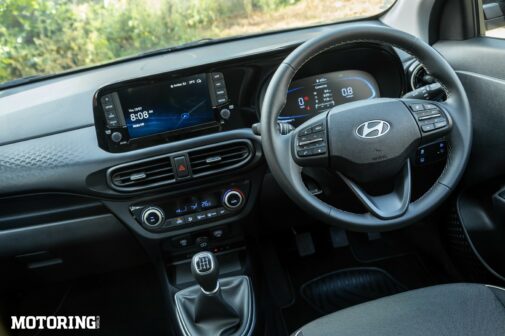 Step inside the Exter's cabin and you'll be struck by how spacious it is – I was, at any rate. The view from the driver's seat is excellent, and there's lots of light coming into the cabin. The dashboard design is familiar because it's pretty much straight off the Nios and Aura, with the patterns on the door pads, dashboard and around the gear lever also carried over. There are a few minor changes, such as the all-black theme (which detracts from the overall sense of space) and an all-digital instrument cluster, but otherwise the cabin isn't radically different. There's lots of room in the rear seat for two adults, although three will be a bit of a squeeze; Hyundai has scooped the roof out at the rear, as well as the backs of the front seats, thus creating as much room as possible. The seats are reasonably comfortable, but the incline at the back seemed a little too much, and the seat back isn't adjustable.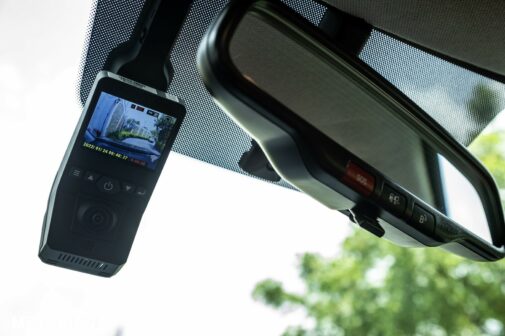 In terms of features, the two most prominent additions are segment firsts. One is a sunroof, and the other is a factory fitted dash cam with cameras pointing both forwards and into the cabin. Whether this is an actually useful feature or a gimmick remains to be seen, but honestly, given the state of our traffic and road conditions, perhaps it's not such a bad idea, in case you happen to get into an unfortunate incident. The feature set is pretty comprehensive as you would expect in a Hyundai. Among other things, you get an 8-inch touchscreen infotainment system, inbuilt navigation, over the air updates, wireless smartphone charging, some voice activated features such as opening and shutting the sunroof, keyless entry, connected car technology and wired Apple CarPlay and Android Auto. With 391 litres of boot space, you're covered for luggage as well. The safety features are also pretty top notch, with 6 airbags coming as standard, along with hill assist control, ESC, ABS with EBD, rear parking sensors and camera, ISOFIX points, three-point seatbelts and seatbelt reminders for all seats. These are on the top three trims, however; on the lower trims, they're available as options.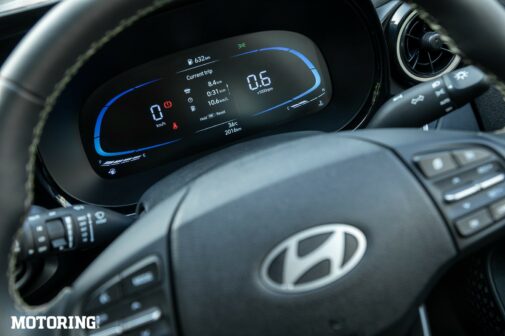 You get one engine option with the Exter, namely Hyundai's trusty 1.2-litre, 4-pot, naturally aspirated petrol engine which does duty in other cars like the Nios, Venue and i20. In the Exter, it's been tuned to make 82 bhp and 11.3 kgm of peak torque (there's also a CNG version making 68 bhp and 9.4 kgm); you can choose between a 5-speed manual and a 5-speed AMT, with segment-first paddle shifters in the top AMT trims. Hyundai claims all manner of high 19s fuel efficiency figures for the petrol variants, but in real world terms you're likely to see figures in the 13s and 15s.
The engine may not have headline-making power and torque figures, but it does the job in a refined and ultra-competent manner. First gear is a little short, but once you pick up the revs from the 2nd onwards, the Exter accelerates smoothly all the way to 120 kph, with 5th-gear 100 kph cruising an absolute breeze. In most instances, you don't need to drop gears in order to carry out highway overtaking manoeuvres; a firm press of the accelerator is enough. City speeds are no problem either, with the Exter happy to potter around without hesitation. I only drove the version with a manual gearbox, and the unit was smooth-shifting and very easy to use, much like the rest of the car. I hadn't expected to enjoy driving the Exter as much as I ended up doing, which speaks volumes about how well Hyundai has engineered it – it really is an extremely pleasant, enjoyable vehicle.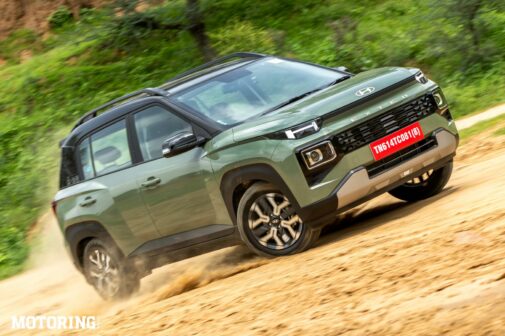 It's sure-footed, too, which is a bonus. It never feels top-heavy, high-speed lane changes are dismissed without fuss and it goes around corners with enough confidence to put a smile on your face, with the steering and brakes offering above-par feedback for this segment. The ride on offer hits a nice little sweet spot, with all but the sharpest of ruts being smoothened out.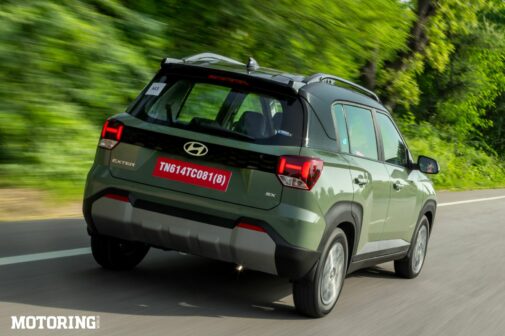 The Exter offers an abundance of competence, like most Hyundais. It's not as fun to drive as the Ignis (which is still the king when it comes to sheer entertainment, but loses out on factors like space), but it's much more engaging than the Tata Punch, whose feeble engine lets it down, and it's a far better product than the C3, a car that Citroen inexplicably shot in the foot. On current evidence, the Exter is the best product in its class, pound for pound, and at prices ranging between Rs 6 lakh and Rs 10 lakh, ex-showroom, it's very good value for money; indeed, it even makes a decent case for itself as an alternative to its elder brother, the Venue, which costs about Rs 2 lakh more. As for me, the fact that it brightened my illness-affected mood is reason enough to recommend it.
AUTODATA
Hyundai Exter SX(O) Connect
POWERTRAIN
Displacement:
Max Power:
Max Torque:
Transmission:
1197cc, petrol/1197cc, petrol-CNG
82 bhp/68 bhp
11.6 kgm/9.7 kgm
5-speed MT/AMT/5-speed MT
DIMENSIONS
L/W/H (mm):
Wheelbase:
Ground Clearance:
Kerb Weight:
Fuel Capacity:
3815/1710/1631
2450 mm
185 mm
NA
37 litres
PRICE
Rs 5.99-9.31 lakh (ex-showroom, Delhi)