Photographs by Aniruddh Kaushal
I'm not certain about the rest of you, but there's a certain fragility and unattainability that absolute beauty portrays. And it's mind-numbingly endearing. My usage of words has been deliberate here, and what I mean by 'absolute beauty' is just that — perfection in its finest form. I think this applies to the Aston Martin Vanquish because, well, look at it. Emilia Clarke isn't prone to an inferiority complex that often and yet, were she to see the Vanquish, I have a feeling she'd feel much like I would if I were to be rated alongside her.
WHAT ARE YOU 
ON ABOUT?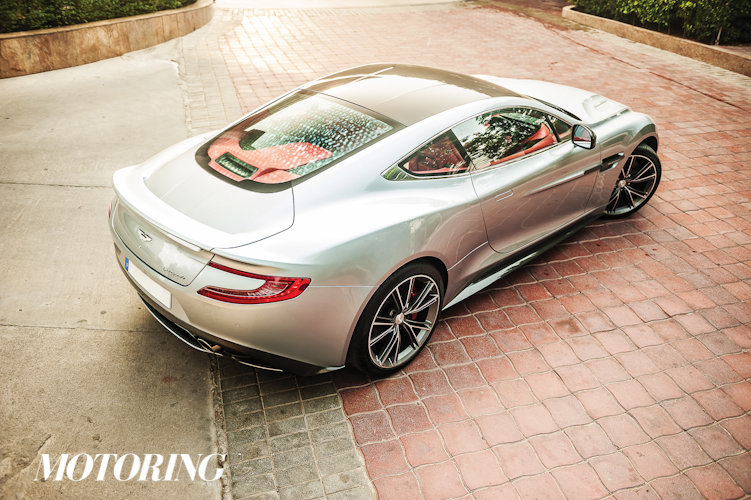 All I'm saying is that the Aston Martin Vanquish isn't for everyone. The carbon-fibre-bodied Vanquish is magnificent to behold. It's the amalgamation of a bright, sunny day and a picture perfect portrayal of life's finest qualities. If it were asked to enter a beauty pageant, it wouldn't bother contesting out of fairness to the others. And in that statement 
lies one of its most 
appealing aspects.
The Vanquish isn't an all-new car. Aston Martin bought itself some space in its line-up by ditching the Virage, subsequently pushing the Vanquish to the top of its portfolio, and there's quite a bit to like about the car.
ASIDE FROM THE WAY IT LOOKS, YOU MEAN?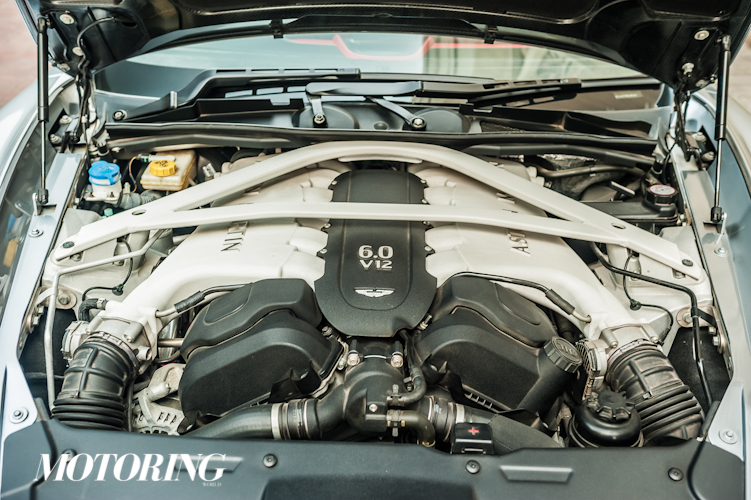 Yes. The Vanquish, aside from its gorgeous curves and lines, has an absolutely divine naturally-aspirated 6.0-litre V12 under the immense hood that puts out 568 bhp and 64.2 kgm — ample figures, to say the least. I can only imagine what it must sound like from the outside, but if what my colleagues had to say about the way it sounds holds true in the slightest, I'm sure it wasn't even a patch on what it is to hear it scream from the driver's seat. I've been going on and on about the way the F-type R sounds, but this V12, in my books, is the aural equivalent of Myles Kennedy performing solo. This here is the new Vanquish, which brings with it certain updates like the incorporation of ZF's 8-speed automatic transmission into a transaxle layout, and while it is three per cent lighter than its predecessor and boasts two additional ratios, it felt like the weakest link in an otherwise very likeable car. I was expecting the V12 and the gearbox to get along well enough, like a first date that's destined to wind up in the sack, but there's just an uneasiness to it when pushed that takes away from the experience. It's no deal breaker, but it's a sore point for sure.
It more than makes up in other areas. The way I see it, your typical Vanquish buyer isn't one to pounce at the opportunity of a drag race with a 458. It's more in tune with going for a calming drive down a coastal road, all the while making onlookers commit to double-takes as you pass by. And in that sense, it's got the makings of a very capable GT car. The ride is surprisingly good and the ZF gearbox settles into a nice rhythm when you're not hitting the redline at every possible juncture. Put succinctly, it's more at ease when you're at ease with it.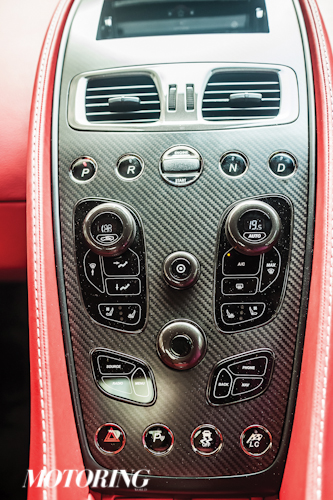 Don't get me wrong, though. There's still immense potential in this Aston. The company claims it will hit 100 kph in 3.8 seconds and go on to a 320+ kph top speed, so it's quick and fast, no doubt. You get two driving modes: Normal and Sport, which represent a Jekyll-and-Hyde chasm in the way the Vanquish pulls. Comparatively lazy in the former, you'd best be sticking to Sport if you want to get everything out of it.
ALL RIGHT. SO 
WHAT ELSE?
Aston Martin's done some work on the updated Vanquish and it's evident on the move. The dampers have been stiffened by 15 per cent at the front and 35 per cent at the rear, while the steering ECU has been revised to make it respond faster and be more chatty.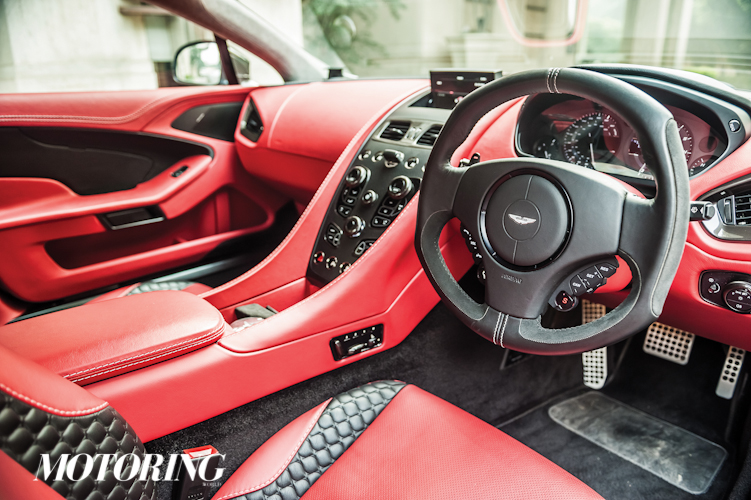 Where it could have spent a bit more time was in detailing the cabin. It just feels like there's been little thought put into a place where the driver and the passenger will be spending most of their time. It's not like it feels archaic, but aside from a gratuitously jaunty angle to the air vents, there's very little about the cabin that's inviting. This, from a car that looks as good as it does on the outside, is a let down.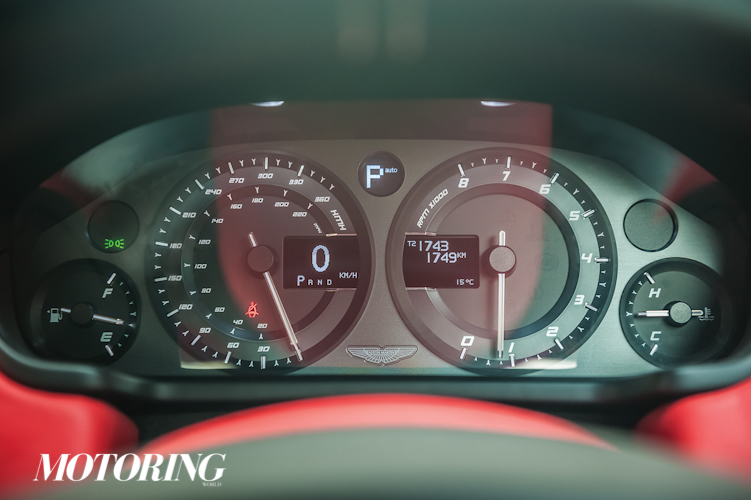 Of course, if your intention is to hear that V12 roar every time you bounce off the redline, as mine was, you'd be laughing and having way too much fun to actually give two hoots about the way the dashboard's been laid out.
SO WHY, THEN, ISN'T THIS A CAR FOR 
EVERYONE?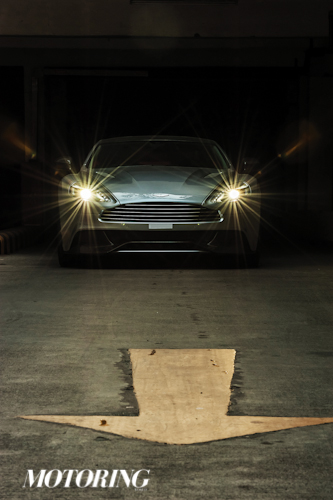 Ah, you noticed that line, did you? Let me give you a precursor. The Aston Martin Vanquish is an extremely desirable car. It's one of those cars that you'd absolutely abhor letting go of. Right from the way it rides, to the bark of that intoxicating V12 at full chat, to the way it'll make anyone, and I mean anyone, go weak in the knees, it's a car that'll go down as a legend in the years to come.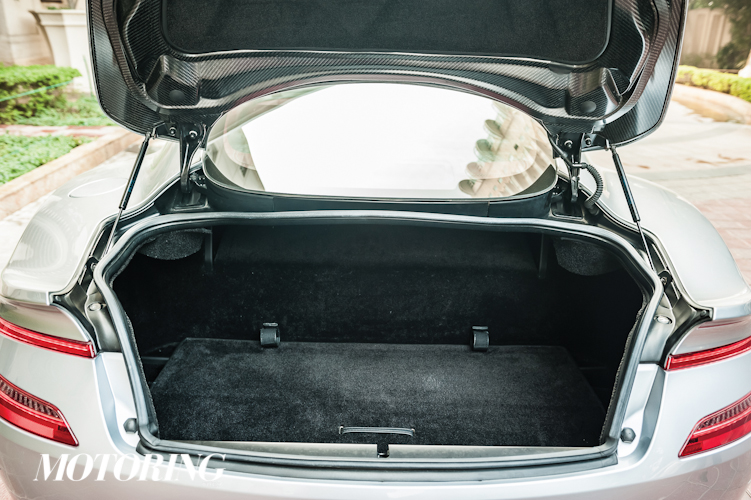 You don't even need the right background for the car to look good as a pin-up poster in your room; just a shot of the car standing in the middle of a pothole-ridden road will suffice, too. It's that good looking. But it has its flaws. Aside from fanatics, it's hard to see anyone willingly giving the competition a skip because its rivals have just taken the game so far ahead. The likes of Ferrari and Porsche have made it just that bit harder to stay an Aston Martin fan in recent years and that's a right shame. Then again, if you have the money, why not buy your preferred wheels and buy the Vanquish anyway. If not for anything else, just to keep that glorious V12 as a collector's piece. Win-win, am I right?
Many thanks to Bonito Chhabria for lending us his beaut. Cheers!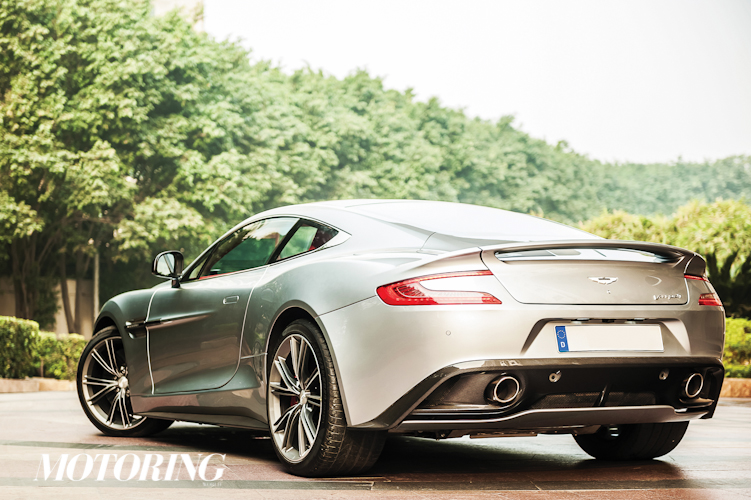 AUTODATA
Aston Martin Vanquish
POWERTRAIN
Displacement: 5935cc, V12
Max power: 568 bhp@6650 rpm
Max torque: 64.2 kgm@5500 rpm
Transmission: 8-speed auto
STEERING
Type: Hydraulic power steering, rack and pinion
SUSPENSION
(F/R): Independent, McPherson struts/coil springs
BRAKES
(F/R): Ventilated discs
TYRES
(F/R): 255/35 R20
DIMENSIONS
L/W/H (mm): 4728/1912/1294
Wheelbase: 2748 mm
Kerb weight: 1739 kg
PERFORMANCE
0-100 kph: 3.8 seconds (claimed)
Top speed: 320+ kph (claimed)
PRICE: Rs 3.85 crore (ex-showroom, Delhi)