It just didn't fit. The first Porsche sedan got one of its two briefs really quite wrong. Its engineers were tasked with fusing two worlds — getting the general form factor of a 911 squeezed into a four-door sedan that actually drove like one. It didn't work, of course. The result was a bit like stuffing an elephant into a runner's costume and setting him on his way to the Olympics. What Porsche nailed the first time around with the Panamera, though, was the fact that it drove as outrageously well as any 911. But if honesty were to be brought into the equation, it was easy to see that that thing was quite unattractive, and people noticed. As brilliant as it would be when you were inside the thing driving it, you'd somehow get out and look at it tut-tuting.
The natural way to deal with it, then, was to do a better job the next time out. In that regard, the new Panamera gets it just right. The gently sloping roofline that complements the 911-like greenhouse and tail-lights, and the long nose's headlights remind you of the Boxster/Cayman side of the showroom. It's very nice.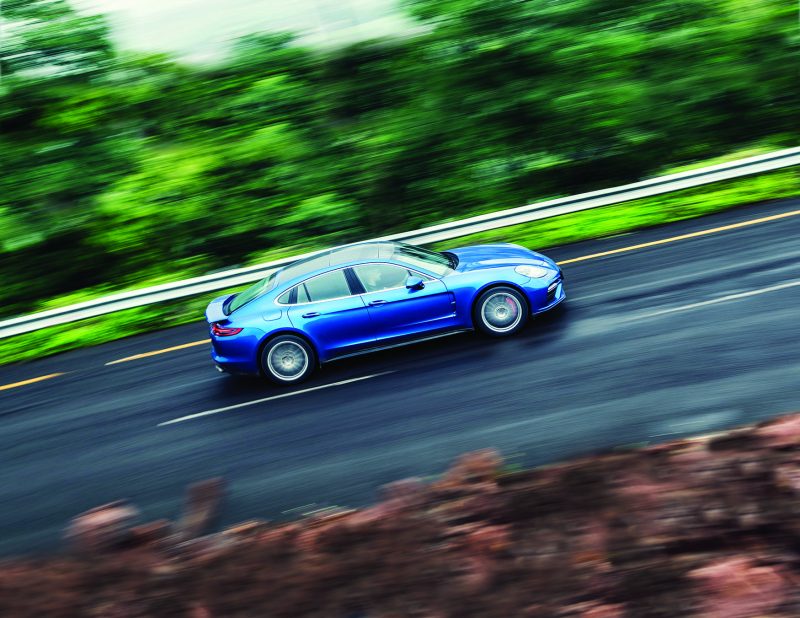 And then, there's the way it drives. I've driven a bunch of cars in a segment that's there or thereabouts to the Panamera, and the one key differentiator is that where other big car manufacturers like Audi, Mercedes and Maserati tend to numb the experience, Porsche revels in tuning in precise and unedited controls. The one we have here is the Turbo, which gets a twin-turbo 4.0-litre V8 that makes 542 bhp and an overkill of torque (78.5 kgm!). Now, the brief for Porsche was always to get it to have qualities much like the 911, but there's only so much that a front-engined sedan with a 2949 mm wheelbase and more than half of its weight over the front wheels can do. That, however, is not to suggest that Porsche didn't have a crack at it. To prove it, the Panamera has control arms in the front and a multilink rear suspension, with each corner held up by an electronically controlled three-chamber air spring. This may sound like hogwash to most, but it's the little details that matter. If you want to go all out, Porsche would even spec it with auto-adjusting electronically actuated anti-roll bars with brake-based torque vectoring and a limited-slip differential (yep, be sure to remember that and brag about it at the next pub meet).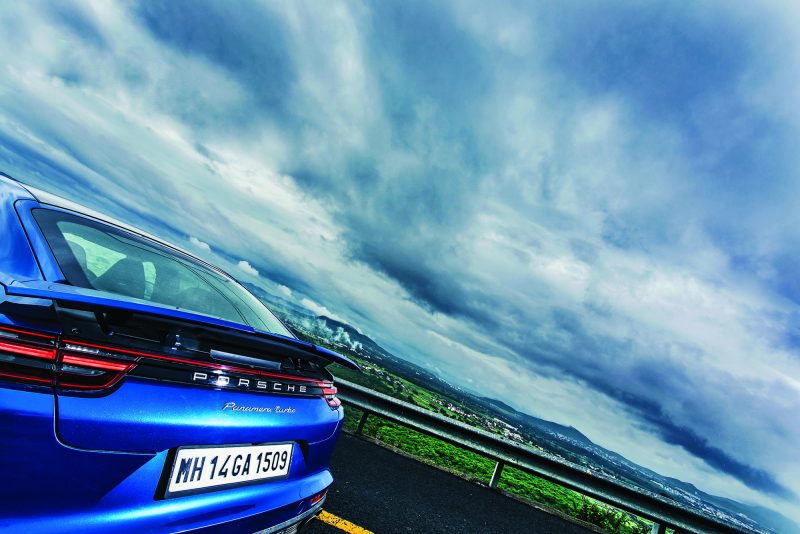 Really, though, if I were to keep the nerdiness aside for a moment, what the new Panamera comes across as is a car that knows what's asked of it. The Turbo is serene through fast corners. There's just so much precision in that steering, and the entire body seems to be hooked up just right. It feels cohesive, like all its components are working together towards a common goal. To keep weight in check, Porsche's made the Panamera's floor, bonnet, doors, front structure and body sides in aluminium, and it does go a long way in masking the car's size and mass. There's a tautness and raw appeal to the car each and every time you drive it, and that's astonishing in a car this big. It feels ready to pounce, especially when you flick the jog dial on the steering wheel into Sport Plus. It transforms itself (literally as well, because the spoiler pops open and unfurls at anything above 100 kph), and seems ready for just about anything you might have in mind for it, especially on our roads. I drove a Boxster last month, and while I'd be stupid to try and compare the two, you really can tell that they're cut from the same cloth, so to speak. Ah, chuck it — I'm stupid, then.
There's no doubting the fact that the Panamera, were it to to be entered into some sort of unusual track day against its four-door rivals, would carry on rather calmly destroying the others. The 8-speed PDK is, well, I'm actually tired of saying this, but it's beyond phenomenal. Switch to Sport Plus, flick the little lever to the left and take control via the paddles behind the wheel, and it's a non-stop race to the that beautiful redline in every gear. The steering does its bit and delivers hardly edited information from the road under you, the brake pedal seems destined to eventually chuck you out of the windscreen if misused, such is the power of its stoppers, and to be honest, it doesn't feel like anything else out there. The crisp throttle response points more to a car that's naturally aspirated than one that has the burden of two turbochargers, and if I can be brazen, don't be an idiot — keep the exhaust permanently on 'I'm-terribly-angry-get-out-of-my-way' mode. You're paying a fair bit, might as well make it worth it, isn't it?
While you listen to that deep and bassy growl from gear to gear, you'll probably forget to notice that the Panamera just clocked 100 kph in a little under 3.5 seconds. Let me put it in words that anyone can understand — this is quick. The Turbo's standard all-wheel drive will easily put a smile on your face and simultaneously cause passengers to reach for a spare plastic bag at the same time.
But while I've dedicated an overwhelming amount of time just describing what goes into the making of this car and how it drives quickly, the reality is that it won't be used for the stuff I've mentioned. This is very evident when you slow things down to a non-blurry level and drive the Panamera Turbo, well, slowly (yawn). The ride is stupendous for a car that runs 20s, noise filtering into the cabin is minimal, there are two seats at the back that are sumptuous despite a plunging roofline, and there's plenty of head- and leg-room. There's even soft-closing doors that you can spec.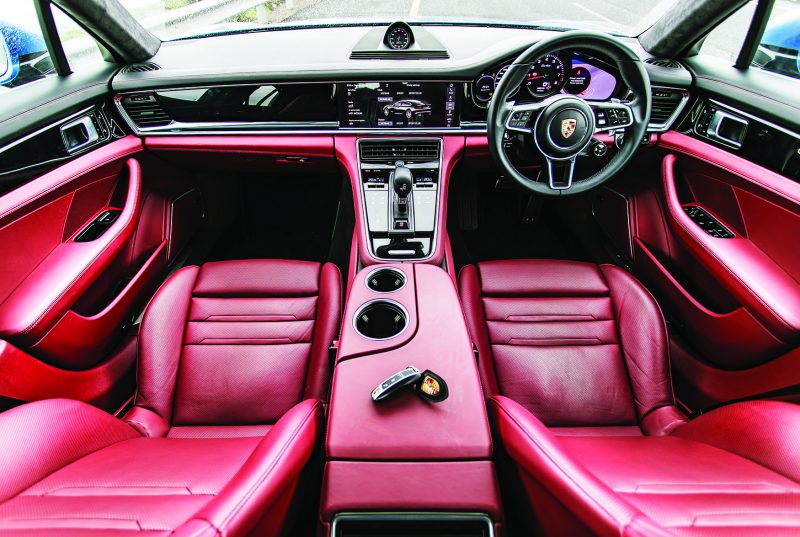 The coolest bit is that buttons are few and far between in the Panamera. Most of the car's controls are done from a 12.3-inch touchscreen, and this includes driving modes, navigation, phone, vehicle settings, music and, oddly enough, controlling the vents. And just like Porsche's other cars, there's a huge analogue tacho that sits right in the centre of the instrument cluster, which is flanked by two 7-inch screens that display maps, vehicle settings, speed, tyre pressure and, oddly enough again, a laptime chart and a g-force meter.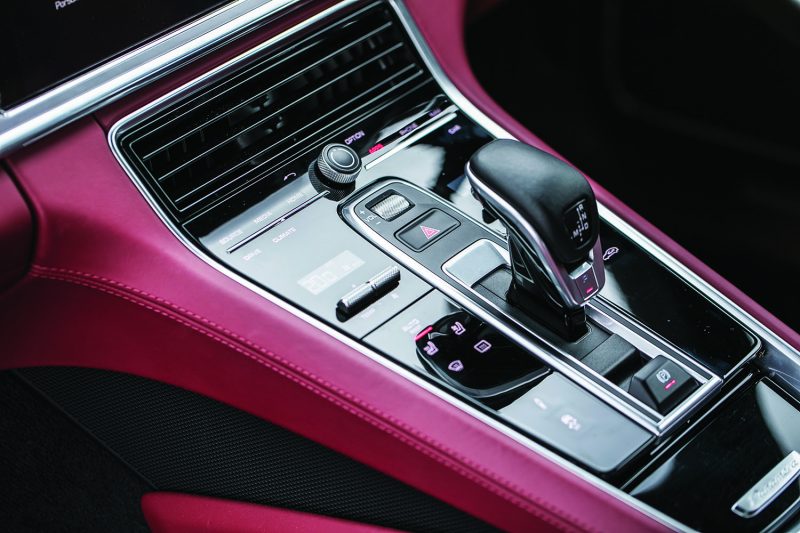 Nevermind, then. What all this boils down to is the fact that the 971 Panamera is part of a growing number. It belongs to a niche category that can get more than two people across distances quickly. It's enticing to look at performance numbers and obsess over them, but based on what I've seen, the Panamera serves a different purpose, and armed with pretty much everything that people can ask of a four-door sedan, it's quite logical to state that the Panamera is, by a longshot, the best GT car this country has ever seen. What 
a machine!
Video by Aditya Bengali
AUTODATA
Porsche Panamera Turbo
POWERTRAIN
Displacement: 3996cc, V8, twin-turbo petrol
Max Power: 542 bhp@6000 rpm
Max torque: 78.5 kgm@1960 rpm
Transmission: 8-speed, PDK
TYRES
F/R: 275/40 ZR20 / 315/35 ZR20
DIMENSIONS
L/W/H (mm): 5050/1938/1427
Wheelbase: 2949 mm
Ground Clearance: 124 mm
Kerb Weight (kg): 2083 kg
Fuel Capacity: 70 litres
PRICE: Rs 1.82 crore (ex-showroom)