I have been a Ferrari fan for over half my life. I am not sure if it was Formula 1 or the mystique around the brand, or probably both, but Ferrari was always special. Early on in my career, when I had just started working, and participating in random drinking games, people were bored with my answer to what was my dream job. It was always Ferrari, and the universe worked its magic and I worked with Ferrari for three years.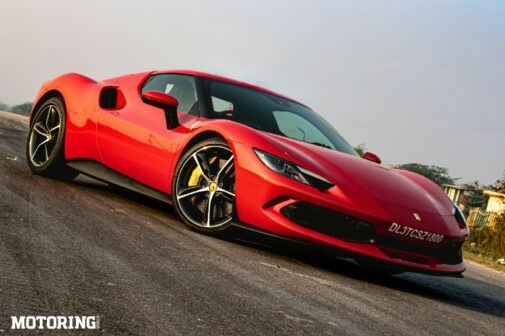 It was a dream come true and gave me an insight to how Ferrari is everything the legend makes it out to be. They are truly passionate about their cars and wear it on their sleeves with pride. Heritage and legacy are not fancy posters on their walls, but threaded into everything they do. I am not getting carried away, but this is just a long way of saying I really love Ferrari. Not in the way every fake Ferrari shirt/cap wearing enthusiast does, but I really love Ferrari.
I have been lucky enough to have driven some over the years, and always come back impressed. But in all fairness, it has been a while since I drove a brand-new model. With the 296 GTB, I must confess my initial gut feeling was one of curiosity more than excitement. I wanted to know if it has what makes a Ferrari a Ferrari, and can still ride the wave of technology and kindness to polar bears. We all know electrification will turn cars into mobile appliances and I get it, climate change is real, change is the only constant, and all that.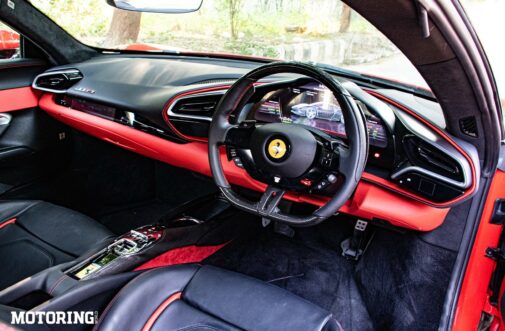 I was okay with the hybrid tech in the ballistic LaFerrari or the SF90, but I somehow hoped the V8 would continue to be the rumble which welcomed a lucky few into the Ferrari family. Wishes aren't prancing horses, you know, and the 296 GTB debuts with the first-ever production V6 in a Ferrari. Nope, not forgetting the Dino but hiding behind a technicality. The 296 GTB is not just a new mid-engined Ferrari, it is a turning point.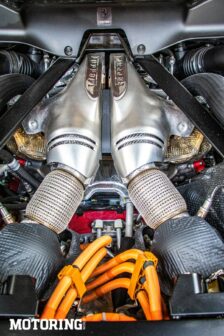 The 296 GTB in person is much better looking, honestly. It is deceptively compact, sits really low, and is striking to look at. It is not as beautiful as the Roma, but it is difficult to take your eyes off it. The design inspiration from the 1963 Ferrari 250 LM is visible to those who know the original, but even if you don't, the pronounced shoulders, B-pillar design, side air-intakes, and that gorgeous rear make the 296 GTB an attractive car.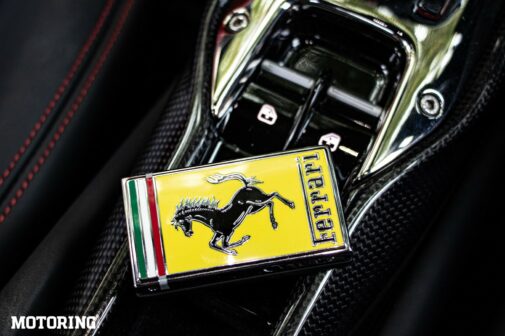 The Rosso Maranello exterior colour on the car we drove, only made it better. The centrally positioned exhaust, the discreet aero elements, an integrated spoiler, and the tail lamps all blend into an eye-catching rear. Don't listen to the internet on this, the 296 GTB is strikingly gorgeous in the flesh. The famous red engine covers are not as prominent, and are spread further apart to 120 degrees. Looking at the engine bay, and the turbos shared with the SF90, I couldn't help thinking there is room for a V8.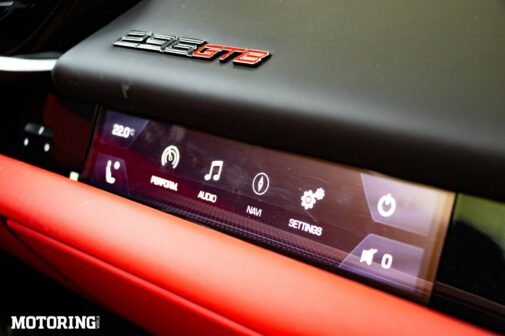 The heart of the matter, and one of a lot of interest, in the 296 GTB, is, naturally, the all-new V6. 'Piccolo' V12 it's called on the Maranello shop floor, apparently. If you didn't get it, 'piccolo' translates to small in Italian, and when you are born in the shadow of mighty V12s from Maranello, it is a double-edged sword. The 296 GTB makes a staggering 830 bhp — 663 bhp from the V6 and 167 bhp from the electric motor. That is 221 bhp/litre, and the engineering behind it is seriously impressive.
Boost pressure on the IHI turbochargers is up by 24 per cent, the spool-up time has been significantly reduced, and the electric motor uses MGU-K (Motor Generator Unit, Kinetic) unit with dual-rotor single-stator axial flux motor. The simpler explanation, and one that'll be understood by the masses, is that it's just like the setup in their Formula 1 cars. 0-100 kph times are a benchmark Ferrari discarded a while back, and the 296 GTB does a 0-200 in 7.3 seconds.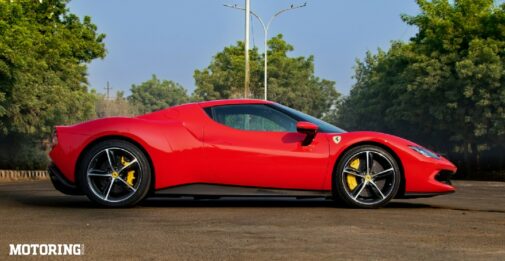 As much as the exterior invites you to jump in and get going, the cabin takes a little time to adjust to. More so if you are an older Ferrari fan, like I am. For starters, there is no big red start button. The one which roared many-a-prancing pony to life, delighting everyone around them. Nope, it is all haptic buttons and touchscreen all around. It is still a lovely cabin, with a fresh modern vibe to it, and the attention to detail you expect in a Ferrari.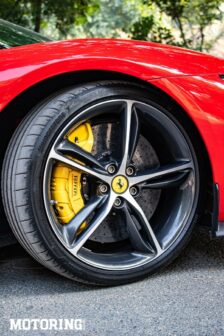 The seats are low, there is a digital instrument cluster, and a passenger screen, too. The SF90s cabin is the clear influence here, and thank god for small mercies, the Mannettino is still a proper switch. I am perhaps being too nostalgic, but not thumbing a starter button and a Ferrari starting in electric mode is just too much at once.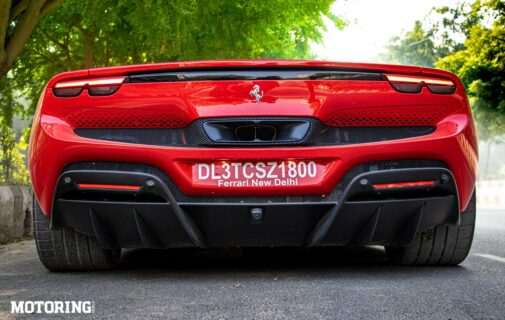 I shake that off by going directly to Race mode, another haptic touch does it, and life is good again. The powerful V6 roars to life, and the 296 GTB feels alive. Ferrari has worked hard behind the scenes to make this engine sound the way it does, and it is definitely the best-sounding V6 I have heard. Obviously, it is not as glorious as the bigger siblings but on its own, it does sound very good. All the complex engineering on the 296 GTB makes sense when I put my foot down.
The acceleration cannot be measured in 0-100 kph or 0-200 kph figures, it is explosive and intoxicating. There is no building up or waiting with the 296 GTB, it is hammer down from the word go. It is everything you imagine a Ferrari to be, and more. The electric motor and the turbos are enablers, and not replacements, of this mighty V6, and the result is genuinely impressive. And in some ways, this is an answer to the dark clouds of doubt over downsized engines in a Ferrari.
The steering is razor sharp, the chassis is agile, and the brakes are on point. Whether you choose to potter around in eDrive mode under 50 kph, or blast off, the 296 GTB is never boring once you have experienced what it is capable of. It is truly fun to drive, not something you can say about most cars these days.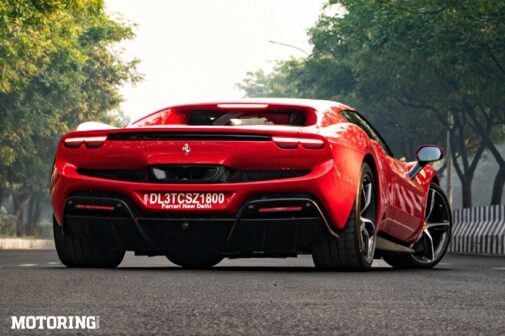 Driving the 296 GTB, for a much shorter time than I would have liked, was a unique mix of nostalgia and thrill. Yes, there will always be those who will say nothing can replace the definitive V12s and V8s from Maranello, and they may not give the 296 GTB a chance. Electrification may be unavoidable, but I am glad Ferrari is trying to make it an ally and not the enemy. With 296 GTB, Ferrari has done what they do best — forge metal, hydrocarbons, and electrons too, into a powerful dose of euphoria at 8500 rpm. Forza Ferrari!
PHOTOS S Shubham
AUTODATA
Ferrari 296 GTB
POWERTRAIN
Displacement:
Max Power:
Max Torque:
Transmission:
2992cc, V6, turbo-petrol
830 bhp
74.2 kgm@6250 rpm
8AT
TYRES
F/R: 245/35 R20 / 305/30 ZR 20
DIMENSIONS
L/W/H (mm):
Wheelbase:
Ground Clearance:
Kerb Weight:
Fuel Capacity:
4546/1958/1187
2600 mm
170 mm
1470 kg
64 litres
PRICE
Rs 5.4 crore (ex-showroom, Delhi)