'Hmm, this thing doesn't have a notchback.' That was what went through my mind when I saw the Slavia in the flesh, and I can probably be forgiven for thinking so; it's one of the design features I associate strongly with Skoda sedans, and I happen to think it looks well cool. Apparently the Slavia misses out on it because of cost concerns, which is a pity. Nevertheless, on we go.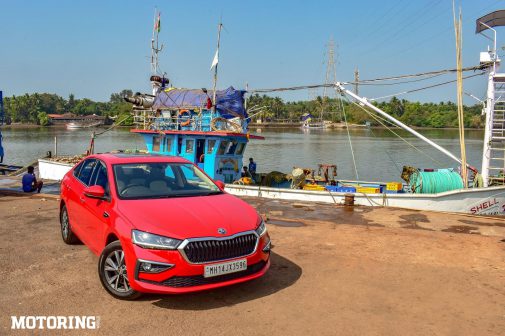 There's nothing else about the Slavia that I can claim to have a similar sentiment about, though. I think it looks very good, and is easily the standout car in its class in the design department. Its low, wide stance is sporty and muscular (and there's still 179mm of ground clearance), and there's an easy elegance to the car too. The signature 'butterfly' grille is a prominent feature of its nose, and it's proportionately complemented by the slick headlights and L-shaped DRLs; this is mirrored by the inverted-L shape of the fog lamps.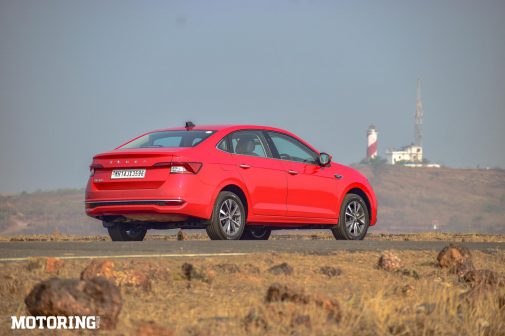 The car's profile – with its sloping roof line merging into the boot — has a pleasing coupe-like shape, and the character line that runs the length of its body adds some heft. The rear sees neat, C-shaped LED tail lamps extending into the boot, as well as Skoda lettering on the lid of the boot and a chrome strip on the bumper. The 16-inch alloy wheels have an eye-catching two-tone effect and fill out the arches nicely. Of the five colour options available, the Slavia looks the most fetching in Tornado Red, IMHO.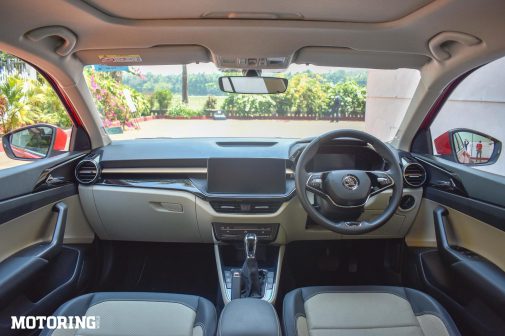 In terms of dimensions, the Slavia clocks in at 4541 mm of length, 1752 mm of width and 1487 mm of height, with a wheelbase of 2,651mm, which makes it a larger car than the Rapid as well as the widest car in its class, as also the car with the longest wheelbase. It's based on the MQB A0 IN platform, of course, which also does duty in cars like the Taigun and Kushaq. Typical of Skoda sedans, the boot is substantial — it can swallow 521 litres of luggage. Planning that long overdue golfing trip? It'll be a cinch.
The quality of cabins in Skoda sedans, in the recent past, has been exceptional and although Slavia doesn't quite reach the heights of its more expensive stablemates, it still offers up a very satisfying interior. Unsurprisingly, there are many shades of the Octavia in here as well, and a number of components are from the Kushaq too. A 10-inch infotainment touchscreen sits in the middle of the dashboard, and beneath it are stylish A/C vents and some attractive contrast-trim. The climate control unit is also touch-operated (which I don't like and never will — way too small and fiddly), but it cools perfectly. The digital instrument cluster is also very readable and of a high resolution, although I do miss good old analogue dials these days.
The top-rung Slavia I was driving had every feature you could possibly want and then some – the aforementioned digital screens, connected car tech, automatic climate control, ventilated seats, leather upholstery, a sunroof, wireless charging, TPMS, wireless Apple CarPlay and Android Auto, keyless entry and 8-speaker audio, among others. The seats are very comfortable indeed, and there's lots of room in the airy cabin; that wheelbase and width really help in this regard. In terms of safety, six airbags come as standard (brilliant), there's hill-hold control, standard ESC and an electronic differential system, a TPMS, a rear parking camera, ISOFIX mounts and multi-collision brake. Importantly, Skoda has gone beyond the call of duty and carried out side pole and rear crash tests, which are not currently required in India. The bonnet and bumper also protect against lower leg and head injuries. Three trims are on offer — Active, Ambition and Style, and all told, this is a cabin that is probably the best and safest in its class.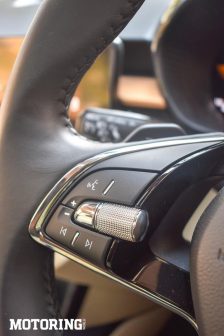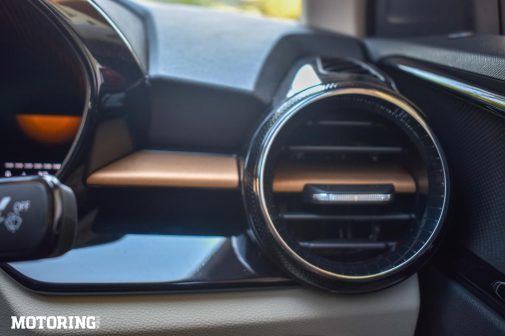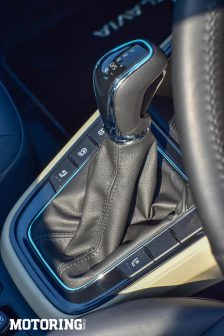 As you know, Skoda and Volkswagen have gone down the petrol-only route, so the Slavia comes with a choice of two TSI turbo-petrol engines. The base model is a 1.0-litre, three-cylinder unit that comes with either a 6-speed manual or a 6-speed torque converter automatic; it makes 114 bhp and 18.1 kgm of torque. The feistier one (and therefore the one you should get) is… well, I can't tell you about it because details are embargoed till the 3rd of March.
Although I'd go with the 1.5-litre engine, the 1.0 isn't a slouch, by any means; in fact, it feels more refined than the one in the Kushaq. This unit loves to be revved as well, and with a broad spread of power and an extremely light gearbox, it's great to drive at full chat. The gearing here is nice and short, so you won't have to row the manual gearbox too much to make progress; the torque converter is also a much better version of the one in the Kushaq. Typical of a small capacity engine, it gets a little raucous when you wind the revs up, but I quite liked that — it added some extra character to the car.
Thus far, the Slavia had shown every sign of being the most well-rounded car in its segment, and its ride quality was the proverbial cherry on top — it simply blew the doors off the competition. Skoda has clearly gone all in with the suspension, tuning it for a level of comfort and absorbency that is quite brilliant. Bumps and craters of all sizes are barely felt in the cabin, and the ride height definitely helps here. There's also a top-grade level of insulation from road and other noises.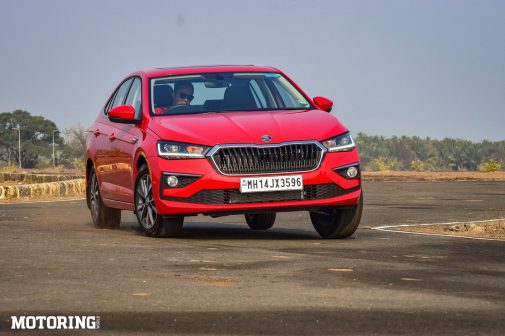 High speed stability is also ticked off the list admirably, with the Slavia remaining flat throughout. When you encounter a set of corners, it becomes evident that although the emphasis was clearly on ride quality, handling hasn't been given short shrift. The Slavia isn't a point-and-shoot hot hatch by any means, but it's still agile enough to have some fun in, with minimal body roll, a decent amount of feel from the steering wheel and excellent brakes.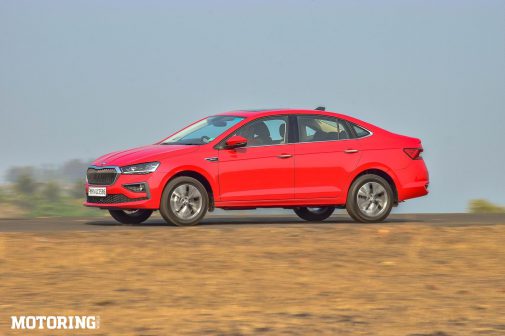 The Slavia — meaning 'glory' in Czech — is a really refreshing addition to the Indian automotive market, standing out (as a sedan) among a sea of me-too SUVs of all sizes and shapes. It has two excellent engines, and the lack of a diesel option may not be that much of a factor, honestly. In addition, it has a class-best cabin in terms of build, features and space and the ride quality on offer is far ahead of its competition. The Honda City — one heck of car itself — is currently top of the heap in this segment, and with Skoda having priced the Slavia very close to it, I see an interesting battle on the cards, because in all honesty, this is quite possibly the best all-round car that Skoda has launched in this country. While it's true that the firm has had its troubles over the years with quality and service issues, it's also true that it has built a legion of dedicated fans here, which should stand the Slavia in good stead. I would certainly have no hesitation recommending one to anyone fishing in this segment.
AUTODATA
Skoda Slavia Style
POWERTRAIN
Displacement:
Max Power:
Max Torque:
Transmission:
999cc, I3, turbo-petrol
114 bhp@5000 rpm
18.15 kgm@1750-4500 rpm
6-speed manual/6-speed torque converter
DIMENSIONS
L/W/H (mm):
Wheelbase:
Ground Clearance:
Kerb Weight:
Fuel Capacity:
4541/1752/1487
2651 mm
179 mm
1231 kg/1281 kg
45 litres
PRICE
Rs 14 lakh/15.39 lakh (ex-showroom)