My Maruti Suzuki Baleno story will always be the one where I got told off by the control room at the BIC for driving 'too fast'. Maybe there was some spinning out involved, maybe there wasn't — let's not get into too much detail. The Baleno in question was the RS version, the short-lived hot hatch that Maruti briefly experimented with before pulling the plug (it didn't think upgrading the 1.0 boosterjet engine to meet BS6 norms was worth the trouble). I've always thought this was a shame, since the RS did amp the fun factor up. What it also did was to set a certain benchmark for entertainment for the Baleno, at least as far as I was concerned. Does the refreshed model live up to that standard? I drove it around north Goa to find out; it's a hardship posting, I know, but someone's gotta do it.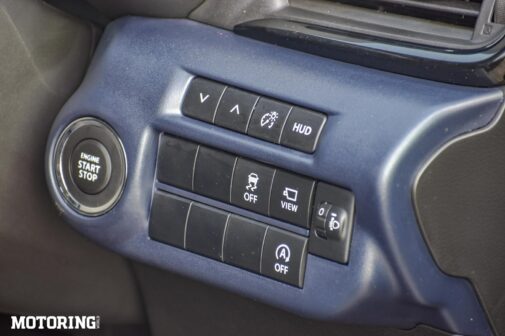 But first, that heads-up display that everyone's been talking about. A HUD is something that first appeared in aviation, so as to enable pilots to see critical information in their line of sight rather than having to look down. It soon trickled down to cars, and is normally found on high-end models (BMW loves HUDs, in particular), but Maruti has decided to put the HUD among the instrument panels (as it were) and make the Baleno stand out not just in its segment but a few notches above. In short, I like it — it's a great active safety feature because it allowed me to keep my eyes on the road while still being aware of speed, engine revs, fuel efficiency and the like. And it looks pretty slick, too.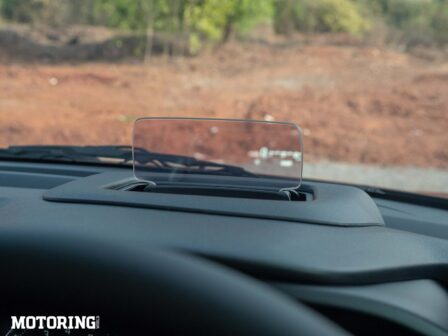 Given that the car's been re-styled, the rest of the Baleno looks pretty (and slick) as well. It has a much better presence on the road now, and the wider grille with a silver accent that extends into the wraparound headlights helps in this regard. The bonnet is also flatter and sportier, and the front looks much more sophisticated, with the swept-back headlights, the 3-unit DRLs and new fog lamp casing. Down the side, the new 16-inch alloy wheels add an element of muscle, and there's a more prominent shoulder line. The Baleno looks its best from the back, if you ask me; the new bumper and C-shaped LED tail lights combine well here. The Nexa Blue you see here is absolutely stunning — it glitters in sunlight and gives the car a premium character. Other available colour choices areArctic White, Splendid Silver, Grandeur Grey, Opulent Red and Luxe Beige.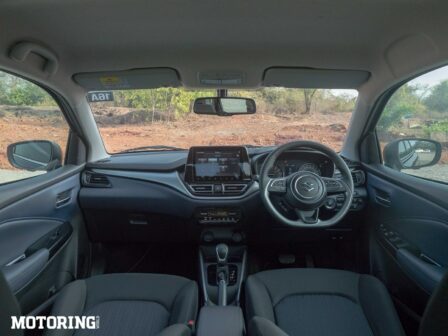 Inside, too, the Baleno looks like a grown-up car. It gets a new dashboard design and in the top of the line model, there's a black, silver and dark blue combo that looks great. There's more dark blue in the cabin, on the door inserts and seats — which are comfortable and very spacious. In fact, they were a little too comfortable for me — I could have used a little more stiffness in the back rest. That said, most people will like the level of springiness in them, and five adults will be more than comfortable in the cabin.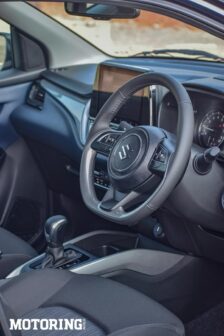 The flat-bottomed steering wheel is off the Swift and comes with controls on them for various functions, and the analogue instrument cluster (good to see a non-digital unit, other than the MID in between the dials) keeps things simple and readable. The rocker switches for the climate control system are well machined and feel solid to the touch. The top-spec car is stuffed with features, as is de rigueur these days — a hi-res 9-inch Smartplay Pro infotainment system with voice commands, Amazon Alexa, Apple CarPlay and Android Auto, a 360-degree camera (very useful, I have to say), Suzuki Connect tech, that HUD, auto-dimming rear-view mirror, keyless entry/go, Arkamys sound, auto climate control, 6 airbags, ESP and hill hold assist, among many others. There's no sunroof, though, which is frankly a sensible move — I still don't understand why sunroofs are so popular here. The boot is spacious enough to easily hold a family of four's luggage for a weekend getaway.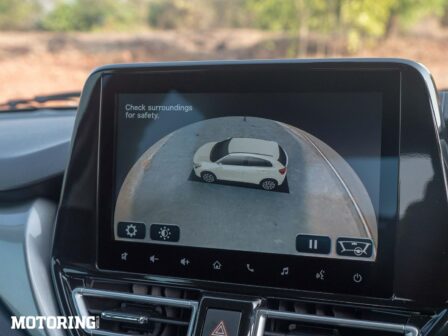 To the engine now. There's just one option — a 1.2-litre four-pot DualJet petrol making 88.5 bhp and 11.5 kgm, with start/stop tech. You can spec it with a 5-speed manual or a 5-speed AMT (yep, the CVT in the previous car is gone). Maruti offers up some pretty serious ARAI-claimed fuel economy numbers — 22.35 kpl for the manual and 22.94 kpl for the AMT — and it's clear when you drive either variant that efficiency and refinement were the primary considerations, rather than entertainment. Circling back to my previous comment about the old RS, I have to say that this car doesn't match up to that level of fun. It's a very good engine, no doubt, and it will be more than sufficient for most — but it lacks that fizz that enthusiasts will want.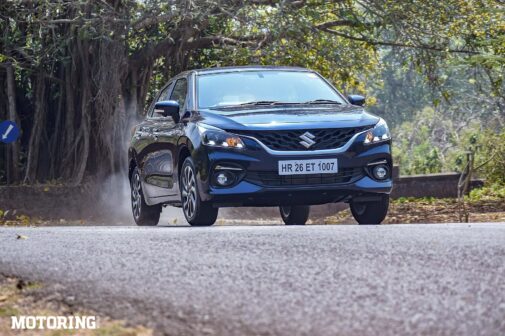 It acquits itself brilliantly in city conditions, and is so easy to use it's almost child's play; the start/stop function will really help economy as well. The AMT, in these conditions, is an able partner and ensures a hassle-free drive. It's when you need to step on it that matters change a bit. Smashing the accelerator to the floor doesn't produce quick forward movement, with the AMT taking a couple of beats to catch up and hook into the right gear. Buyers will need to get used to the nature of this gearbox and plan overtaking manoeuvres accordingly. If you're on an upward slope, the slowness of the gearbox is compounded, although the hill hold assist ensures that you don't creep backwards. This is very much an urban gearbox, and even though the nature of Maruti's AMT has improved greatly over the years, it's still not much fun.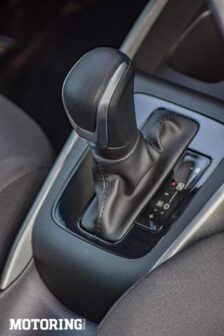 The 5-speed manual, on the other hand, is the one to pick if you like being in absolute control of what your engine is doing. The gearbox is smooth and easy to use, and lets you rev cleanly to the redline, with a reasonably raspy exhaust note accompanying the proceedings. It's also a good city-use unit, although you will have more of an arm/leg workout with it than with the AMT, of course.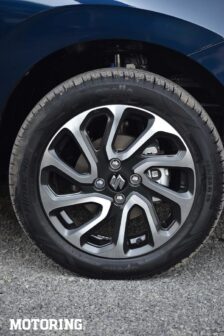 Maruti has given the Baleno a new suspension setup and, importantly, all-round 14-inch disc brakes. While the ride quality on offer is well nigh perfect for urban conditions up to about 60 kph, the Baleno is a little too softly sprung overall. Even in a straight line, if it encounters undulations in the road surface, it starts to bob a little bit up and down, and going around a corner at a reasonable speed will produce some side-to-side rocking too. This is a pity, because I believe the suspension could have been made stiffer without a deleterious effect on ride quality, and the engine would have come much more into its own if the setup was tauter. Still, I will admit that the vast majority of the Baleno's buyer's won't have this complaint and will in fact appreciate the car's soft nature.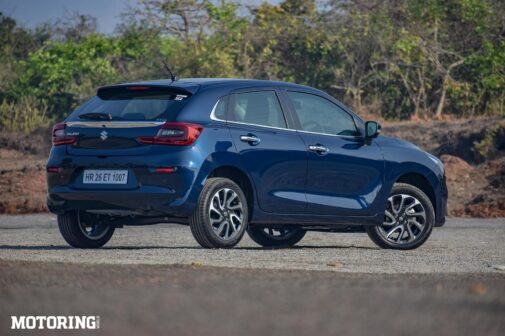 The Baleno is yet another quintessential Maruti Suzuki product, all told. It ticks multiple boxes (some that buyers way not even be aware of), it's practical and feature loaded and looks grown up enough to distinguish itself on the road. The quibbles I mentioned are factors that take away from the car's overall experience, for me, but I have no doubt that the Baleno will continue to burn up the sales charts as it has always done, especially given that it's been smartly priced.
AUTODATA
Maruti Suzuki Baleno
POWERTRAIN
Displacement:
Max Power:
Max Torque:
Transmission:
1197cc petrol, I4, NA
88.5 bhp@6000 rpm
11.5 kgm@4400 rpm
5-speed manual/5-speed AGS
DIMENSIONS
L/W/H (mm):
Wheelbase:
Ground Clearance:
Kerb Weight:
Fuel Capacity:
3990/1745/1500
2520 mm
170 mm (unladen)
920-960 kg
37 litres
PRICE
Rs 6.35-9.49 lakh (ex-showroom, India)