With the accelerator pinned to the floor, the speedometer reading 108 kph, and a long straight of the Wabco Proving Ground near Chennai ahead of me, I could think of only these words: 'this isn't optimal.' Normally, when driving a car on what is effectively a race track, I'd rub my hands in glee at the prospect of pushing the said car to its limit down a straight — but not on this occasion.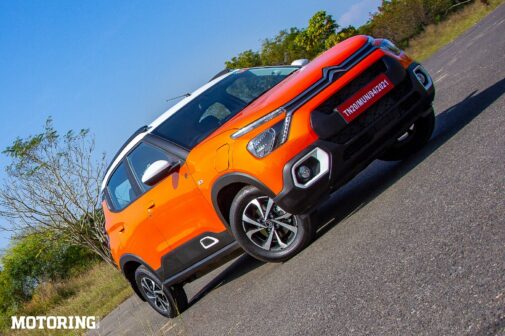 For one thing, I'd already maxed the Citroen eC3 out on the sweeping right-hander leading to the straight, and there was no way the car was going to go any faster since it's limited to 108 kph. For another, a race track or proving ground isn't the place to judge a car that's been built for the inanities of real-world urban traffic; driving it round and round at speed — on a smooth surface — for an hour tells you little about how it'll perform when there's a lorry breathing down your neck and stray cattle forming a fleshy barrier directly ahead of you. If I'm honest, it does the car a disservice, and everything you read here on in comes with the disclaimer 'in ideal test conditions.'
Citroen launched the ICE C3 roughly six months ago, and it would be the first to admit that the funky hatchback hasn't exactly set the sales charts aflame; it *should* also admit that the C3 was hamstrung from the start due to a lack of features, among other factors; this is a pity because the C3 was (and is) a car with potential. Having said that, launching an electric version of a car just six months after its ICE counterpart is commendable, and the move comes at a time when interest in EVs is at an all-time high — and EV sales figures reflect this. This isn't just a case of jumping on the bandwagon, either — Citroen has big plans globally, with a variety of full-BEV platforms of different sizes and significant investments in the software aspects of electrification, and its India plans form a big part of that strategy.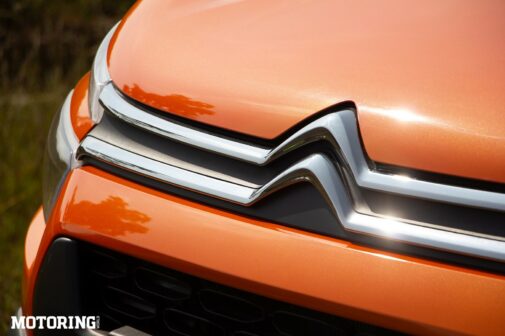 The brass tacks, then. The eC3 is visually no different from its petrol-powered sibling, other some 'e' and ''eC3' badging under the ORVMs and at the rear respectively. It remains a very attractive-looking car from every angle, especially the front three-quarters, and a top-spec car with alloy wheels and a two-tone paint scheme does stand out on the road; the orange and white combination remains my favourite, and there are four monotone and nine dual-tone options, alongside three customisation packs. Citroen believes that a huge level of customisation options is what buyers are looking for, but personally, I think that too much choice isn't always ideal — the buffet-fatigue factor sets in, at least with me. Nevertheless, there's no doubt that the eC3 scores well on the exterior front and is probably the best-looking car in its class.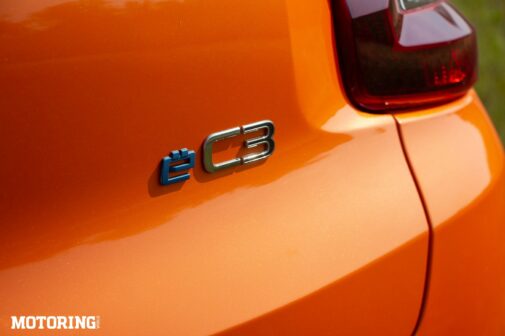 The cabin isn't any different, either — which is to say that it remains a mixed bag. In terms of overall space and comfort, there's no cause for complaint; five adults will be quite comfortable inside, and will also find it easy to get in and out of the car, and the seats are supportive. Two interior trims — Anodised Orange and Anodised Grey — are available, with the principal difference being the colour of the dashboard. Ergonomics are fine, too, and there are just about enough storage spaces inside; the boot is a capacious 315 litres, and importantly, there's a (slightly smaller) spare wheel tucked away under the loading area. A 26 cm touchscreen infotainment system is standard in the top-spec car, and it comes with wireless Android Auto and Apple Carplay. The MyCitroen Connect app offers various features — charger location, battery status, geo-fencing, SOS alerts, and so on. Twin front airbags and ABS with EBD are standard. The A/C cools very quickly, and the audio system cranks out some acceptable sound; steering-mounted controls are on offer.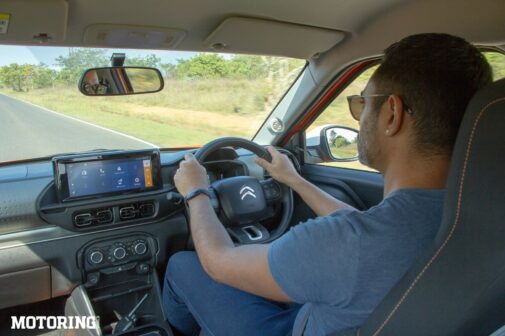 The niggles are the same — no reversing camera (only sensors), wireless phone charger, or sunroof even as options, and the ORVMs still have to be manually adjusted with stalks, which is a bit odd, to put it mildly. The digital instrument cluster still looks a bit dull and is rather small, and the materials used in the cabin don't feel that premium — cost-cutting is a little too evident.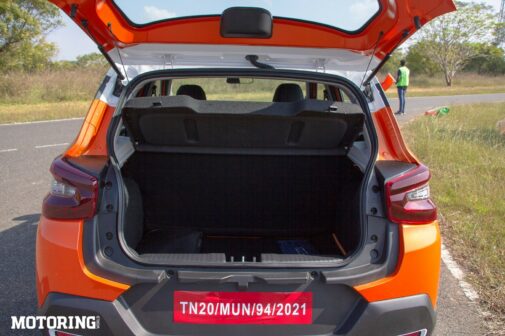 The eC3 comes with a 29.2-kWh battery, with a claimed 320 km of range when fully juiced up; as usual, you have to take that with a pinch of salt — the test car I was driving showed a range of 220 km at a battery level of 97 per cent. The permanent magnet synchronous motor sends 56.2 bhp and 14.58 kgm of torque to the front wheels, neither of which are world-beating numbers. The startup procedure isn't the most intuitive — you have to turn the key once, wait for the various telltale lights to come on and go off, see if the 'Ready' sign has lit up, and then turn the key one step further, at which point the car settles into a steady hum. Press the brake, slot the (rather neat) gear selector into D and you're good to go.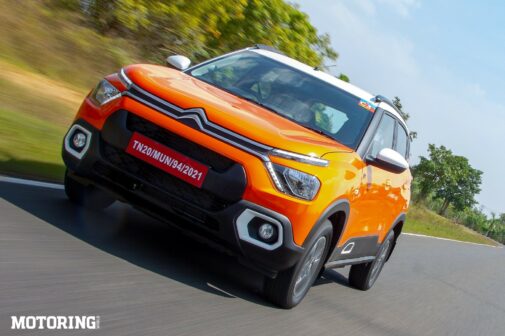 In regular D mode, the eC3 takes off from a standstill quickly enough, with Eco mode slowing things down a shade; it's best left for the urban traffic grind, in order to conserve battery. Acceleration is reasonably brisk, with a noticeable drop in velocity as you begin to near the 108 kph top speed, after which you're resigned to holding that pace. Even for a city car, I think that's too low a number; 120 kph would have been a logical speed to limit the vehicle to for the odd highway run, but charge conservation appears to have been the motive. There's braking regeneration on offer, but you can't adjust its levels. The familiar electric motor whine is present, and it's a sound that you'll just have to get used to; there's also a fair amount of wind and tyre noise coming into the cabin.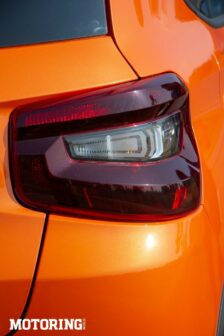 The steering wheel is a chunky unit — and it's also quite heavy for a car of this size. I didn't mind this at all, because I like steering wheels with heft, but I'm not sure how consumers who are used to super-light steering wheels will react. Heading down the track at full tilt, the eC3 felt stable despite a certain amount of pogo-ing; the tight right-hander at the end of the straight had a 20 kph speed limit, so naturally, I flung the car into it at around 70 kph to see what the tyres were capable of. The brakes were sharp enough to haul the car in from its top speed quickly, and there was enough grip to go through the corner without my heart in my mouth. The tyres did squeal a bit, and the body roll wasn't exactly absent, but I wasn't expecting anything less. The next proper corner, a longer right-hand sweeper, allowed me to hold 108 kph without any issues. To sum up, the eC3 has a slightly springy ride that becomes more apparent at speed, and it handles capably enough in most conditions.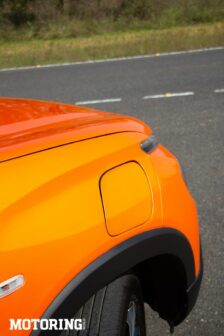 Citroen claims that the air-cooled lithium-ion battery will go from 10 to 80 per cent in 57 minutes with a DC fast charger — and you can keep fast-charging without having to break the cycle with lower capacity chargers; a portable charger plugs into a regular 15 amp socket and will allow a 10 to 100 per cent charge in 10 hours 30 minutes. Citroen has tied up with Jio-bp for its network of chargers, and your other options are to go to a Citroen showroom or call a 24×7 mobile charging unit in case of an emergency. The warranties are pretty comprehensive — 7 years/1.4 lakh km for the battery, 5 years/1 lakh km for the motor, and 3 years/1.25 lakh km for the car (whichever is earlier in all cases); extended warranties and maintenance packages are available at dealerships.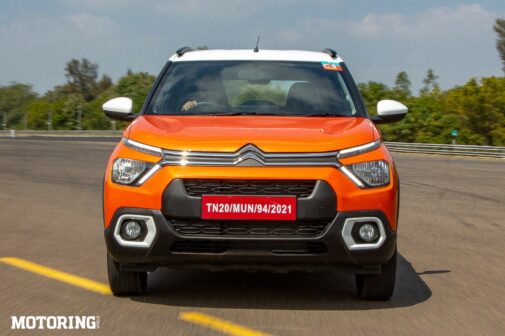 At an estimated ex-showroom price of Rs 10 lakh onwards, the eC3 would make an excellent case for itself as an urban runabout. A full charge would last you around a week, and the car would be a comfortable companion throughout if you can live with its lack of a comprehensive feature set. Even though Citroen is still in its infancy in India, it does plan to more than double its network of showrooms and service stations in the country this year, and it offers a 24/7 roadside assistance service as well, as mentioned earlier. As things stand, the eC3 isn't perfect — but it'll get the job done well enough for most.
AUTODATA
Citroen eC3
POWERTRAIN
Battery:
Max Power:
Max Torque:
Range:
Charging time (DC Fast Charger):
29.2 kWh
56 bhp
14.58 kgm
320 km (MIDC)
57 minutes (10-80 per cent)
DIMENSIONS
L/W/H (mm):
Wheelbase:
Ground clearance:
Kerb weight:
3981/1733/1604
2540 mm
NA
1316 kg
PRICE
Rs 10 lakh (estimated ex-showroom)