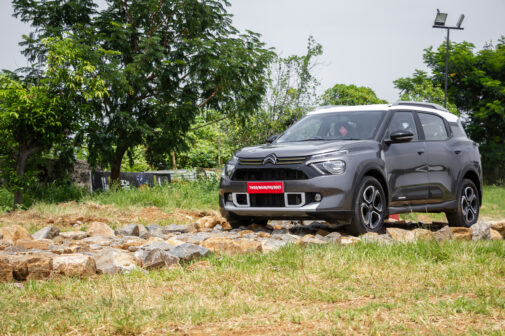 French cars have been attempting to win over India for years, but it has been like an epic Bollywood love story with many twists and turns! Some think that Indian drivers are too fastidious for such quirky cars with some interesting design delicate, while others assert that the cars are simply too attractive for our chaotic roads. Who knows, maybe one day we'll see a French car leading India's sales charts! After all, they do say that French cars only become better with age, much like great wine.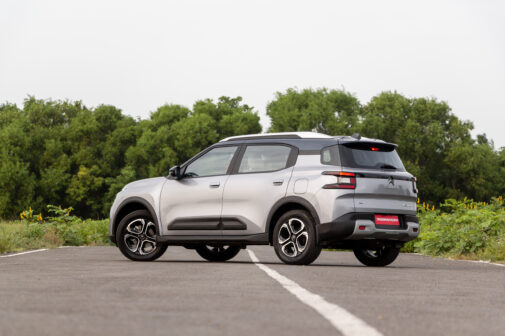 Until then, we can all enjoy watching a couple of French cars zoom around India's streets like characters from a Wes Anderson film. Citroen has entered India with a bang. The C3 has been a success, with buyers loving its design, comfortable interior, and relatively affordable price tag. Citroen is looking to build on that success with the C3 Aircross.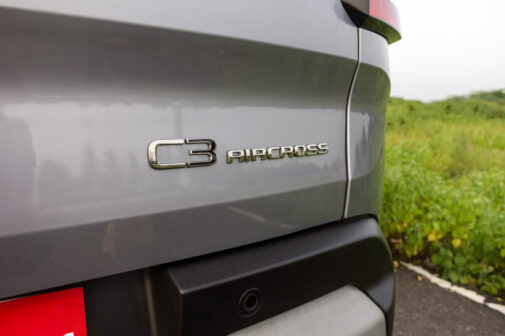 The C3 Aircross is a small SUV that's sure to turn heads with its funky looks. But it's not just about looks. The C3 Aircross is also packed with features, including a spacious interior, a comfortable ride, and a wide range of safety features. We'll dive into all the details of the latest offering from this French manufacturer.
Here are a few things you need to know about the all-new Citroen #C3Aircross: Stylish design, practical features, and a pleasant driving experience.#CitroenC3Aircross @CitroenIndia pic.twitter.com/3QtfvoD7In

— Motoring World (@MyMotoringWorld) August 6, 2023
The Citroen C3 Aircross is a car that's not afraid to be different. From its split headlights to the bold grille upfront. The C3 Aircross is like the lovechild of the C3 and C5 Aircross, having inherited its bulky front from the tough C5, while shamelessly borrowing the headlamps from the C3 hatchback – it's a family affair! With its muscular and dominating SUV stance, And hey, don't forget those best-in-class dimensions – standing tall at 1669mm and boasting a width of 1796mm, but it hides its size quite well, but we don't mind because it looks darn good doing it! Design is one thing that really stands out for Citroen for most of their cars past and present.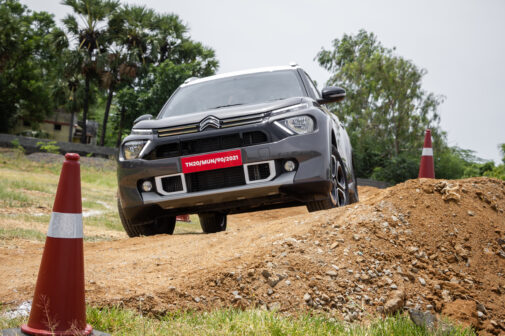 Speaking more about the design, The Citroen C3 Aircross is a bold vehicle with an attitude. With impressively high approach and departure angles of 20.5° and 25°, it can travel anywhere you want to go. It's supple and agile, like the yoga master of SUVs! Those quadratic diamond-cut R17 alloy wheels give it the ideal shine, complementing its muscular stance and appealing wheel arch design. The fun fact is that Citroen refers to it as a 5+2 rather than a seven-seater, indicating that it has a secret special seating arrangement for unforeseen visitors or impromptu road trips. It has a few sneaky tricks up its sleeve, sort of like a transformer.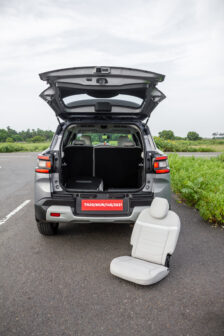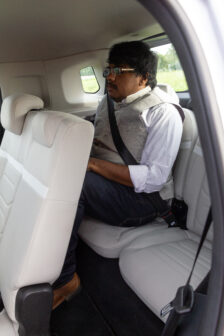 We have to talk a bit more about those seats in the last row of the C3 Aircross. Forget about performing difficult gymnastics to remove seats from the third row of the Citroen C3 Aircross, It was a breeze to remove the seats. When we tried it ourselves, the seats disappeared like a magician's vanishing performance in under 30 seconds. And what's this? Talk about multi-talented, those seats one out of the car can be transformed into the ideal chairs for a picnic or camping trip. The only suggestion I would have is that the seats should have a bag or some story of storage solution for when they have been removed. Coming to the actual space in the third row of the C3 Aircross is marginal, ideal for kids and petite adults.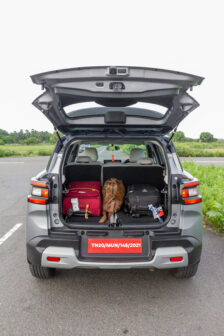 With a class-leading wheelbase of 2671mm, the Citroen C3 Aircross sits tall and offers plenty of headroom and knee room for everyone inside. It also features a 511-litre boot that is the best in its class so that you can travel with all your bags. For the heat of Indian summers which we really put to the test when driving in the humid heat on the outskirts of Chennai; it has a tropicalized air conditioning system with roof-mounted air vents that ensures faster cooling for every row, even in the hottest summers. In addition, you can't help but note the quirky design elements that Citroen is known for, such as the air vents and dashboard trim, which all give the vehicle a new and distinctive vibe.

Modern technology is highlighted by the Citroen C3 Aircross' seven-inch colour digital TFT cluster, which has three programmable modes: Minimal, Eco-Drive, and Dual Mode. With the Intelli-Smart driver information system, stay knowledgeable and smart. Additionally, the 10.24-inch Citroen Connect in-car entertainment system boosts connectivity by offering wireless mirroring for both Apple CarPlay and Android Auto. The MyCitroen Connect also has 35 smart functions, including fuel status, geo-fencing, car position, intrusion SOS alarm, and one-click SOS alert, as if that weren't enough.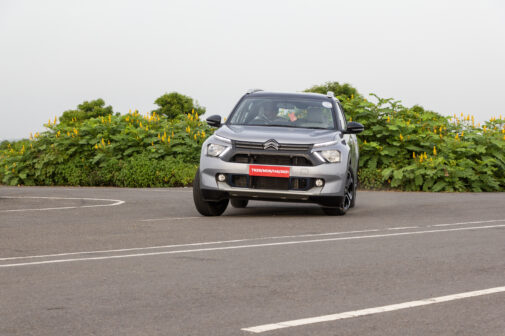 A smooth and safe driving experience is usually a strong point for the French car brand, the Citroen C3 Aircross' features, the Electronic Stability Programme offers improved stability and control. You can feel secure on the incline since Hill Hold Assist stops any rollback during hill starts. We got to experience this feature on a small off-road track that Citreon had laid out for this drive. The Tyre Pressure Monitoring System also maintains a careful check on the condition of your tyres and warns you of any potential problems. While these features seem promising, we must wait to see how the C3 Aircross fares in the Global-NCAP or the upcoming Bharat-NCAP safety rating tests before evaluating its level of safety.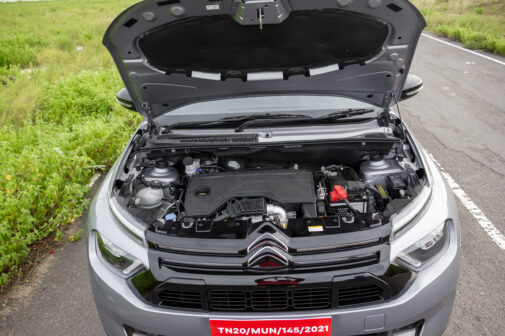 An incredible 108 bhp at 5500 RPM and 19.37 kgm at 1750 RPM are produced by the Citroen C3 Aircross's 1.2-litre GEN 3 PureTech Turbo-petrol engine. The engine suited the car well and seemed refined. The C3 Aircross displayed its turbocharged performance when combined with a six-speed manual gearbox, offering an exciting driving experience.  However, it's worth noting that an automatic transmission option was missing at the moment, leaving us a bit disappointed. But fear not, Citroen has assured us that an automatic variant will be arriving soon, offering more convenience to potential drivers. We really couldn't test the fuel efficiency figures during our short drive in Chennai, but 18.5 km/l is what Citroen is claiming the C3 Aircross can achieve.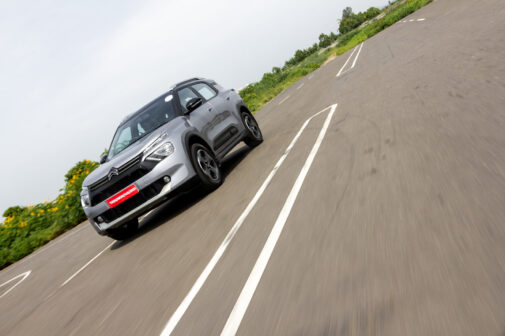 The Citroen C3 Aircross stands out with its advanced comfort suspension, giving the car a "flying carpet" effect that glides effortlessly over all road conditions. The light steering wheel makes driving feel like a walk in the park, and its decent road handling ensures a smooth journey. But what truly stole the show for me was its ability to tackle bad roads with ease – it felt like the car had its own built-in pothole-dodging ninja! It's like having a magic carpet that not only flies but also dances gracefully over bumps and rough terrains. This car's comfort game is on another level, making it a true joy to drive.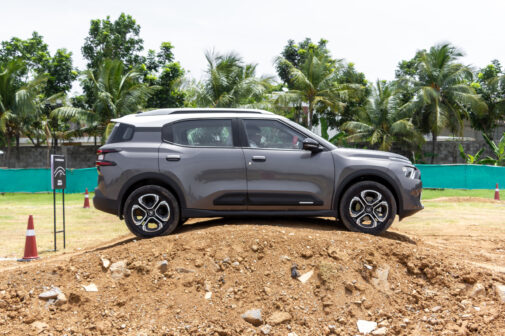 Unquestionably a fantastic product from Citroen, the C3 Aircross dazzles with its innovative comfort suspension, unique design style, and ability to pack in seven people with such a small external footprint. The final judgement, however, depends on how reasonably priced it is in comparison to its competition. The impact of this vehicle on the Indian market would surely increase Citroen's visibility and appeal there if the French automaker can find the correct price-performance balance. So, for the time being, we eagerly anticipate its pricing to assess its likelihood of success, but we're confident that it has all it needs to leave a lasting impression.
AUTODATA
Citroen C3 Aircross
POWERTRAIN
Displacement:
Max Power:
Max Torque:
Transmission:
1199cc petrol
108 bhp
19.37kgm
6-speed MT
DIMENSIONS
L/W/H (mm):
Wheelbase:
Ground Clearance:
Kerb Weight:
Fuel Capacity:
4323/1796/1669
2671 mm
200 mm
1275 kg
45 litres