In the very recent past, BYD (Build Your Dreams, no less) has made a name for itself in the commercial vehicle space in India, with a bevy of electric buses and trucks. A lot of the electric buses that you see plying on roads all over the country — such as the all-electric BEST buses on Mumbai's streets — are assembled by the brand, and then supplied to State Transport Units.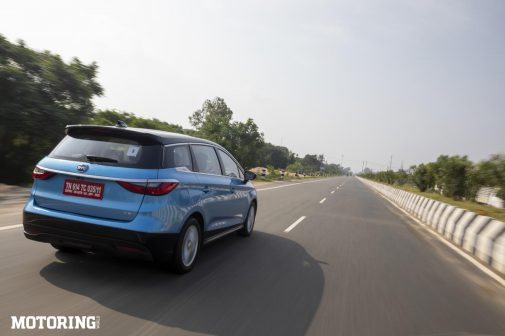 The Chinese company has now moved into the passenger vehicle space with the launch of its new eMPV, the e6, though it's not meant for private buyers as yet. The BYD e6 is aimed at corporations and government bodies that are looking to decrease their respective carbon footprints, while providing a reliable and safe means of emission-free transport. The EV maker says that it is in talks with companies such as Google, IKEA, KPMG and Citibank to supply the e6 for their fleets. In fact, 10 e6 eMPVs have already been leased to the Telangana government, which bodes well for the firm. So, what is it that has attracted government organisations and corporations to the BYD e6? An approximately 60 km drive from Chennai to Mahabalipuram was arranged so that we could find out.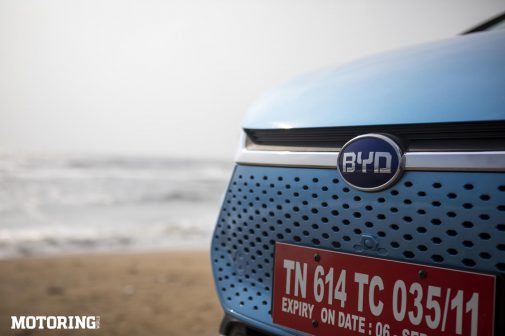 Let's start with one of the perceived pitfalls of owning and running an EV — range anxiety. The BYD e6 is powered by a 71.7-kWh battery pack, which has what the brand calls 'Blade Battery technology'. Unlike most battery packs available on EVs today, BYD's unit has a unique arrangement of cells that is said to be more energy-efficient, dissipates heat better (thereby improving battery life) and is supposedly safer if a crash occurs. There are videos
online released by the brand that show no sparking or fire even when a massive nail is pushed through the battery. As there's no oxygen released by the battery, chances for combustion are reduced drastically, which is why BYD claims it is the safest battery around.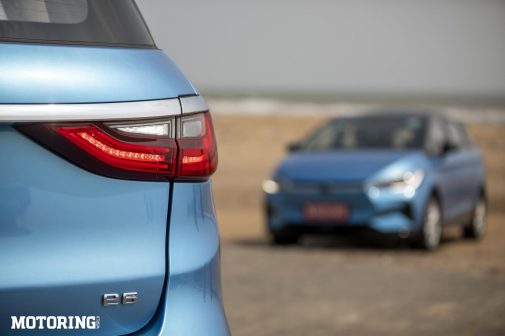 Based on Worldwide harmonized Light vehicles Test Cycles (WLTC), which is considered to give a more accurate representation of real-world range, this battery is capable of going 415 km on a combined city and highway cycle. While I initially doubted the accuracy of the claimed range, by the end of the day I was convinced that 400 km could be easily achieved on a single charge. We ended up using just under 80 km of its total range — which included back and forths for pan and tracking shots, and leaving the eMPV's battery running for static and detail shots — and the colour MID still showed 416 km of running left. To underline the reliability of the battery, BYD offers the longest standard battery warranty in India — 8 years or 5 lakh km, whichever is earlier.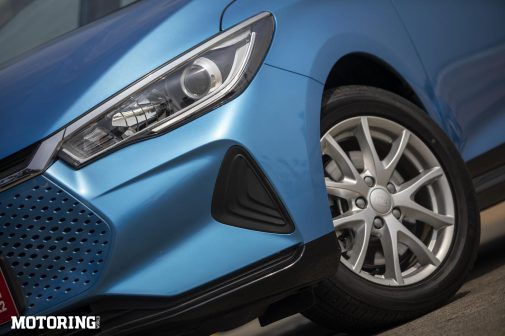 Besides the energy-efficient battery, there are two other reasons for the e6's long range. One is the fact that there's just an Eco mode (no city and definitely no sport mode) and the second is that power is sent to the front wheels via an electric motor that makes a relatively meek 94 bhp and 18.35 kgm of torque. However, as all that power and torque is produced from the outset, the e6 isn't slow off the line. Speed builds in a rather linear manner, though what is missing is that serious shove that I have come to associate with instant torque from an electric mill. While highway speeds are easy enough to reach and maintain, overtaking will require a bit of planning, as the e6 feels out of breath when pushed hard. This will not be a cause for complaint for most people, though. Top speed is limited to 130 kph, and, honestly, it doesn't feel like it has more to give above that.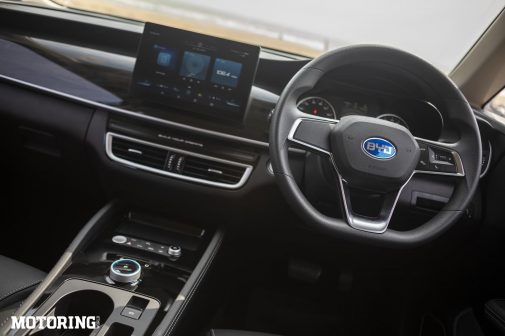 When the e6 does eventually run out of charge, there is more than one way to replenish the battery. BYD offers the e6 in GL and GLX variants, with the only difference between them being the availability of an AC charger. The GL comes with a 60 kW DC charger only, while the GLX is available with a 40 kW AC charger and a 6.6 kW wall charger. The DC charger will take about one-and-a-half hours to charge the battery to full, the 40 kW AC one is said to take two hours, while the wall charger will take 12. BYD also says that the fast chargers will deliver about 200 km of range in 30 minutes, which will be really useful. Consider just taking a bathroom and tea break, and then you can be on your way.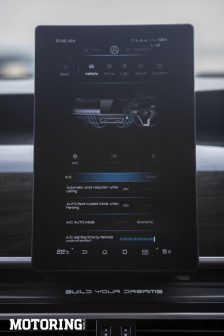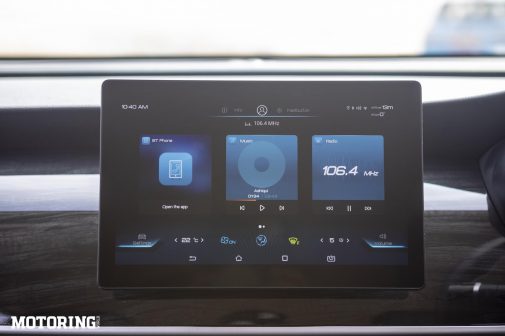 What should also appeal to the e6's potential buyers is its cabin space. The MPV-like design has managed to liberate plenty of room inside, and at no point will you feel stifled, as long as you don't have more than five seated in the car. The enormous 580-litre boot will be especially useful for those making runs to the airport, too. Seat comfort, though, could have been better. The chunkier among us will feel a distinct lack of thigh support at the front and rear, which may make long drives less comfortable than previously thought. The cabin is not among the most inviting, due to its rather plasticky, dark finish (the faux-wood trim on the dash looks a bit too faux for my taste), but the average Indian will only find one major point of contention; a lack of certain premium features. Considering the Rs 29.15 lakh, ex-showroom price tag for the e6 GL (Rs 29.60 lakh for the GLX), one would expect kit like a sunroof and ventilated and power adjustable front seats to be on offer.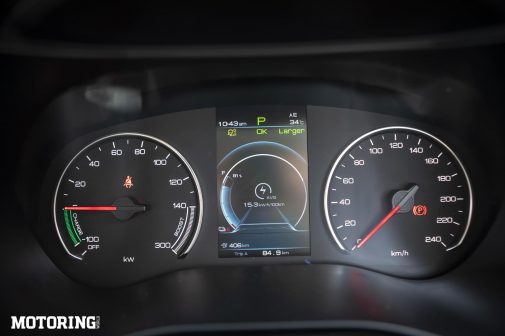 Still, there's enough in terms of safety kit — from four airbags to a tyre pressure monitoring system — that would make it difficult to find fault in this area. A party piece of the BYD e6 is the 10-inch infotainment touchscreen that can rotate from a horizontal position to a Volvo-like vertical one, depending on your preference. The system works smoothly enough, and is a match for the four-speaker music system.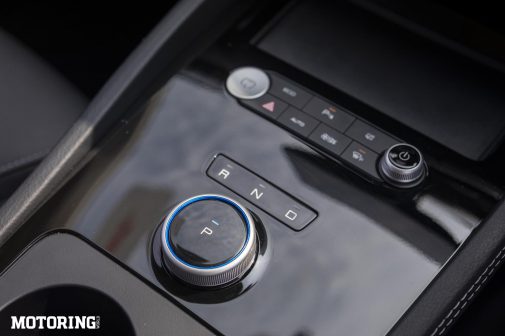 There's no mistaking the e6 for anything other than an MPV, though it isn't typically boxy. Smooth, flowing lines give it a certain degree of presence, and the slightly raised profile also lends it an almost SUV-esque stance. The rear design borders on bland, but there's just enough to make it attractive, especially when specced with the blue and black dual-tone finish.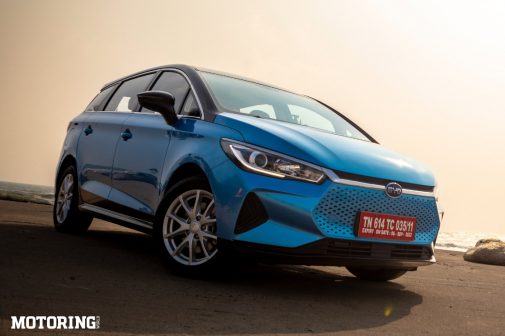 It seems like the e6 ticks all the necessary boxes for those looking to buy an all-electric mode of conveyance for their corporate or government clients, other than a slightly high price tag. At the moment, there's no localised content — BYD assembles the e6 from semi-knocked down kits (SKD) — which is one of the reasons for its high asking price. The brand is evaluating an entrance in the private buyer's space, though it may be a while before that decision comes through. In the meanwhile, the e6 can be considered a step in the right direction for all-electric mobility.
POWERTRAIN
Battery:
Max Power:
Max Torque:
Range:
71.7 kWh
94 bhp
18.35 kgm
415 km (WLTC)
DIMENSIONS
L/W/H(mm):
Wheelbase:
Ground Clearance:
Kerb Weight:
4695/1810/1670
2800 mm
170 mm (unladen)
NA
PRICE
Rs 29.60 lakh (ex-showroom, India)