I don't think 'EVs have arrived', irrespective of how much the government is trying to push policies. I spent two weeks with the Hyundai Kona and realised there are a bunch of fundamental questions that still need to be answered. One thing's for certain, though, manufacturers that are getting on the EV-train here are going down the 'aspirational product' route, instead of the 'affordable' one. I guess time will tell if it's the right approach, but for now, we have a new entrant — the MG ZS EV. And it has its task cut out, from trying to be a good car first (EV or not) and then reducing all electric-associated anxieties.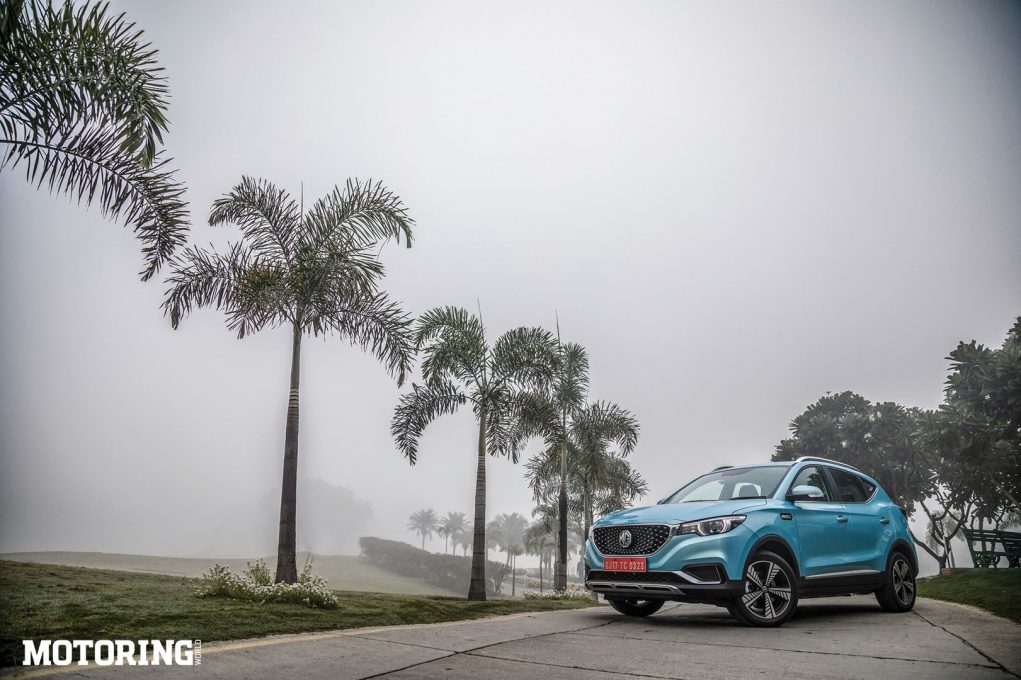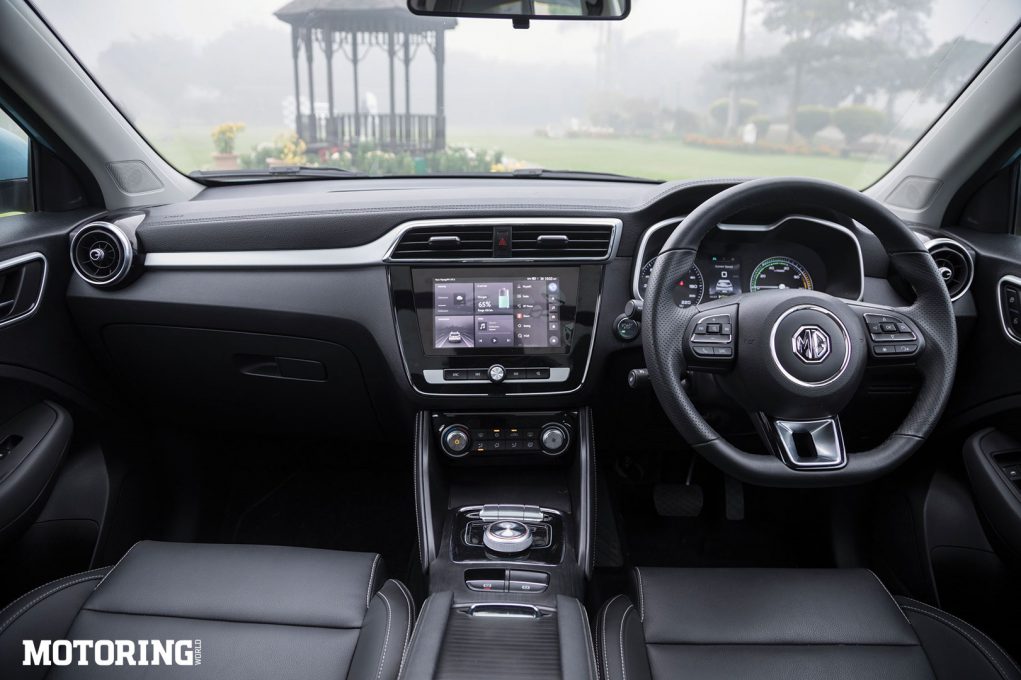 On the face of it, the MG ZS EV isn't visually radical. Sure, the prominent chrome grille looks cool, but the rest of the front is relatively smooth. The charging port hides under the large MG logo and is accessed by the panel swinging upwards and away from the car. Unfortunately, this is a design oversight, as in the open position it obstructs visibility to the port itself, making it a cumbersome affair trying to line up the charging cable without getting down on your knees.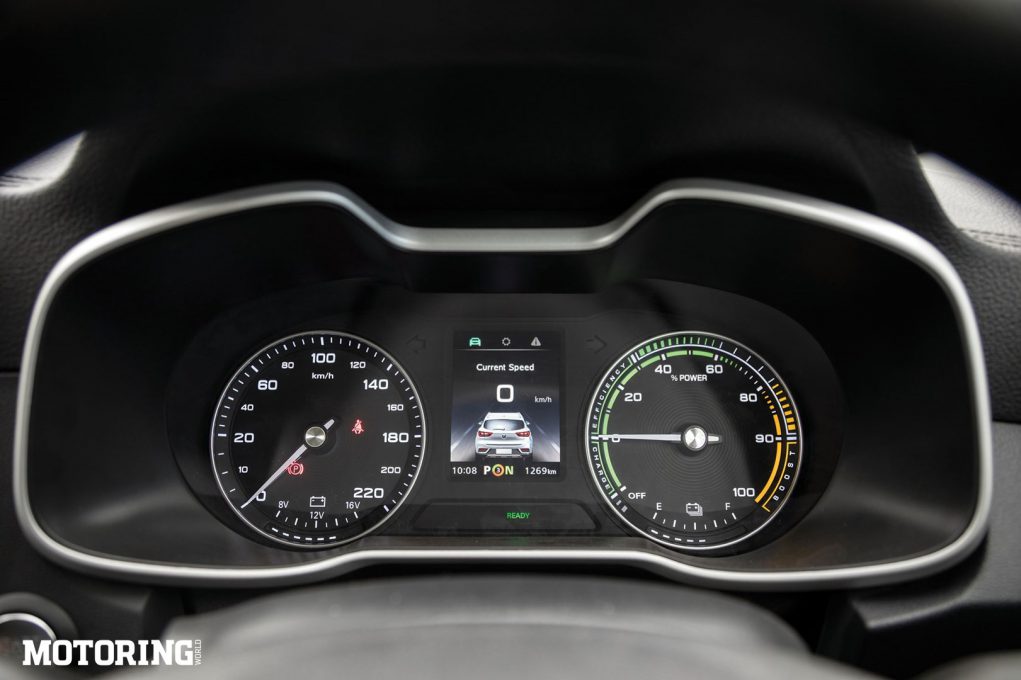 The headlights are inspired by the London Eye, and if you look at it in just the right angle, you can see the resemblance. The 17-inch alloy wheels are modelled after windmills, keeping with the theme of sustainability and zero emissions. And there is a strong line along the length of the car ending in a haunch over the rear wheel. But what catches your eye is the huge sticker above the front wheel, proclaiming 'electric'. MG wants to make sure absolutely no literate individual mistakes this for a gasoline-powered vehicle. With a sticker bigger than my palm, I think that box is well and truly checked. Does the MG ZS EV look uniquely electric? No. But it looks handsome and elegant, and I can live with that.
Things are a little more hit-or-miss inside; 80 per cent of the front cabin is covered with soft-touch materials. That feels nice. But then the buttons on the instrument cluster and steering wheel feel cheap and plasticky, and that isn't very nice. Speaking of the steering wheel, it only gets height adjustability which is a terrible disappointment for a car in this segment. The driver's seat is electrically adjustable, but lacks under-thigh support adjustments — again, a shame. But the seats themselves are quite comfortable and supportive.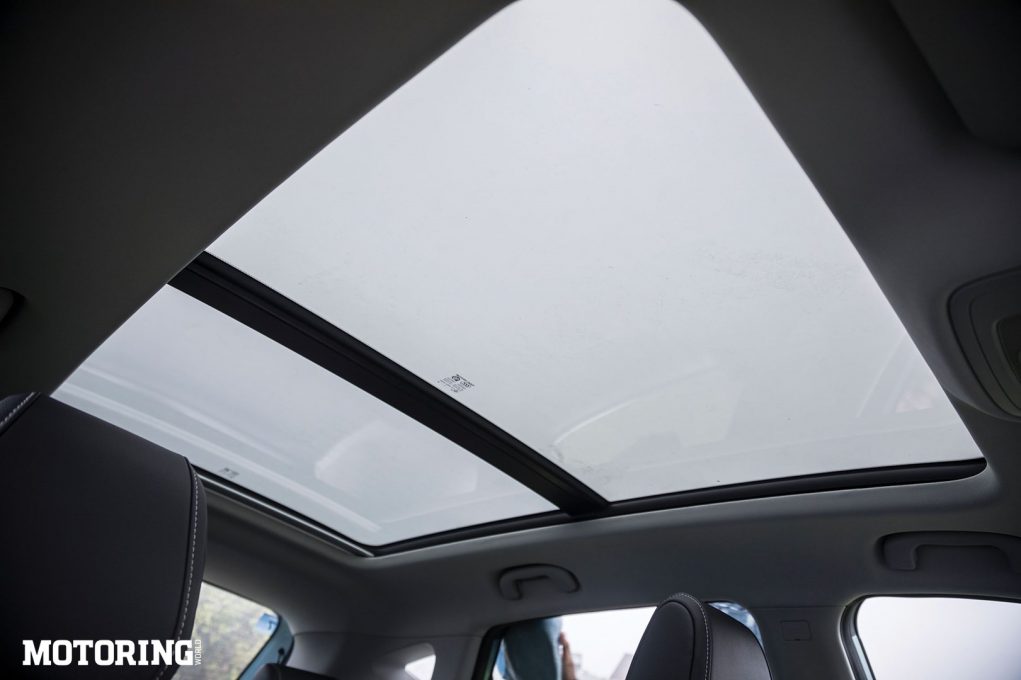 In the rear, it faces the same problem all EVs do. You see, with the battery pack stored in the floor, it robs precious floor depth which means rear passengers' thighs don't even touch the seat. That gets uncomfortable very quickly and it's something worth considering before buying an EV. To make life a little easier, the MG ZS EV has an almost flat floor across the width of the car. And it gets a huge sunroof that covers 90 per cent of the vehicle's ceiling which is truly stunning. Then, of course, is the whole suite of MG's connected features. There's a voice assistant for a bunch of basic features. The car comes with an eSIM, so live weather updates and music streaming applications are part of the package. A particulate filter is built in to provide cleaner air, too. All said, though, the interiors feel plush, but stop just short of feeling premium, mostly due to those plasticky buttons.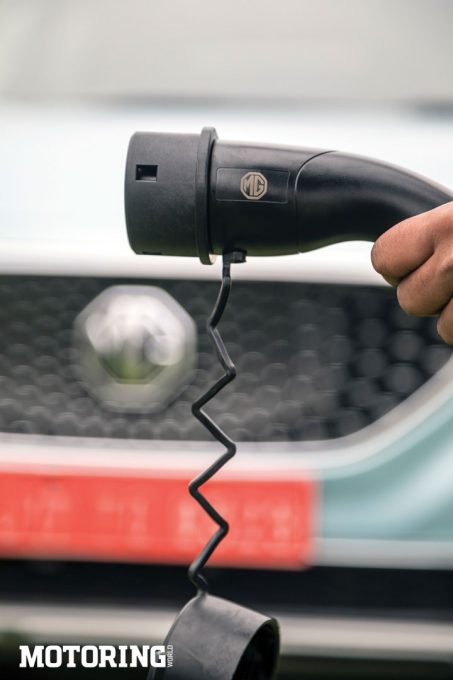 But it is the way the MG ZS EV drives that sets it apart; 140 bhp and 36 kgm are decent numbers and coupled with the instantaneous acceleration of an EV, it is brisk — 100 kph comes up in 8.5 seconds, and it continues pulling strongly post that number, too. The car is equipped with three drive modes — Eco, Normal and Sport, and while throttle response gets noticeably sharper in Sport, I was very pleased to see it still felt linear, with none of the jerky behaviour that tends to plague Sport modes in EVs.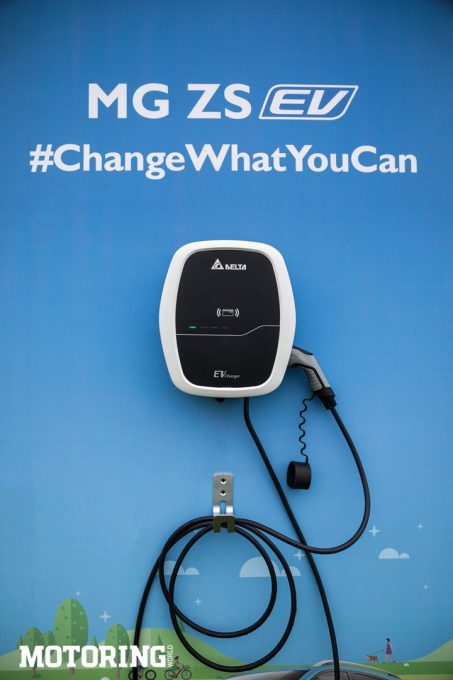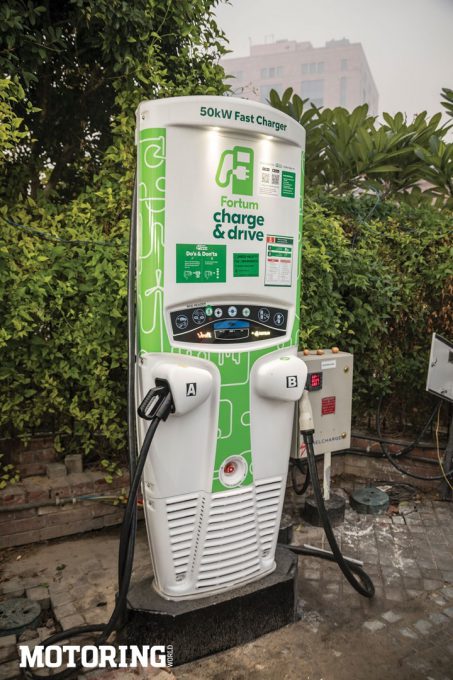 In addition to this, the Kinetic Energy Recovery System (KERS) has three levels of adjustability. At the most intrusive level 3, I expected a strong and sharp deceleration when I let off the throttle, but I was left surprised as MG has managed to keep it linear and smooth. Continuing with the surprises, the car handles unlike any other EV I've driven so far. It doesn't feel bulky and manages its weight well as you flick it from side to side. The suspension has been set up perfectly, too. The highways of Greater Noida are no place to really judge this aspect, but we did hit a few bad patches and it felt more than up to the task. All of the above put together makes for a compelling driving experience, and I struggled to find any fault with it. Good job, MG. Seriously.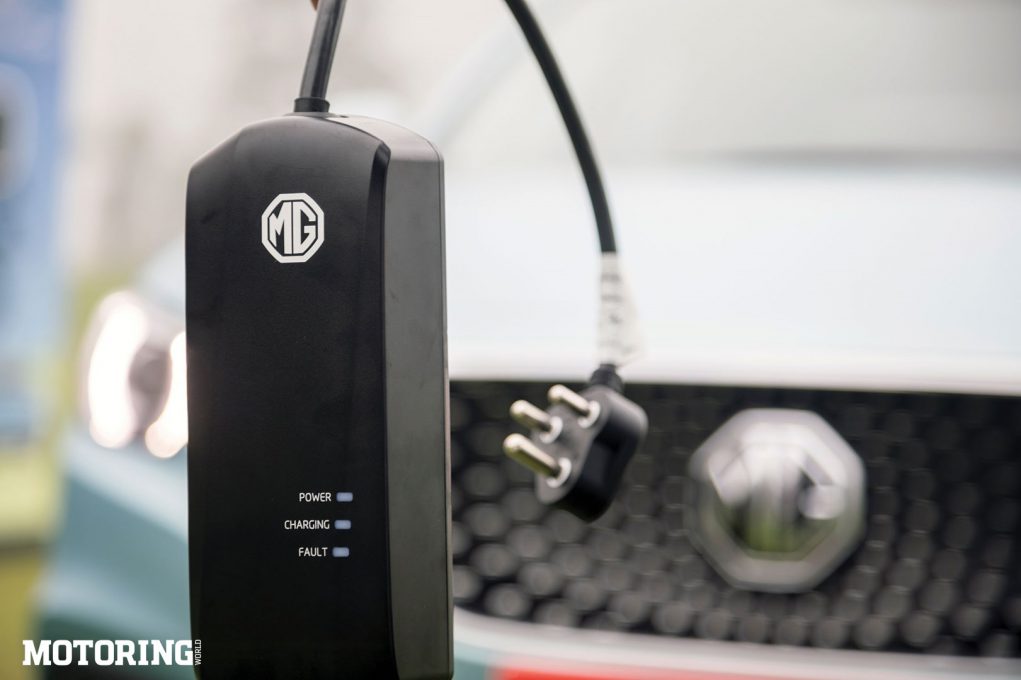 Okay, it's time to address the elephants in the electric room — range and charging. MG claims the ZS EV will do 340 km on a full charge. If it behaves anything like other EVs, I'd expect a real-world range of at least 230-240 km which is good enough unless you intend to use it for cross-country drives. When it comes to charging, MG will set up a 7.4 KW fast-charger at a location of your choice, free of cost, with every ZS EV sold. That should help you 'tank up' your car in 6-8 hours. Besides, MG dealerships will have 50 KW DC superfast chargers which will take your car battery from zilch to 80 per cent in 50 minutes, which will be available 24×7.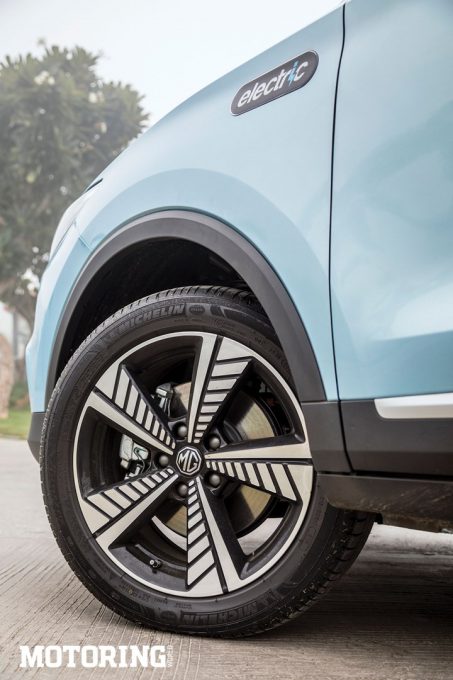 Unfortunately, the remaining 20 per cent will take another hour. And of course, you get a portable charger that lies in a pouch in the boot. Plug that into a 15 Amp socket and occupy yourself for the next 18-19 hours as it refills your battery. But what if the worst were to happen and you do run out of charge on the road? Well, MG's roadside assist program will send a vehicle to your car and give it a shot of adrenaline to let it drive another 30-40 km to a charging port. Not a literal shot of adrenaline, obviously, but you get what I mean, don't you?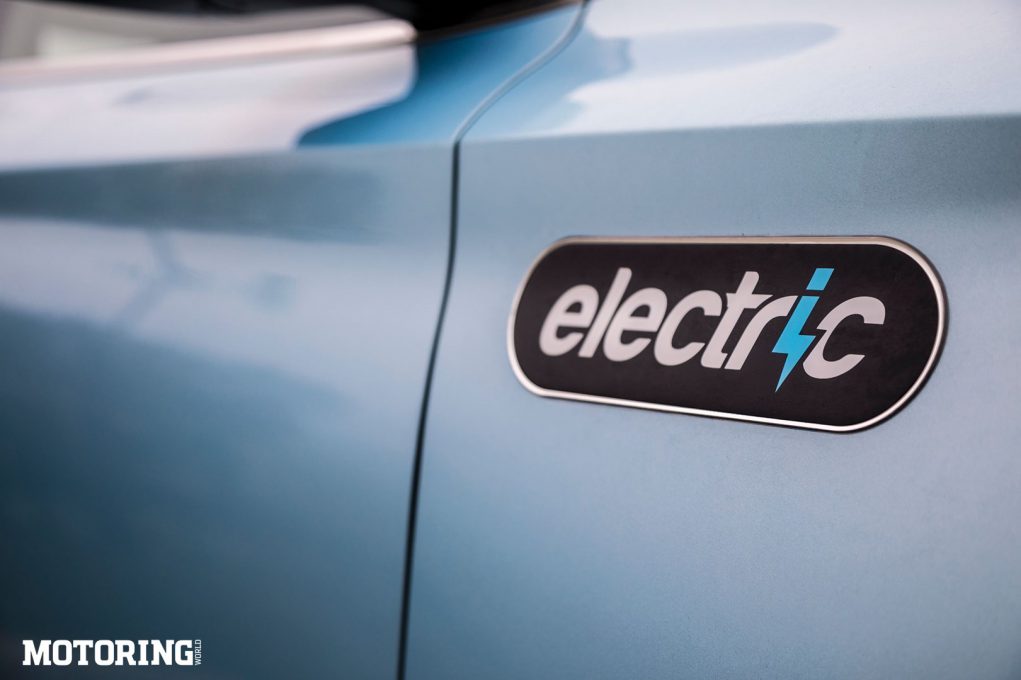 All this is quite good and it's refreshing to see MG realise than an EV infrastructure might actually be just as important as the vehicle itself. And it isn't stopping at that. A further criticism of EVs is that while the vehicle is environmentally friendly, the battery is not. What happens to the battery once it has served its purpose? Well, MG has a plan for that, too. When a battery gets too weak to be of use in a vehicle, it still retains enough utility to be used in other industries. It calls this the second life stage of the battery pack, where it gets disassembled and repurposed, and MG is setting up a dedicated pipeline to ensure that we don't suddenly find a city-sized pile of unused batteries lying around.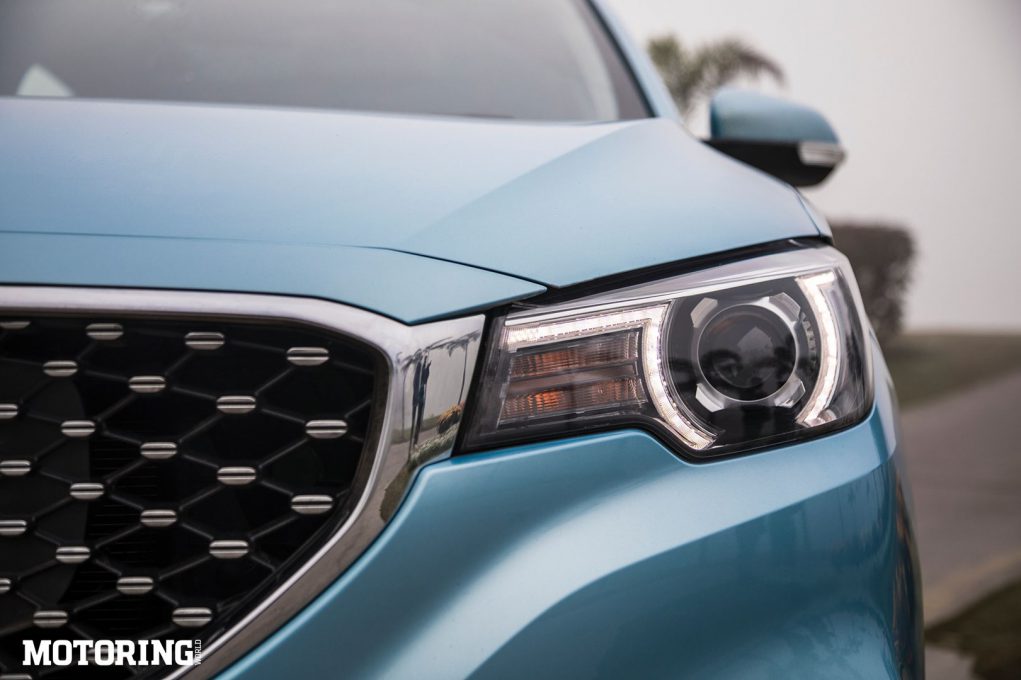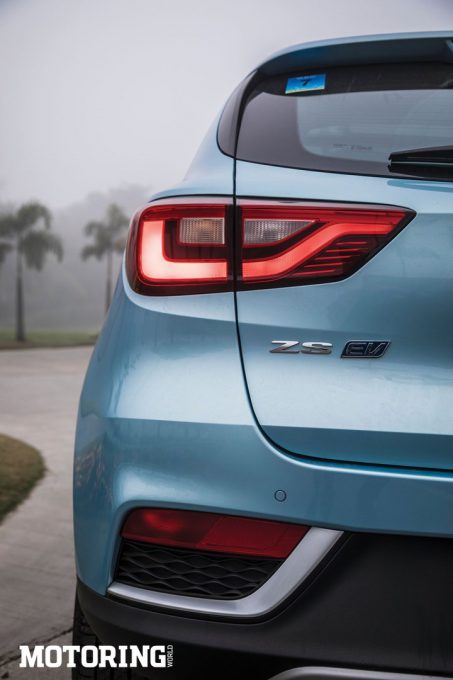 Is this the electric vehicle that will spark the electric revolution here in India, then? I don't think so. Primarily because it's still going to cost Rs 20-25 lakh (ex-showroom) which isn't exactly mass-market. And until a significant number of people can afford EVs, the infrastructure to support it just won't come about. Don't get me wrong, I think the MG ZS EV, even with its minor flaws, is still a fantastic car. But I think it will dwell in the garages of enthusiasts and first movers. As I type this, though, Tata has taken the covers off the Nexon EV. And that means this EV business is really starting to get serious. As we step into a new decade, with Indians getting more comfortable with the idea of an EV, and the reduction in range anxiety, I think MG's investments in infrastructure will start to pay off. And that's when the MG ZS EV will truly shine.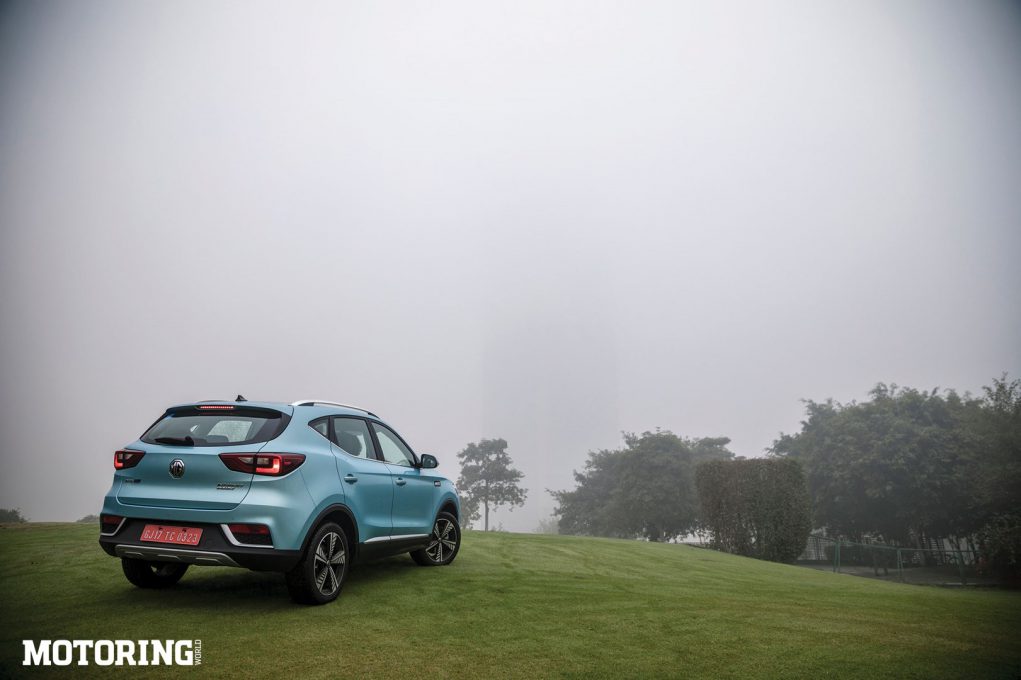 AUTODATA
MG ZS EV
POWERTRAIN
Battery capacity: 44.5 kWh
Max power: 140 bhp
Max torque: 36 kgm
Transmission: Single-speed reduction gear
TYRES
F/R: 215/55 R17
DIMENSIONS
L/W/H (mm): 4314/1809/1620
Wheelbase: 2579 mm
Ground clearance: 161 mm
Kerb weight: NA
PRICE: Rs 20.88 to 23.58 lakh
[This story originally appeared in our January 2020 issue]