There's an elephant in the room whenever talk comes up of the 'world's best car', and that elephant has its origins in Stuttgart, Germany. No matter what other brands are able to come up with, opinion always seems to veer towards a certain luxe limousine with a three-pointed star on it. Whether this is because its parent company has an ace PR game or whether it really is a car from another galaxy is a debatable point, in my opinion; suffice to say that the competition always seems to be playing catch up.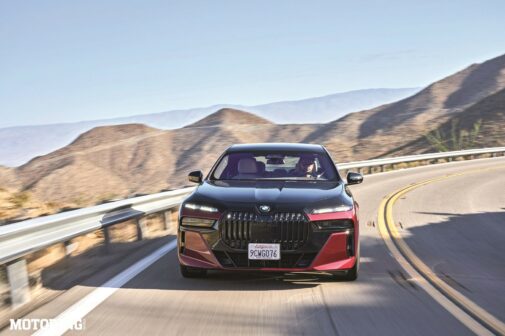 The competition, in this particular case, is the all-new BMW 7 Series. It's always been one of the top picks in the luxury sedan segment, with a focus on driving dynamics, like all good BMWs. It was comprehensively Bangled back in 2001, and that car generated so much of a stylistic fuss that subsequent generations were toned down, even though it was a sales smash. With the 7th-generation 7 Series, BMW has reverted to a… controversial design, shall we say, and also stuffed it with immense amounts of tech as well as an optional all-electric powertrain. Sounds like the perfect ingredients for a winning entry, on paper.
But first, the cabin, because this is what the moneyed classes will have an eye on while out shopping for their next uber-luxe ride. There are a great many things of note inside the new 7 Series, but by far the most eye-catching one is the optional Theater Screen, which is a gigantic 8k touchscreen that folds down from the car's roof for the viewing benefit of those in the rear seats. It uses a data connection to stream content from Amazon Fire TV, and you can also stream music, watch downloaded media and connect a gaming console to it via HDMI, if that particular madness catches you. The screen can be moved back and forth for the best viewing angle and distance, and when it drops down, the interior lights dim (like in a movie theatre) and the door and rear-windshield sunshades also deploy; it's all very dramatic. It's also very good – the screen's resolution is amazing, and the optional 36-speaker (no typo there) Bowers & Wilkins surround audio system delivers the sort of ribcage-crushing sound you can expect in the front row of a concert; I've listened to home-theatre setups that sound like they have less power.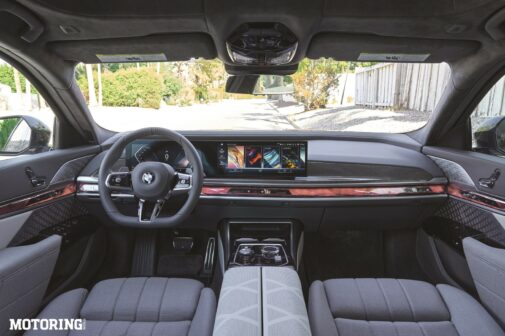 To best experience this wildly over-the-top entertainment system, you really need to splash the cash for the optional Rear Executive Lounge Seating. It gets you the aforementioned sound system, a left rear seat with an extending leg rest and a foot rest, ventilated and massaging powered rear seats with 42 degrees of recline and a rear armrest with a table and a smartphone charging tray. There are two demerits that I was able to spot, however. That screen is so big that the driver's rear view becomes completely blocked off – and there's no digital rearview mirror, which is a pretty glaring omission. On the move, staring at the screen for extended periods of time made me a little nauseous, but perhaps that's just me.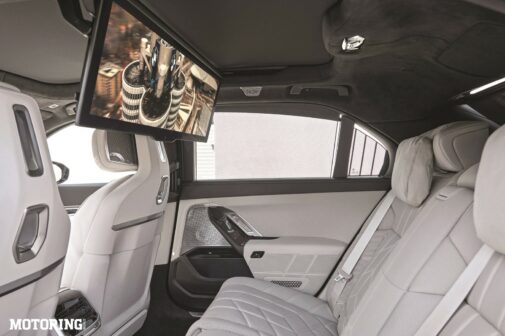 The rest of the cabin more than successfully keeps up with this grandstanding feature. For one, this car has some of the best seats I've ever seen and placed my rear end in – no, really, they're that good. There's a caveat, which is that I'm talking about the optional seat package that offers white leather along with the most fabulously comfortable light grey cashmere wool – it's a pretty rare combination, and it looks and feels very premium. Lie back in one of the rear seats, put your feet up, turn on the massagers and some soothing music and I guarantee you'll be asleep in no time. In a very Star Trek move, BMW has put 5.5-inch touchscreens into the panels of the rear doors, so you can Picard your way through things like climate control, cabin lighting, seat functions, infotainment and various other functions.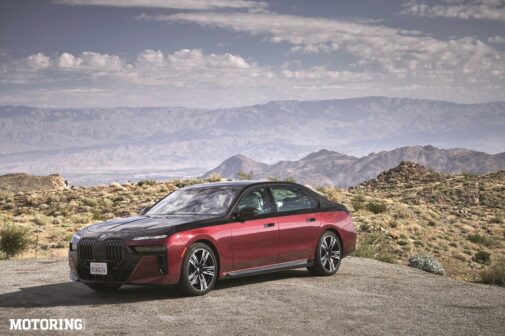 The objective here was clearly to ratchet up the luxury and tech focus, and BMW has succeeded at both. There's a huge, curved digital display up front consisting of a 12.3-inch instrument cluster and a 14.9-inch infotainment screen, with the latest version of iDrive. I have a pet peeve with all infotainment systems these days, because there are usually too many menus to deal with while on the move, but at least with this one you can customise the screen to have your most used functions front and centre; gesture controls exist, but I found them to be hit-and-miss. The physical iDrive controller is a lavish-looking crystal unit, but using it required more precision than I though necessary.
There's also a cool Interaction Bar, which is a backlit, crystalline piece of trim that runs across the dashboard and over onto the doors; it also hides the A/C vents (which thankfully have physical nubs to move them around). The bar has a few touch-sensitive controls built in for things like the A/C fan speed, and it lights up in different animated colours for things like incoming phone calls. There's ultra-plush carpeting for your spoiled feet, and if you don't feel like exerting yourself to open or close the doors, a press of a button does both automatically, and sensors built into them prevent them from slamming into passersby, cyclists and so on. The panoramic sunroof is spectacular and has threads of LED lights and heck, there's even a selfie camera inside that you can voice activate, in case nobody believes you're sitting inside your own car. It would take reams of newsprint to list every other interior feature in this car, but instead I'll simply say that a fully-specced out 2023 BMW 7 Series' cabin will blow the doors off the immediate competition; it's the best one they've ever made.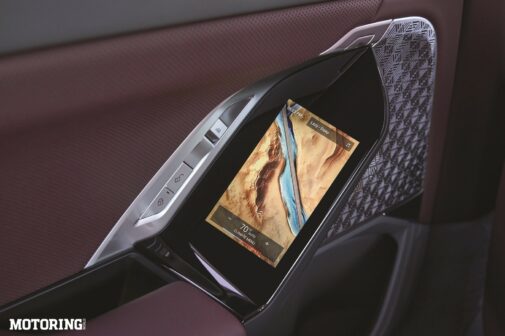 On to the car's design, then. I'll be blunt and say that I'm not a fan of the way it looks, but even I have to admit it has a heft and presence that you can't ignore. Those split headlamps are here to stay, whether I like them or not; the ones on top are the running lights and the ones below are the actual headlamps, and in case you think there's not enough bling here, you can have Swarovski crystals built into the running lights. The kidney grille thankfully doesn't look too large on this car, and its outline is illuminated, which looks cool. Down its sides, there aren't too many surfacing features and things have been kept clean other than the unmistakable Hofmeister Kink. The rear end is a bit upturned, but it's also relatively fuss free and attractive. As a matter of fact, this car has an undeniable resemblance to the Rolls-Royce Phantom, which I'm sure is no coincidence. I still think its design will deeply polarise opinion, but with an interior this good, most people will be more than willing to live with it.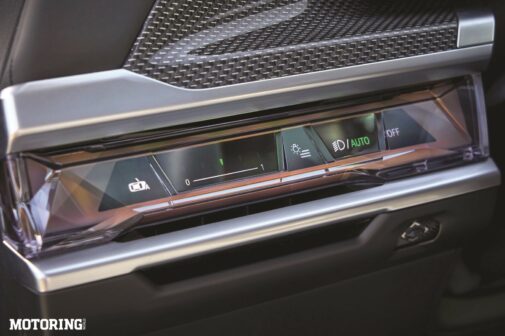 Indeed, with the way the new 7 drives, rides and handles, you'll forget about aesthetic issues pretty quickly. I got behind the wheel of a fully kitted out, rear-wheel driven 740i, which is the base model but is by no means lacking in the engine department. Under its lengthy hood is a turbocharged 3-litre inline-six with a 48-volt mild hybrid system, and this engine makes a healthy 375 bhp and 53 kgm of torque. The 760i (sadly no longer a 12-cylinder model) gets a great big twin-turbo V8 making 536 bhp and 76.4 kgm of torque, and is likely the one to buy if outright performance is your cup of… well, whatever beverage you like. Off-the-line acceleration in the 740i is mighty impressive, and you'll hit 100 kph from standstill in under 5 seconds, all in hushed opulence. The 7 seems just as happy floating around at 50 kph as it does tearing off in a huge hurry at worrying triple-digit speeds, which is good news if you're going to drive yourself around a lot and perhaps not so good if you have an overenthusiastic chauffeur. Paired with an 8-speed automatic transmission, the engine puts the 'less' in seamless, because there is not one single hiccup or a moment's hesitation in the way it goes about its business.
If you think the 7 Series with a petrol engine is smooth, wait till you drive its all-electric version, the i7. In xDrive60 shape, the i7 has two electric motors which make 536 bhp and 76 kgm of torque, the latter figure blasting into orbit the moment you floor the quiet pedal, resulting in a 0-100 kph time of 4.5 seconds, which is quicker than the 740i despite the i7 weighing a whopping 2683 kg – 542 kg more than the petrol car. The searing acceleration is accompanied by a variety of sounds composed by the famous Hans Zimmer, and I have to say that hearing a grand orchestral swell as you sprint to 200 kph is rather dramatic; I'd switch off this option after a bit, though, because it would probably become annoying. Startlingly, the i7 also rides and handles better than its petrol cousin because its weight distribution is almost 50/50 and it has a lower centre of gravity. Braking regeneration is robust, and you can switch to one-pedal driving mode by shifting into B mode. Both cars have quick steering wheels that are on the lighter side of the BMW spectrum, but they weigh up if you switch to Sport mode, which also sharpens up the way the suspension feels and gives you quicker shifts. For cars this long and heavy, hard cornering comes surprisingly easily, with the 7s staying flat right through the bends.
At least in the US models, BMW has stuffed various autonomous driving features into the new Driving Assistance Professional package, which is an optional extra. You get Level 2 hands-free driving at speeds up to 136 kph, and with the standard adaptive cruise control on, the car's instrument cluster will tell you when the Highway Assistant feature can be switched on via a button on the steering wheel. The system worked well for the brief time that I tried it, and the 7 also changed lanes automatically when it detected that it was safe to do so. Eye-tracking cameras are built into the cabin, and they let you look away from the road for a brief while in order to change infotainment settings, without setting off attention warnings. You can also press the accelerator lightly without the Highway Assistant being deactivated; a longer press puts the car back into regular cruise control mode.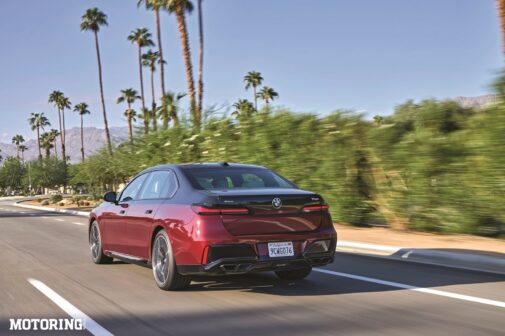 Now to address the elephant in the room. I'm not sure about 'best car in the world', but I can tell you that the new BMW 7 Series is the best car in its class by a considerable distance. It looks somewhat odd but is so luxurious, comfortable, tech and feature-loaded and fabulous to drive (and be driven in) that you won't care. I'm pretty sure BMW will price it just under the aforementioned elephant when it's launched this month, which likely means a starting price of Rs 1.5 crore – and it'll be worth every last paisa. Your move, Stuttgart.
PHOTOS BMW
AUTODATA
BMW 760i xDrive
POWERTRAIN
Displacement:
Max Power:
Max Torque:
Transmission:
2998cc, I6, turbo-petrol
536 bhp@5500 rpm
76.48 kgm@1800-5000 rpm
8AT
TYRES
F/R: 255/45 R20 / 285/40 R20
DIMENSIONS
L/W/H (mm):
Wheelbase:
Ground Clearance:
Kerb Weight:
Fuel Capacity:
5391/1950/1544
3215 mm
NA
2345 kg
74 litres
PRICE
Rs 1.7 crore (ex-showroom, India)
AUTODATA
BMW i7 xDrive60
POWERTRAIN
Battery:
Max Power:
Max Torque:
Range:
Charging time (195 kW DC Charger):
101.7 kWh
536 bhp
75.97 kgm
591-625 km (WLTP)
34 minutes (0-80 per cent)
TYRES
F/R: 255/45 R20 / 285/40 R20
DIMENSIONS
L/W/H (mm):
Wheelbase:
Ground clearance:
Kerb weight:
5391/1950/1544
3215 mm
136 mm (unladen)
2640 kg
PRICE
Rs 1.95 crore (ex-showroom, India)