Hands up if you're as confused as I am about Audi's model names. Back in the good old days, you could tell an Audi's engine size and what fuel it sipped by looking at its badge. This relatively foolproof method was deemed too simple, however, and suddenly you had badges like the 30 TFSI and the 30 TDI; the numbers kept increasing, of course, leading to some head-scratching. As if these weren't enough, the e-tron badge then came along to add to the confusion, but at least there's a 'Q8' now suffixed to 'e-tron' to distinguish this particular car from its numerous stablemates.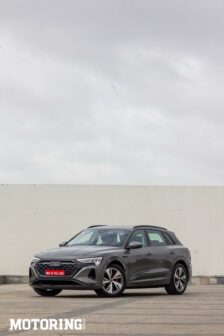 There are also a few other things to distinguish it from its predecessor, mainly by way of design elements, since their underpinnings are exactly the same. You'll notice a new grille design, with a 2D Audi logo set in a glass panel which lights up. The bumpers are new, as are the air dams in front of the front wheels and the aerodynamic vents that open and shut according to the level of aero/cooling that is required. Smooth airflow was clearly a major requirement, given the new alloy wheel design, but the slim, digital ORVMs that are available as an option abroad are not offered here; apparently Audi India carried out a customer survey in which the vast majority of respondents wanted regular mirrors.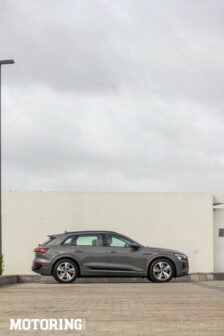 Fans of the earlier model won't have anything to crib about with this one, because the Q8 e-tron is still an imposing car, with a lot of heft. It looks more old school than rivals like the Jaguar I-Pace and the Merc EQC, but it still stands up well in this crowd, especially if you plonk your hard-earned on the swoopy Sportback version, whose sloping roof line gives the Q8 some sporting pretensions at the expense of a little practicality, in terms of head room and boot space (528 litres vs 569 in the SUV). I'd definitely go with the Sportback – it's a better-looking car and the space compromise isn't big enough to be a deal-breaker.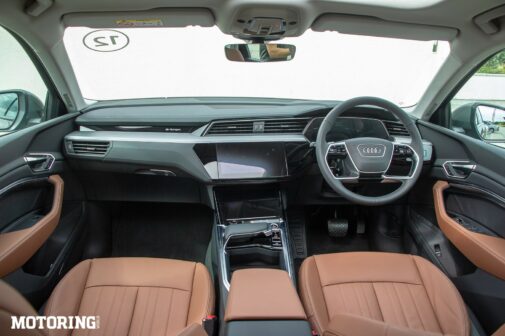 The interior hasn't been tinkered with much; in fact the only new element is the steering wheel. This is no bad thing, however, because the cabin is the best part about this car. Audi arguably puts together the best cabins in this segment, and what really strikes you is the sheer levels of quality on offer. Every element that you can see and touch is top-notch, and there's not a line or stitch out of place (the brushed metal inserts are brilliant). I also greatly appreciate the fact that Audi hasn't taken the overly-flashy route so beloved of other manufacturers; the interior is tasteful in addition to being easy on the eye. There have been some murmurs about the slightly unconventional central arm-rest merging into the gear selector, but personally I find it very intuitive.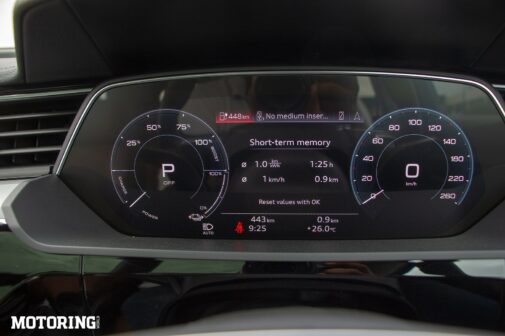 Pride of place is still occupied by Audi's Virtual Cockpit instrument display, which has been around for a while but hasn't aged a day; it looks great and is configurable to a large degree. The twin-touchscreen system is also present, with the upper one being for the infotainment and the one below dedicated to the A/C and drive modes. While both are of excellent quality (the lower one has haptic feedback as well) and are angled towards the driver, there's no doubt that they're still a bit distracting, since everything is touch-operated; there's no beating good old physical buttons and switches, and I fervently hope that manufacturers go back to the analogue experience in this regard.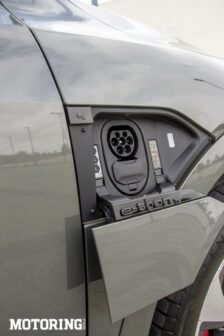 As you might expect, there's no shortage of features in the cabin – ventilated seats with massage function, a 16-speaker Bang & Olufsen audio system, a panoramic sunroof, ambient lighting, 4-zone climate control, cruise control, reversing cameras and so forth – but one glaring omission is the lack of wireless Android Auto and Apple CarPlay, which at this price point should definitely be standard. Also, the wireless phone charging point isn't immediately visible at first, since it's tucked away in the centre console. In terms of space, there's acres of room for four adults, even in the Sportback, and the seats are very comfortable indeed. The 62-litre 'frunk' under the bonnet adds some extra practicality.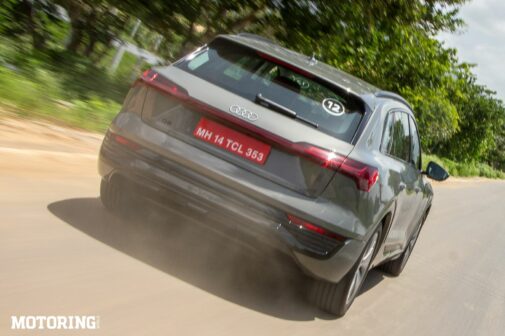 The most important update to the Q8 e-tron is its higher-capacity battery, which is now a 114 kWh unit rather than the older 95 kWh pack. Audi's engineers did some clever packaging to make the battery denser rather than larger, and the higher capacity has led to a higher (claimed) range of 600 km (WLTP). There are still two charging sockets for extra convenience, and you get an on-board AC charger with up to 22 kW of charging capacity, with up to 170 kW possible with a DC charger. The car's twin motors produce 402 bhp and 68 kgm of torque, so there's no shortage of juice. Mash the throttle to the floor and you rocket off the line in typical EV fashion, with a Star Wars like soundtrack accompanying you (I have to admit it's going to take me some time to warm to the noises that EVs make); a 0-100 kph time of 5.6 seconds is more than sufficient for anybody, let alone someone driving a car this big and heavy.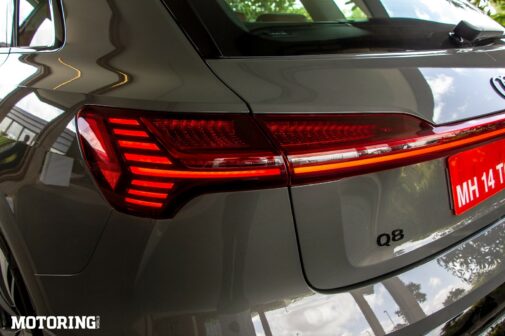 Heavy. That's the operative word here, because no matter which way you play it, you feel the Q8 e-tron's bulk when you're at the wheel. Audi says it has sharpened the steering system, and that a new rear axle with electric torque vectoring offers more involvement, but in truth you won't be able to tell the difference between this car and the older one. This is not to say that the Q8 feels cumbersome, however – it's planted, rock-solid and goes around corners with zero fuss. The adjustable air suspension comes into play here, since you can raise and drop it depending on the conditions and the driving mode you're in; at its lowest, and in Dynamic driving mode, it's possible to hustle the Q8 along at quite an impressive pace. Just don't expect Porsche Cayenne levels of driving involvement. In terms of comfort and ride quality, you'll have little to complain about. The suspension works brilliantly, soaking up everything the road throws at it, and highway cruising is almost magic carpet-like. Refinements levels are top-drawer as well, with a hushed quality to proceedings that I found a little too quiet after a while, if I'm honest.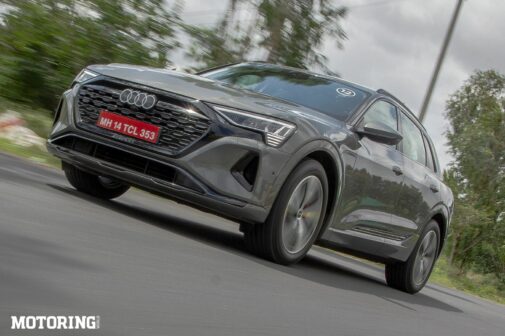 All told, this is a car that has been tweaked to very good effect, especially in the crucial aspect of range. It's difficult to find any real faults with it, and when compared to its rivals it stands up as a worthy (if somewhat bland) competitor. At an expected price of just over Rs 1 crore, it offers itself up as an accomplished, luxurious and highly competent electric uber-SUV.
AUTODATA
Audi Q8 e-tron
POWERTRAIN
Battery:
Max Power:
Max Torque:
Range:
114 kWh
408 bhp
67.70 kgm
600 km (WLTP)
DIMENSIONS
L/W/H (mm):
Wheelbase:
Kerb Weight:
4902/1976/16639
2923 mm
2735 kg
PRICE
Rs 1 crore (expected ex-showroom, India)