A comeback is not an easy thing to perform — it has to be better than its predecessor, and engage new and familiar audiences. It's been a bit more than two years since Audi axed the Q3 from its India lineup, but the small SUV is back now, and it's got a lot riding on it. After all, the Audi Q3 is now the entry point to the brand's range, and it has to live up to everything that has come before it. However, this top-spec Technology trim's Rs 50.39 lakh ex-showroom price tag means the Q3 also has to deliver more than rivals like the BMW X1, Mercedes-Benz GLA, Mini Countryman, and Volvo XC40, all of which are priced lower.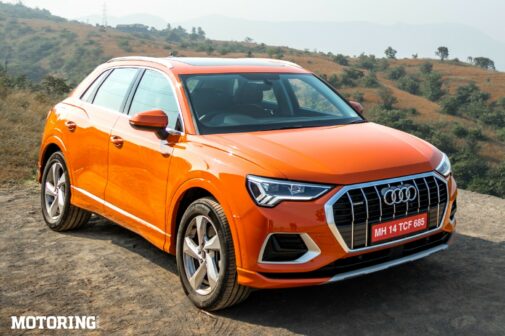 It's true that this second-generation Q3 is larger than the previous model, but that's not something that's easily visible at first glance. The new Q3 definitely looks more modern and takes a lot of aesthetic cues from the larger Q models in Audi's lineup. That big grille, with its vertical slats, and those sharp LED headlights give the impression of being a mini Q5, and that's a good thing, along with the beefy front bumpers and side cladding, these give the Q3 a solid road presence. This lovely and youthful shade of orange the car is finished in also bolsters its eye-catching abilities.
The chunky 235/65 R18 tyres and those slim tail lights accentuate that butch muscular stance, further enhancing that SUV musculature. What also adds to the overall stance are the pronounced shoulder lines and a stockier rear fender. The new Q3 is small enough at least to look at, to pass off as compact, but has the design cues that make it look like a proper SUV, which is something we as Indians tend to like a lot.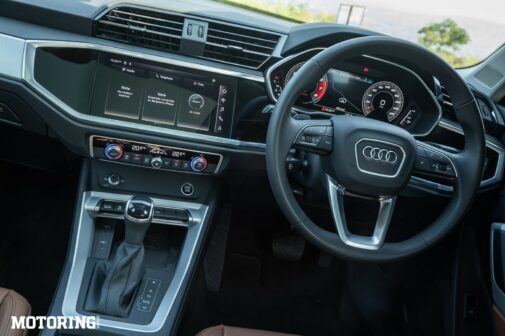 That extended length has improved room on the inside by a significant amount — there's more than ample space for four to sit for hours, and the boot can now fit 530 litres of luggage, which is 70 litres more than its predecessor. The 60:40 split folding rear seats liberate a cavernous amount of room when down, making the 2022 Q3 perfect for carrying almost anything. Those rear seats are quite comfy besides, though fitting in a fifth is still not ideal. Still, cabin quality is properly Audi, for the most part.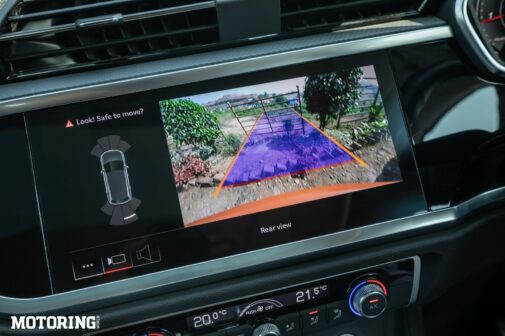 It isn't that the materials used, or the quality of those materials feels off by any margin. In fact, it feels much more inviting overall than the previous Q3. It's just that despite those lovely (and highly configurable) 10.25-inch digital dials, and the slick and user-friendly 10.1-inch screen for the infotainment system (as long as you don't use the touchpad), the rear camera quality is sorely lacking. At least, there are still physical dials and buttons for the dual-zone climate control system. And, there's no dearth of storage spaces and useful cubbies for all the (and I mean four) passengers. The seats, especially the ones in the front, are quite comfortable, and well-bolstered, though the taller and rounder among us may crave for slightly more underthigh support.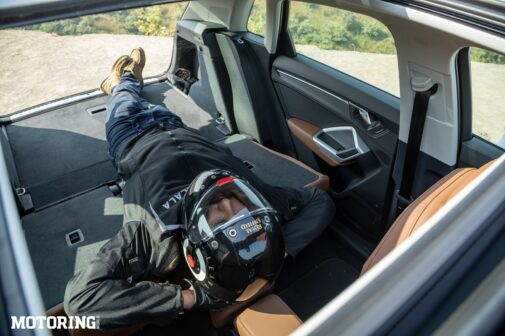 Another aspect where you feel that Audi has in no way shortchanged you (for buying the most affordable Audi), is the way the Q3 drives. It is typical, which means it is dynamic and fun. The steering is light and easy, but weighs up well in Dynamic mode and provides good heft when cornering at speed. Feel is pretty decent, too, but what really takes the cake is the ride-handling balance. Ride quality is cushiony, but not bouncy, while the handling is up there among the best SUVs. A lot of the latter comes from the excellent Quattro all-wheel drive system.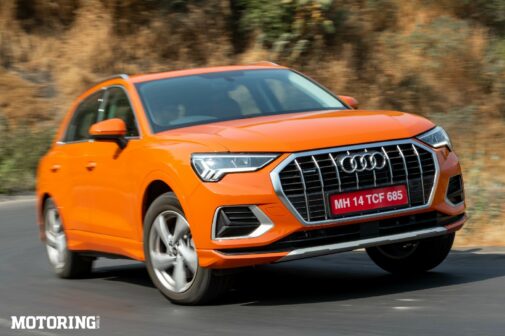 It may be natively front wheel, but when torque is needed at the rear, boy does it provide. It only feels like it will understeer at the limit, and that limit is quite difficult to reach on most roads. Body roll is also superbly contained, and the Q3's relatively compact size and short overhangs also play their parts in making this SUV a capable corner-carver. It's quite easy to manoeuvre in the city as well and can make quick progress through traffic.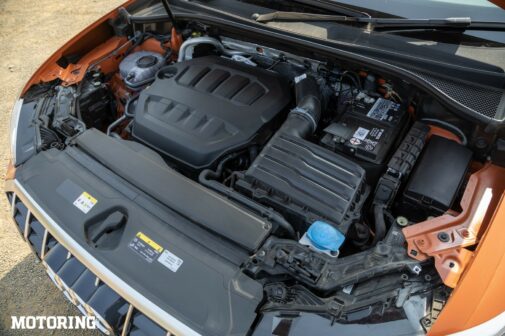 The way the new Q3 can play sedate comfy city driver and mountain pass hooligan at the same time, frankly, makes the SUV the best in its segment, at least in these aspects. What also helps is the refined and powerful 2-litre turbo-petrol engine, which has now become a staple of the Volkswagen Group range of smaller cars. Due to the powerful 187-bhp and 32.63-kgm unit, and the quick, yet smooth 7-speed dual-clutch automatic gearbox, you really don't miss a diesel engine.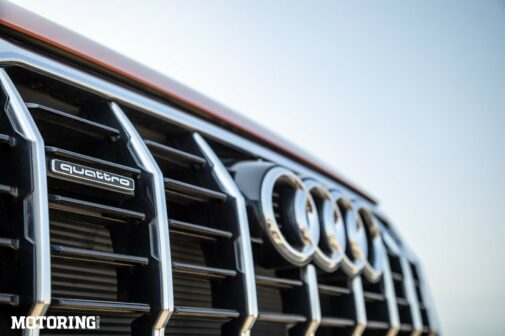 Fuel efficiency for something this size isn't too bad either — after some city driving, some highway slicking, and some fast-paced ghat sections, we still managed an indicated 10 kpl, which really isn't too shabby at all. That makes for an overall range of about 625 km on a single tank if you're being exuberant. However, it's here that you do miss that old frugal (if slightly clattery) diesel engine, as that one could do a Mumbai-Bengaluru trip on a single tank.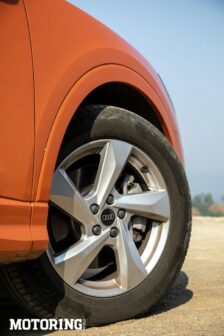 Still, for the fun factor, this tried-and-tested engine is a gem and delivers far more than the old 2-litre diesel ever could. There's no doubting this 1.7-tonne SUV's claimed 7.3-second 0-100 kph time. Power is put down cleanly through the Quattro system, and you get all the shove that you could need, whenever you need it. Just flex your right foot, and the Q3 darts forward. The nicely-placed paddle shifters definitely add to the immersive driving experience. If pushed, I'd say the only miss-match to the Q3's sporty nature are the brakes. They do a more than decent job of shedding speed, but finding the best bite points for the amount you want to reduce speed can take time to get used to.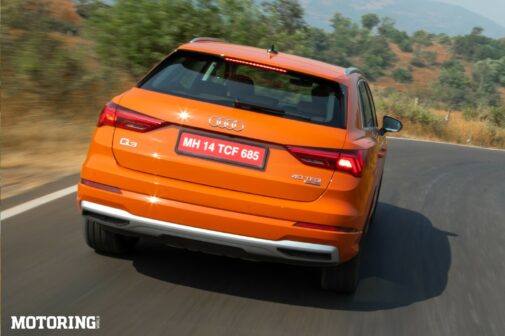 All in all, the 2022 Audi Q3 is an excellent option, if you're willing to stretch your budget for something that feels truly premium in nearly all aspects. Sure, it does miss out on certain things that should be available at this price point — adaptive dampers, a 360-degree camera, ventilated seats, driving assist tech, auto-hold, and the like — but you do get a solid, good-looking, spacious, yet compact SUV, that is quite fun to drive. It may not be a traditional value-for-money option, by most senses of the word, but that depends on how you attribute value. If fun is a higher priority and a high-value necessity, then definitely take a close look at the new Q3.
AUTODATA
Audi Q3 40 TFSI Quattro Technology
POWERTRAIN
Displacement:
Max Power:
Max Torque:
Transmission:
1984cc, I4, turbo-petrol
187 bhp@4200-6000 rpm
32.63 kgm@1500-4100 rpm
7AT
DIMENSIONS
L/W/H (mm):
Wheelbase:
Ground Clearance:
Kerb Weight:
Fuel Capacity:
4482/1849/1607
2680 mm
NA
1700 kg
62 litres
PRICE
Rs 50.39 lakh (ex-showroom, India)