As I slotted reverse on the immaculately finished drive-mode selector, a sound filled the surroundings. It was a deep hum that became louder the harder I prodded the 'throttle', and I couldn't help thinking that its electronic character would be right at home in a Daft Punk concert. This is definitely one way for a person to establish a connection with a machine; you get used to sounds and then begin to prefer them over others, after all. And it was encouraging to observe that the Audi e-tron knew this. People have been making cars for over a hundred years now, but with electric vehicles, we're about to hit a kind of reset.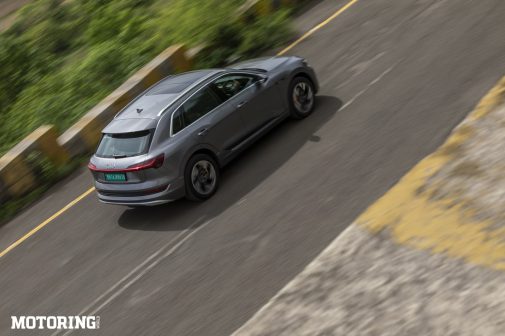 As such, the sounds of internal combustion that we've grown up with, and are attached to, will eventually ebb away to become faint echoes in history. Given the enthusiasm of governments and manufacturers to add more batteries to people's lives, it's a fair guesstimate to assume this will come to pass in the next 20 years. And every time I drive an electric car, it's the direction of the future I'm steering. The future of not only a prominent manufacturer, in this case, but that of an entire industry. And I can only go along for the ride in all its silence. Except this time.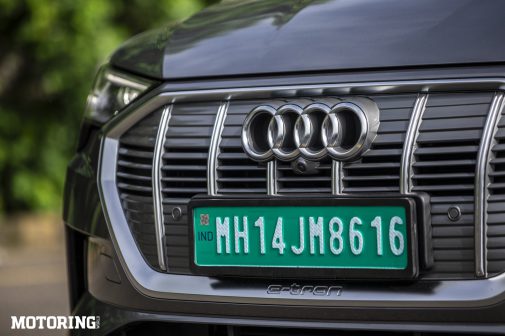 You see, there's an external speaker ahead of the right front wheel that makes the aforementioned sound; it's a requirement in many countries to keep EVs from unintentionally becoming silent assassins. And even if I'd have preferred the sound of a V12 roaring through loud pipes, I won't complain — firstly, because the e-tron's electro-funk hum is quite pleasant; secondly, because I'm sure Akrapovič will start selling aftermarket sound patches for EVs sooner or later. Perhaps there'll be an app to make your own sounds on and install in your EV, too (maybe I shouldn't be giving out startup ideas for free…). Nonetheless, the e-tron is only the first step, and a very premium one at that, in a long journey. A journey that begins with 408 bhp and 67.70 kgm from zero rpm.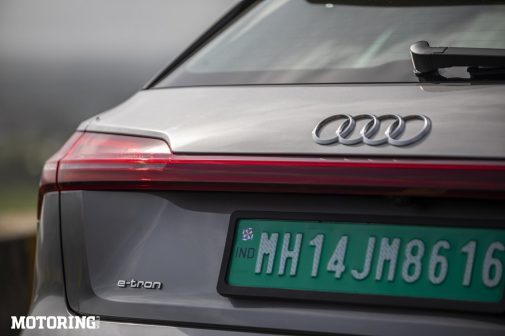 Throughout my half a day of driving, the e-tron's performance went from 'Hmm' to 'Whoa, what the…!' in the blink of an eye, using the advantage of electric torque to brilliant neck-straining effect. According to Audi, it bolts from 0-100 kph in 5.7 seconds, and no one at any traffic light will disbelieve that. It's got three levels of energy recuperation; this means, like most other electric cars I've driven so far, the e-tron can be driven with just the throttle pedal, too, once you get the hang of the regenerative braking's levels of resistance. And electric or not, this is one quick and fast machine; on one occasion, it got pretty close to its electronically-limited top speed of 200 kph in a most seamless manner. And that manner, more than plain numbers, is what matters.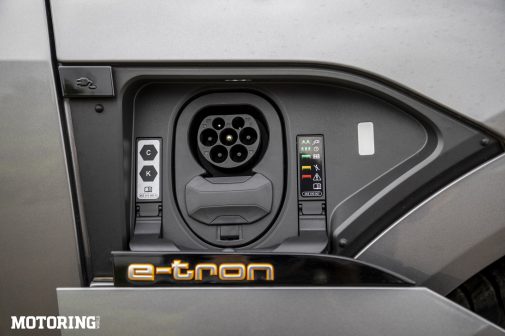 Regardless of speed, the e-tron's cabin remained remarkably silent. Yes, road noise did creep in after a point, but only enough to add a welcome sensation to the rapid proceedings. I'm sure Audi could've made the e-tron as silent as a coffin if it wanted to, but everyone is thankful it didn't because we don't want the windshield to look like a video game on mute. Also, the e-tron didn't possess any of that bottom-heavy feeling that plagues most electric cars (due to batteries in their floors) and which gives the impression of driving a giant high-tech anvil. No doubt, the e-tron's excellent adaptive air suspension has a lot to do with it.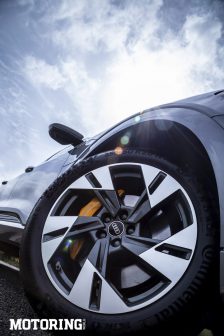 Borrowed from the bigger Q7, the height-adjustable suspension has seven levels of compliance to select from; it went from tallest and most absorbing in 'off road' to hunkering down for the twisties in 'dynamic'. With 20-inch wheels and 255/50 tyres all around, the e-tron was predictably stable at all times no matter what I did. And the suspension is a big part of the e-tron's overall character, too; it adds a level of sophisticated control to the generally advanced nature of the car. In 'dynamic', the steering and suspension tighten up to arrest lateral movement. However, some amount of body roll was inevitable, of course. At least there was a marked difference between 'comfort' and 'dynamic', enough to justify their labels.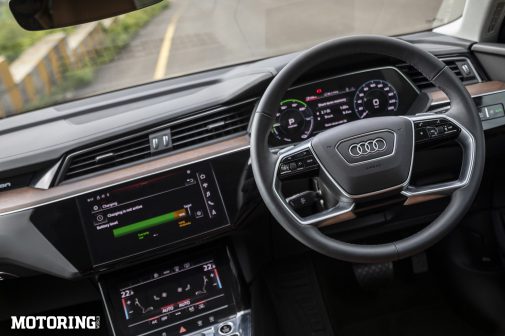 The e-tron's ride quality and stability even in 'dynamic' mode were great. I went over some pretty nasty sections of tarmac, and the car never bottomed out either in suspension or in ground clearance. Nonetheless, it was always clear that the e-tron isn't built for raging on the road, at least not in the '55 quattro' version I drove. Perhaps Audi will make an e-RS version for that. And if I think of Audi's journey over the decades, well, I'm reassured that at least one tradition is carried forward on the e-tron's boot lid — the quattro badge. From wild rallies and the Ur-Quattro to the silence of an electric car, it's been quite the trip. And it works as well as ever, too. Long story short, if you're wondering if the e-tron is fun to drive — yes, it very much is.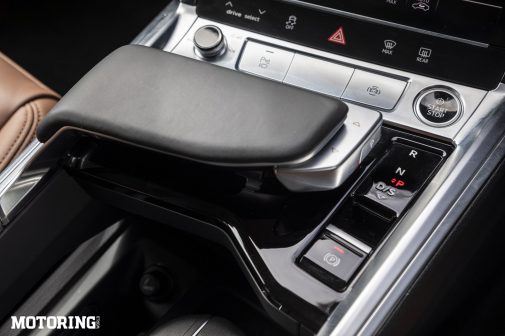 Now for the blah-blah stuff. I still struggle with electric jargon, so please bear with me for the next paragraph or so. The e-tron features a 95 kWh battery, and charging times to 80 per cent of the following variety: with AC current at 11kW in 8.5 hours and at 22 kW in 4.5 hours; DC current offers 50 kW in 1.9 hours, 100 kW in less than an hour, and 150 kW in around half an hour. The e-tron has two charging ports on either side, just ahead of the front doors, with cool flaps that open at the touch of a button. One is an AC-only port, while the other gets along with AC as well as DC. The e-tron gets a 22 kW AC charger as standard equipment which Audi claims makes it the fastest-charging of all current EVs. And with a claimed range of 359-484 km, it's got a decent chance in the real world. Even if my long-term i20 just did 800 km on a single tank. Ahem.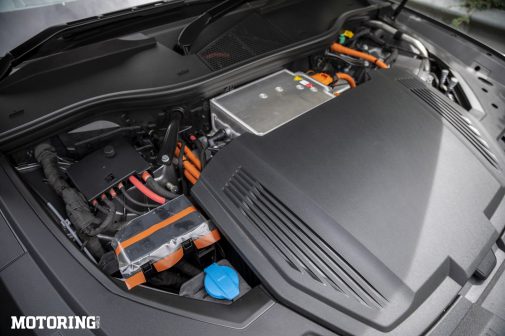 The e-tron feels like a normal Audi inside and outside, and that's a good thing. Perhaps it's the most important thing, since Audi took the trouble to point it out in the material they sent me. The e-tron's touchscreens are fantastic, it has decent cabin space, and every surface is excellently finished. Since this is the Q4 e-tron, getting features from several segments higher adds a lot of class to the interior. As for the exterior, again, it looks like your typical Audi SUV, but even more premium thanks to high-quality finishes and the fanciest LEDs front and back. Except for the green number plates and the name, you wouldn't guess it plugs into a socket.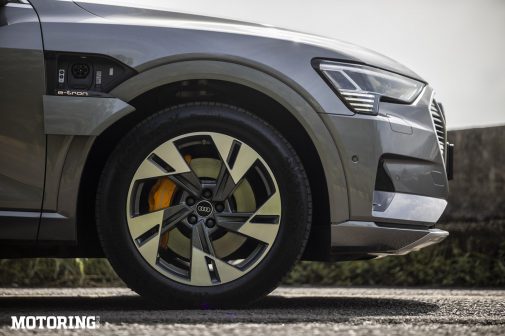 There's a sprinkling of high-voltage orange, most notably in the brake callipers. There's a black side cladding on its flanks that shows the position of the battery. There's what Audi calls the 'platinum gray Singleframe grille' which looks excellent. And the always appreciated soft door closing mechanism that prevents the guillotining of unsuspecting fingers. In a word, the e-tron is loaded with features as well as good intentions. Manufacturers face the challenge of making EVs feel 'normal', and Audi has certainly achieved that to a great extent. The e-tron ticks all the right boxes right until the last one in which it burns a red-hot cross and then proceeds to rip up the paper.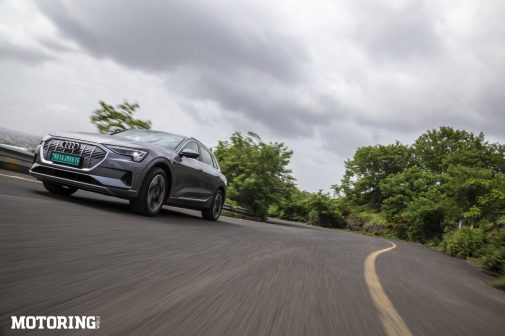 At an expected price of more than Rs 1 crore, it's obviously not for the masses, not even most of the well-heeled ones. Prevailing EV trends indicate that mass-market electrics are still some time away, even if there are a handful of electric two-wheelers already running around. I don't know how much sense a crore-plus EV makes or what difference its miniscule sales will make to the environment. Then again, the e-tron is hardly for the here and now, it's a vision for the future. And when people of the future think of the e-tron and the arguments against it, they'll know it was decidedly above them all.
AUTODATA
Audi e-tron 55 quattro
POWERTRAIN
Battery: 95 kWh
Max power: 408 bhp
Max torque: 67.70 kgm
Range: 359-484 km
TYRES
F/R: 255/50 R20
DIMENSIONS
L/W/H (mm): 4901/1935/1629
Wheelbase: 2928 mm
Kerb weight: 2520 kg
PRICE: Rs 1.16 crore, ex-showroom (updated on 22nd of July)