Genres change over time. And each change of generation brings with it great conflict, with great overlaps on all possible sides. Any conflict that arises is usually, very specifically, guided by the shortcomings of each side of the debate. However, a 4.1-second run to 100 kph in a most head-flattening manner is guaranteed to smother any electric-vs-IC debate in its bed before it awakens. Also, crossing the 200-kph mark in near silence helped me discover that I mumble a lot in a fast car, words like 'whoa', 'damn', 'really' and others that I can't mention here, words that usually get drowned by internal combustion. Perhaps self-discovery is one of the points of the Audi e-tron GT.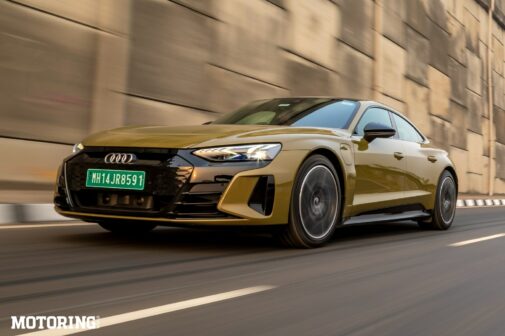 It 'idled' at standstill, a low new-age hum with faint resonant vibes, but no 'revs' if I prodded the accelerator. This addition of sensation was most welcome, even if it evoked a vibrating phone. It sounded quite nice on the move, though, especially in Dynamic mode, delivering 245 kph worth of potential with typical electrical efficiency. And it came with every creature comfort you'd expect on a high-end Audi as well. I quite liked the green backlit logo of the car's name in the dashboard on the passenger's side, though the rest of the interior was a little too Audi in colour and design, if you know what I mean. I think I've had enough of the aluminium finishes and black surfaces that have now become as German as bratwurst.
Anyway, its times for a 5-80 per cent charge are 11 kW AC in 9.30 hours and 22 kW AC in 11.5 hours; 25 kW DC for the same charge takes 3 hours, 50 kW DC takes 1.5 hours, and 270 kW DC (don't know where you'll find this) will 'fill it up' in 22 minutes. Real-world range is between 350-400 km, so this is indeed an electric that can GT.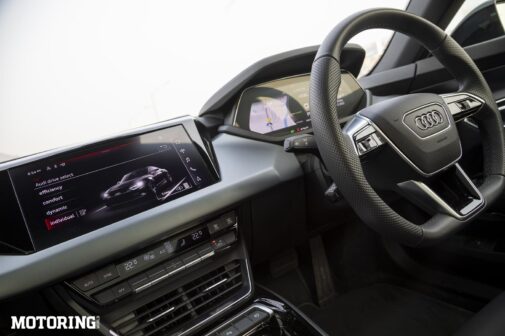 However, the e-tron GT stopped just short of being evocative — perhaps that's saved for the RS version. Or maybe it would've been so in a bright red, blue or green. The test car's 'tactics green metallic' shade was a bit drab for a car of the e-tron GT's fantastic proportions. And it still turned necks everywhere it went, so perhaps the fascination with primary colours is just my problem. In any case, the e-tron GT's considerable length flowed with a fastback silhouette that sat on big 20-inch wheels and created an impressive appearance.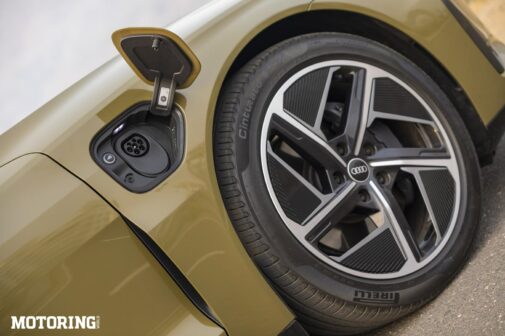 Said wheels also had aerodynamic covers on them, adding a bit of futurism to its profile. Its charging-port flaps opened wing-style, channelling some sportscar cool, and its LED lights are some of the slickest ever made, too. And that sharp and red-streaked tail is right out of a sci-fi car chase. As far as sporty elegance goes, the e-tron GT misses out on nothing. It even has a retractable spoiler for others to watch flying off into the distance. Which it does with reliable regularity, all day long.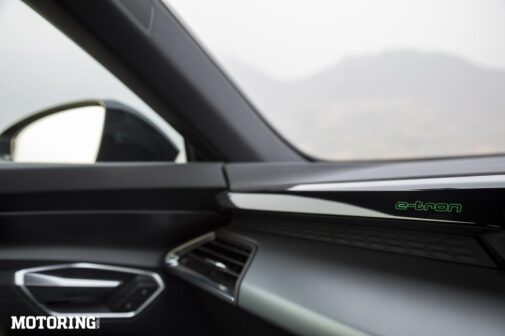 I spent my time oscillating between Efficiency and Dynamic modes, the former to pootle around in traffic, saving charge for the latter when the road opened up. There were also Comfort and Individual modes, but the other two were all I really needed. The steering was typically Audi, light at low speeds and nicely weighted at the tunnel-vision velocities that the e-tron GT effortlessly achieves. Also helpful was the fact that the range indicator never threatened a sudden downward plunge like the stock market on a bad day, and I found myself frequently thinking, 'Not bad at all. I can still reach Pune in Dynamic mode if I had to.' A dash to Goa will require a charging stop, though. And quite a bit of careful driving.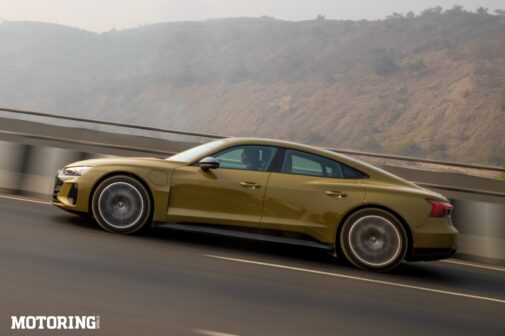 You see, the e-tron GT's length, ground clearance and the battery in the door created a platform that liked to grind speed breakers and bad roads. It ran the lowest in Efficiency mode for maximum reduction of drag, which is fi ne on an autobahn, I suppose. On our roads, the air suspension helped out quite a bit, raising the car by 40 mm when I asked it to, but I did have to take a lot of care nonetheless. The surrounding traffic must've thought I was mad to crawl over speed breakers as sideways as possible, slower than the most lethargic crab you've seen. But at least the e-tron GT reached the next bump way before anyone else could, so I could crawl over everything in relative peace.
Now, I didn't get to throw it around a mountain road, but the few corners I encountered revealed the usual legendary amount of quattro grip at the e-tron GT's four corners. Somehow, the system feels even better with an electric powertrain, something I felt with the e-tron as well. There is no abruptness, just a seamless delivery of strong torque on all surfaces. Only once on an extremely sandy corner did the system cut in hard, but even then it straightened the car out in an instant. As always, quattro let me get away with as much stupidity as I could manage. The brakes, too, are in the same vein, clamping down on speed with authority and poise.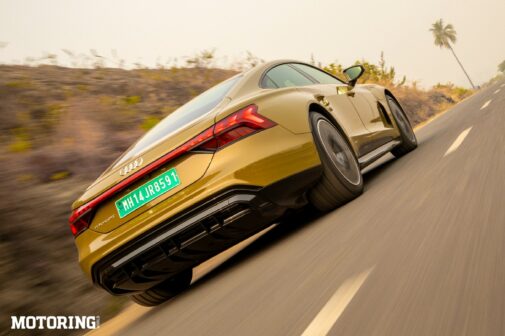 At the end of the day, I found the e-tron GT looking like a good-looking elongated amphibian. Its classic GT stance merged Audi quality and attention to detail with high-performance electric technology — it reached into the past as much towards the future. It may not have the roar of an internal-combustion counterpart, but its wheels still have an equal appetite for speed. As that sporty electric hum echoed in the e-tron GT's cabin, I looked at all the other unsuspecting vehicles I passed in silence. And wondered at the electric marvel quicker than every tailpipe in sight.
AUTODATA
Audi e-tron GT quattro
POWERTRAIN
Battery:
Max Power:
Max Torque:
Range:
93.4 kWh
530 bhp
64.24 kgm
388-500 km (WLTP cycle)
TYRES
F/R: 245/45 R20 / 285/40 R20
DIMENSIONS
L/W/H (mm):
Wheelbase:
Kerb Weight:
4989/1964/1418
2903 mm
2350 kg
PRICE
Rs 1.79 crore (ex-showroom)