When you know it's going to be a hard day's work, you want something that'll make it as easy as possible. I had conveniently got my hands on the 2022 Audi A8 L in time to be used to ferry us to and from Igatpuri, where we were holding our annual Slush Fest. The six-hour drive there and back should give me more than enough time to suss out just how different this updated A8 L is, and whether it's still a match for the likes of the new Mercedes-Benz S-Class, and the soon-to-arrive all-new BMW 7 Series.
Audi delivered the A8 L late the night before we had to leave, and this luxury barge's size, particularly its 5.3-metre length, really hit me as I manoeuvred it into my somewhat narrow parking. I'd recommend having the expensive, but vital rear wheel steer option ticked when you buy this one as it helps immensely in tight spots. Audi has tried to jazz up that stately, understated look with a more than liberal use of chrome, which in my opinion, veers towards gaudy. But, I know the typical Indian buyer would like it — case in point, the MG Hector and the Volkswagen Taigun.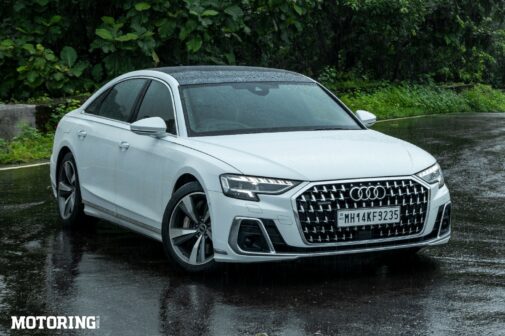 On the other hand, those headlights are stunning, and a marvel of lighting tech. Each headlight has approximately 1.3 million micromirrors that break down the light into tiny pixels. The effect in the early morning light was really something to behold. The headlights also seamlessly adjust the LEDs when oncoming traffic is detected so as to prevent the light beams from blinding drivers. There's more chrome along the sides of the facelift, but I like the sombre-looking 19-inch alloys — they suit the stately charm of this long luxury sedan. I'm also a fan of those sleek LED tail lights. Apparently, they can change their internal graphical pattern when you switch the car into Dynamic mode.
I had hoped the Audi's flagship sedan's interior wouldn't remind me of the A6's. Of course, you can personalise your A8 L to your preference, but other than the slim AC vents, it's too similar to the smaller sedan. Besides this, there is little to fault the A8 L's cabin. Quality of materials is nearly up there with the S-Class, but you get more of a business-class vibe, rather than first class. All the tech works harmoniously — of special note is the 10.1-inch infotainment screen, 'Virtual Cockpit' instrument cluster', and the 23-speaker Bang & Olufsen system, which comes with a 23-channel BeoCore amplifier — and there's acres of room.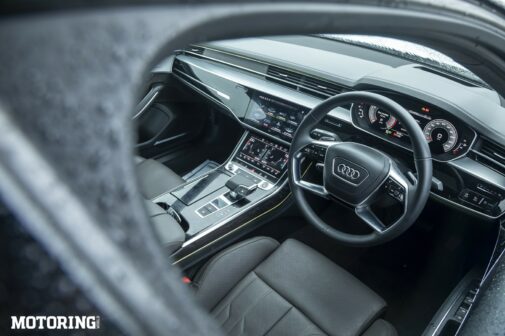 For the driver, everything is well-oriented and within reach, but the rear seat experience is particularly pleasing — it may not be as plush as the S-Class, but it has its own first; a foot massaging function. I was able to pamper nearly every part of my body on the way back, but I'll come to that later. The A8 L may not be the last word in opulence, but it has a luxurious charm on its own that makes for a very pleasing in-cabin experience.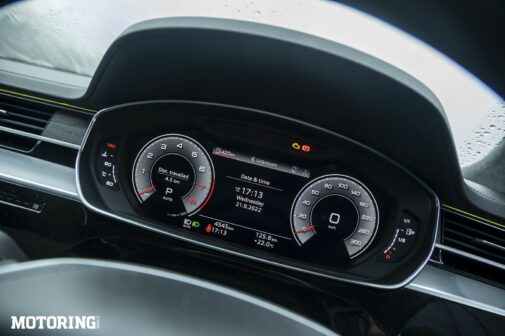 We had to make it to Igatpuri quickly enough, and rested enough to shoot our Slush Fest, then shoot the A8 L, and then head back. This Audi coddles us supremely well as we went around doing just that, through heavy rain and dark clouds. Sound insulation is superb, and you can be as disconnected from the outside world as you want. Another option worth ticking is the adaptive air suspension, which does a spectacular job of cushioning 95 per cent of anything the roads could throw at us, and we were able to keep a brisk pace.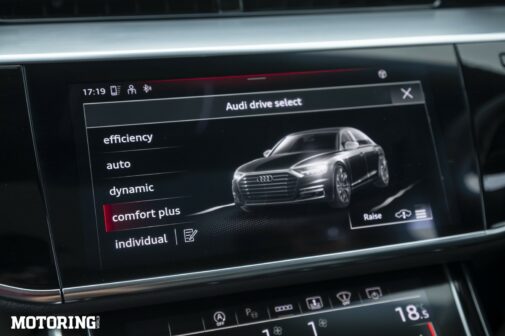 However, the suspension automatically lowers after 40 kph, which meant that larger speed breakers had to be navigated over with great care. Still, that low-to-the-ground stance and that 3-litre V6 turbo-petrol engine with 335 bp and 50.99 kgm of torque, helped us keep a brisk pace. There were a number of times we almost blitzed the 0-100 kph sprint (the claimed time for it is 5.7 seconds), as very slow truck traffic made us almost come to a halt, and the 8-speed gearbox did a splendid job of always keeping us in the right gear.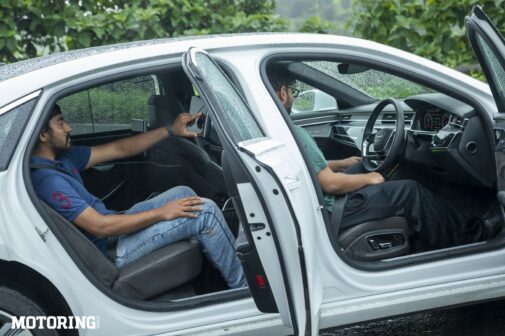 The suspension also did an excellent job at the ghat sections, for a long, luxury sedan. It isn't as dynamic as an Audi would be, even with the four-wheel steer and all-wheel drive, but this isn't a car that's meant to go corner carving in. Not that it can't corner-carve when you need it to, it's just that it doesn't do it as comfortably as say, the BMW 7 Series. We arrived in barely two-and-a-half hours, well-rested, and in the mood for fun.
Once we had finished with our Slush Fest, we were directed to a nearby spot of ghat, whose smooth surface and curvy nature suited our purposes beautifully. For something this large, it does move with alacrity in Sport mode. While the A8 L may not be particularly agile, it will always go in the direction you need it to. Roll is well-contained for something this big, but it does set in even when the suspension is at its firmest. High-speed changes in direction barely translate to the inside — I found that out while I was enjoying the rear seat experience.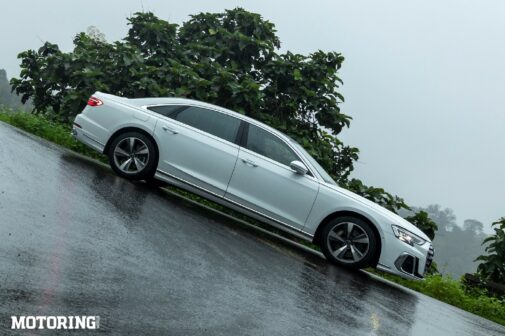 Once we had wrapped up, I was understandably tired, and asked Janak to take over, while I got into the very adjustable, and remarkably comfortable, 'Boss seat'. I had to admit, sleep came over me almost instantly, but I did tinker with everything this top-spec Technology variant has to offer. The 'Relaxation Package' helped free room for me at the press of a button — it reclined my seat, and pushed the front seat away. Then, a footstool popped out from the back of the passenger seat, and I engaged the massage function, which included the segment-first foot massager.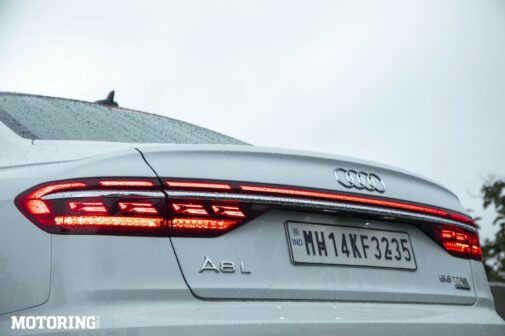 I was being pampered, while chauffeured at speed — Janak and the A8 L seemed to have developed a bond that is commonly seen between two happy, rambunctious dogs — and that, my friends, happens to be a definition of bliss. The mini fridge in the rear centre armrest chilled our water, and the Bang & Olufsen system played me to sleep as Janak and the A8 L sprinted for Mumbai. It was nearly 9 pm when we arrived at the Audi dealership to return the car, and we had been out and about since 4 am. It's a measure of just how comfortable the A8 L is that both of us felt a measure of stamina still within us.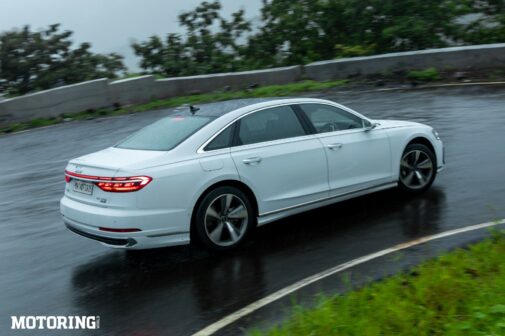 I had even had my beauty sleep (about two massage-filled hours of it), and felt recharged, and ready to take on the evening. The 2022 Audi A8 L definitely made a hard day's work, as easy as possible, and that's something that has remained consistent with this generation. Sure, it might not have the near-opulent levels of luxury found in the S-Class, but there's no real flaws. For Rs 1.6 crore, ex-showroom, India, you get a competitively priced luxury barge with superb ride quality, brilliant build quality, and absolutely nothing to complain about. What's not to like?
AUTODATA
Audi A8L 55 TFSI Quattro Technology
POWERTRAIN
Displacement:
Max Power:
Max Torque:
Transmission:
2995cc, V6, turbo-petrol
335 bhp@5000-6000 rpm
50.99 kgm@1370-4500 rpm
8AT
DIMENSIONS
L/W/H (mm):
Wheelbase:
Ground Clearance:
Kerb Weight:
Fuel Capacity:
5320/1945/1488
3128 mm
NA
NA
72 litres
PRICE
Rs 1.6 crore (ex-showroom, India)