Photographs by Aniruddh Kaushal
Delhi is a lot of things for a lot of people — it's a big city with wide roads, greenery and delicious cuisine if you like the city; it's polluted, aggressive, rude and impatient if you don't. However, one irrefutable aspect which doesn't depend on your like or dislike for the city in its current state is its history. Whether it was the Mughals or the Rajputs or the British, regimes and cultures have left permanent marks on this city that has been continuously inhabited for more than 2000 years. And this is probably why our sprawling capital is a fusion of seven different cities, the very cities that we are to connect in seven hours. What, don't think that's impressive? Well, perhaps a few hundred years ago, one could have conquered the city with 560 bhp. But with modern-day traffic, you need something as potent as the RS7 to cover all of them in seven hours.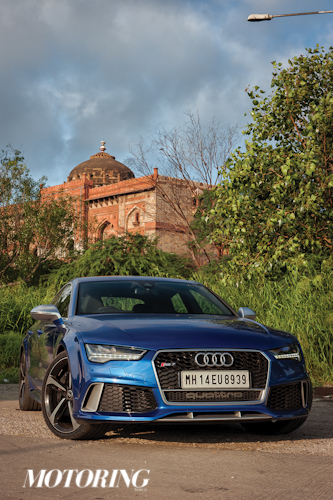 Qila Rai Pithora
We started our seven-city journey at 6 a.m. with what is recorded as the first city of ancient Delhi — Qila Rai Pithora. The empty roads were enticing the RS7 and I, too, was tempted to put my right foot down. Just as we start to tickle the 4.0-litre V8 and get a fleeting listen in of the sonorous engine note, we are pretty much at the gates of our first city (since I don't live far). Darn, this teaser was too little to get a taste of and seems too tantalising. Anyway, we had a full day 
to explore it (seven hours only, remember? – Ed).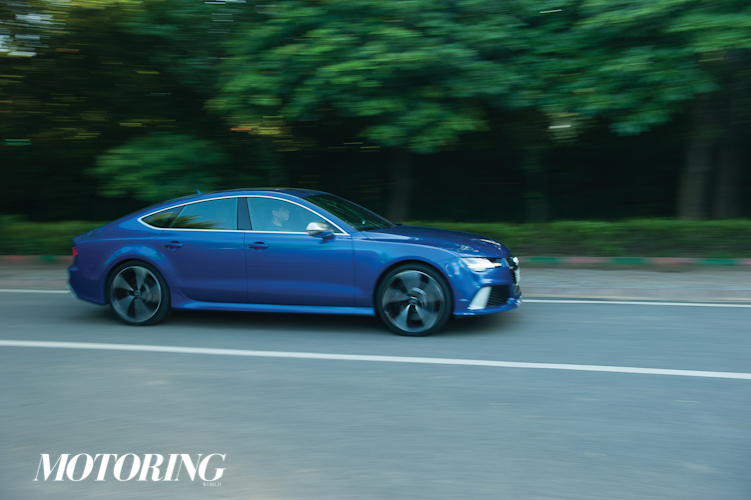 Qila Rai Pithora was established by Prithviraj Chauhan, who was also known as Rai Pithora. Chauhan was one tough warrior — those who know their history will know — and he controlled much of present-day Rajasthan and Haryana from Delhi. Unfortunately, not much is left of the city except a memorial for Chauhan and some ruins. Had we been allowed to take the car in, I am sure Chauhan would have been tempted to trade his loyal horse, Chetak, for the 560 horses in the RS7. See the effect the RS7 is having on me? I am trading with statues here.
Mehrauli
From Qila Rai Pithora, we moved to the second city which still carries the same name today — Mehrauli. Almost everyone who has been to Delhi knows of this part, since its ruler Qutubuddin Aibak left an unmissable monument here (cue phallic jokes). By the time we reached Qutub Minar, the sun was out and so were some tourists. Now Qutub Minar is 72.5 metres tall and is visible from miles away and all that. However, the moment we park the RS7 there, a lot of the tourists come towards the car. Smart people, I say; the Qutab Minar isn't going anywhere, right? And let's be honest, the RS7 is far better looking than any minar. The bold grille, striking LED headlamps, sloping roof line, 21-inch wheels and this striking blue colour — the RS7 has everything going for it in the looks department.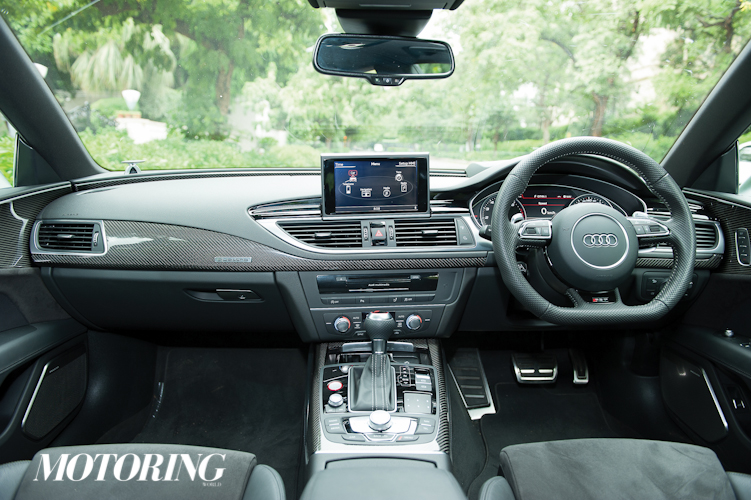 Siri
It was almost 8 a.m. by the time we left Mehrauli and headed off to the third city — Siri. Siri came into existence because of Alauddin Khilji, who after dominating South India wanted to rule Delhi. Along with Khilji came a lot of craftsmen and brought a distinctive style of architecture to Delhi. The monuments which are still standing, mostly around Hauz Khas Village in present-day Delhi, bear testimony to that. There is a water body and lots of green spaces around the monument which is well maintained. Since we couldn't take the car inside, I got some time to admire the sporty and luxurious interiors of the RS7. Sporty seats, flat-bottomed steering wheel, the TFT dials, folding infotainment screen, a beautiful Bang & Olufsen audio system — it's certainly a nice place to be in.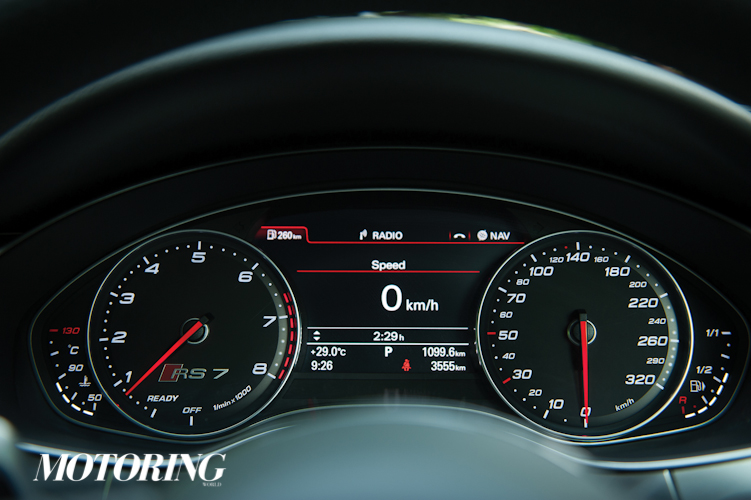 Tughlakabad
This is what I was waiting for. A longer distance to cover as we head to Tughlakabad. The fourth city of Delhi was founded by Ghiasuddin Tughlak in the 1320s, who built the splendid Tughlakabad fort. The Tughlak dynasty had eleven rulers but only three had any interest in architecture and culture. The rest were more like how the RS7 was when we were headed to Tughlakabad — covering distance with ease and leaving others behind. The wide road leading to the fort gave me a chance to experience a big chunk of all those horses under that hood, and accelerating the RS7 is a brutal phenomenon. Such is its performance, it takes a look in the side-view mirror to remind you that this is a proper four-door four-seater car, not an impractical sportscar. It properly pins your head to the restraint, the steering not exactly oozing with feel but nevertheless you get a nice kick around your nape. There's an ever-so-slight chirrup from the wheels as I turn off the ESP momentarily and see the world whizz past me in a flash. What is truly mesmerising is that not once around the few corners that we found did it wince; powering through them in a flash and with such temerity that Tughlak himself would have approved of. The magical quattro experience in good measure (and stead), it's amazing that this is still a machine in which objects in the mirror are always further than they appear.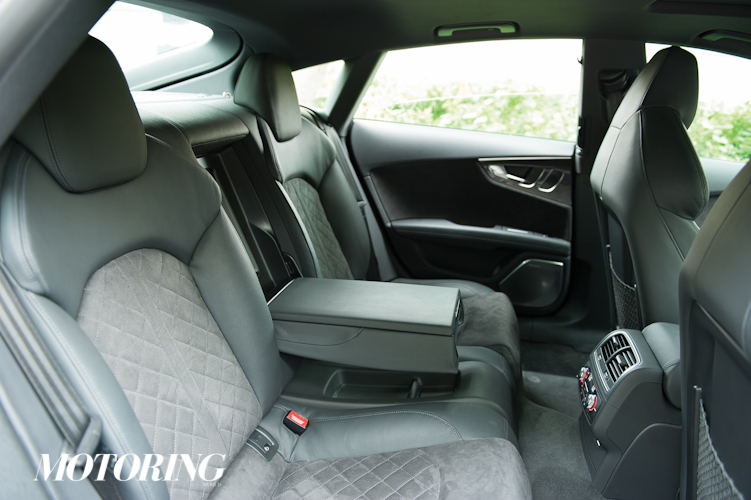 Ferozabad
The overcast sky seemed to be ready to literally rain down on our seven-city trek as we headed to the other side of present Delhi and the fifth city, Ferozabad. All cricket lovers will know this part of Delhi, thanks to the Feroze Shah Kotla stadium. Most may not know the ruler who gave this city the name, Feroze Tughlak. Probably one of the most architecturally-inclined ruler from the Tughlak dynasty, Tughlak built many forts and palaces around this city and even maintained the earlier monuments like Qutub Minar and Hauz Khas.
The drive to Ferozabad from Tughlakabad was a pleasant one, too. Lots of empty stretches and the small mercy of it being a Sunday gave me ample opportunities to really enjoy the RS7. The ride is stiff, thanks largely to those 21-inch wheels on our kind of roads, but one doesn't mind it in return of the thrill of driving the RS7. Press the button on the gear shift while being in Drive and the car shifts to Sport mode. The change is not only immediate but dramatic as well. You can feel the car stiffen up and emit a low growl as if to ask, 'Are you sure you want to do this?' Everything goes up a notch — steering heft, throttle position, gearshifts — it all gets harder and you have to be even more focussed to get the most out of it. It was a palm-wetting exercise that I absolutely loved. Hunkered down, with the nose developing just a slight amount of lift, we gunned for the next city, Shergarh.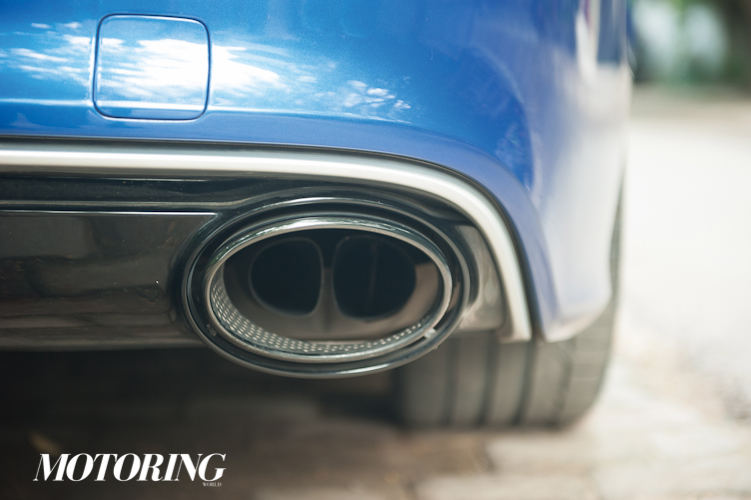 Shergarh
Not too far from Ferozabad is the sixth city, Shergarh. Known to most as Purana Qila, Shergarh was the creation of Sher Shah Suri who beat Humayun to rule Delhi. Suri didn't manage to rule the city for long, but it was long enough for him to build this grand fort. Interestingly, Purana Qila still has a Kunti Temple which is believed to be the place where Kunti, the mother of the Pandavas, lived. The detailing at Purana Qila is still impeccable. Nonetheless, instead of checking out the grandeur and ornate offerings of the Purana Qila, I preferred to be in the RS7 and head to the last city.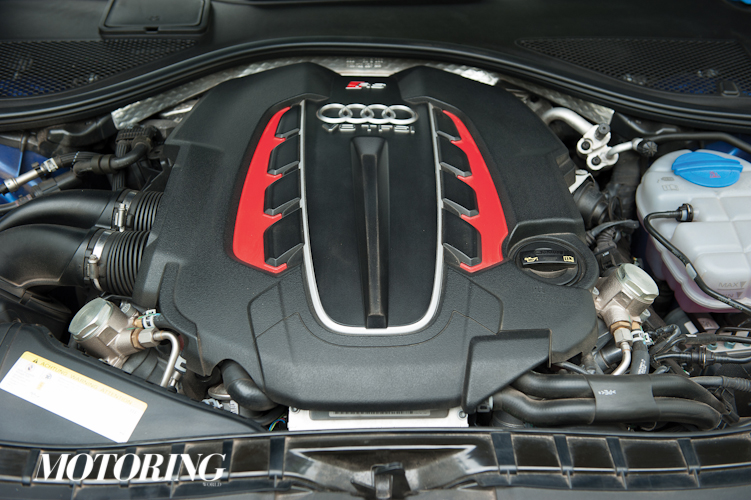 Shahjahanabad
We did not deliberately save the best for the last, but Shahjahanabad is the seventh and the last city of Delhi. Built by Shah Jahan, the last mughal emperor of India, this part of Delhi is believed to be the true metropolis of its times. Shah Jahan did not want just a fortress to guard his city, but he also wanted his people to prosper, enjoy life and live peacefully. Hence he gave Shahjahanabad a Chandni Chowk for business and food, a Jama Masjid to congregate and pray and a Lal Qila (Red Fort) for security. All these places still stand, although far more crowded, and continue to serve their purpose. They're also amongst the most known monuments in India, so I'll spare the details.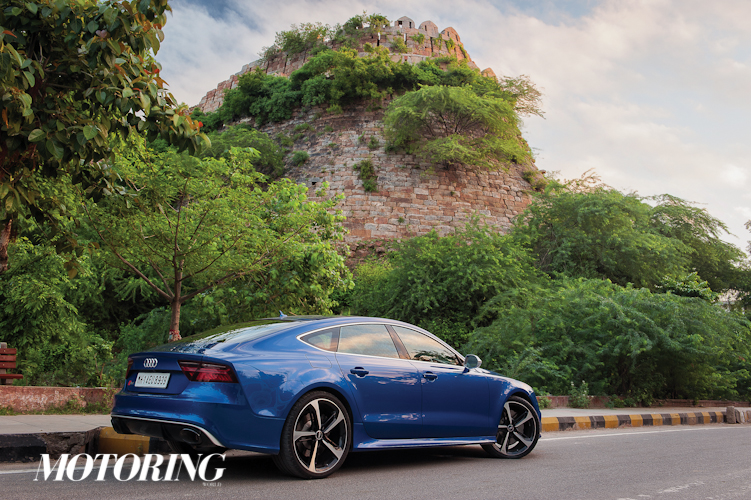 We set out to cover seven cities in seven hours, but when you have a car like the RS7 you have almost two hours left to enjoy the culinary delights around Jama Masjid. We drove on wide roads, saw a big city in seven parts, peeked into its past and current beauty, and then sampled some of the finest food it has to offer. Yes, I like Delhi. However, I like it even more when I'm in something as exciting to drive as the RS7.
AUTODATA
Audi RS7
POWERTRAIN
Displacement: 3933 cc, V8, bi-turbo
Max Power: 552 bhp@5700-6600 rpm
Max torque: 71 kgm@1750-5500 rpm
Transmission: 8-speed automatic
STEERING
Type: Electric power steering
Turning radius: 5.95 m
SUSPENSION
(F/R): Adaptive air suspension
BRAKES
(F/R): Ventilated discs
TYRES
(F/R): 275/30 R21 / 275/30 R21
DIMENSIONS
L/W/H (mm): 5011/1910/1417
Wheelbase: 2916 mm
Kerb weight: 2029 kg
Fuel tank: 75 litres
PERFORMANCE
0-60 kph: 1.9 sec
0-100 kph: 3.9 sec
80-120 kph: 2.7 sec
Top Speed: 223 kph (as tested)
PRICE: Rs 1.29 crore (ex-showroom, Delhi)