A few years ago, India's electric vehicle scene was like an elite-only party. Then the Nexon EV arrived, flipped the switch, and suddenly electric cars were hip, approachable, and most crucially, affordable. The sales charts reflected this. The Nexon EV quickly amassed a staggering 80 per cent of the electric car market, as people raced to showrooms like it was the release of the newest smartphone. Sceptics became believers, and typical fuel-guzzlers became power-sipping proponents.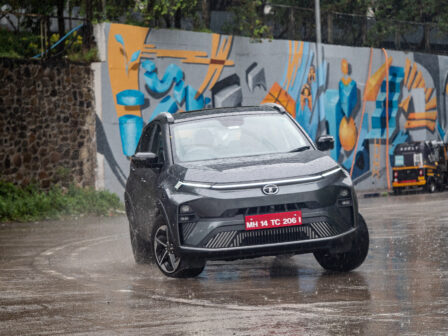 The all-new Nexon EV has a lot riding on its shoulders, then. In the design department, it certainly come up short – it's a whole new look, not just a quick makeover. It's got a snazzy LED headlamp cluster with a light bar that screams, 'Look at me, I'm electric and I know it!'. The grille is smaller, sporting a honeycomb pattern, making it look less like a car and more like a high-tech gadget on wheels. And the bumper? Well, it's flexing some muscles, with a wider air dam and fog lamps, which give this EV a sharp and toned design. During our recent conversation with Martin Uhlarik, head global design at Tata Motors, he shed some light on the crucial design elements that set the new Nexon EV apart. Uhlarik emphasised the significant role played by the striking light bar, both at the front and rear of the vehicle, in shaping the distinctive identity of the new car.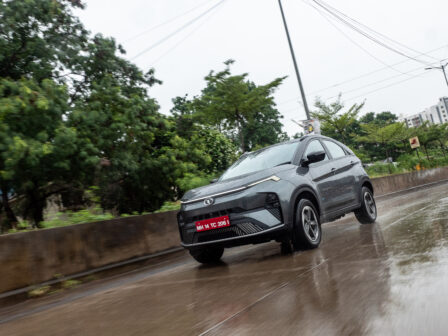 Among the noteworthy design features he highlighted were the split headlights, adorned with eye-catching DRLs. These elements collectively contribute to the Nexon EV's unique and appearance, and do make it stand out.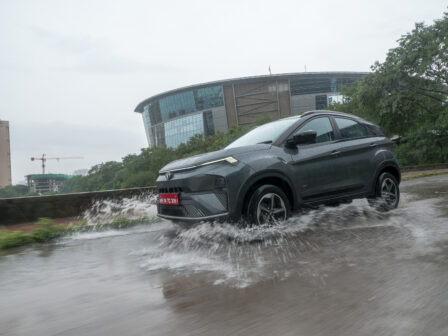 On the sides, it's rolling on new alloy wheels and rocking a more pronounced shoulder line – because who doesn't appreciate a well-defined silhouette, right? And the rear? It's got a new tail light design with LED light bars that will make you think it's trying to outshine the city lights. Even the bumper back there gets a skid plate, for some extra beefiness. There's a snazzy new colour called Glacier Blue, alongside classic colours like white, black, silver, and grey for the more understated electric enthusiasts.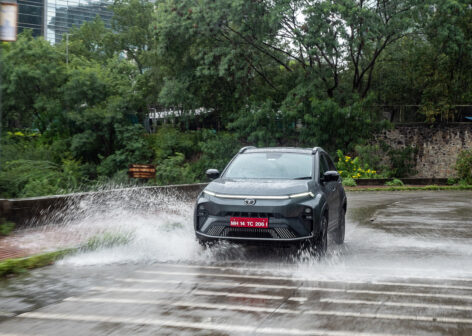 Inside the new Nexon EV, it's not just about going green; it's about turning up the volume–literally! You've got a superb 320–watt JBL sound system with nine speakers; for electric cars, a good sound system is a must, otherwise you are just left with awkward silence. A shiny new 12.69–inch touchscreen infotainment system that's all about compatibility makes ab appearance. It's got Android Auto and Apple CarPlay, plus it plays the role of a navigator, DJ, and personal assistant all in one.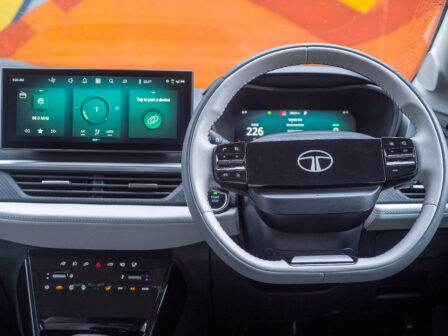 Feeling a bit nostalgic, or want to challenge your co-passengers to a game of puzzles? Well, the Nexon EV's got you covered with its arcade apps. And when it's movie night on the go, you can kick back and catch up on Amazon Prime Video, Netflix, or Disney+ Hotstar, accessible through the infotainment system or your JBL sound system. We have to mention that these streaming apps only work while the car is parked, and will be quite handy when you find yourself at an EV charger with a 45–minute wait to charge your EV.
The seats are comfortable and the materials seem premium, and the only critique I have is that under-thigh support for both the front and rear seats could have been a bit better; the same as its ICE cousin, then.

The highlight of the new Nexon EV is its new electric drive train. The electric motor delivers a punchy 143 bhp and a healthy 25.49 kgm of torque. That's a cool 14 extra bhp and approx 5 kgm additional torque compared to the previous model, making it feel as sprightly as a caffeinated squirrel. It can go from 0 to 100 kph in under 9 seconds – that's the kind of acceleration that'll wake you up every morning during your drive to work. When it comes to top speed, it'll hit a respectable 150 kph now.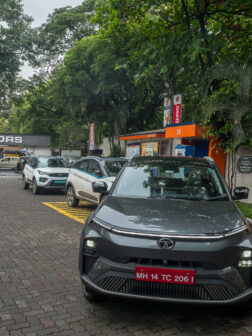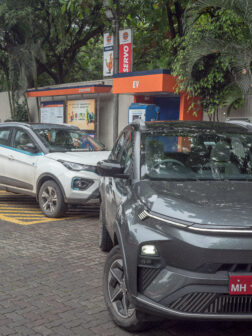 The Nexon EV's battery pack is no slouch either, with a beefed-up capacity of 40.5 kilowatt-hours (kWh) for the long-range model, a 10.5 kWh boost from the previous version. With this upgrade, it offers a range of 465 km on a single charge, according to the ARAI test cycle. We'll need to spend a bit more time with the car to see how much real-world range we get, and the same applies for the charging cycle as well. But going by these claims and us driving it in rain-soaked Pune, we could say you could get quite close to the claimed number. It also comes equipped with four levels of regenerative braking, from Level 1 to Level 4. Level 2 is your go-to for city cruising. It's like having a little extra magic under the hood for those traffic-light sprints and stop-and-go madness.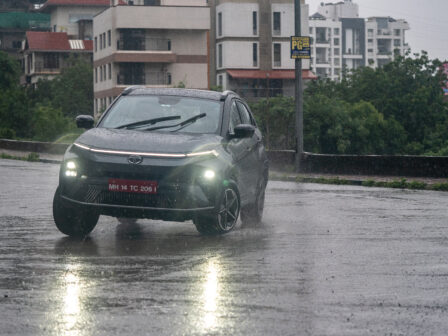 Safety is the name of the game for the new Nexon EV. It's got a squad of airbags – dual front, side, and curtain – plus ABS, EBD, ESP and traction control, making sure you stay on the straight and narrow, even on those twisty roads. And when the hills come calling, Hill Hold Control's got your back, so no rollbacks or drama.
Got little ones on board? No worries, it's got ISOFIX child seat anchorages to keep them snug. Parking in tight spots? Rear parking sensors and a camera are here to save your paint job. In a nutshell, the Nexon EV's got safety locked down, so you can cruise around with peace of mind, knowing it's got your back.
The ride quality is smooth and mature, keeping you rooted and stable, absorbing bumps and potholes like an expert. It's no sports car, but the electric motor delivers power smoothly, consistently, and quickly off the line, much like a well-trained butler. Additionally, it is as quiet as a library while people are taking naps, which makes long journeys quite comfortable.

There's absolutely no doubt that the new Nexon EV does move the game ahead considerably. It's better looking, more feature loaded, and has more range – what more can an EV buyer ask for? The older car had a 5-star crash test rating, and there's no reason to believe that this one won't, so safety is covered, too. Prices will be announced shortly, and even though they're likely to be a tad more than the previous model, they should still be attractive enough to keep the Nexon at the top of the EV sales charts.