No one knows exactly why, but India just loves SUVs. A lot of us blame it on bad roads, and a good chunk of people attribute it to the want for road presence, and then there are some big-family folks who would do better with all that apparent space you get inside. Whatever the reason, SUVs have gained a lifestyle status over the years, instead of the true purpose of their existence. Yes, they can be heavy, difficult to slot into a parking spot, and pretty tasking to ease out of cramped places, but despite all of that, the demand for them only seems to have increased. From namesakes to soft-roading sub-four-metre examples, to proper fully-fledged hunks of metal, there is one for everybody. I, for one, when not behind the wheel of a sedan (my most liked of the available body styles), would pick an SUV over anything else. And I don't think I am the only one who feels like that. If you think so, too, then you are going to love what Hyundai has to offer with the all-new and improved Tucson.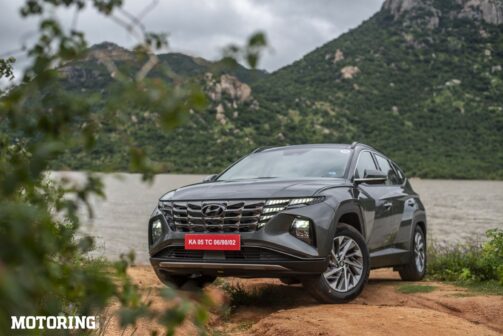 I say that because, not too long ago, I had a Tuscon as my long-termer. And while it was only for a brief period, I absolutely loved driving it. It is a proper full-blown SUV that had the same reliability as the much-loved Creta in Hyundai's stable, but also had everything on a grander scale. So, when I got to know that I was to review a four-wheeler instead of two, that, too, an SUV that I have enjoyed in the past, I was all the more eager to meet and drive the latest generation Tucson. But before I jump to that bit, allow me to take a while to get you acquainted with Hyundai's new flagship SUV for Indian buyers.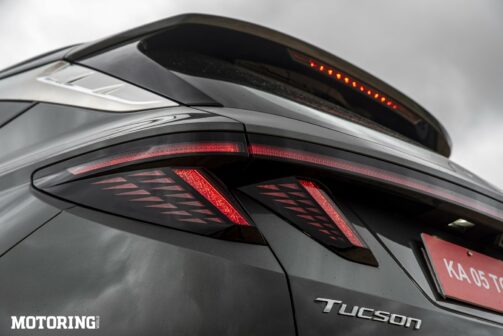 The new Tucson is nothing like its predecessor in the way it looks. It's got the new Parametric Dynamics design that will gradually be seen on other cars in Hyundai's portfolio. Conservative SUV buyers might not be the biggest fans of the design, but I see no reason why the younger crop of SUV buyers would not love it. The very first thing that grabs your attention is that insanely striking grille. I mean, just imagine that front end getting larger in your rearview mirror. 'So intimidating', would be your first thought, and probably to give way for it to get past. I kid you not, as I, honestly, had that thought cross my mind when one of the other Tucsons had closed the gap on me. The grille design that is flanked by the LED DRLs, together with the dark chrome look is nothing but superb. I can't think of the last time I was this impressed by the front end of a vehicle. For the curious ones, the headlights are the ones located lower down. There are no front fog lamps offered as such, but with cornering lamps and due to the location of the headlamps, you wouldn't require them.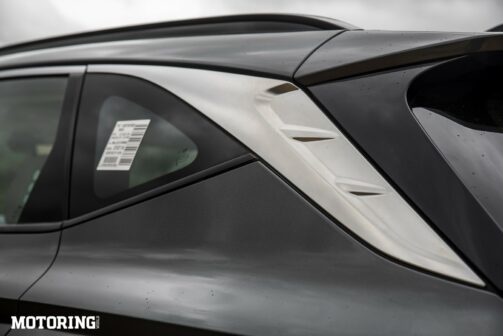 Moving to the side, if you pay a bit of attention, I'll be able to see a Lamborghini, the Urus, to be precise. Can't unsee that now, can you? The razor-sharp body lines complement the Tucson's front well, and its overall appeal. See that brushed metal trim curving along the roofline? It gives the illusion of a coupe SUV, although it's not. And to speak a bit about the rear, I found it to be a bit polarising, but if you give it enough time, there are things to like here. The rear wiper is concealed behind the roof-mounted spoiler, while the Hyundai logo is integrated within the rear windscreen itself. Cool and clean look, I say. One concern though, the turn indicators and reverse lamps have been moved down to the bumper, which can be difficult to spot considering the gap other motorists maintain between vehicles in our country. But, whatever the Tucson might have missed in detailing, it more than makes up for it in road presence. No one would question your right of way when you're driving this one.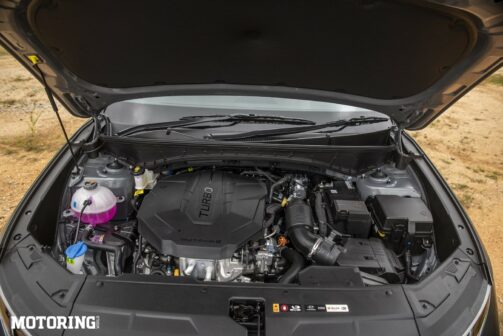 Coming to what lies under the hood, not much has changed here since the last version. The new Tucson continues to be offered with a 2.0-litre naturally aspirated petrol unit paired to a 6-speed auto 'box, and a 2.0-litre turbo-diesel that comes mated to the 8-speed automatic transmission. Only the latter gets the option of AWD, which is limited to the top-spec variant. While there is no option for a manual, this powertrain structure works out just fine after considering the inclination towards automatics in general. The test unit I was driving was a diesel, which makes more sense, as Hyundai predicts that it will sell it more.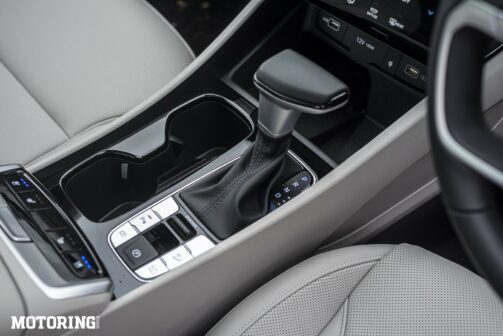 Okay, either it is just me or diesel engines have got a whole lot smoother and quieter. From the moment I cranked the engine, I was left scratching my head if it indeed was a diesel mill underneath the hood. I wish I was just me, but it was the latter. If anything, Hyundai has done a fantastic job of keeping most of the engine noises outside the cabin. Since we were driving the model just below the top-spec (comes with AWD and multi-terrain modes) one, ours had drive modes with four options — eco, normal, sport and smart (adaptive). The motor makes 181 bhp and 42.42 kgm, which are healthy figures. Paired to the smooth packed 8-speed auto 'box, instead of a feisty performance, you are welcomed by a more relaxed state of tune, which hits the notes just right. It is the kind of power delivery that you want when being chauffeured or travelling with your family. And if the need did arise to pick up the pace by a couple of notches, Sport mode holds the revs higher, and is more responsive to throttle inputs. Speaking of which, there are no paddle shifters offered here, which is a surprise for a flagship SUV, but what you do get is the Tip-Tronic option at the gear selector. It is a big, comfortable vehicle with an adequate torquey motor that manages to speed without the thrill.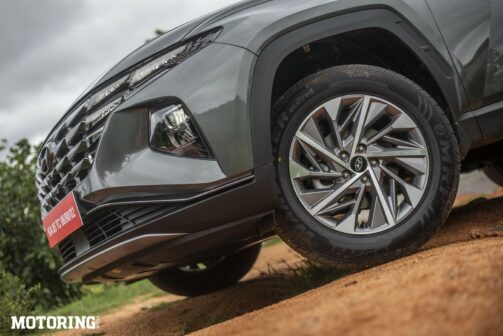 Thanks to the fat contact patches delivered via 235/60 section MRF Wanderer tyres wrapped around the large 18-inch wheels, there is a lot of grip to overcome before the electronics have to step in to save the day. From the driver's seat, the view is very commanding. The steering still has a little bit of the typical lightness related to most Hyundai vehicles, which is not an issue, but a big boon during city driving. It does stiffen up as speeds go up, and does get further stiffen up by a notch in Sport mode. But again, it is not a track-day machine by any margin, and is intended to take you just a little further than other road-going cars.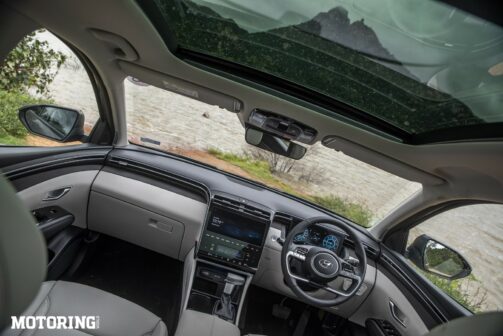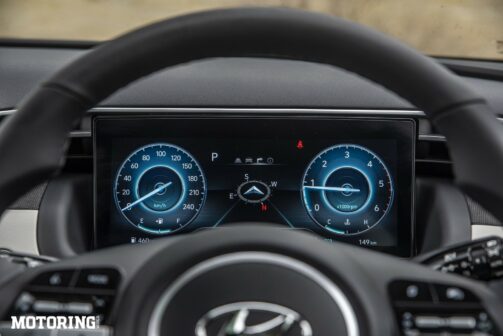 For going that extra mile, what also contributes highly is the ride comfort, which the Tucson manages that handsomely. It was one of the main attributes of the previous Tucson that continues here. While most of the driving was on smooth tarmac, there were a few rough patches where it continued to maintain a plush ride. Also worth mentioning are that the brakes – all discs – offer a lot of bite and feedback at the pedal. Stomp that brake pedal and the Tucson does stop quite quickly without any drama whatsoever. To add to it, the Tucson comes with a Level 2 ADAS suite, comprising adaptive cruise control, lane-keeping assistance, forward collision avoidance, and some more.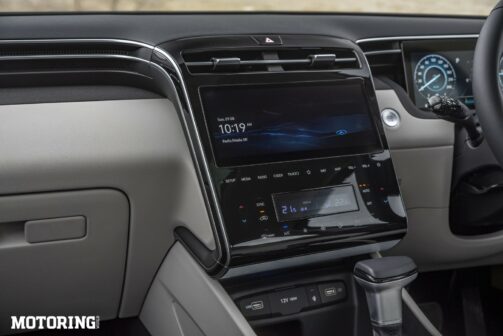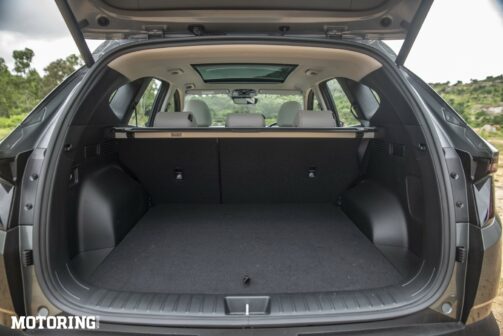 Now coming to the most crucial part of this, or any car for that matter, the interiors. Not many realise it, but it is where we spend most of the time, right? In a sentence, the Tucson's interiors are spacious, contemporary, and well-equipped, while offering the correct touch of premium feel to match its stature. The low-slung dash follows a dual-tone treatment, with aluminium inserts that add a dash of luxury. If you pay attention to the design, you'll notice how well the air-con vents have been blended with the contours of the dash, and how it eventually merges with the large 10.25-inch infotainment system. The centre console does look a bit bland though, while the digital instrumentation gives out Alcazar vibes. The seats are well-bolstered with ample legroom and headroom for both rows. The front two seats get a heating and cooling function, which makes the distance travelled less tiring. Besides that, the Tucson is tech-loaded as it comes with a Bose audio system and multiple smartphone connectivity options.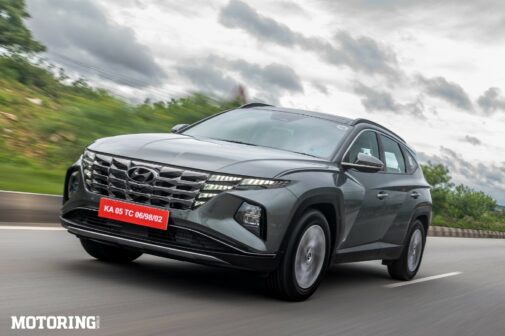 Coming to conclusions, if asked if I'd buy one if I had the money and inclination, I do not doubt that I would. The Hyundai Tucson makes more sense than most other SUVs in the segment. One might say it is a bit expensive for a Hyundai, but again, it is also offering more in return, while others are only providing bits and parts of it. Prices for the new Tucson start at Rs 27.70 lakh for the petrol-AT Platinum variant, meanwhile, the top-end diesel-AT Signature variant is priced at Rs 32.87 lakh, both ex-showroom. The Tucson has the space, presence, features, and luxury element that ticks most of the boxes for any buyers in the Rs 30 lakh space. And yet, somehow, I still can't get over the sight of that imposing front end in my rearview mirror.
AUTODATA
Hyundai Tucson
POWERTRAIN
Displacement:
Max Power:
Max Torque:
Transmission:
1997cc, I4, turbo-diesel
181 bhp@4000 rpm
42.42 kgm@2000-2750 rpm
8AT
DIMENSIONS
L/W/H (mm):
Wheelbase:
Ground Clearance:
Kerb Weight:
Fuel Capacity:
4630/1865/1665
2755 mm
192 mm
NA
54 litres
PRICE
Rs 32.87 lakh (ex-showroom, Delhi)