Photographs by Vishnu G. Haarinath
This is just what we needed, right? Another SUV. Just when it seems that our unfathomable need for these big, hulking vehicles has been satiated, out comes another, the 2019 Nissan Kicks, all ready to help us view things on the road from higher up than required.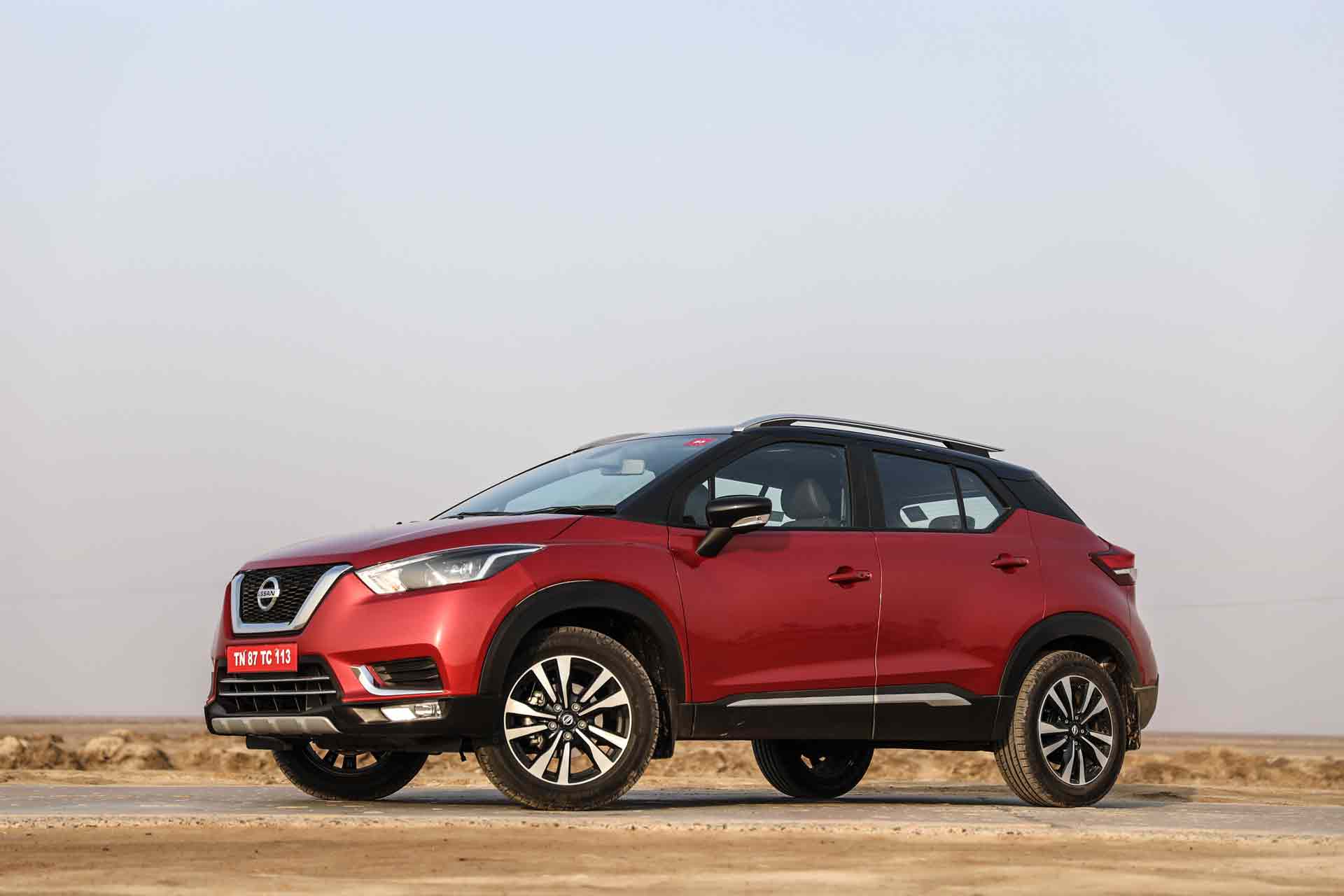 Clearly, then, I'm not the biggest fan of the format, but that doesn't necessarily mean that you should be turned off of them, too. Especially when what you're looking at is the new Nissan Kicks. What it is is essentially Nissan's answer to the Hyundai Creta, and it wants to tackle the overachiever from Korea with the help of a few key things. For starters, what you should know is that it's based on the Renault Duster's platform, and that means it's quite ready for the rough stuff. More so than most, at least. You'll find a similar skeleton in the Captur, but that's where the similarities stop. What's going for the Kicks, I believe, is the way it looks. It's not got all-out, no-compromise SUV styling, and that helps. And while dimensionally it's larger than the Creta in every way, in person, it doesn't quite feel so. The Kicks comes across more as a crossover; like a bigger S-Cross, if anything. That's a good thing, in my books. It's not all squared-off edges and XXXL headlights here and 4XL wheels there, either. It's got just the right amount of flair to make it look modern and appealing. A bulk of the design work and detailing has been done in India itself, and going by the way the finished product looks, it's something to be proud of, really.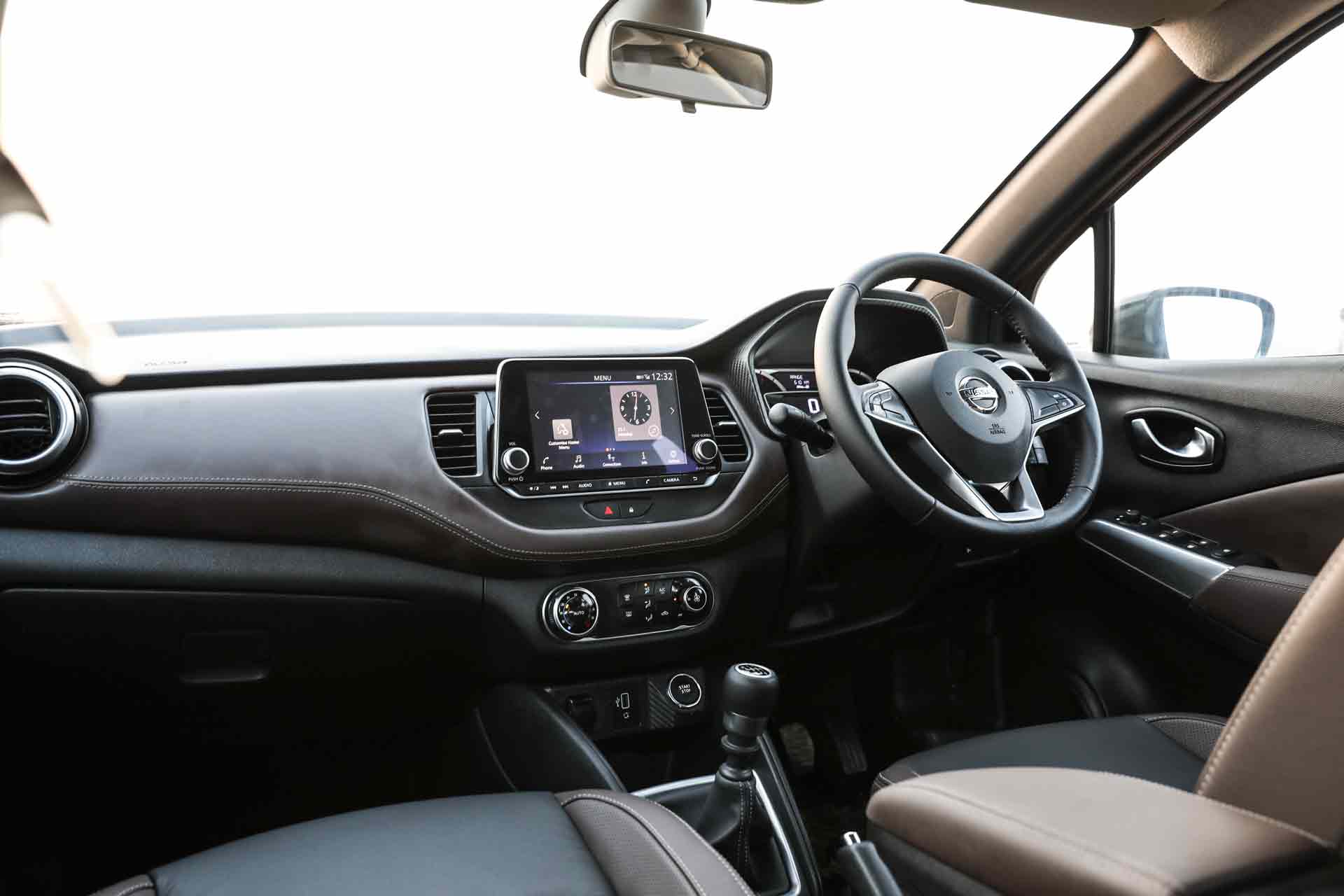 The insides are an exercise in restraint. There's absolutely nothing that's over the top here, unless you're looking at being literal and focus on the 8-inch touchscreen that seemingly floats on the dashboard. The instrument cluster is a mix of analogue and digital, with the speedo in digital right in the centre. Nice touch. Overall, it's a minimalistic dashboard, with most of it seeming like it's in the right place. Some parts do feel a bit suspect in terms of quality, though, and the dummy buttons on the steering could have been done away with, honestly. Now, the seats. While they're comfortable enough, I just cannot understand the logic behind not having enough degrees of adjustment for the seat height. I'm an inch shy of six feet, and with the seat at its lowest, I've got just about an inch spare before I'm constantly grazing the roof. A stray bump will most certainly have me looking ahead from above the roof. Oh, and the steering only adjusts for rake. And the dead pedal doesn't exist, nor is there any space left over on the side to rest your leg. Not the most comfortable car to drive, then.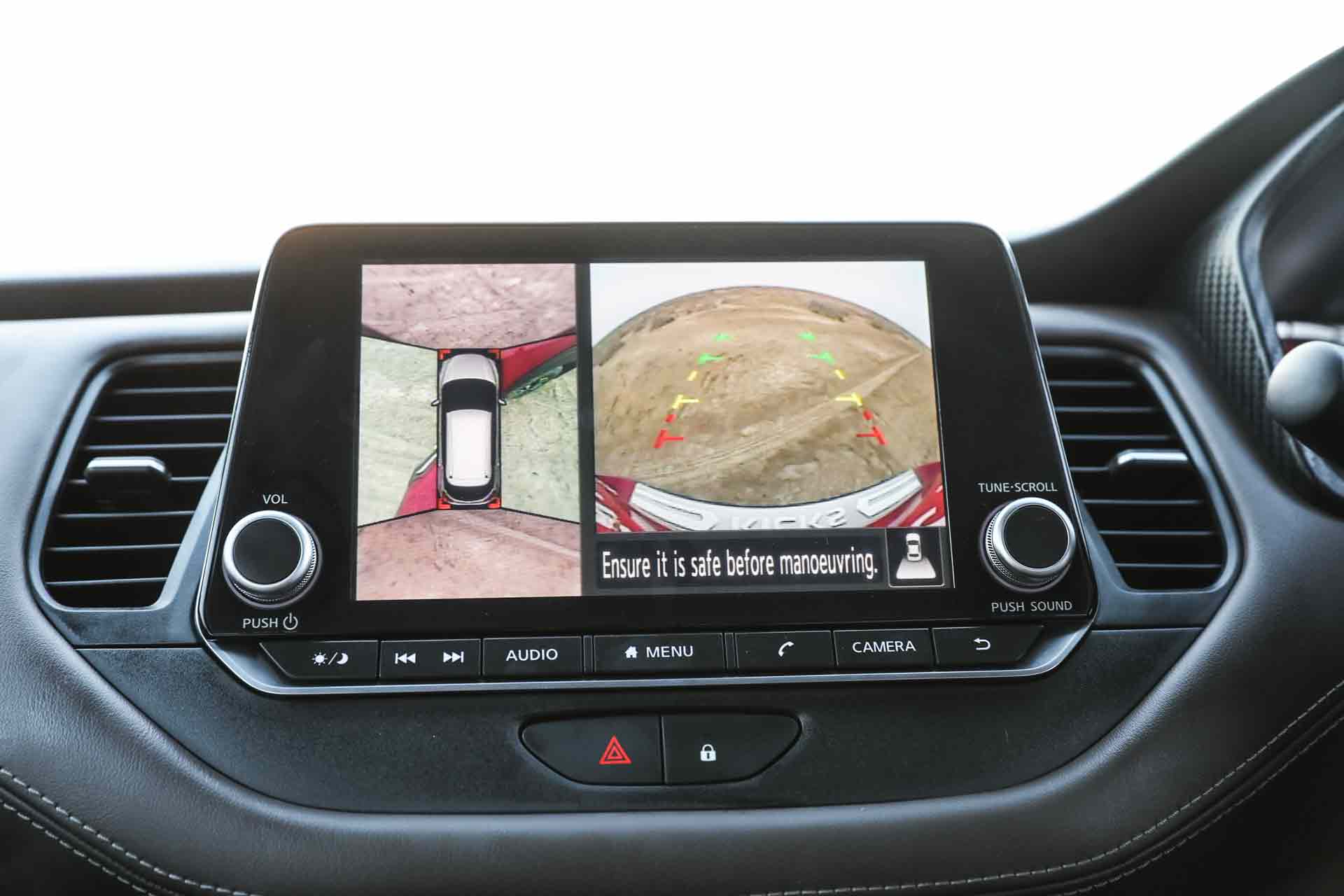 What's nice, though, is the rear seats. They're comfortable and have plenty of head- and leg-room. At a pinch, you can probably squeeze three, but you're better off just keeping it simple with two. What about those all-important features, then? Nissan's knitted it out pretty well. There's a 360-degree parking camera, an Eco driving mode, four airbags, cruise control, auto LED projectors, cornering lamps, climate control, and hill-hold, to name just a few. Nissan missed out on speccing it with a sunroof, curtain airbags, and wireless charging, though.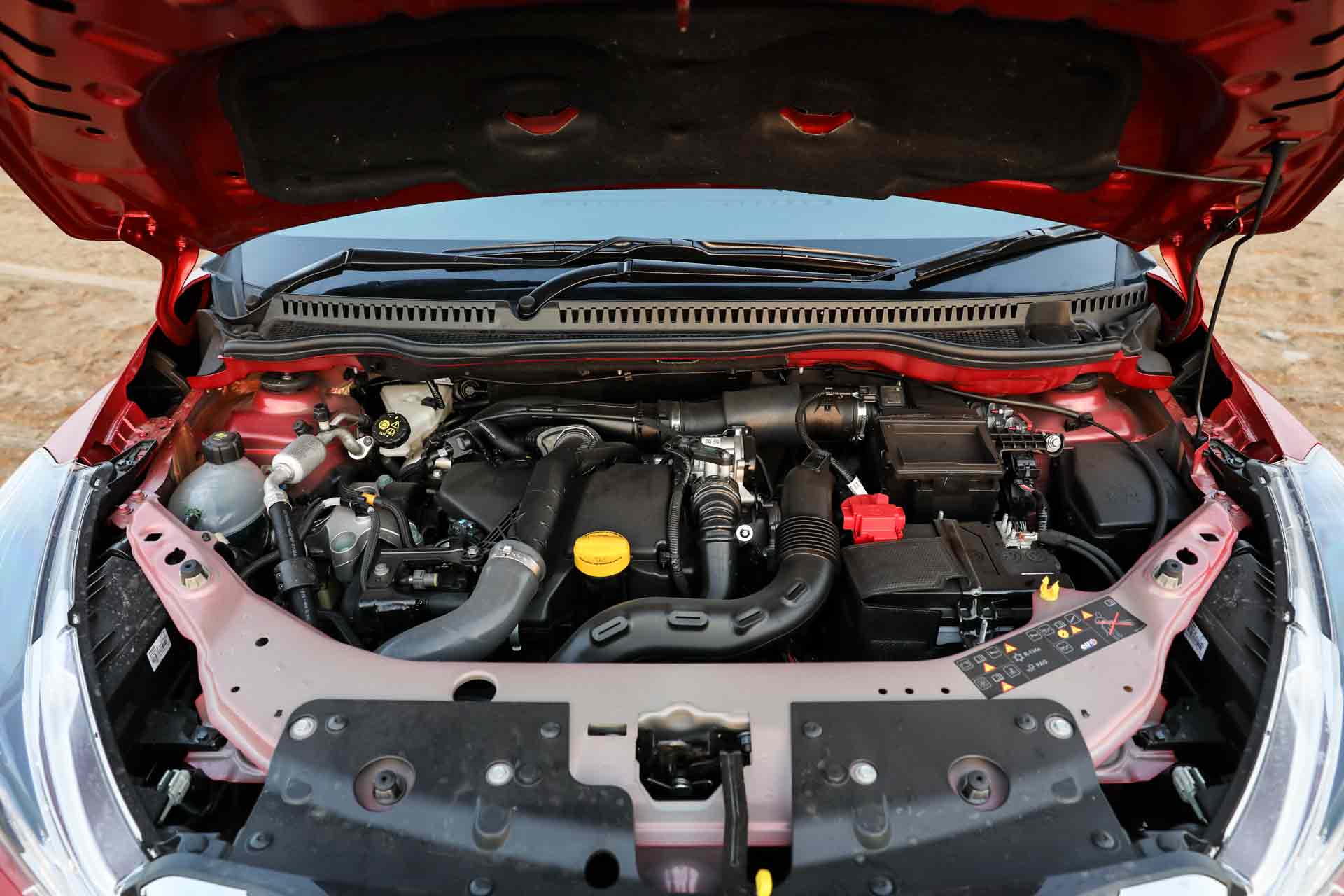 Right, then. What powers it: the familiar and extremely likeable K9K diesel engine is at work here, of course. It comes mated to a six-speed shifter only. If you want a petrol option, Nissan has that, too, but it gets a five-speed manual 'box. Nissan reckons an auto is an option but it won't be available at launch, so look always if that's a deal-breaker for you. We didn't get the petrols on our media drive, so this review will focus only on the K9K that makes 108 bhp and roughly 23 kgm, which is pretty adequate for the most part. The lower-powered 84 bhp won't be an option for the Kicks, though.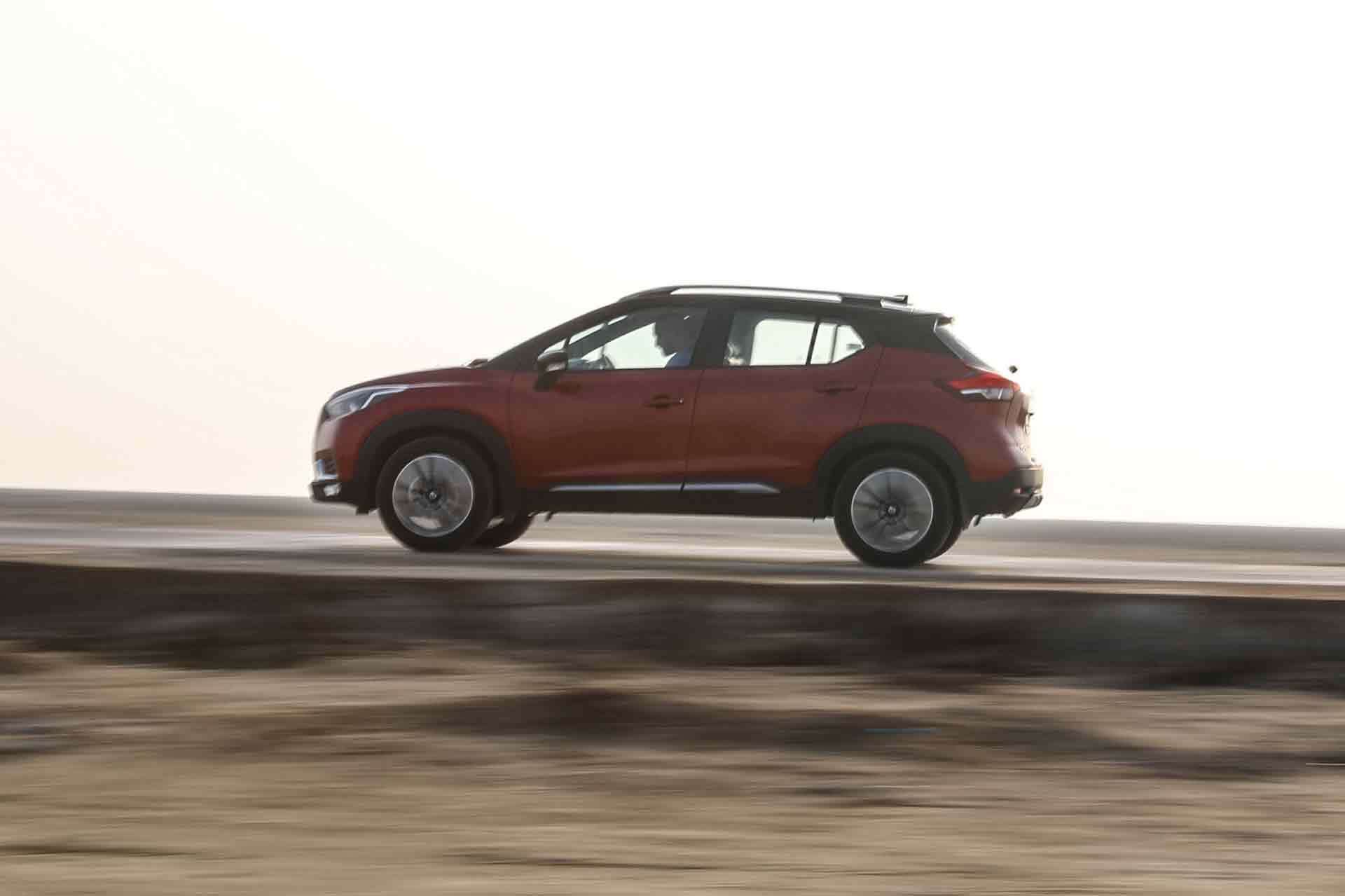 Power comes in decently early, and after that it makes smooth progress along the rev range. At no point does the Kicks feel sprightly, but you'd be delusional to think it was lethargic in the least. The gearshifts are alright. It's not the easiest shifting 'box, and you keep getting the sense that the gates could have been defined slightly better. What's remarkable, though, is the steering, which, even though a tad heavy at parking speeds, weighs up beautifully as the speeds build and it feels very connected to the front wheels. Honestly quite enjoyable flicking the Kicks through some twisties. Perhaps the single most impressive thing about the Kicks, though, is the way it rides, because everything I could throw its way, it simply scoffed and asked if that's all I could muster. There is a bit of body roll, but that's not surprising, but what's great is that it feels rock-steady at higher speeds. With a bump in power and a better gearbox, this would really be a proper driver's car. That, and, well, a lower setting for the driver seat height.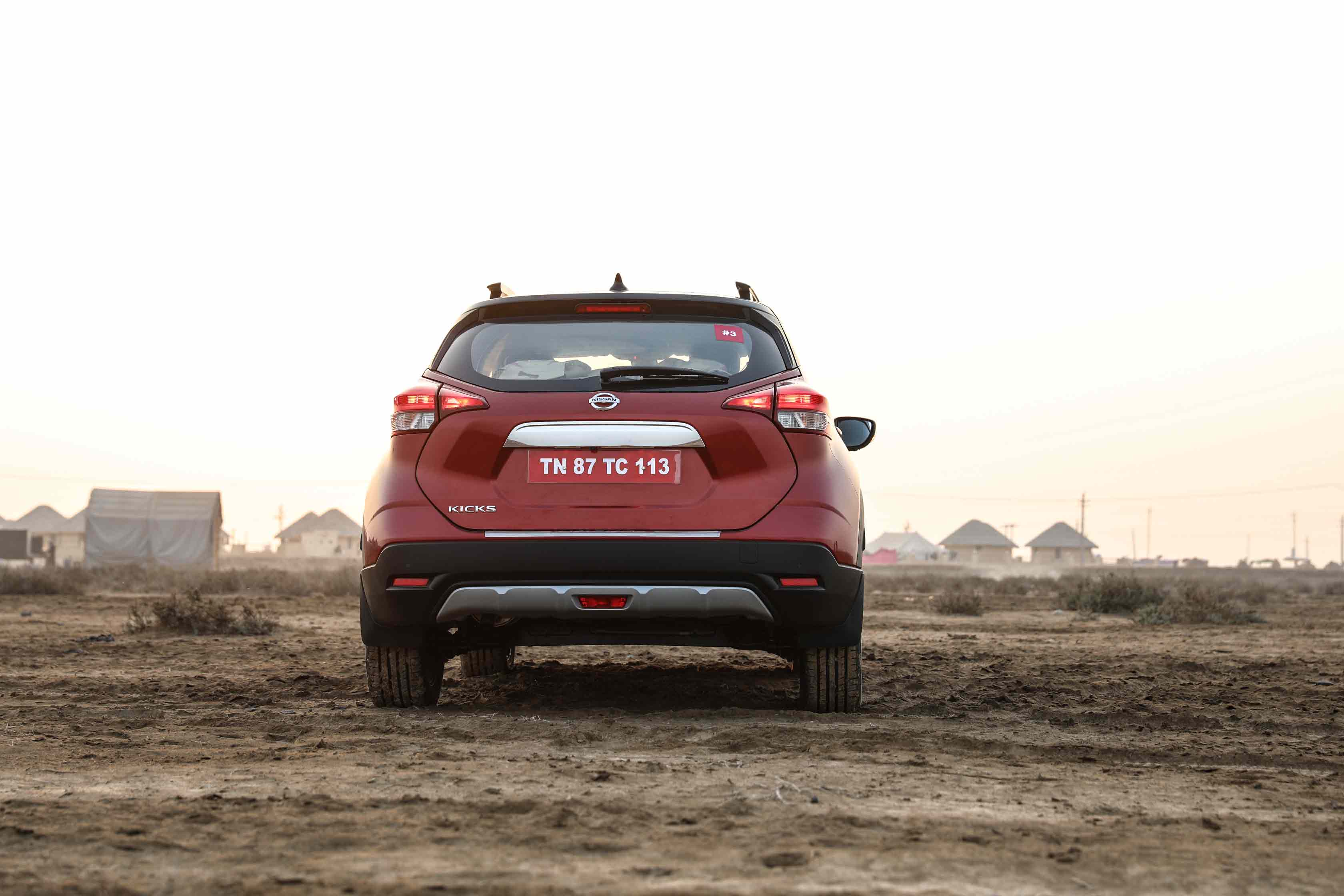 What the Kicks shows is that it isn't simply a pick-up-and-drop of the car that's sold abroad. Nissan's done some solid work to adapt it for the Indian market and its needs, and we're a grateful lot for that. As for the things that are holding it back, well, adding an auto 'box option would be a good start. There's a perfectly good CVT lying around in the family, why not use it, Nissan? That, the seat and steering adjust, a few more airbags, and a more powerful engine could transform this already lovely car. As picky, entitled automotive journalists, we're expected to critique a bit here and there, so my bit's done. In all honesty, though, the Kicks is pretty close to being a complete package already and the buying public would be wise to consider this as a worthy rival to the Creta. Let's hope Nissan prices it within reason, too, and then we have a proper show on our hands, eh?
You can take a look at more shots of the Nissan Kicks in its detailed photo gallery by clicking here
AUTODATA
Nissan Kicks
POWERTRAIN
Displacement: 1461cc, i-4, turbodiesel
Max power: 108 bhp@4000 rpm
Max torque: 24.4 kgm@1750 rpm
Transmission: 6-speed, manual
TYRES
(F/R): 215/60 R17
DIMENSIONS
L/W/H (mm): 4384/1813/1651
Wheelbase: 2673 mm
Ground clearance: 210 mm
Kerb weight: 1675 kg
Fuel capacity: 55 litres
PRICE: NA