Photographs by Vishnu G. Haarinath
Let's just cut straight to it — the new Ertiga is very good. It builds on an already successful platform, and Maruti's done this thanks to some very well-thought improvements. Another thing to add here is that this isn't just any ordinary facelift for the Ertiga; it's a thorough improvement that goes beyond superficial changes (thank goodness for that).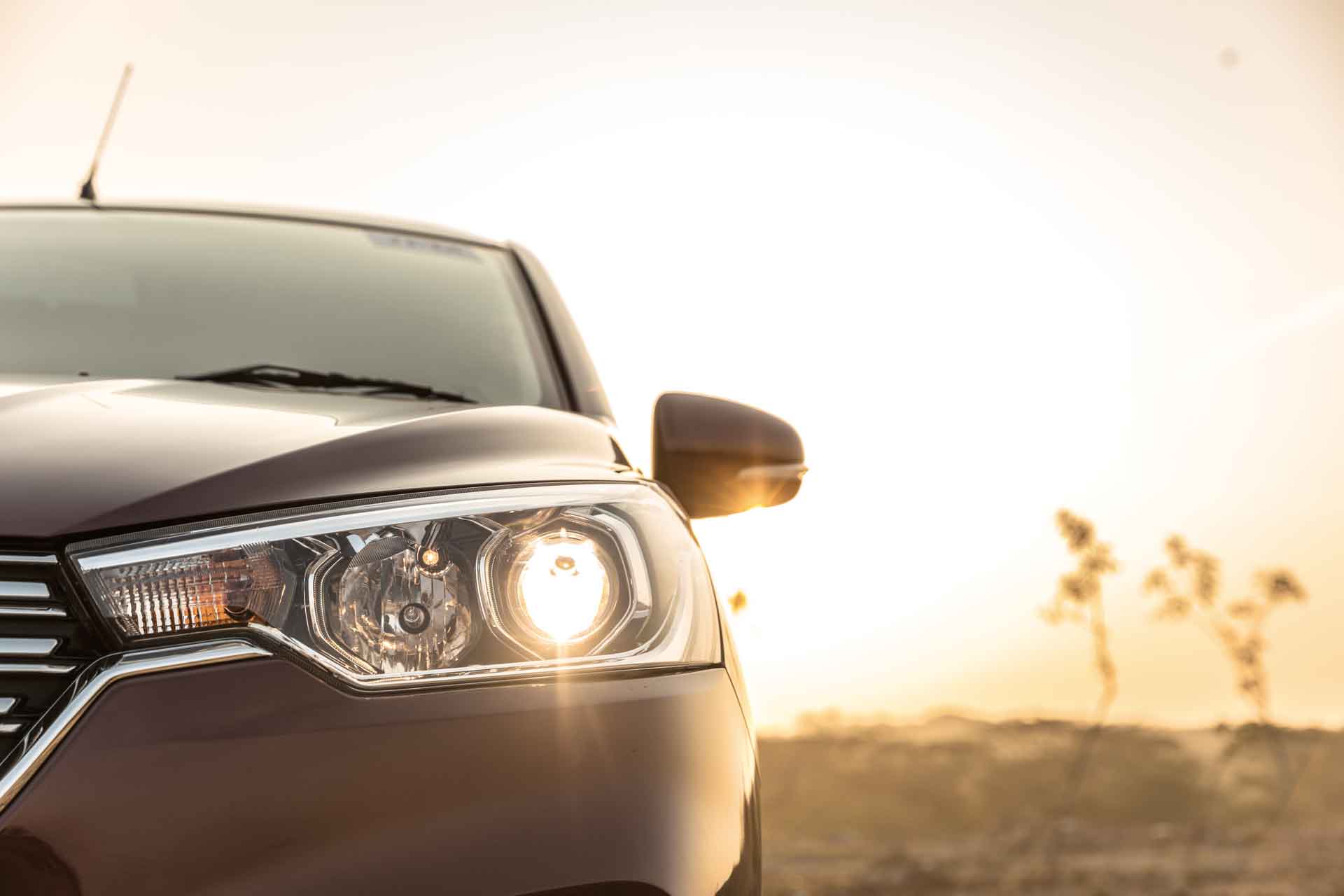 For starters, the car now looks a lot better than it previously did. Its silhouette is more laid back than before, and the proportions seem a lot more in control. I quite like the way the head- and tail-lamps have been redone without going overboard.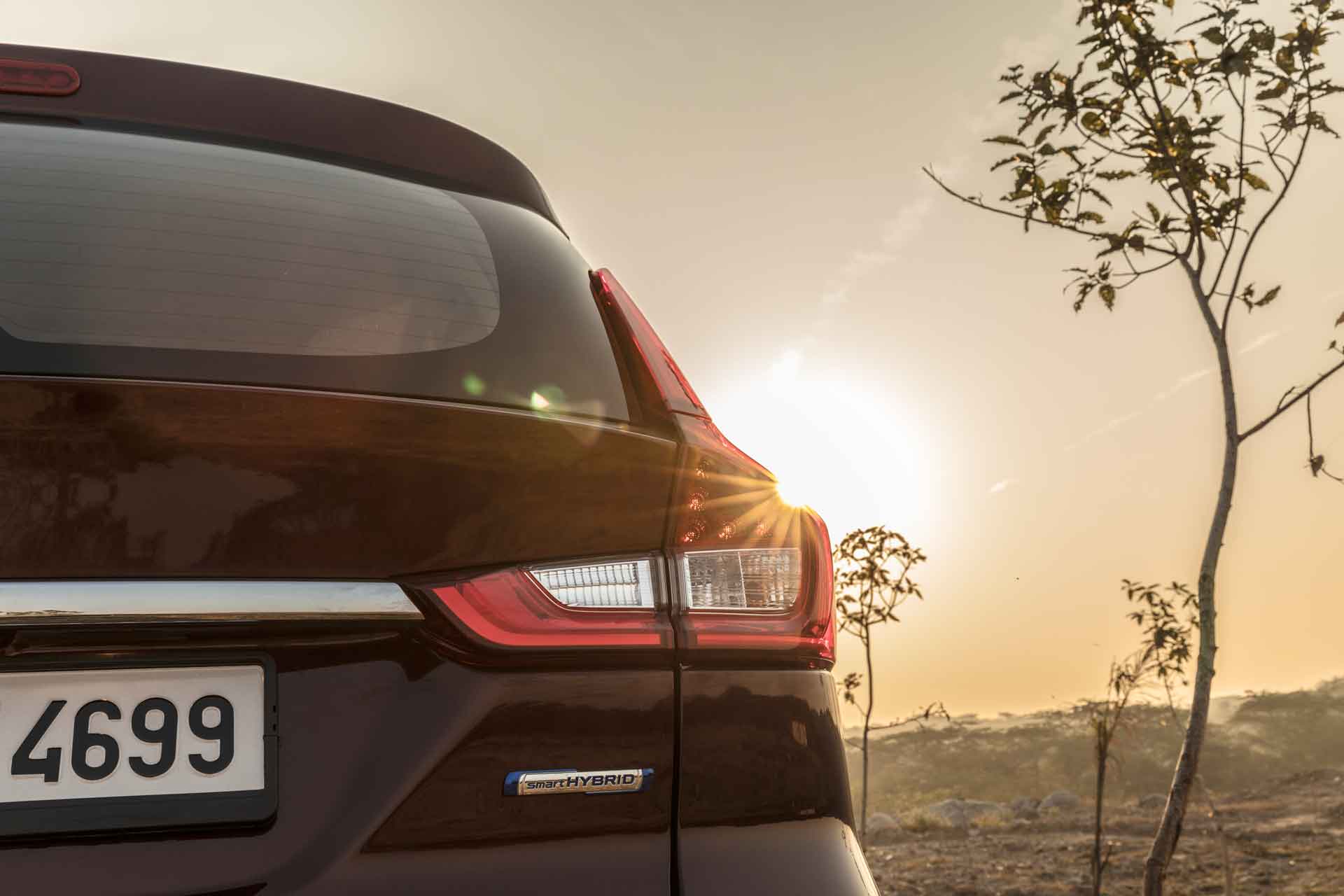 A fair few manufacturers seem to think that blowing up the grille to gargantuan proportions is the answer to the question: 'What would make this car look better and burn an impression into everyone's minds?' The headlamps are projectors, while the tail-lamps have some interesting detailing. Unfortunately, you'll only probably notice it when it's dark. Moving on, the profile, too, is clutter free, and it's all the better for it. I did, however, think that the 15-inchers that our test vehicle was shod with made the car look a little under-tyred, and I'm not gung-ho about the alloy design, either. That's hardly saying that it looks bad in any way, though. Maybe 16-inchers would have made the car look a bit more rounded. And since this is the top-spec Ertiga we're driving, it's likely there's no option to upsize, either.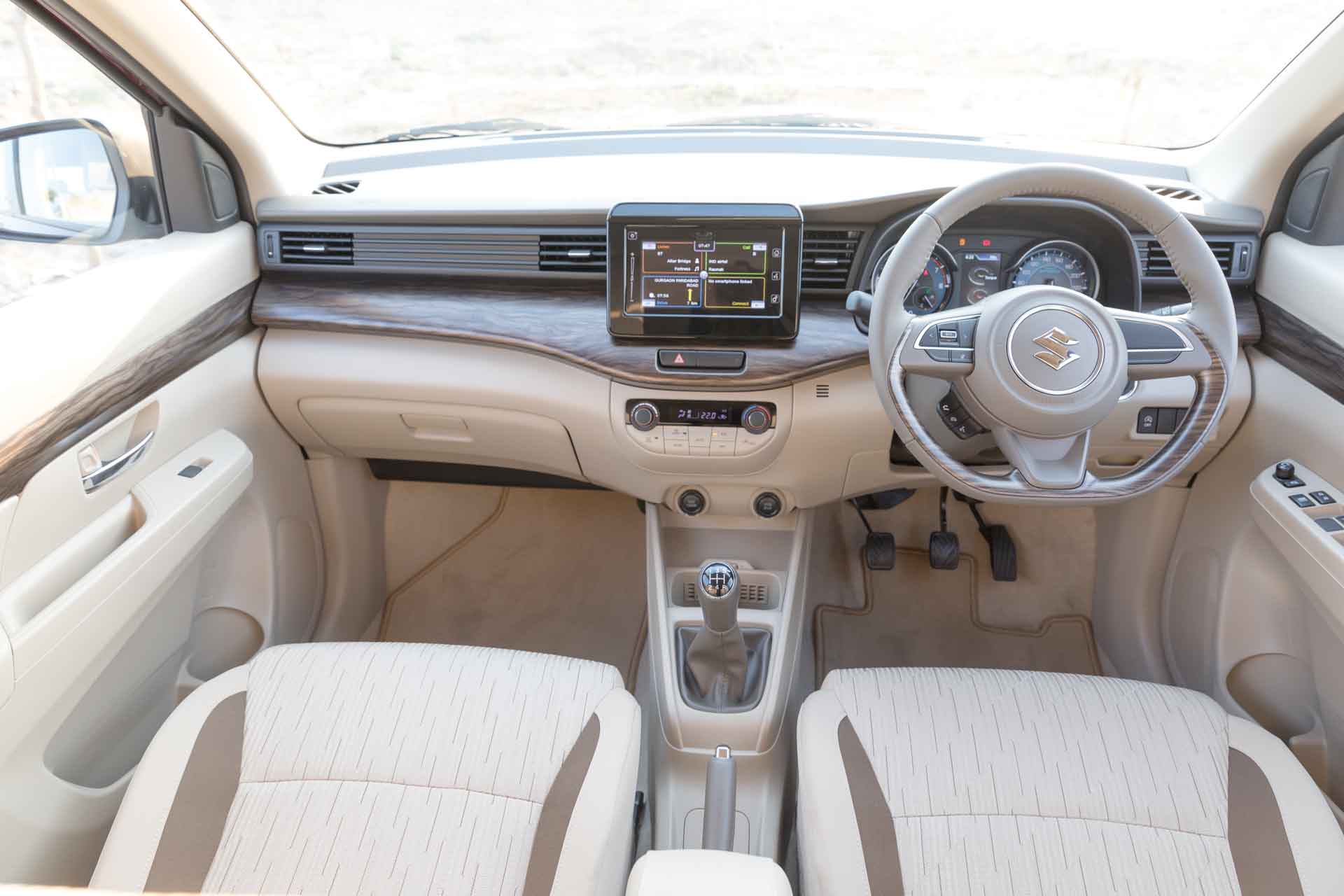 Maruti's done a splendid job on the inside as well. The cabin is functional, it's bright thanks to the dual-tone finish, and keeping everything to a minimum has helped in allowing the cabin to look airy. There's a new flat-bottom steering wheel with your standard fitment of Bluetooth controls and a few buttons to toggle through the in-car menus on it. The instrument cluster mimics every new Maruti around, and that's not a bad thing, really. There's a TFT display sitting snug between the analogue rev counter and speedo. The blue bands running around it indicate that the Ertiga now gets Maruti's Smart Hybrid tech, which I'll get to later. Taking centreplace is a 7-inch touchscreen infotainment system, and if you've been in any new Maruti recently, you'll be well familiar with it. It features both Android Auto and Apple CarPlay, by the way, so that's a good thing. The climate controls are operated via knobs, although the readouts are digital. Overall, it's a minimalistic and fuss-free dashboard, and for that Maruti deserves a big pat on its back.
What I thought could be slightly better, though, was the padding in the seats. I'm not just talking about the fronts, but even the second row seems to be on the firmer side, and for a vehicle that will be put through a lot of long trips, this seems like a bit of an oversight. The flip side is that there's a lot of space on offer. The second row, with the front seats positioned according to my preference (I'm an inch shy of six-feet), leaves me with about three-inches of legroom to spare before my knee starts to jab the driver's lower back. Okay, the seats aren't that thin, but you get the point.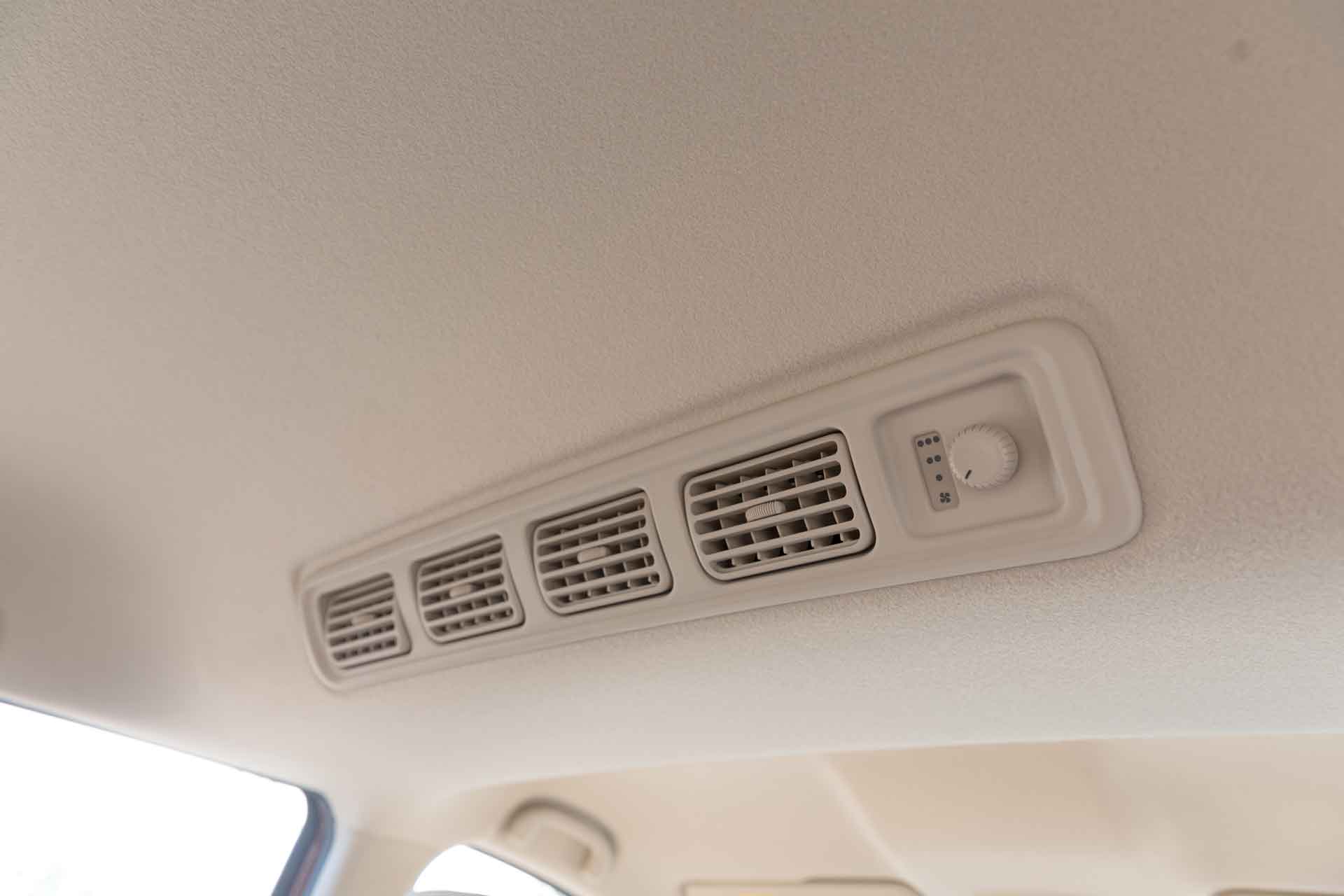 Now, while Maruti states the car is wider than its predecessor, thereby liberating more shoulder room, I doubt three abreast would be a comfortable scenario. There's plenty of headroom, though, and the AC vents for the second row, mounted on the roof, work pretty well, and thankfully aren't too noisy, either, even in the fastest setting. As for the third row, well, it's best to use that space for luggage by flipping the seats down, honestly. Interestingly, the boot space with the seats up is a touch more than 200 litres. With them down, it swells to 803 litres, which is a handy amount to have.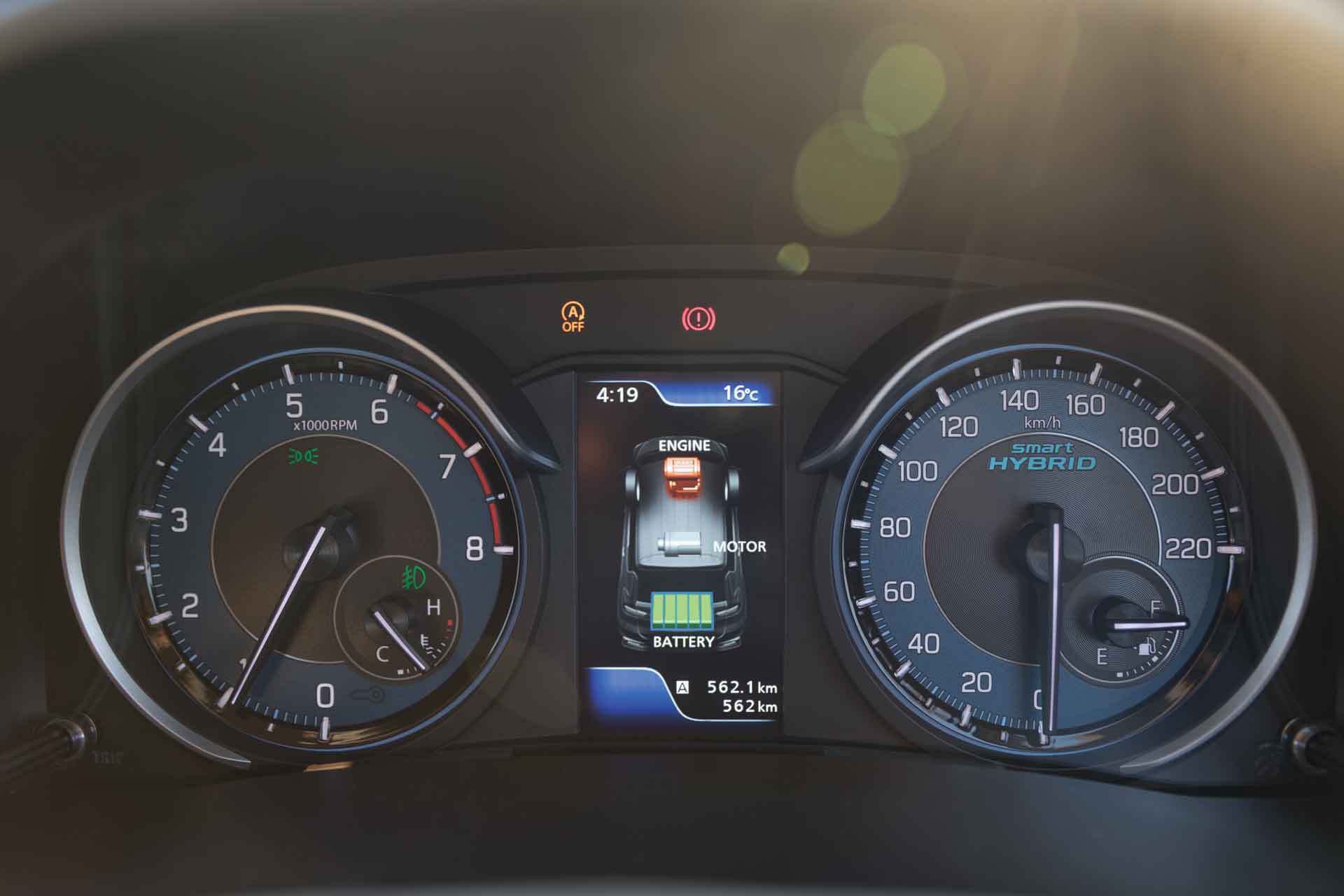 Now, onto the engines. The 1.3-litre diesel remains unchanged, and thanks to a slightly rushed schedule, I'll avoid writing about that one. The focus here, instead, is on the new K15 1462cc petrol engine. It puts out 103 bhp and 14 kgm, and while these figures sound average, at best, out on the road the Ertiga feels very peppy. The clutch is light, and there's enough torque lower down the rev range to get the car rolling without any accelerator. It's a clean, linear pull all the way to the 6250 rpm redline thereafter, and the best part is that it feels like a very eager engine, so you're always tempted to goading it into a later upshift. The Ertiga also features Maruti's Smart Hybrid tech, like I mentioned earlier. What it is is essentially a lithium-ion battery that helps de-stress the engine by assisting during acceleration. This leads to greater fuel efficiency. It tops itself up whenever you brake, which is when it charges itself. There's a neat little icon on the TFT display in the instrument binnacle that tells you how much battery is left.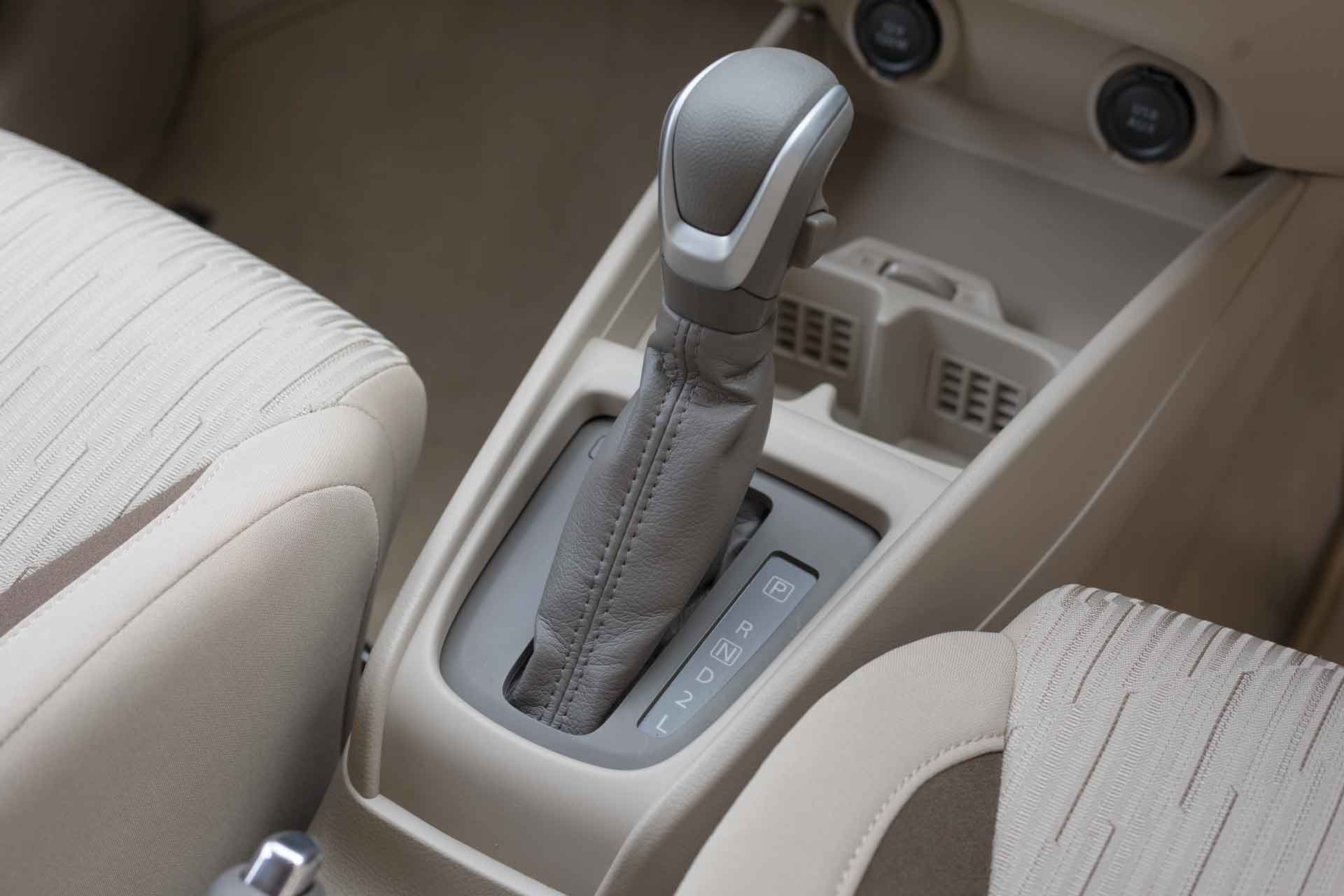 Aside from that, the five-speed manual gearbox works pretty well, too, and it's plenty slick while shifting, so that's another positive. I do wish it came with a sixth cog, though. Cruising on the expressway would have been a lot easier then. What's also commendable is that the steering has plenty of weight, but it's not enough to make city drives a chore. The four-speed AT, meanwhile, works just as well. It's fairly quick with up- and down-shifts, and when you need to overtake in a huff, it's more than able to drop two gears at a time. The only downside is that the engine, the moment you're at anything more than half-throttle, gets a little too shouty. That said, keep the throttle inputs to a minimum, and it'll more than happily amble along town. There's no AMT option because Maruti deems the Ertiga a bit too large and powerful for it. We're not complaining.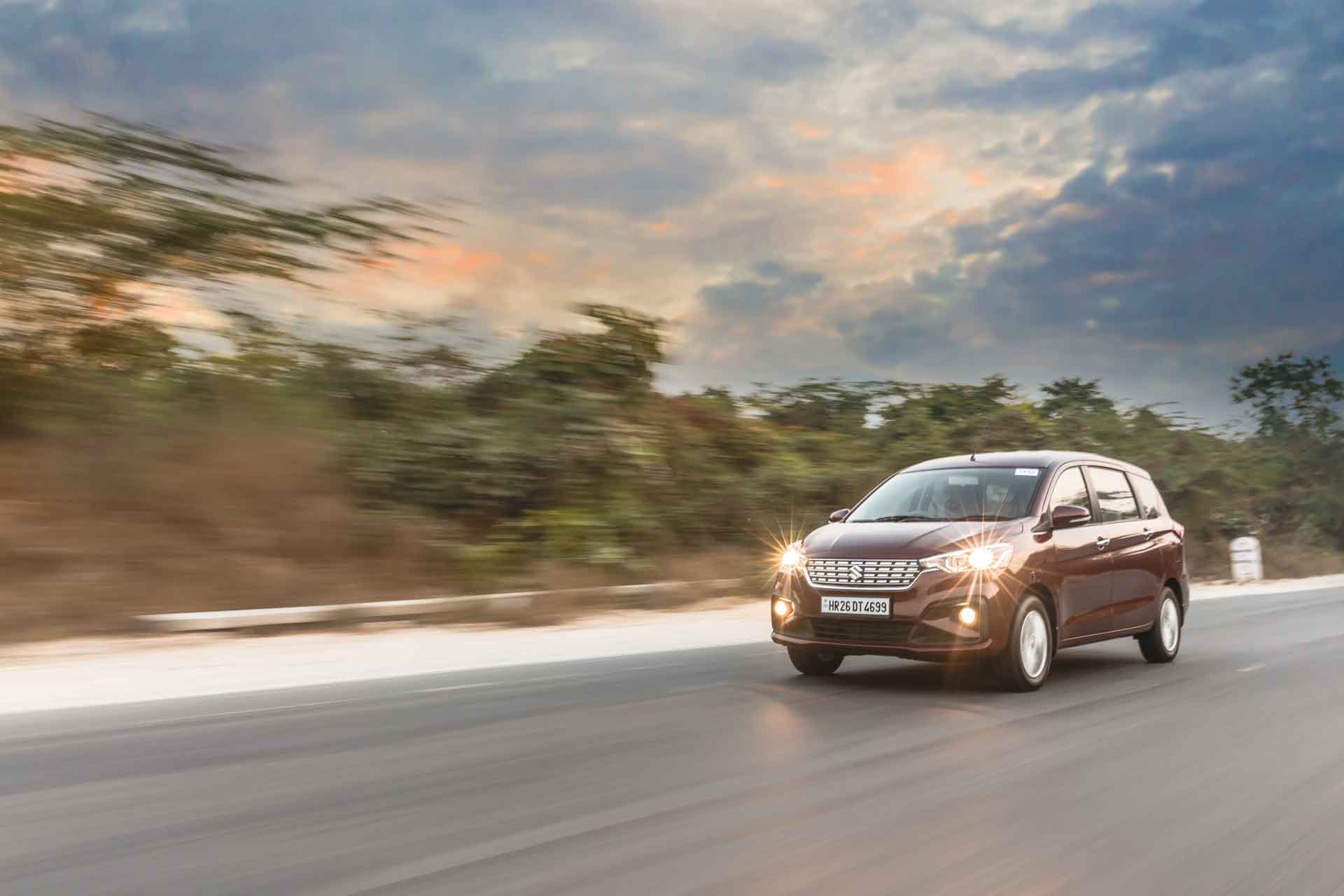 It would be unrealistic to expect the Ertiga to handle any better than it does, because the truth is that you can feel the weight of the car shifting as you round a bend at above-average speeds. Body roll isn't too bad, but if you push it hard enough, it's plenty evident. As for the ride, Maruti's decided to set it up slightly on the stiffer side. It's not uncomfortable, mind. If anything, it's great at higher speeds because the car doesn't bounce around on bumps as much as you'd expect it to. This will pay off heavily when there are a lot of people in the car. Even at slow speeds, the Ertiga manages to grind along bumps and craters without too much trouble. It doesn't exactly smother them, but it keeps things comfortable enough.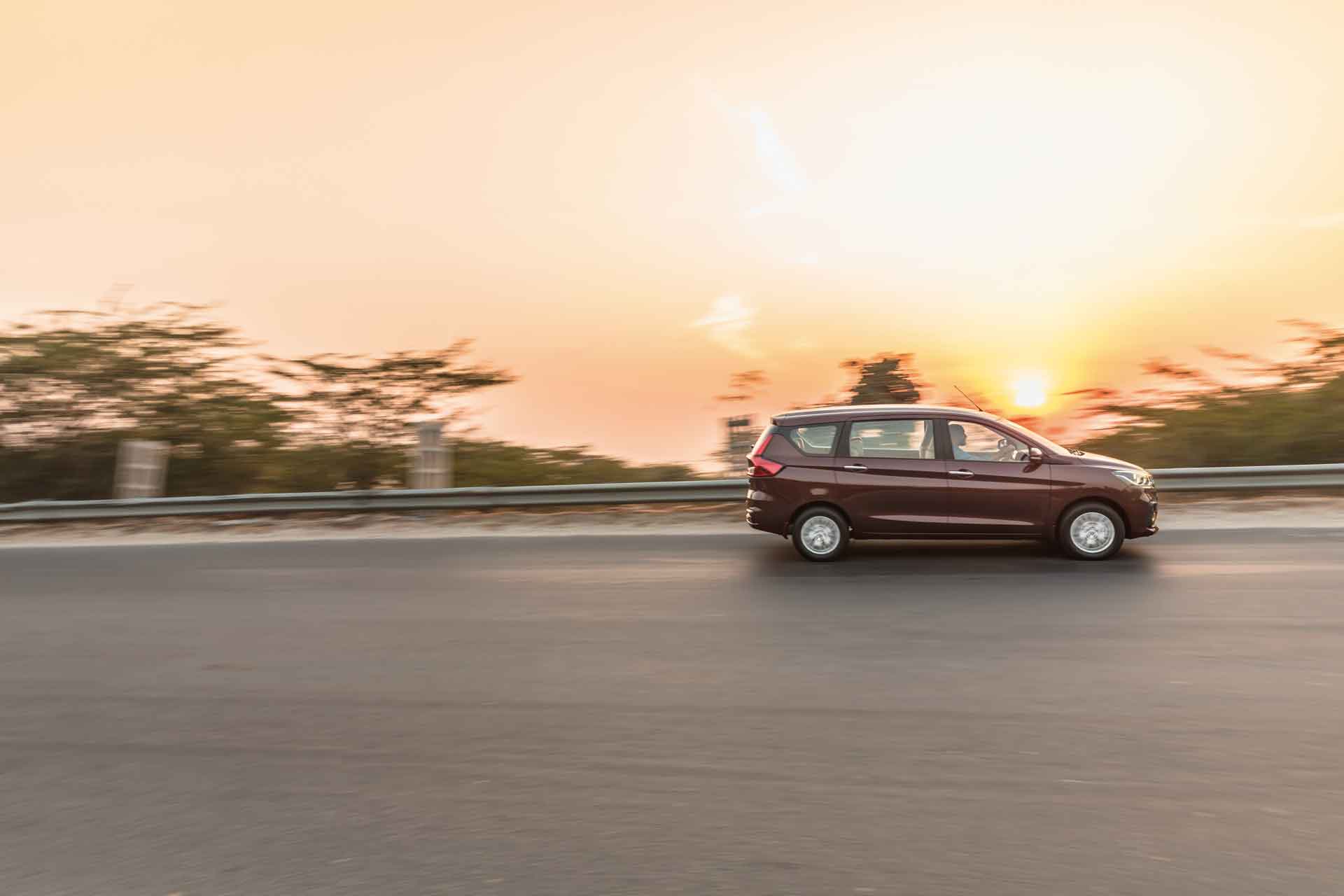 It's plain to see that Maruti's done another cracking job here. Not only is it good looking and capable, it's also got plenty of features to play with like Hill Start assist, cooled cup holders, a reclining third row of seats, ESP, dual airbags, ABS with EBD, and that rather questionable high speed alert system. Pretty much checked every box that's expected of them, really. You can get the new Ertiga at a starting price of Rs 7.44 lakh (ex-showroom), but don't go for the no-frills one. The Ertiga's a lot more worth it once you climb up the ladder. The top of that ladder will cost you Rs 10.9 lakh, and even though this represents an increase of roughly Rs 50,000 over its predecessor, it's a very justified premium, if you ask me. There are six petrol variants to choose from (including the automatic trims) and four diesel variants, which makes it more than likely that there's an Ertiga out there that will suit your needs. Get cracking, then!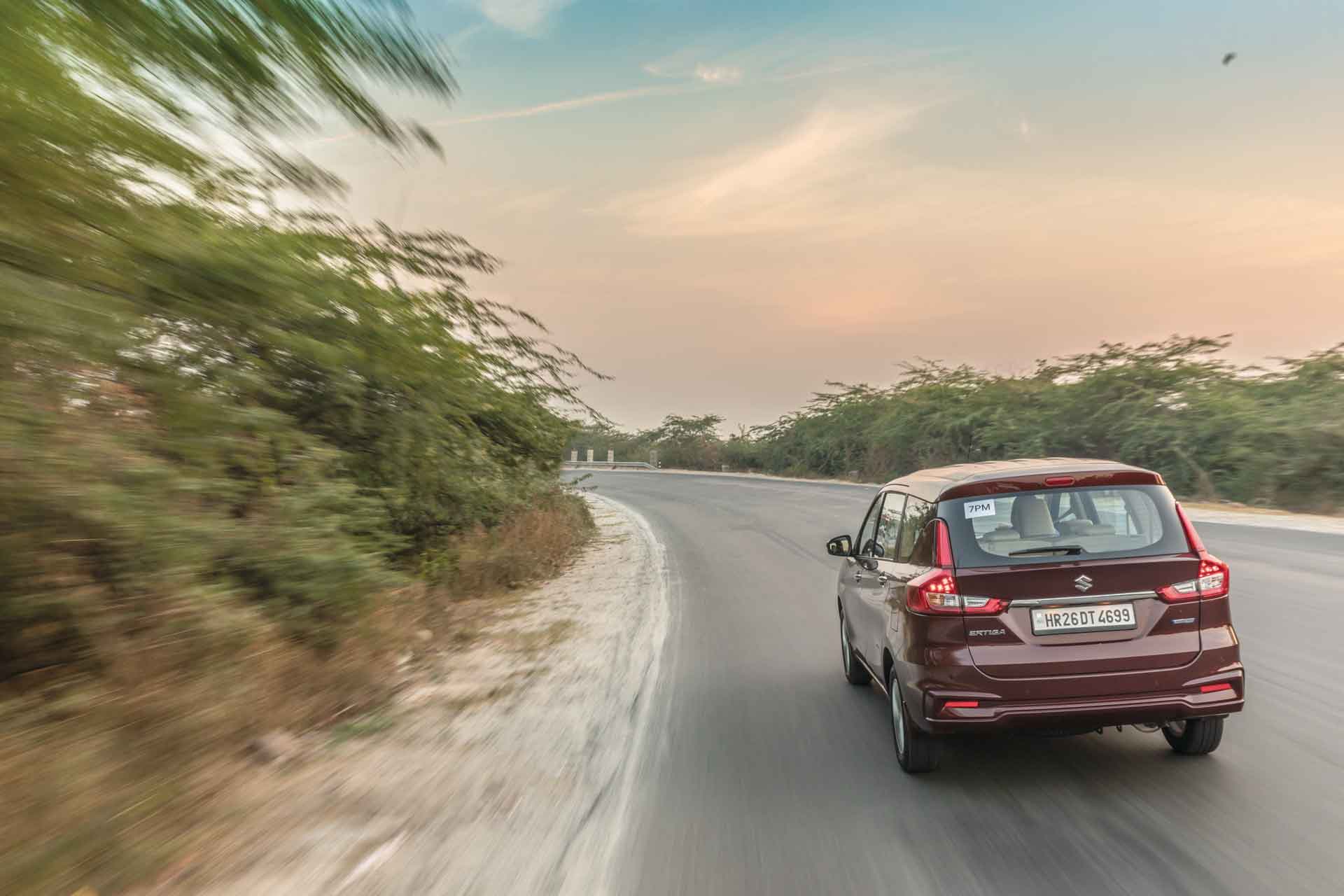 AUTODATA
Maruti Suzuki Ertiga ZXI+
POWERTRAIN
Displacement: 1462cc, i-4, petrol
Max power: 103 bhp@6000 rpm
Max torque: 14 kgm@4400 rpm
Transmission: 5-speed, manual/4-speed auto
TYRES
F/R: 185/65 R15
DIMENSIONS
L/W/H (mm): 4395/1735/1690
Wheelbase: 2740 mm
Ground clearance: 165 mm
Kerb weight: 1135-1170 kg
Fuel capacity: 45 litres
PRICE: Rs 7.44 lakh to Rs 10.90 lakh (ex-showroom)