Photographs by Vishnu G. Haarinath
You did it. You just sunk half an SUV,' I remember thinking. But before my mind went into severe panic and decided to make me call for help, I figured I'd give it one more shot. My elevated heartbeat aside, the day was calm and pristine. A gentle breeze made the trees around me sway, and the cows didn't seem perturbed by the fact that there was a Land Rover Discovery at a 45-degree tilt with two wheels submerged in what seemed to be (from my eyes, at least) a shallow patch of water. The old 'chuck a stone into the water to see how deep it is' trick proved otherwise, of course. That, and the fact that the Discovery was at a 45-degree tilt to its left. Oops.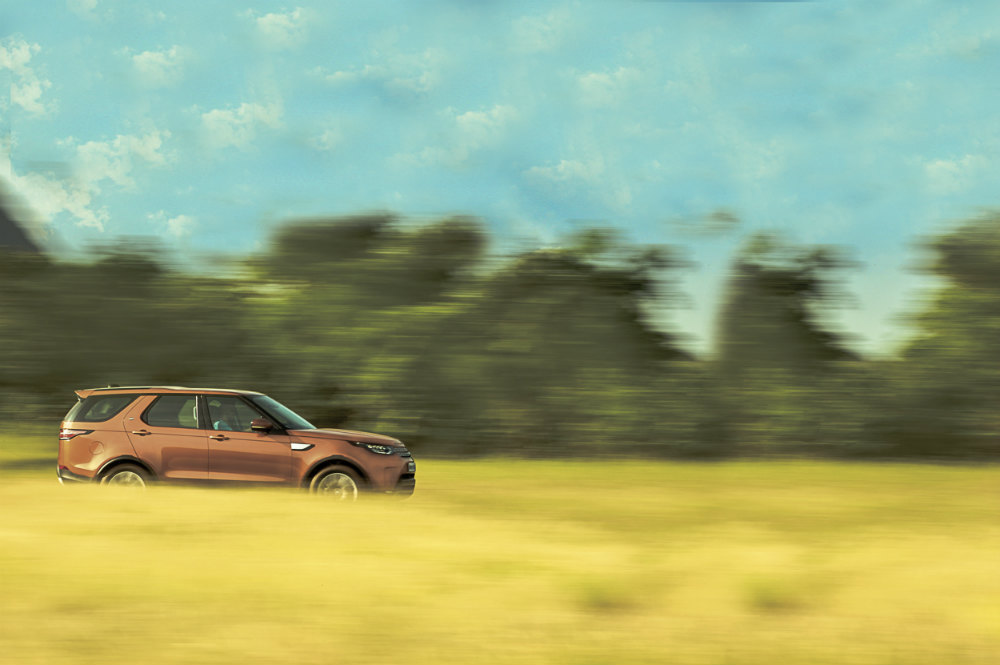 This, I believe, is a good way to start this story. It's also a good test of its claimed 900 mm water-wading depth. The short and long of it is that its claim is verified. Yep. Time to move on. What you're looking at isn't to be confused with a Range Rover. It's not even a Range Rover Sport. It's, in fact, an SUV that sits atop the Discovery range, which is itself a handy thing to have off the road. So what's the deal with this new Discovery 5, you ask? Well, Land Rover wants you to think of it as the best of both worlds, really. Terrific off-road cred coupled to bonkers luxury. That's the brief at least. I have a job today because it's up to me to figure if there's any truth in that proposal.
What we know so far, then, is that it can wade through a serious amount of water. That's a job well done. I can't tell you how many times I've needed something to get past the muck and filth and drain water that inevitably spills onto the roads in Mumbai during the monsoons (I can, actually. Seven). And thanks to the overly generous 283 mm of ground clearance and near water-proof innards, it's got that bit down pat. What about the nerve-wracking off-roady bits?
Well, this is where the Discovery comes into its own. For starters, the air suspension is adjustable. It can go from a relatively road-hugging ride height right to something that looks like it was sent to Pimp My Ride for an over-the-top (literally, in this case) customisation. Then, there are the off-road modes that you can program for conditions like sand, snow, mud, rocky surfaces, and there's even a low-ratio setting included. We took it through some pretty rugged stuff and it just didn't seem bothered by any of it, so that's another job well done. Approach and departure angles are pretty good, too, for an SUV this size. Not to say that the overhangs are short, because they aren't, but there's really not much out there that'll perturb the Disco. I'd give it a solid 10 for its off-road abilities.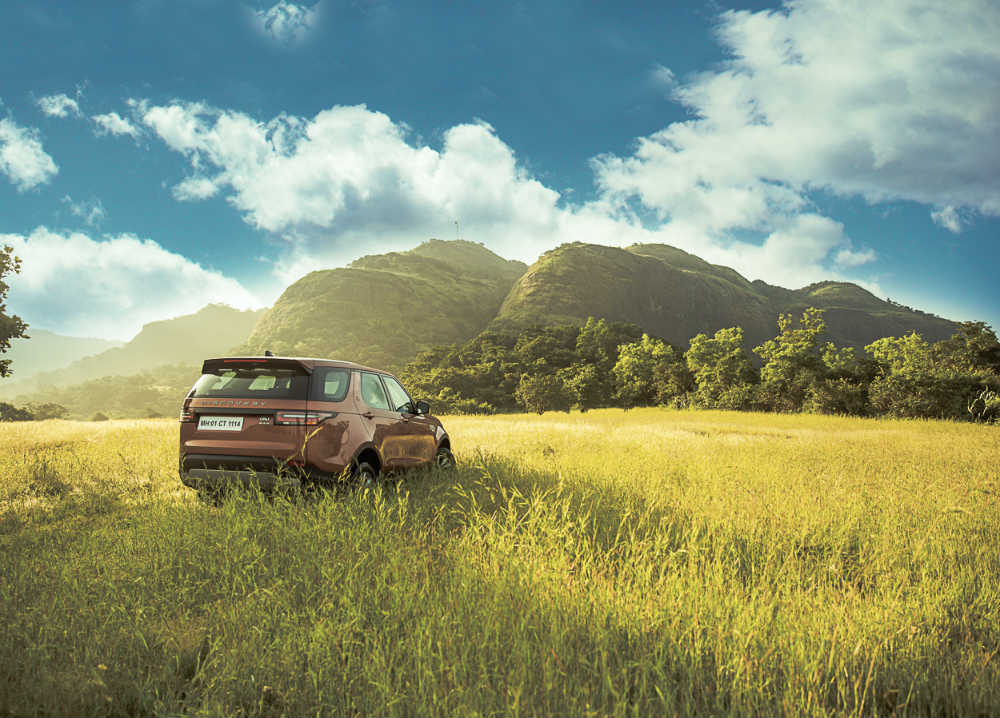 This thing can seriously cake-walk over post-nuclear-devastation-esque roads.
So if it behaves like a Discovery Sport off the road (better, in my opinion), is it akin to a Rangie on it? It's close, but no cigar. The Discovery we have here comes with a 3.0-litre petrol V6 that makes 335 bhp and 45.8 kgm. Now, those figures aren't puny by any yardstick, but they're somewhat dwarfed by the sheer size of this thing. It's a willing and responsive motor but it just feels like there should be more grunt. Sure, you can open it up and make the engine sing to around 6500 rpm (where it sounds great, by the way. There's a real snarl that comes in near the rev limit) and it'll go there with astonishing urgency, but the fact that it weighs around about 2.2 tonnes is a deterrent that you can't ignore (this is despite the Discovery being built on the Range Rover's all-aluminium monocoque). It was right after a run in the Disco on a fast and empty bit of road that I felt this, and upon later checking up the fact book, it dawned on me that what I felt was just that — a feeling. It had no basis because the Disco in this spec will get you to 100 kph in 7.9 seconds. Not only is that fast for an SUV that's not been fettled by a manufacturer's tuning arm, it's fast. Full stop.
What's astonishing is that if you take it around some bends at speeds that will have your passengers screaming, well, that's all right, too. A lot of this has to do with the thin-rimmed steering wheel and the feel and feedback it gives you. There's no jitteriness when you're hauling all of its 2.2 tonnes, there's no hesitance, and there sure as heck isn't any rebound when you run over a bump. There's just a whole load of confidence. That's bloody impressive, if you ask me. The unit's an electric one but honestly, there were times when I questioned if it was a hydraulic unit. Of course, the air suspension also has a lot to do with this. It flattens any and every thing above 50 kph, so the ride's as plush as it gets, but I have to admit that at crawling speeds you'd expect it to ride a bit smoother. Big bumps and craters catch it out, and I know the large profile of the wheel is to blame, but I still expected more in this regard. The gearbox is decently quick, too, but far from the most sophisticated units out there. You can use the paddle shifters to get more control, but I'd suggest keeping it in drive mode for the most part.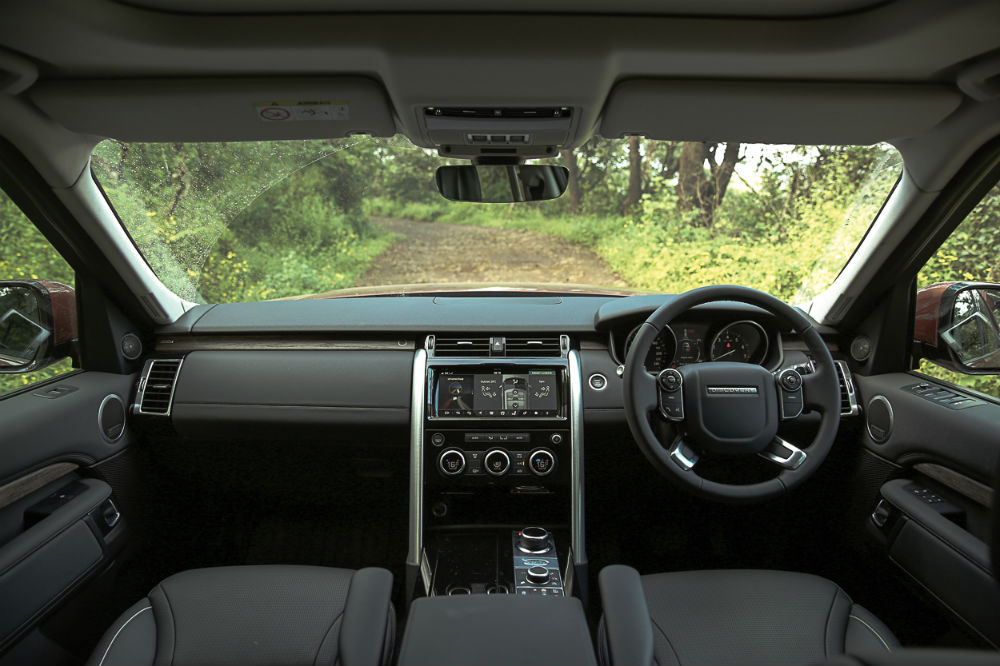 That's that, then. As for the aspect of getting people around, the only way you'd be able to ferry people more comfortably is if you plonk your money down on one of the big Bentleys or the Rolls. There's a tonne of space inside, and everything is electrically adjustable, including the second and third row of seats. The controls for which you can either access from the touchscreen up front or you could even use a set right at the back once you pop open the hatch. Again, mighty impressive.
As far as cars go, the new Discovery's pretty complete. As far as SUVs go, it's bloody impressive. This can easily handle all of your off-roading requirements in one shot, and you'd be looking mighty good while doing it, too. The new Discovery, then, is a triumph for Land Rover. It's an SUV I didn't think we needed until I drove one, and that's saying something considering I prefer them with a much shorter roof. Downsides? It's thirsty. The petrol 3.0-litre V6 maxed out at around 5 kpl overall. Sure, I wasn't exactly limping, but add another kpl or two to that and you'll have a realistic figure. If you want to rectify that, just spec the new Discovery with a diesel engine. I seriously doubt you'll want much else in life thereafter. How's that for an endorsement?
More photos of the Land Rover Discovery are available in our photo gallery here.
AUTODATA
Land Rover Discovery
POWERTRAIN
Displacement: 2995cc, V6, turbopetrol
Max power: 335 bhp@6500 rpm
Max torque: 45.8 kgm@3500-5000 rpm
Transmission: 8-speed, auto
TYRES
(F/R): 285/55 R21
DIMENSIONS
L/W/H (mm): 4988/2220/1846
Wheelbase: 2922 mm
Ground clearance: 283 mm
Kerb weight: 2246 kg
Fuel capacity: 80 litres
PRICE: Rs 71 lakh to 1.07 crore (ex-showroom)