Photographs by Vishnu G. Haarinath
There are lots of ways to look at the new Honda Amaze. There's the front, the rear, from the back of a truck, the profile, from a planet far, far away, or even just from a layman's perspective. Forget about the changes that Honda's made for a moment (of which there are quite a few, might I add). Try and rid your mind of the rather mediocre, soulless A to B that the previous Amaze was. Focus, instead, on looking at this as a car that's all new and sans reputation. That, I believe, is the best way to look at the Amaze.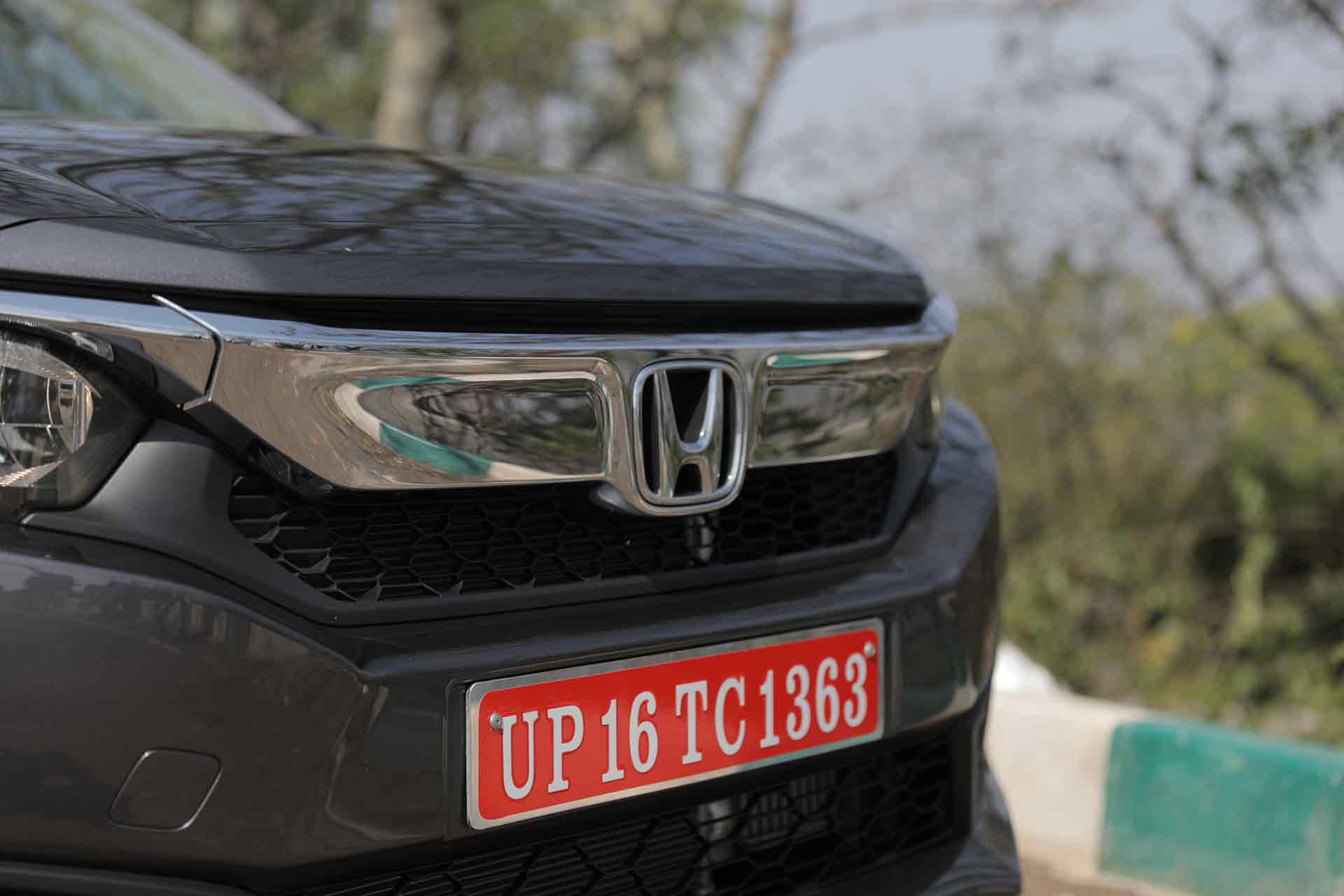 When you do that, you'll be confused, much like I was, at the way the new Amaze has been styled. Don't get me wrong; it's a huge departure from the previous one and looks tremendously better, but that's not saying a lot when your starting point isn't the greatest, is it? The stubby front looks pretty neat in my eyes viewed head-on, but any other angle will make you believe that Honda's designers kind of decided to flatten it by whacking it with a frying pan. The rear is a much more appreciable effort. There's a solid, flattened rear, and those tail-lamps do look quite bold, if a bit inspired. I also quite liked the 15-inch wheels that the new Amaze runs, however they will only be offered on the higher V and VX trims. The E and S models will make do with 14s.
The Amaze runs on an all-new platform, unlike the previous one, and because of the use of high-tensile steel, the weight reduction comes in at 40 kg, which is pretty damn impressive. It's also longer, wider, taller, and has a wheelbase that's 65mm longer. This results in a roomy cabin, which I'll touch on in a bit.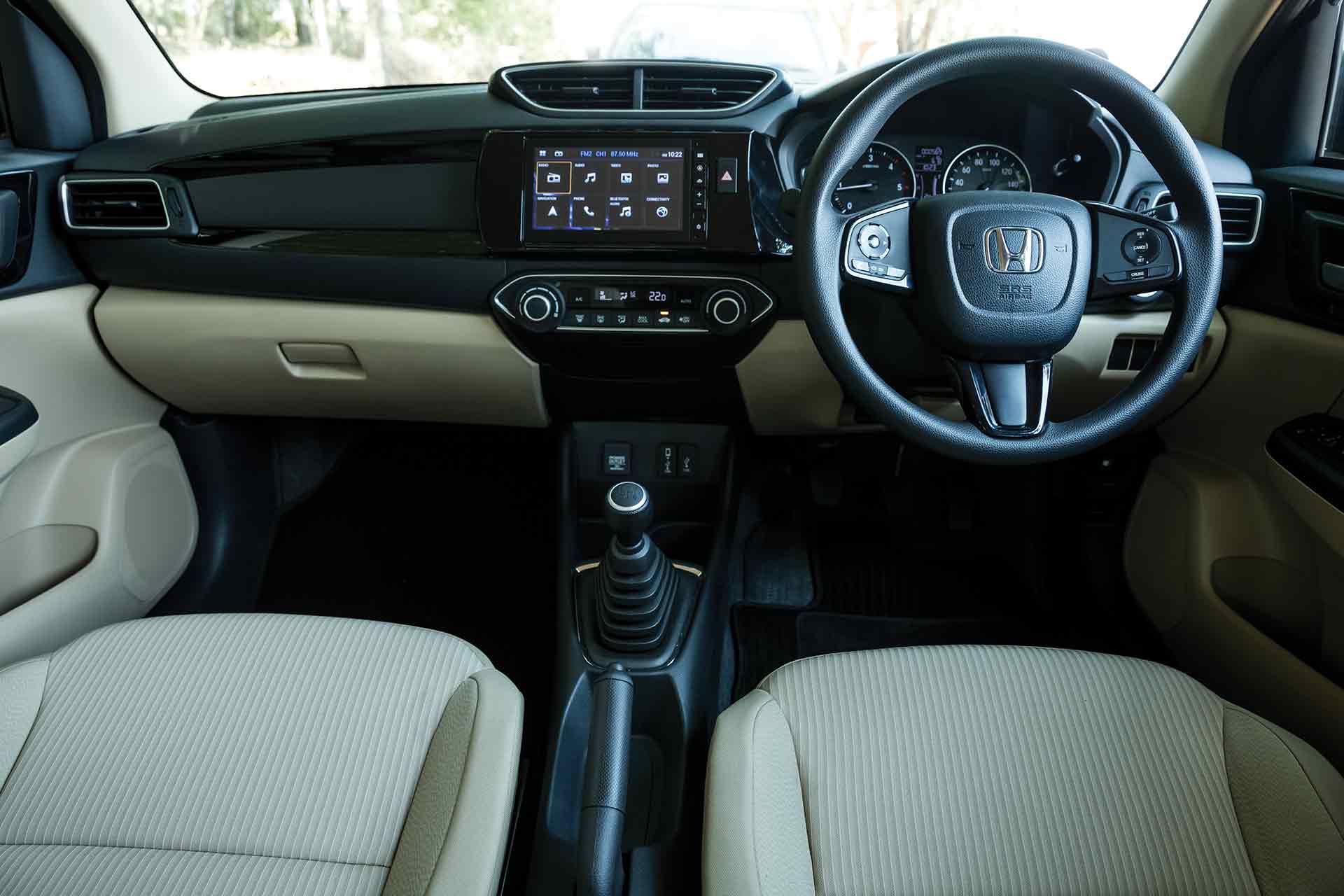 The insides is where I feel the Amaze has pulled its strongest card out. It's a pretty neutral design, but the quality of the materials used is excellent. Everything feels chunky and sturdy; a design that will last for a fair bit. Perhaps the only weak point is the touchscreen unit which, while being perfectly easy to use, still looks ever-so-slightly aftermarket. The touch sensitivity itself is good, though, as is the user interface, and it even gets Android Auto and Apple CarPlay, so rejoice, ye tech nerds.
What's commendable is that the Amaze's seats are really quite comfortable. We did a not inconsiderable 200+ km over a single day, and none of us had any issues. Granted, there were multiple stops and driver changes, but that still doesn't negate the fact that it's a great bunch of seats in the Amaze. The rear, too, had considerable legroom and thigh support, and this was with a person who was 5-feet 11-inches sitting up front. Not bad? Not bad at all.
The key bit here is the way the Amaze drives, though, and to cut straight to the point, I am thoroughly impressed. Keep in mind that this review will only be focusing on the diesels. More specifically the diesel manual and the diesel CVT, the latter being the first time Honda's used a CVT mated to a diesel engine. For starters, there's a 1498cc, inline-four cylinder DOHC engine that's common to both transmissions. What's not, however, is the power output. If you pick your diesel Amaze with a manual gearbox, then your engine produces 99 bhp and 20.3 kgm. Were you to ditch the manual and go in for the CVT, your output would go down significantly to 79 bhp and 16.3 kgm. Odd? Well, not quite. It's all to do with losses expected due to slippage of the belt in the CVT, and Honda's simply detuned it to ensure it can manage every possible load thrown its way.
That said, though, how do they drive? Well, the diesel manual is typical and quite reminiscent of the previous Amaze. It's got a strong mid-range, but nothing much happens either side of it, so if you're planning to drive briskly, you'll have to work the gearbox constantly to stay in the midrange. In traffic, it is a bit cumbersome, I admit, and it could do with a bit more torque lower down the rev range, but it's not so bad that you'll be stalling it every other traffic signal, either.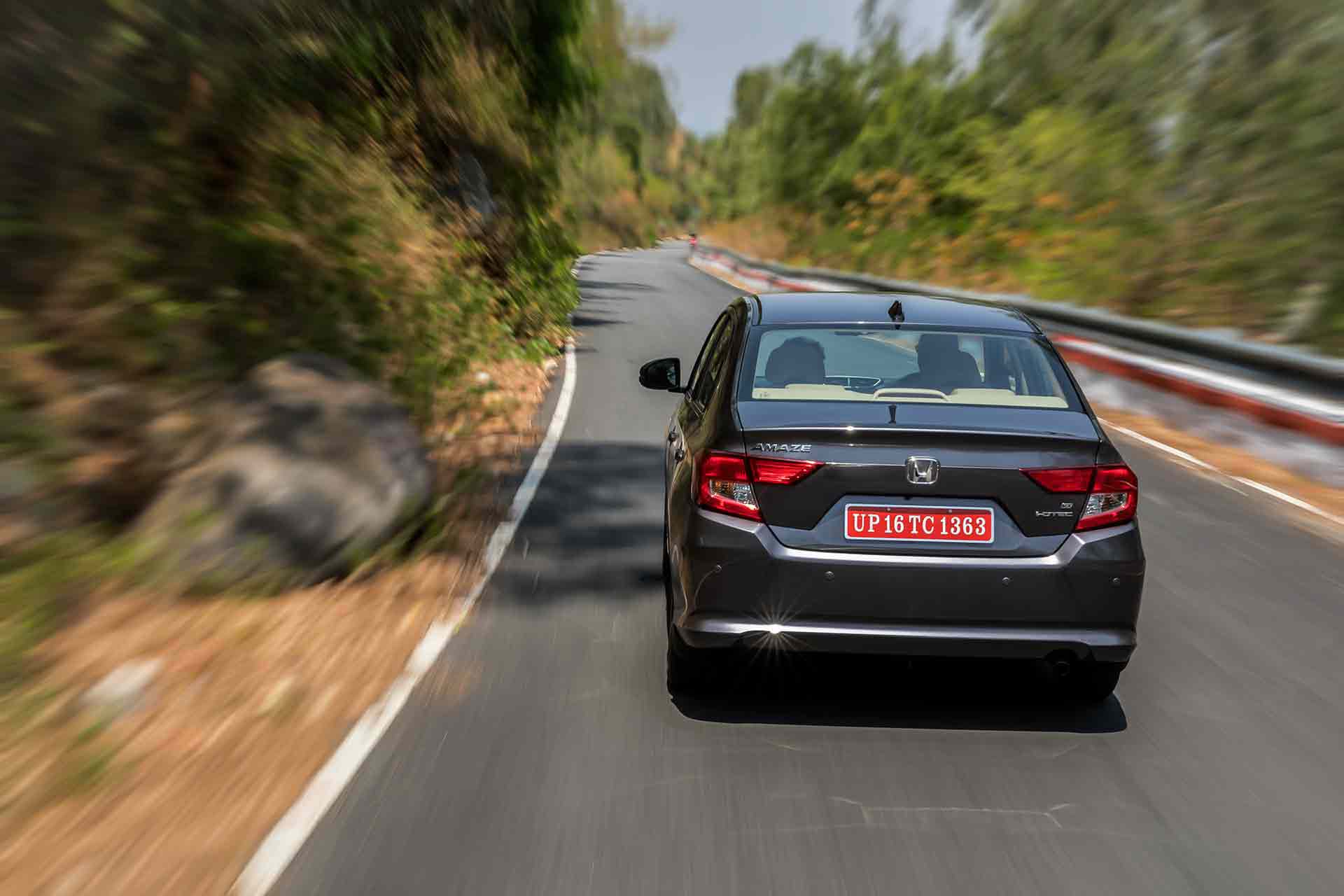 We were driving the new Amaze on Bangalore's outskirts, where the roads do open up decently, so there was a chance to push the Amaze to see just how far it'd go. The end result is that it's still locked at around 150 kph. Now, while you can get to that speed, progress beyond 120 kph isn't really quick, per se, so it's best to keep this tank under that, really. The gearbox is a decent unit, with shifts generally slotting in without much of an effort, but I really wonder whether Honda should have thought about a gearbox with six ratios on this. Could have helped keep the revs low at a higher speed while cruising on an expressway.
Nevertheless, on to what I believe is the star of the package — the diesel CVT. Obviously, knowing what I did, I got into the CVT-equipped Amaze slightly apprehensively. It's not like the diesel manual was particularly quick, so a drop in output was the last thing the diesel needed. None of that was true, though. The CVT worked like an absolute charm. It shifted smoothly, it rarely felt underpowered, and the car seemed to just come alive when you slotted it into S, which slightly hurries up gear changes and keeps the engine in the meat of the torque band. I honestly think Honda's gotten away with a bit of magic here; the diesel CVT's that good to drive.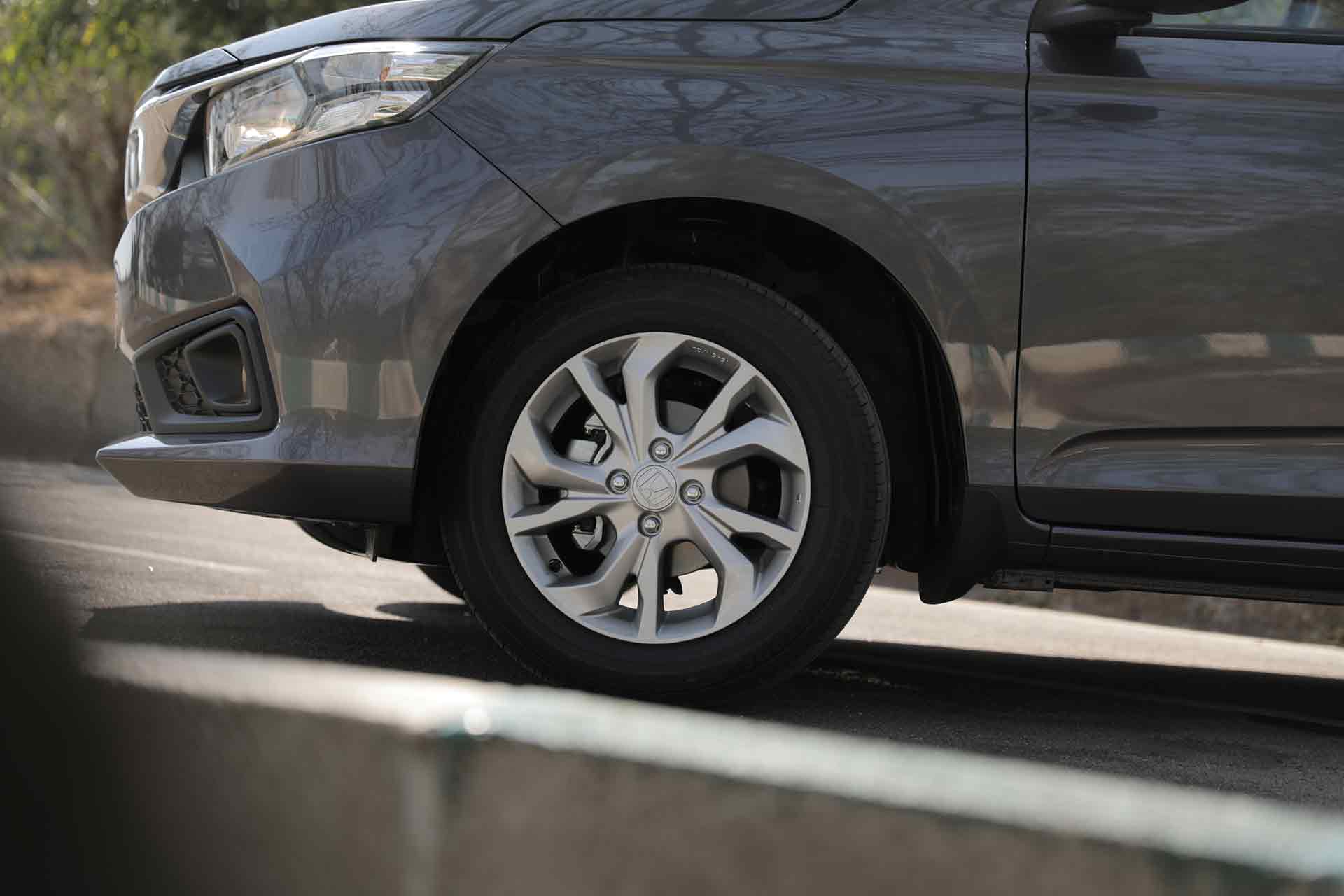 Now, when it comes to handling, the Amaze is, predictably, fairly neutral. It doesn't like being pushed too hard, but it's okay with you occasionally driving like a bit of a t**t. Body roll isn't glaringly evident, and the Amaze does what you need it to for the most part. What isn't that nice, however, is the ride. I constantly found the Amaze bouncing around at higher speeds more than it needed to which, obviously, puts a bit of a dent in your confidence. The suspension is set up slightly on the softer side, which pays off handsomely in low-speed traffic scenarios, but just ensure that you're not pushing the car beyond its limits (read: 120 kph) to retain that comfortable ride.
Overall, I think this is one of Honda's strongest efforts to date. The looks may not be to everyone's tastes, but they grow on you really quickly. So much so that by the end of a day with it, I actually think it's quite nice to look at. Once you pair that with a good-looking and comfortable cabin, a strong diesel engine (especially when paired with the CVT), and the fact that it does pretty much what's asked of it throughout, I think you've got something great going on. Honda's looking at a mid-May launch for the Amaze, so keep your eyes peeled for the prices. This should be a good one.