I've been standing on a hot and dry lake bed in Rajasthan all day. The sun has roasted my skin and hair, dust has settled on both, and the sun has baked that too. Without the mercy of shade, I've been distracting myself with relevant questions like 'What is a compact utility vehicle?', 'Does such a thing exist?', 'Does it need to exist?', and 'And if it does, what do people think of it?' Of course, the sun hasn't quite managed to drive me mad just yet. I'm posing these questions to myself thanks to what stands in front of me — the new Ford Freestyle. Well, at least that's what the name would have you believe.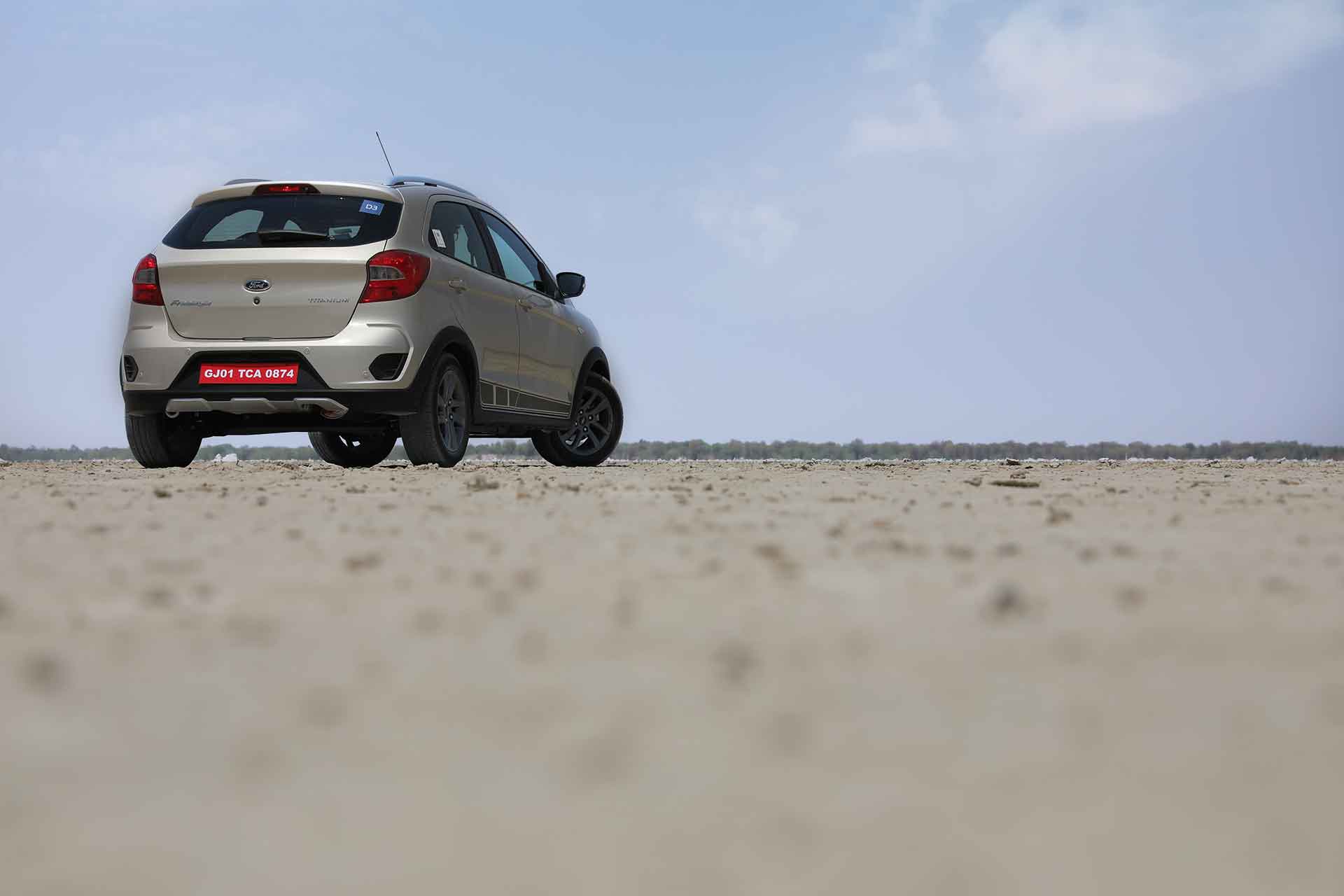 The Freestyle follows in the tyre tracks of crossover-ed hatchbacks (crossbacks?) like the VW Cross Polo, Toyota Etios Cross, Fiat Urban Cross, Hyundai i20 Active… hang on, the Freestyle is hands down the winner when it comes to the name as it neatly avoids being crossed or suffixed. And that's already a refreshing sign, especially considering it's based on the Figo hatchback. Which, of course, is no bad thing. Not when the Freestyle takes things up a notch.
Visually, I find this sub-segment of cars a bit amusing, like little boys trying to look as scary as they can. The Freestyle gets suitably rugged garnishing in keeping with its adventurous aspirations. A new grille and a more aggressive front section are the biggest changes to a familiar face. It gets 15-inch wheels that add to its 190-mm ground clearance and black cladding running along its bottom. That's about it for the major aesthetic changes. And it manages to not look funny, too.
The roof rails are another addition, rated for carrying a maximum of 50 kg on the roof. For those who won't follow rules, Ford has also installed an active rollover protection (ARP) system that works with the electronic stability control and brakes to correct any stupidity on the driver's part. It also gets traction control and hill-launch assist, and all of this combined with the widened front and rear track makes for a car that is confident in taking on terrain that would beat up a regular hatchback.
Mind you, don't eye the INRC entry form already; the Freestyle is capable, but within reason. It's meant to subdue bad roads, not no roads. Okay, it might even take on a few dirt trails and escape unscathed. But it's still very much a crossback. Which means it'll impress you for sure, but don't put unrealistic expectations on its roof.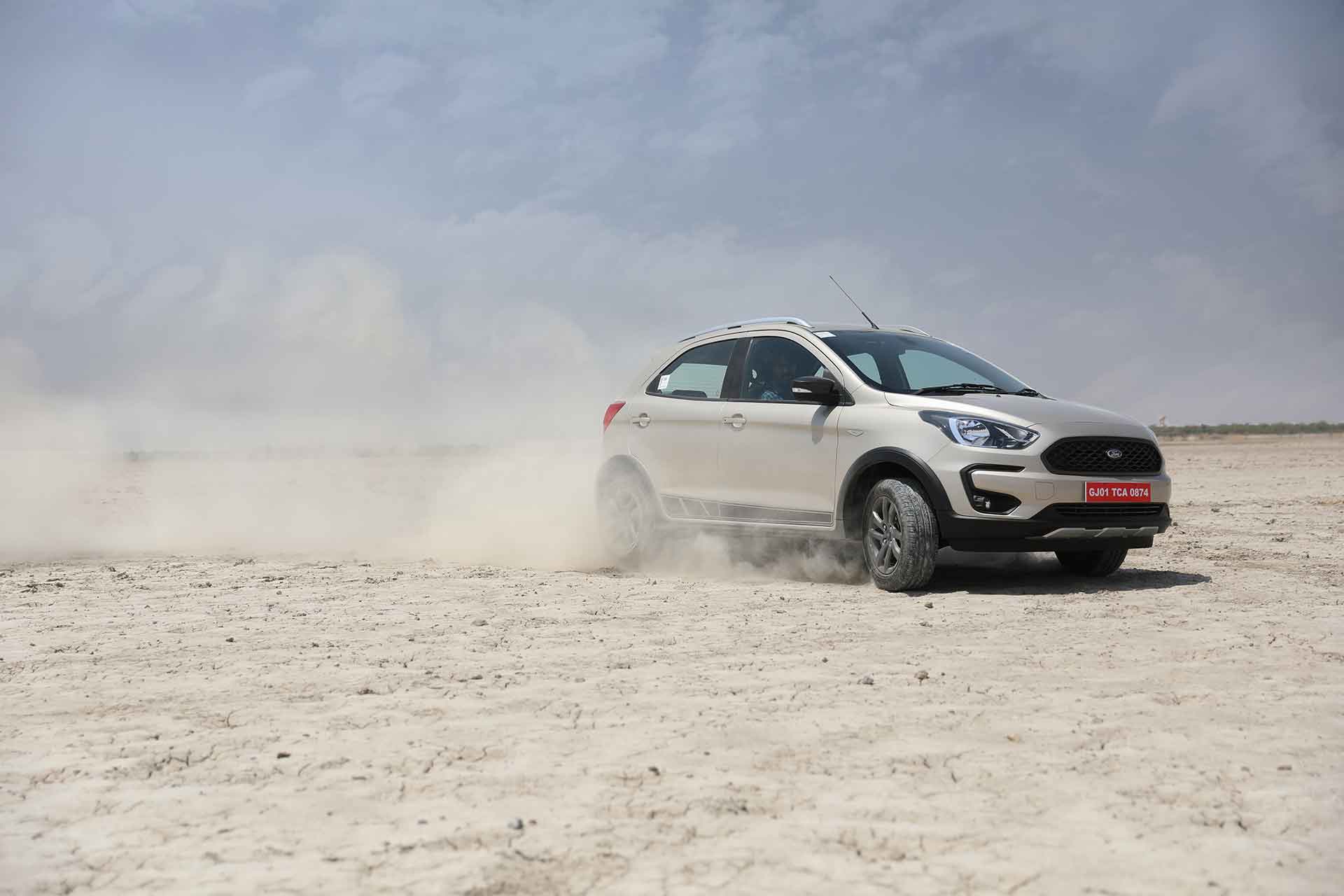 The Freestyle also gets a new 1.2-litre three-cylinder petrol motor that spins its front wheels with all of 94.7 bhp and 12.23 kgm. Those are sweet everyday numbers and stomping on the Freestyle's loud pedal confirms what the spec sheets so drily declare. It also comes with the now-familiar 1.5-litre diesel, but since I drove only the new petrol avatar, I'll stick to it. What both motors get, though, is a new 5-speed gearbox that Ford says is '15 per cent lighter, improves fuel efficiency, reduces NVH, provides more responsive gear shifts, and requires 40 per cent less gear oil than before.' Some list, eh? Where's the solution for world peace, then?
Anyway, coming back to the aforementioned stomping of the loud pedal, the three-cylinder motor exhibits an interesting character. Over the 100-odd km I drove the Freestyle, over bad country roads, through city traffic, on open highways and on a lake bed, it never felt like it lacked power. However, being a three-cylinder, it's not as free-revving as a four; that's not to say it's slow, just that it feels a bit lumpy in the bottom part of its rev range. However, people who like revving the hell out of their motors will like this engine.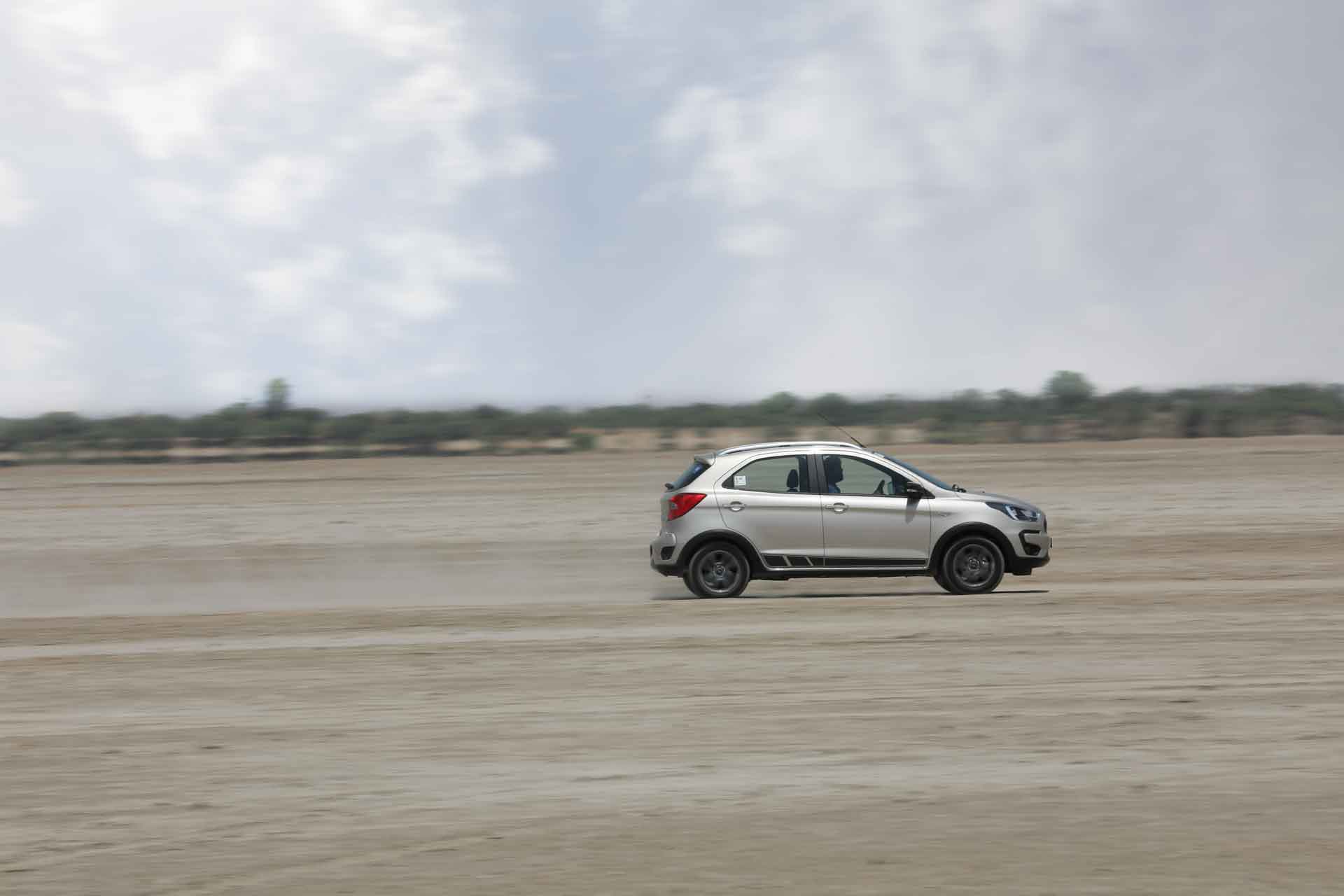 It likes to be pushed hard and it delivers 130-odd-kph in third gear when you do so. You could manage to push fourth as hard if you had the road, too, though fifth is probably best left for cruising along. All in all, the new motor does what you ask of it, and does it well. And it sounds pretty decent, too. As if someone put a crossback starter kit on its voice. The gearbox, well, I couldn't really verify Ford's long distress-banishing list, but it felt good and did its job of kicking the Freestyle down the road with every shift, so I suppose they know what they're talking about.
The Freestyle's key feature, in my opinion, is its ride and handling. It is eye-opening how right Ford has gotten the suspension for bad roads without sacrificing too much of its usual handling credentials. In fact, I'm not sure it has sacrificed anything, because the Freestyle gripped well and remained stable through everything. Sure, I didn't get a chance to fling it around like a delinquent through some corners, but I don't think it'll suffer in such a scenario. A bit of feel might be lost, but it more than makes up for it by absolutely floating over bad roads. How does a composed 90 kph over D-roads sound?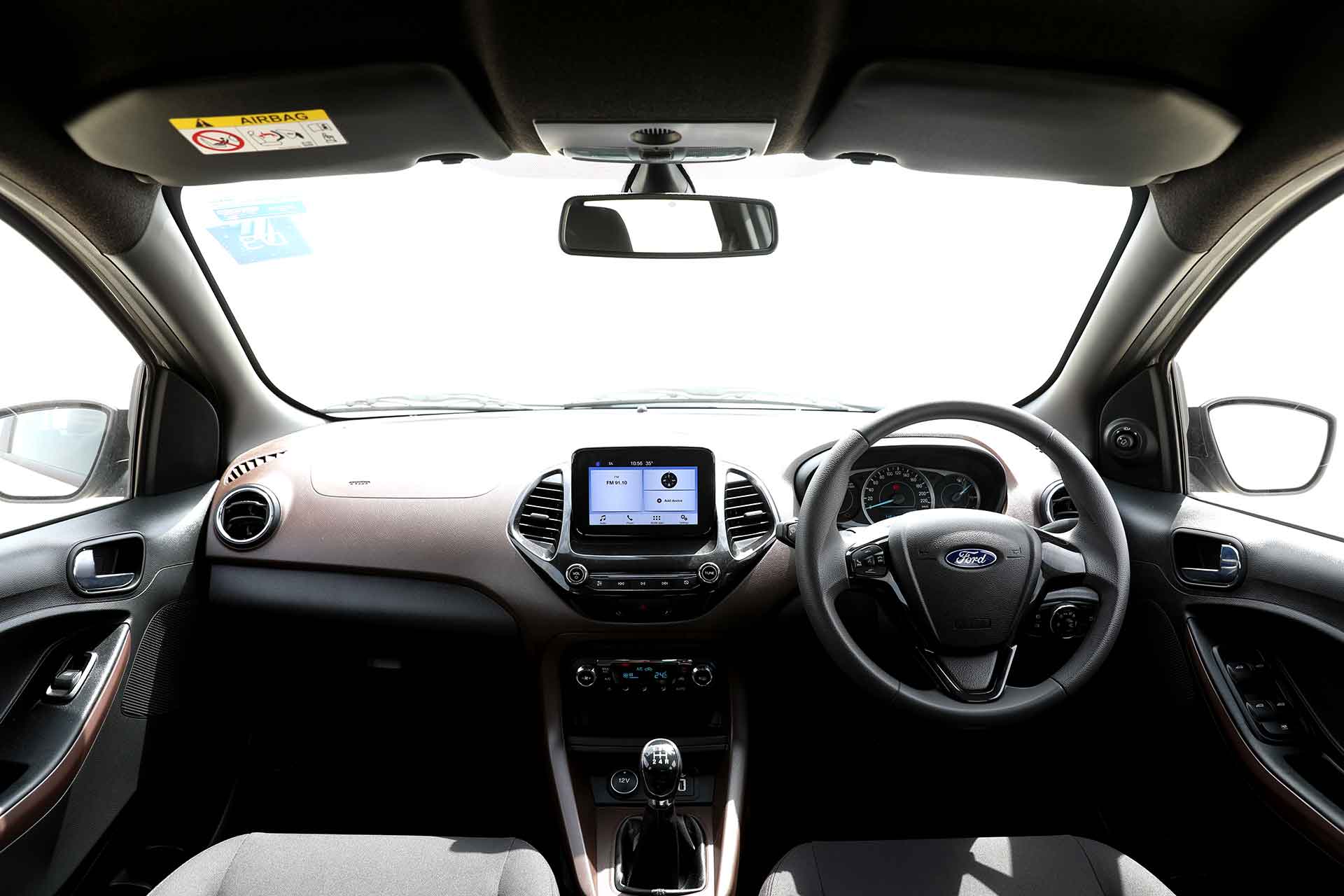 On the inside, the Freestyle is more familiar than new, though it does get its Sync 3 infotainment system which shows up on a 6.5-inch touchscreen. In my experience, these systems are better judged when lived with, so I shall reserve my opinion until then. For now, the layout was simple, the screen was responsive to the touch, and everything worked well enough. What matters more to me is the fact that the Freestyle comes with good brakes and has six airbags in the top-spec Titanium variant. The addition of ESC and ARP makes this a very safe car indeed.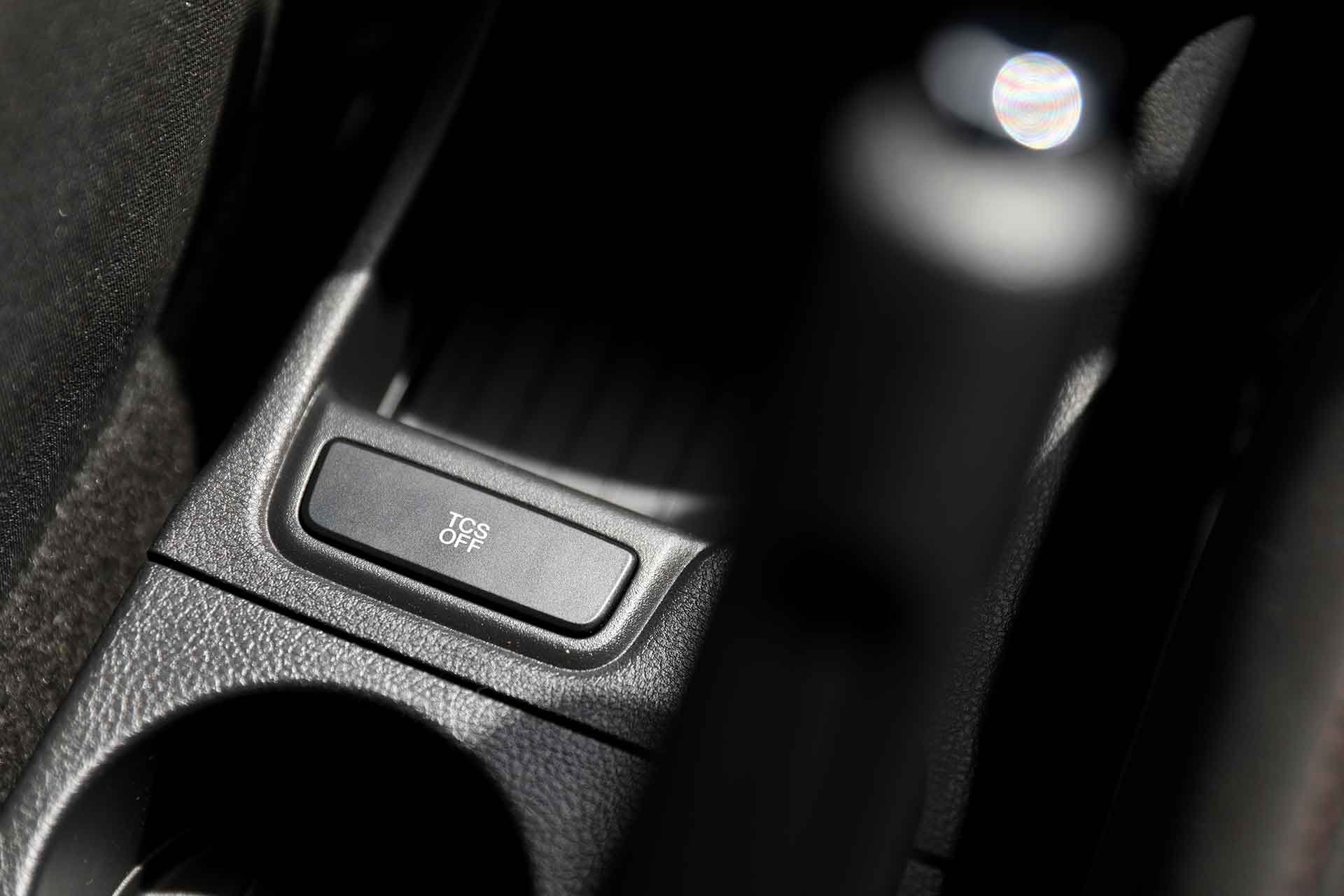 Coming back to the questions I was asking myself, I am now sitting in an air-conditioned hotel restaurant. A compact utility vehicle, in my opinion, is little more than a hatchback on stilts wearing adventurous makeup. But, going by my first impression, the Freestyle is more than that. Yes, the segment exists, and sure it has every right to. It's a free world, after all. However, given that this segment hasn't exactly set sales peoples' nether regions on afire with sheer ecstasy, it's easy to see that people don't really think much of such cars, for whatever reason. How the Freestyle does will depend on how much it asks for. But I can tell you that it surely delivers a lot more than you'd expect it to.
You can have a look at more photos of the Ford Freestyle in our detailed gallery by clicking here.