What is it like to drive a USD 1.1 million car? It should be luxurious, brimming with alcantara, the wood of a thousand trees sacrificed for that panel on the dashboard and an entertainment system built with materials that don't show on the list of elements. Or it could have a V12 so hungry that it rips bitumen off the world's best racetracks. Sounds about correct, right? What if I told you, I drove said car, with a 'puny' 49 bhp that doesn't power its air-con, but is what its boxer-four 1584cc motor can produce. It had just 400 kilometres on the clock; 60 of those were put minutes before I parked my behind in that manually adjustable seat. It's new, but it's old. Meet the Volkswagen Beetle Ultima Edicion, replete with white-walled tyres, fuel-injection, a CD player with four speakers and completely imperfect. Oh, and that obscene price tag, too!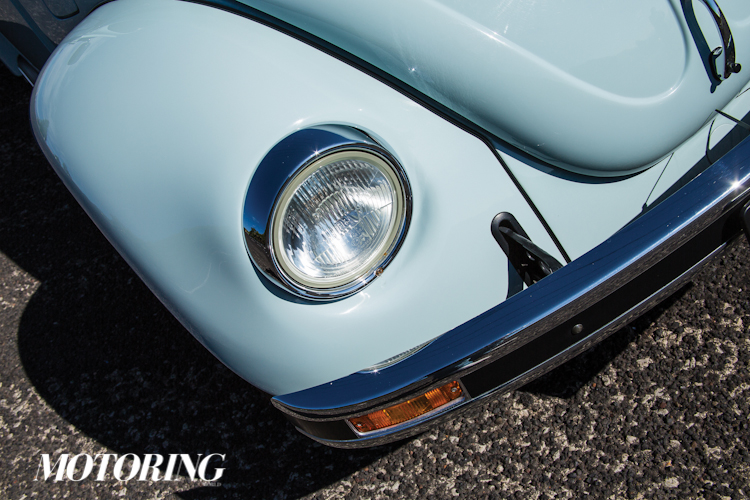 Irony never hits you better than this. Especially when it's your first million-bucker. Everything about the car, by modern standards, is wrong. The pedals are offset to the right, the four-speeder is a nightmare to use; going from second to first while wanting to hit third isn't uncommon. The steering has the feedback of an earthworm rolling on your finger and it can't climb hills for nuts by today's torque-rich standards. But it makes the driver become amorous, helps him or her discover their lost side. It's cheerful, a bit like a teen who has no worries about the world or how to put food on the plate. Damn, I'm running away from the story.
But let me drag you back as to why the 2003 Ultima Edicion, 3000 of which were ever built is the rightful prima donna of this story — it brings in perspective for the new Beetle. And what better than driving them both in the home of the Beetle — Puebla, Mexico. It's where the Beetle kept its promise to customers over the world for nearly five decades, long after Wolfsburg gave up on the rear-engined wonder. It has united people like no other car in the history of the automobile, so it's fitting that the new Beetle, the modern-day cupid, got a history lesson from its predecessor.
The new Beetle is large, bug-eyed, heavy, modern, refined and everything a modern-day car driver would want. The boot isn't a compromise — two teenagers in love can make themselves cosy in there, though they'd even find the rear seat rather comfy, too. No worry about manual gearboxes or weird dog-legs; it's as easy as apple pie. Character? We'll talk about that in just a bit.
I am clambering up an incline on the highway that connects Puebla with Atlixco, the Ultima's tight, relatively virgin motor feeling the strain of my right foot. It's getting slightly vocal and I am not too keen to plaster this lovely little car onto the guardrail, mindful that the owner has so lovingly taken care of not putting too much mileage on his beloved car. His other cars are a Porsche 911 and a Porsche 911. Sounds like my kind of guy. It's not going too fast to make the front-end go light, so I'm pretty chuffed to find the right kind of pace. With the windows rolled down, the side-view mirror offering precious little vistas of the rear, the Ultima chugs along like a happy gambolling puppy. Minutes later, it's joined by the 220-bhp, 2.0-litre turbocharged Beetle R-Line that doesn't seem to run out of breath, thanks to the light work made by its 6-speed dual-clutch unit. It also has some characteristic turbo lag when you step on it, but feels planted and unmoved by crosswinds, unlike the Ultima.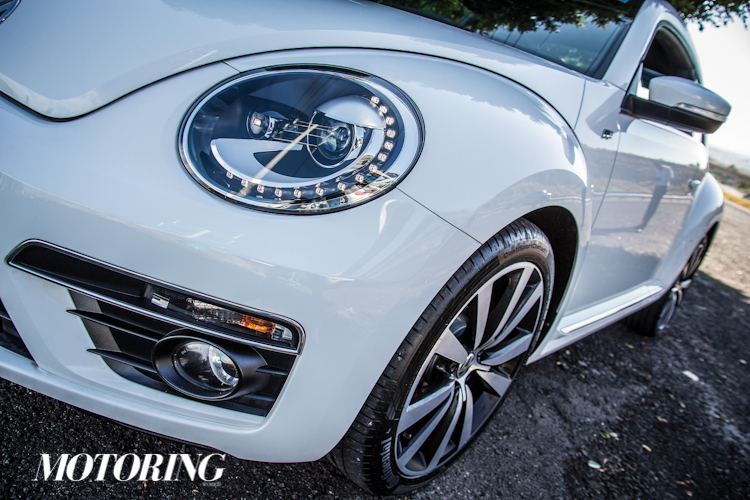 Behind the wheel, the new Beetle feels particularly comfortable. You get radio, CD and sat-nav, auto-climate air-con and a multi-function trip display. Heck, even the steering is adjustable for height and reach; things we've started to take for granted on modern cars. Everything feels well-built, well put together, but strangely there is very little to draw correlation between this and its granddad. Maybe, the glovebox lid is a bit of a throwback, but apart from that I am struggling to find any other commonalities than the evolution of the basic shape. Heck, it even has the engine in the right place, ahead of the pedals. Has Volkswagen done something terribly wrong to its namesake? 
Maybe not.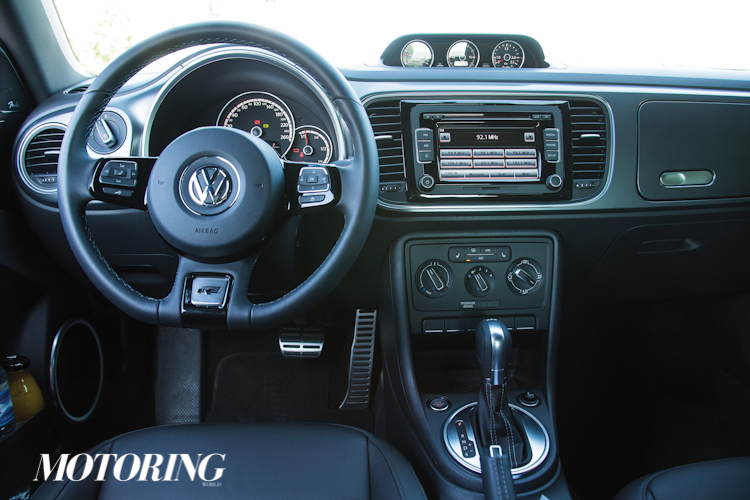 Times have changed. In the touchscreen-interweb generation, perceptions matter. The last 'new' Beetle was still seen to be 'girly', so the current one had to make amends. Masculine is the operative word, and the 2005 Ragster concept made it clear, that if the Beetle had to survive for the next few decades, it had to evolve. Evolution is that roach that survives the ravages of time and the Beetle would rather develop tentacles than use cutesy spots to survive. Yes, it's heavier and yes, it's far too bulbous and big and a bit ungainly, but then Walter De Silva has done some justice to the concept. For example, it's just 200 mm up on the original in length and, um, 300 mm in width and up just 550 kg in kerb weight and, er… okay, I'm making a hash of it, but you know, defending it isn't easy.
Then again the new Beetle is a reasonably nippy, fun car. Sure the Golf and Polo GTIs might be more fun going up a hill, but the 'new' Beetle is pretty much resolved as long as you don't ask too much of it. Our 210-bhp motor seemed perfectly up for the job, except that the suspension on the R-Line was a bit soft (considering this is the fast-spec bug). The 6-speed DSG feels a touch old now and so do the audio unit and the fact that the car doesn't even come with a reversing camera. I'm not sure that is part of the 'character' package, but okay, you won't exactly find yourself lost without them. You will find the sports seats offer more support and that the cabin does feel airy. You don't get the girly touches — not the flower in a test tube for certain, but that's fine.
What we will get in India is the 1.4 TSI, with a few dozen horses less, the DSG 'box and slightly smaller wheels than the 19-inchers to suit Indian road conditions. Our seats were manually operated, so expect electric seat adjustment if VW is kind or have it in their parts bin. Even then, the Beetle should be a fair bit quicker than the last 'new' Beetle that had a 2.0-litre motor with just 110 bhp and a tiptronic gearbox from hell.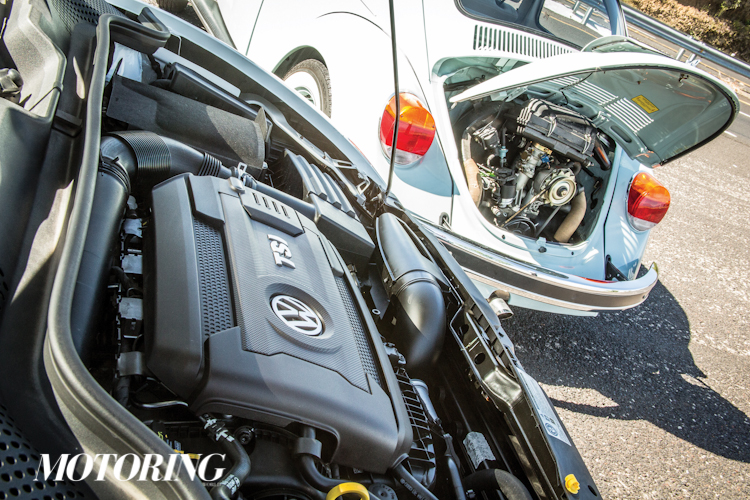 All of which sounds just about right if you want an urban, slightly off-beat lifestyle premium hatch that satisfies your inner urges to have something 'different'. It also makes for a perfectly sane, daily car, whether to the shops or the office or to simply hang out with friends. You might find that the ` 30 lakh price tag, give or take, makes it comparable to the likes of the Fiat 500 Abarth and the Mini Cooper S and D, both retro reincarnations too. So if you are in the market for one of these pose-mobiles, feel free to write a cheque to the good folks at Volkswagen India by the end of the year.
Alternatively, you could, if you like the sight of spilt engine oil, steel bumpers and mechanics who throw their spanners in the air every time they see you, buy a thoroughly charming, a near-half-century-old Beetle, replete with personality and panache. Love, they say, is all encompassing. 
AUTODATA
VW BEETLE 2.0 R-LINE
POWERTRAIN
Displacement: 1998cc, I-4, turbo petrol
Max power: 207 bhp@5300 rpm
Max torque: 21.1 kgm@1700 rpm
Transmission: 6-speed DSG
STEERING
Type: Rack and pinion with EPS
Turning radius: 5.4 m
SUSPENSION
Front: McPherson struts
Rear: Multi-link
BRAKES
(F/R): Ventilated discs/discs
TYRES
(F/R): 235/45 R18
DIMENSIONS
L/W/H (mm): 4210/1780/1463
Wheelbase: 1998 mm
Kerb weight: NA
PRICE: Rs 30-35 lakh (approx, ex-showroom, 1.4 TSI)