The Suzuki Vision Gran Turismo recently made its much-anticipated debut on Gran Turismo 7. The open-top two-seater concept car is a stunning addition to the video game and is available to players who have got the 1.15 update.
The Suzuki Vision GT is a front-engine, two-seat convertible with a rear-wheel-drive layout. This makes it a fine example of a roadster. We also get to see electric motors as part of the drivetrain setup. This means that this nimble sportscar is also a hybrid vehicle.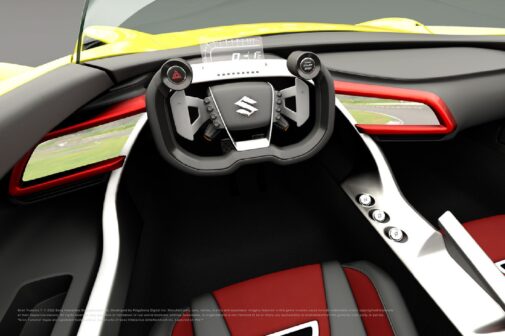 The Suzuki Vision GT gets a 1340cc inline-4 engine from Suzuki's flagship sportsbike, the Hayabusa. The electric drive is provided by three motors, two that power the front wheels and one that powers the rear. The combined total output is 426 bhp at 9700 rpm with 62 kgm of torque.
Suzuki further tapped into its racing technology for the concept car and used lightweight components wherever possible. As a result, the car weighs in at a lean 970 kg. On the inside, it gets a yoke-style steering wheel, flanked by two digital mirror screens. The cockpit design is fairly straightforward with a strong emphasis on the driver.
Looking at the design, the car's low stance and flowing lines are inspired by Suzuki's popular production sports cars, the Swift Sport and Cappuccino. Makers have also hinted at a Gr.3 version of the car making an appearance soon.