The Spirit of Ecstasy was officially registered as Rolls-Royce intellectual property on February 6, 1911. After 111 years, the classic Spirit of Ecstasy figure has been redesigned by Rolls-Royce to grace the bonnet of its new all-electric vehicle, Spectre.
The figurine has been redesigned with a lower, more dynamic stance that more closely resembles the sketches created by her original creator, illustrator and sculptor Charles Sykes, in the early 20th century. Her physical form also serves as a representation of The Expression, a visual device that is part of the marque's new visual language.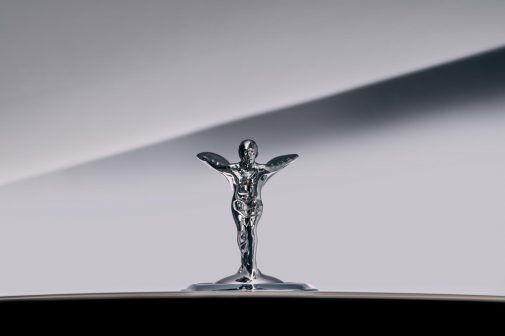 The new Spirit of Ecstasy is 82.73-mm tall as compared to her predecessor's 100.01 mm. Her robes, which flow behind her in the slipstream have been subtly changed to make them more aerodynamic and realistic. This time around, her stance is the most noticeable alteration. Previously, she used to stand with her feet together, her legs straight, and her waist tilted. Now, she's a true goddess of speed, braced against the wind, one leg forward, torso tucked low, eyes fixed on the road ahead. It will still be manufactured utilising a lost wax casting technique, and each figurine will be finished by hand, making each one unique.
These improvements boost Spectre's exceptional aerodynamic qualities in both practical and artistic ways. The early prototypes of the Spectre feature a drag coefficient (cd) of only 0.26, making it the most aerodynamic Rolls-Royce ever made. The new design produced for Spectre will be utilised on all future models; however, the current design will be used on Phantom, Ghost, Wraith, Dawn and Cullinan, as well as their Black Badge alter egos. Rolls-Royce has stated that the Spectre will be unveiled next year.