MG Motor today announced its vision for MGverse, a Metaverse platform, becoming the first auto OEM in India and one of just a handful of brands across industries to do so.
MGverse will function as a universe that merges several virtual environments into a single platform. With this, the company hopes to bring together MG fans, customers, partners and employees to work, play, engage, collaborate, co-create, socialise and shop. The brand will offer five different experience hubs for clients to explore their creativity in the MGverse.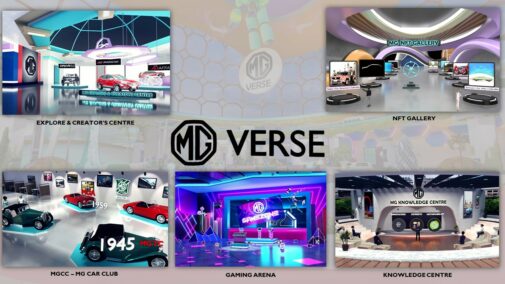 The 'Explore & Creator's Center' will let users personalise, accessorise and build their favourite MG vehicle in the Metaverse. Customers will also be able to take virtual test drives in their preferred towns and streets, and they will be able to reserve their MG automobiles from the comfort of their own homes, thanks to MGverse.
In the 'NFT Gallery' users will be able to see MG's finest collections on display, as well as interact and co-create, list and transact non-fungible tokens (NFTs) on the platform. It will also allow people and creators to develop their own NFT and earn money.
If you're a part of the members of the MG Car Club, you will have another opportunity to interact and engage through members-only events and concerts in the MGverse. Also, they can even purchase MG items from the MGverse.
The user will be able to experience MG's rich racing history in the 'Gaming Arena'. One can race in a sportier MG or play other games on their favourite racetrack. Lastly, the 'MG Knowledge Centre' experience hub will allow MG's staff and partners to upskill and attend virtual training courses, conferences, and meetings, among other things.
The platform will be accessible via mobile devices as well as other online browsers. MG promises similar experiences for VR (Virtual Reality) headsets, which can be tried out at dealerships. Speaking of this platform, MG says that it will be unveiled in stages, the first of which will take place during the upcoming festive season. Do let us know what you think of the MGverse.