We all know how tricky the pre-owned car market can be. Even trickier when it comes to the luxury segment. Mercedes-Benz India has come up with a 'direct customer to customer' selling platform called the Marketplace. With its help, the seller will get the best value for their vehicle and the buyer will have the opportunity to choose from a wide range.
Be it offline or online, the customers can do transactions however they want to. For the online method, you'll have to do it through the 'Roadster' website and for the offline method, you'll have to go through physical dealerships across the country.
Mercedes-Benz India thinks that Marketplace will help scale its existing used cars as well as new cars business. It's aiming at 50 per cent higher online pre-owned car penetration.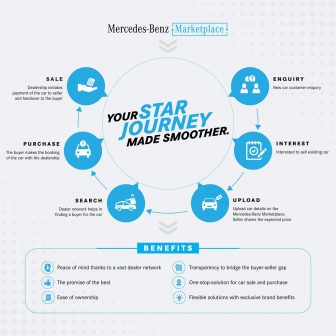 At the end of the day, Mercedes-Benz wants to create a transparent process of buying and selling cars and ensure that there's peace of mind for both parties. Here's a simplified example of how one can sell their Mercedes through Mercedes-Benz Marketplace.
Seller uploads details of the car on Marketplace
Seller selects if she/he wants to sell the car or trade-in for a new Mercedes
Dealer visits the seller to evaluate the car
The dealer puts the car on sale
Interested buyer books the car
Seller confirms offer or rejects offer and requests for a new offer
Dealer purchases the car from the seller and sells it to the buyer

All Mercedes-Benz dealerships across the country are part of the Marketplace, if you don't want to go through the online process. But if you want to avoid going to the dealership, just follow the above steps. Click on this link and follow the Marketplace tab to read more about it.