Yes, our very own Auto Expo has been cancelled, but worry not, there are other shows around the world that will very much be held. At the upcoming Munich Auto Show, for example, we'll see as many as eight new models from Mercedes-Benz, including the EQE sedan, an electric Maybach concept and the first all-electric AMG.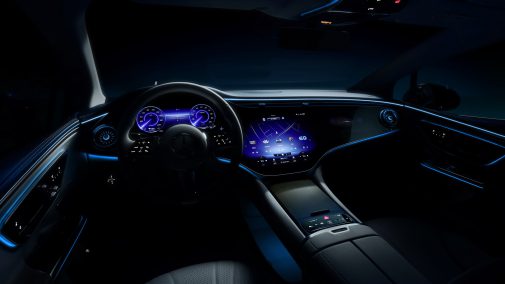 The EQE is, of course, an E-Class-sized electric sedan. A teaser image shows that its posterior is quite siilar to that of the EQS, with slim tail lights and prominent haunches. The image of the cabin shows the massive MBUX Hyperscreen taking pride of place — 12.3-inch screens for the instruments and front passenger respectively, as well as a 17.7-inch infotainment system. Also visible are a 3-spoke steering wheel, the familiar turbine-style air vents, an ambient lighting system, a floating centre console and an HUD. The powertrain is likely to be the one from the EQS, which means two variants — a 450 with 329 bhp and 58 kgm and a 580 4Matic with all-wheel drive and 516 bhp and a tremendous 87 kgm.

Other models on show will include the first ever all-electric AMG — now that should be fun — an electric Maybach concept (possibly a super-luxe version of the EQS), the EQB and a hybrid AMG (also a first). Bring them all to India soonest, we say.