Mercedes has unveiled an entry-level version of the all-new SL, with the highlight being the inclusion of a tiny 2.0-litre four-cylinder engine. That's right, Mercedes has put a four-pot motor in a freaking roadster! The 4.0-litre V8-powered SL 55 and SL 63 are still the hardcore ones on offer.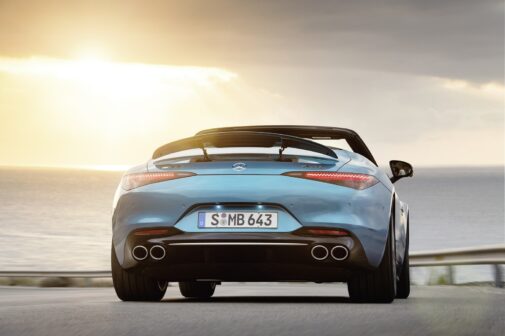 This SL 43's engine is a longitudinally-mounted variant of the M139 four-pot that you'll recognise from the A 45 S. Also, for the first time ever a production car gets an electric exhaust turbocharger based on the same tech used by its F1 team.
The turbocharger is operated via the 48-volt on-board electrical system, and the motor spins up the turbo resulting in less lag when you floor the throttle thanks to the turbo driven by the exhaust gases. Now, even if you brake or come off the accelerator, the electric motor makes sure the turbo is spooled up to give you that instant torque boost when you floor it again. Mercedes says that it solves the trade-off between a small turbo that gives low peak power and a large turbo that gives high peak power but comes with a lot of turbo lag. Brilliant tech!
All that helps the SL 43 produce a decent 376 bhp and 48.94 kgm of torque, sending all that power to its rear wheels via a 9-speed gearbox. It takes 4.9 seconds to sprint from 0-100 kph and has a top speed of 275 kph. Apart from that, it gets 19-inch wheels as standard and turbo badging. Inside, the SL 43 gets a vertically-mounted MBUX screen and ARTICO man-made leather seats. Of course, you can spec it to Nappa leather and a few AMG-specific performance and aero package as options. It's not as quick as the Mercedes-AMG A 45 S, nevertheless, it's a desirable roadster.