Finally, the plug-in hybrid Mercedes-AMG GT 63 S E Performance monster is here. Featuring an F1-inspired high-performance battery and electric motor, this 831-bhp belter of an AMG produces 150 kgm of torque, accelerates from knot to 100 kph in 2.9 seconds and has a top speed of 316 kph. By the way, this one's 200 bhp over the non-hybrid AMG GT 63 S. There must be something special in Affalterbach's water!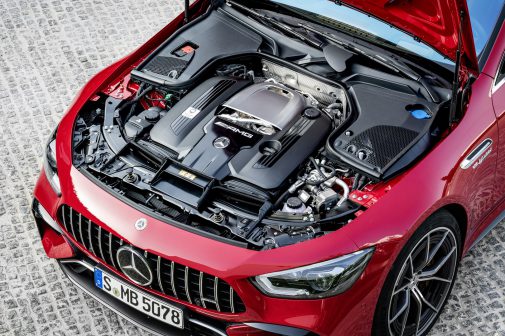 The AMG GT 63 S E Performance is using a P3 hybrid layout which means the electric motor sits on the rear axle with the battery above it. Speaking of the 6.1-kWh battery unit, it weighs 89 kg and is designed for fast power delivery and long range. But, on pure electric power, it can only cover 12 km. The good thing about the battery is that to cool the battery there's a non-conductive liquid coolant that flows around all 560 cells so that there's maximum power when you're belting the 831-bhp AMG around the racetrack. Also, the electric motor sends its power via a two-speed 'box and an electronically controlled limited-slip diff to the rear wheels. However, the V8 twin-turbo uses a 9-speed dual shift gearbox.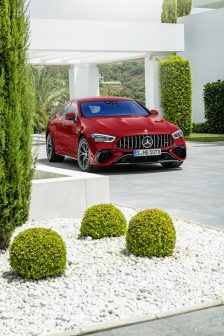 To haul this behemoth to a stop, it's been fitted with ceramic brakes as standard. In addition to that, it gets air suspension. Also, the driver gets to choose between seven driving modes: Electric, Comfort, Sport, Sport+, Race, Slippery and Individual. Four more settings (Basic, Advanced, Pro and Master) for the AMG Dynamics system that uses sensors to gather information from speed, lateral acceleration, steering angle and whatnot. This will automatically anticipate how the driver wants the car to behave. Yes, we've come a long way with technology.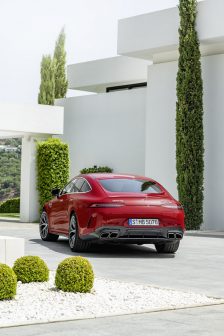 Visually, you can see the front and rear bumper has been tweaked. With the rear bumper getting an integrated charging port and of course the E Performance badges on the wings. Inside, there's more information about the hybrid tech like the range, temperature levels of the battery and electric motor being displayed on the instrument cluster. Plus, if you want your curious passengers in the back to also get a glimpse of the data, then there's a rear-seat screen that shows exactly just that. For us, we'll have to wait a bit for it to arrive in India.