There is a good chance that the Mercedes-AMG G 63 Grand Edition will be out of stock by the time you finish reading this story. Why, you ask? Because not only is this particular G limited to just twenty-five units, you cannot buy it unless you have a Maybach, another AMG, or an S-Class in your garage already. Wow, talk about an S-Class being a minimum requirement — what times do we live in!

Pop the hood and you'll find the same 4-litre twin-turbo V8 with 576 bhp and 86.6 kgm of torque on tap. It also retains the air suspension and AMG-specific drive modes. The major changes are mostly cosmetic. The Mercedes-AMG G 63 Grand Edition receives a Manufaktur-spec Night Black Magno paint scheme with gold graphics, and to complement this paint scheme are 22-inch forged alloy wheels also finished in gold. The Mercedes-AMG logos and other exterior elements such as the spare wheel ring, and bumper inlays also receive the kalahari gold magno finish.
The insides of this car are swathed in black nappa leather upholstery, with gold stitching for contrast. There's also the usage of carbon and copper threading elsewhere in the interiors.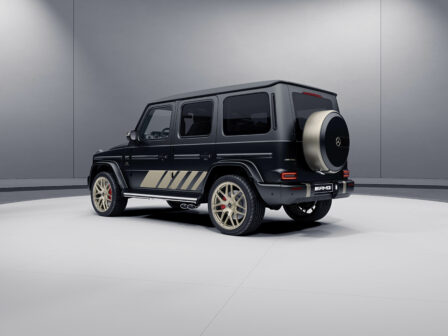 Not that you'd need all the extra bling when you're in a G 63, which itself is quite full of bling. But, if you'd rather wait a while, a new-generation G-Class is in the works, along with a smaller, more affordable G, but that's rather far away for now.