Say hello to Maserati Project24. A project (known to by a codename) for a limited run of 62 supercars. The truly extreme track-only car inherits the features of the Maserati MC20 while enhancing them with even more advanced technical features.
The home-grown V6 Nettuno engine adds new turbochargers to increase its power to 730 bhp. A 6-speed sequential gearbox transmits power to the back axle, while a racing clutch and mechanical limited-slip differential round out the motorsport-inspired configuration. The double wishbone suspension is track-specific, with adjustable dampers and anti-roll bars. It also has Brembo CCMR ventilated brakes with racing callipers and a custom brake cooling system. Also, Maserati has FIA-approved safety features. The new Maserati supercar will have a goal weight of less than 1250 kg. That puts the power-to-weight ratio at roughly 1.69 kg/bhp.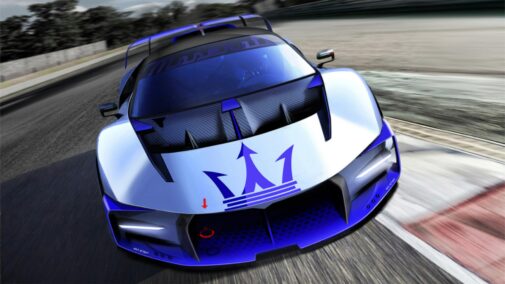 Now, the Project24 has a brand-new design created by Centro Stile Maserati. Without the limitations often present in a race car, Maserati has gone all out with the supercar's design. It aimed for an aggressive look with tiny LEDs on the bumpers, an F1-style splitter, large openings on the bonnet, expanded side sills, a new type of flying buttresses, racing mirrors and a massive rear wing attached to a central fin. LED taillights inspired by the trident emblem, high-mounted dual exhaust pipes and a racing-spec diffuser complete the rear end. As for interiors, we'll have to wait a little while before Maserati officially reveals it. Speaking of waiting, back home, we're eagerly waiting to get behind the wheel of the MC20 road car.