Italian carmaker Maserati has teased its upcoming convertible sports car, the GranCabrio, which will follow the recently introduced new GranTurismo. The Trident manufacturer has released a series of first-look images of the camouflaged new GranCabrio.
The teased prototype is being foreseen as the convertible version of the GranTurismo. Interior shots of the convertible haven't been released yet, although it is expected to be carried from the second-generation coupe GranTurismo. It is expected that the buyers will also get to choose between a rear-drive turbo V6 engine, which makes 542 bhp, and the 750 bhp fully-electric drivetrain, the Folgore.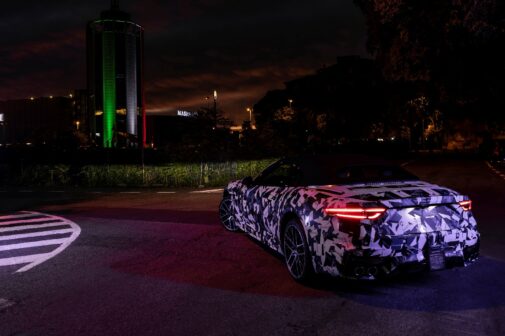 'Maserati is innovative by nature and is looking ahead into the future. The new models are intended to launch the Folgore electric range, with which Maserati will set the benchmark in every market segment: each car in the range will be full-electric by 2030' said the company in a press statement.
Ahead of the launch of the new GranCabrio, expected next year, the prototype models are undergoing intensive testing on the road, on the track and in various usage conditions, aimed at gathering essential data for optimal final tuning. Both the coupe and convertible are expected to be rolled out in mid-2023 as the company aims to go fully electric by 2030.